Vikings vs. Texans: Houston's Biggest Winners and Losers from Week 16
USA TODAY Sports

The Houston Texans' bid for the AFC's No. 1 seed was denied in Week 16 after falling to the Minnesota Vikings 23-6 at home.
Despite containing Adrian Peterson for most of the game, the Vikings delivered a serious blow to Houston's hopes for securing home-field advantage throughout the playoffs.
To say the Texans struggled offensively would be an understatement. Never has Houston's offense looked so inept and hapless all season. The lackluster performance couldn't have come at a worse time as the team fights for playoff positioning in the AFC.
Here's a look at Houston's biggest winners and losers from today's heartbreaking loss to Minnesota.
Begin Slideshow

»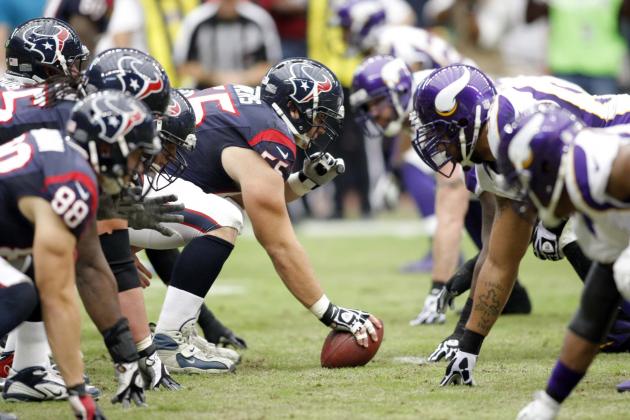 USA TODAY Sports

The Texans offensive line lost the battle in the trenches against Minnesota's four-man front today, and it wasn't even close.
The running game for Houston never got going, as Minnesota swarmed to the ball and shut down every attempt to establish a ground game. After falling behind early, Houston's offensive line was unable to give Matt Schaub time to throw the team back into the game. Schaub struggled in his own right, but it started with the O-line's inability to give its passing offense time to work.
Duane Brown has been in a funk for a couple games now. He was flagged for two penalties that essentially killed the momentum of Houston's offense on those particular drives.
Derek Newton and Ryan Harris continued rotating at right tackle and took turns giving up quarterback pressures throughout game. This continues to be a problem area for the Texans.
The lowest point for Houston's offensive line was when the offense had the ball on Minnesota's 1-yard line down 13 points in the third quarter and failed to score a touchdown. You would think any NFL offense given three chances to gain one yard would be able to convert, but the Texans actually lost yards.
Houston's running game was unable to find success running to either side, so no one in particular on the unit should be blamed. The entire offensive line was pitiful as a group.
Bob Levey/Getty Images

For a game that delivered loads of disappointment, Glover Quin actually turned in one of his best performances of the 2012 season in Week 16.
Quin is Houston's best blitzing defensive back, and it showed in today's game. On one play, the fourth-year safety did an outstanding job of disguising a blitz pre-snap and snuck in for a big hit on Christian Ponder.
Playing close to the line of scrimmage, Quin also did a terrific job of wrapping up tackles on Adrian Peterson. He was even able to shoot into the backfield and tackle AP for a loss on some plays.
Wade Phillips has utilized Quin in a Troy Polamalu-type of role where he's used on all levels of the defense. He's rarely had poor games since being moved to this role, and he's one of the unsung heroes on this defense.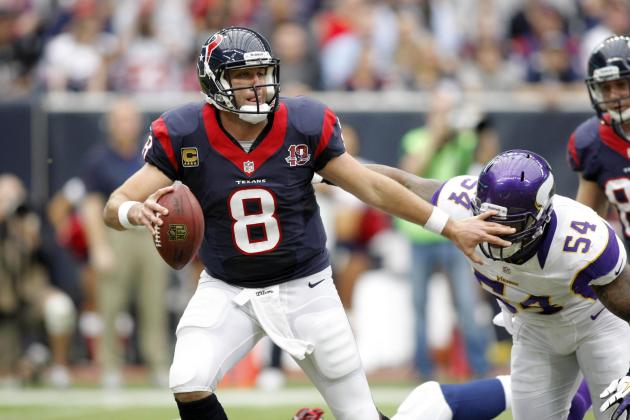 USA TODAY Sports

Houston's offensive line should take most of the blame for the unit's woes today, but Schaub didn't bail it out like he's capable of doing.
Schaub's pocket presence was tested by the Vikings' ferocious front, and he failed to overcome the adversity. A successful defensive game plan against Houston's offense is becoming clear: Move Houston's signal-caller off his spot, and the whole play breaks down.
Houston should be giving Schaub cleaner protections, but being under pressure is the life of an NFL quarterback. The Texans will need more poise from their quarterback in the pocket going forward if they're going to have success.
The team knows what it's going to get from its offensive line by now. There's no excuse for getting caught off-guard with pressure like the Texans were this week.
Schaub has seen better days in the NFL, and fans should know by now he's more than capable of getting the job done. The Texans have won games in all sorts of ways this year with Schaub at the helm.
This one will be tough to forgive him for, however, if he doesn't come through next week on the road against Indy.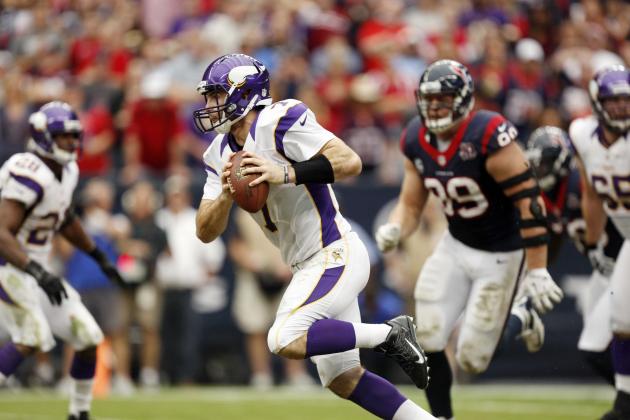 Thomas Campbell-USA TODAY Sports

At this point, J.J. Watt can be penciled in as a winner every game, every week.
Houston's star defensive end continued his quest for the NFL's single-season sack record, adding one more to his season total. With 20.5 sacks on the year now and one game to go, Watt has a chance to break the league record. He needs 2.5 sacks to pass Michael Strahan (22.5 sacks) on the all-time single-season list.
Watt was disruptive all game and had a major hand in holding Adrian Peterson to just 86 yards on 3.4 yards per carry. He dominated Minnesota's mammoth right tackle, Phil Loadholt (6'8" 340 pounds), with a few deadly pass-rush moves. A forced fumble by Watt late in the game could've been a game-changer if Houston's offense hadn't squandered the opportunity and eventually punted.
If Watt ends up breaking the sack record, voters will have to take a serious look at his case for the league's MVP award.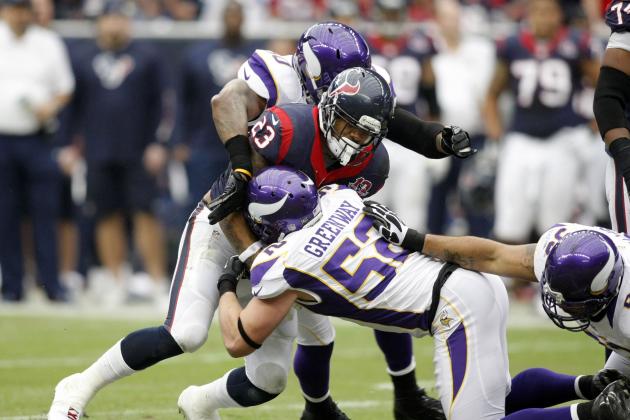 USA TODAY Sports

Houston's No. 1 running back followed up last week's stellar performance with a clunker against the Vikings.
His 10 carries for 15 yards were putrid, but it's more of a reflection of Houston's offensive line than Arian's running.
What was disappointing about Foster's day was his crucial fumble for a loss that sunk a drive for the Texans. Fumbling hasn't been an issue with Arian, so to be careless at that moment in the biggest game of the season is disheartening. This should've been a game where Arian ran his hardest, and it didn't always seem that way.
Foster disappeared from the Texans running back rotation in the second half and wasn't heard from much after. It was said on the broadcast that he went to the locker room with an illness, so that could be an explanation for his poor performance.
Regardless, this was easily one of the more forgettable performances of Arian Foster's career.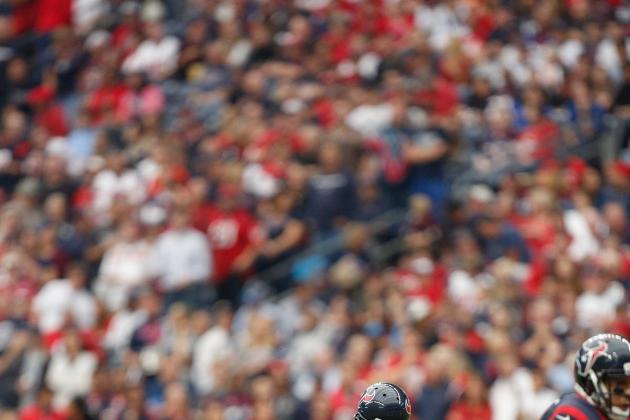 Thomas Campbell-USA TODAY Sports

Houston's kicker was responsible for all of the team's scoring against the Vikings. Let that sink in and try not to break something.
That's usually a recipe for disaster, and that's just what took place in Week 16. Credit should be given to Graham, however, for being one of the few Texans to show up against Minnesota.
Graham's 51-yard field goal in the first quarter was encouraging given that he was 2-6 from 50-plus yards all year before the kick. He'll likely be asked to kick from 50-plus yards again soon, so it's encouraging for him to see one go through from long.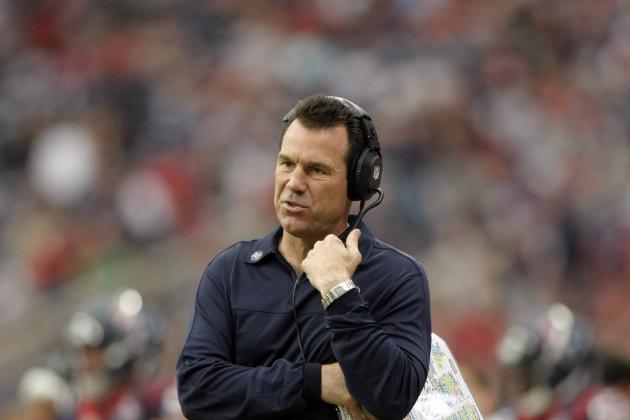 USA TODAY Sports

The feel-good vibe from winning the division last week is long gone now.
Had the Texans defeated the Vikings, the devastating loss to the New England Patriots two weeks ago would've just been a blip on the radar screen. Now, Houston has lost two of its last three games, and next week's game is on the road against a tough, scrappy Indianapolis Colts team.
Houston is probably one of the most dejected 12-3 football teams in recent NFL history. At one point, it looked as if the Texans would cruise into the playoffs as the No. 1 seed in the AFC. Now the team hopes to avoid falling to the third seed and losing the bye week altogether.
Was the loss to Minnesota the wake-up call this team needed? Fans can only hope.
The good news is last year's Texans team closed the year on a sour note. That team went on to win a home playoff game without Matt Schaub quarterbacking the offense.
Houston's winning momentum is gone now. The season can still end on a high note, however, so it isn't all doom and gloom just yet.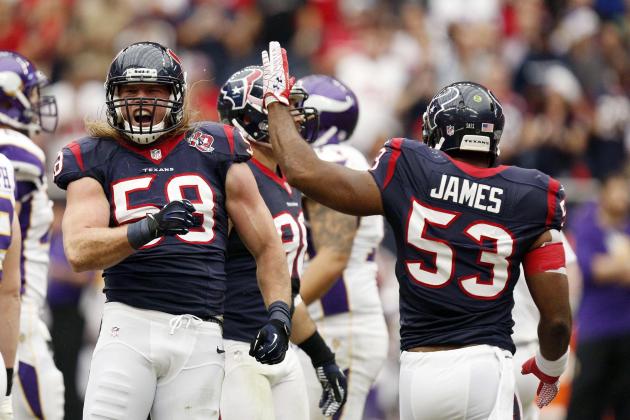 Thomas Campbell-USA TODAY Sports

Brooks Reed returned to the lineup this week after missing three games due to a groin injury. The outside linebacker had a productive day, making plays against the run and pass.
Houston's strongside linebacker flashed in particular when runs came to his side. Reed was stout and gave the Texans a presence against Minnesota's rushing attack. Adrian Peterson was contained by Houston's defense, and Reed was one of the many Texans playing a part in stopping him. Reed also landed some hits on Christian Ponder.
Whitney Mercilus is still learning the ropes of NFL line play, so having Reed back as the starter will allow Houston's defense to return to normalcy. Mercilus can go back to his role as the first rusher off the bench, and Reed steps back into his starting spot. Connor Barwin can also return to his spot as the weakside linebacker after switching to the strongside temporarily when Reed went down.
The Texans were fortunate to have Reed back this week. The defense is clearly better when he's in the lineup.