Florida Football: Projecting the Gators' 2013 Offensive Depth Chart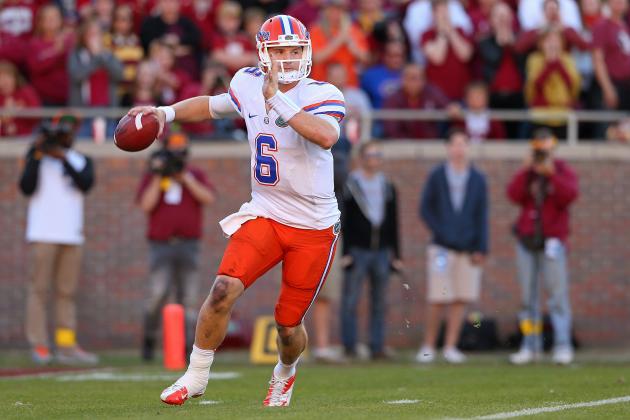 Mike Ehrmann/Getty Images

The Florida Gators took the nation by surprise in 2012 by finishing the year 11-1 and earning a berth to the Sugar Bowl.
But are the Gators built for long-term success, or was 2012 a fluke?
Florida fans should know how hard it is to stay on top. After winning two National Championships and a Sugar Bowl in a four-year period, the Gators lost 11 games in the following two seasons. It is hard to remain among the elite in college football, but this Gator team might just have what it takes to be a contender again next season.
Let's take a look at what the Gators offense will look like in 2013.
Begin Slideshow

»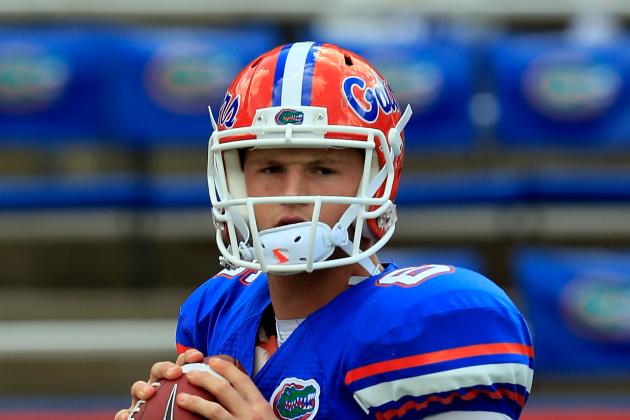 Sam Greenwood/Getty Images

Starter: Jeff Driskel
Backup: Skyler Mornhinweg
Jeff Driskel has earned Will Muschamp's confidence and earned the starting job in 2013. Jacoby Brissett is too good to sit around and wait for an opportunity to play and will likely transfer this offseason.
That leaves Skyler Mornhinweg, Tyler Murphy and incoming freshman Max Staver fighting for the backup quarterback job. Murphy doesn't have a realistic shot to start and Staver isn't enrolling early.
Because Staver isn't enroling early, it will be tough for him to learn the playbook, get in the weight room and develop a rhythm with his receivers in time to be a realistic option to back up Driskel.
That leaves us with Mornhinweg, who spent this season redshirting. Mornhinweg has already practiced with the team and had time to absorb Brent Pease's playbook.
If Brissett decides to transfer, Mornhinweg is the likely option to back up Jeff Driskel in 2013.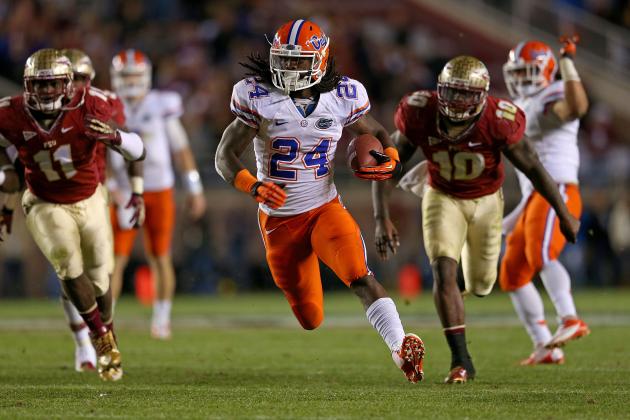 Mike Ehrmann/Getty Images

Starter: Matt Jones
Backup: Kelvin Taylor
It took a while for Matt Jones to win the backup running back job this season, but when he did he didn't look back.
The last two games of the season Jones carried the ball 16 times for 146 yards and a touchdown. It was Jones' 32-yard touchdown run against Florida State that iced the game for the Gators.
Kelvin Taylor is one of the highest-rated running backs in the class of 2013 and will likely earn the primary backup duty behind Jones. Adam Lane and Mack Brown will both be given an opportunity to earn touches, but Taylor is enrolling early and the extra time in the weight room and with the playbook should give him an advantage.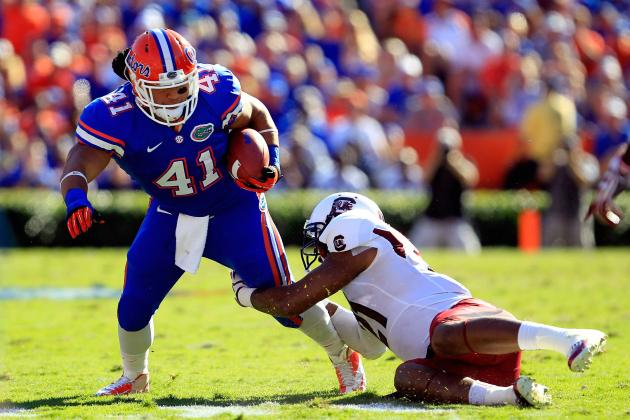 Chris Trotman/Getty Images

Starter: Hunter Joyer
Backup: Trey Burton
There are no surprises here. Both Hunter and Joyer are set to return next season and they will remain atop the depth chart at fullback.
Joyer is one of the best blocking fullbacks in the country and Burton will remain his backup.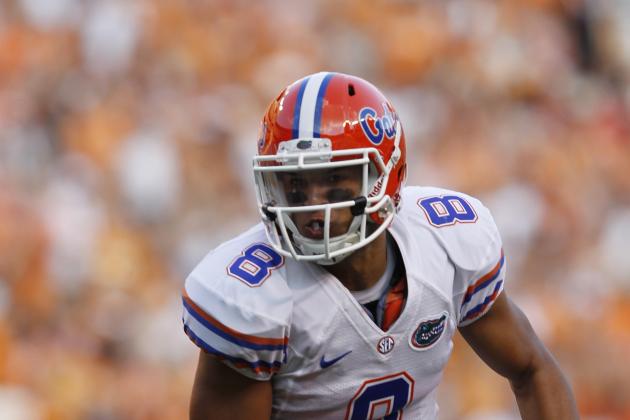 John Sommers II/Getty Images

Starter: Trey Burton
The "F" position in Brent Pease's offense is a hybrid tight end/fullback/running back.
Trey Burton will return for his senior season and fill in wherever the offense needs him. Burton has lined up everywhere during his time in Gainesville and will continue to do so in 2013.
Omarius Hines split time at the position with Burton, but Hines is graduating this year and there is no clear backup at this time.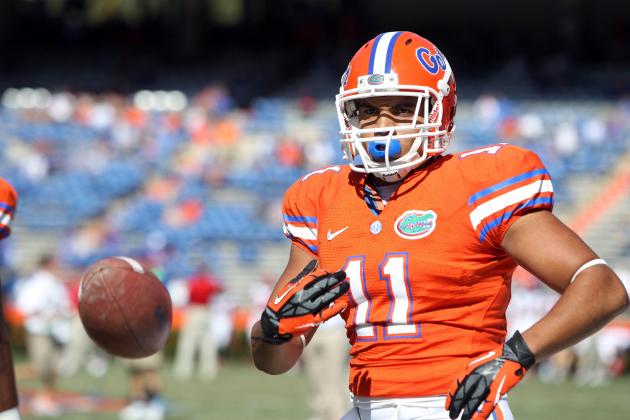 Kim Klement-USA TODAY Sports

Starer: Jordan Reed
Backup: Kent Taylor
Jordan Reed could choose to forego his senior season and declare for the NFL draft. In my opinion, Reed would be better serviced by returning for his senior season to work on his blocking and become a more complete tight end before testing the NFL waters.
If Reed returns he is the unquestioned starter at tight end. Florida also has Kent Taylor, Clay Burton and Colin Thompson at the position. Thompson earned a redshirt this season after undergoing surgery at the beginning of the season.
Burton has been used almost exclusively as a blocking tight end and that shouldn't change moving forward.
Taylor is a fast, tall, receiving tight end who could develop into a very dangerous receiver and would be the leading candidate to replace Reed if he were to leave for the NFL.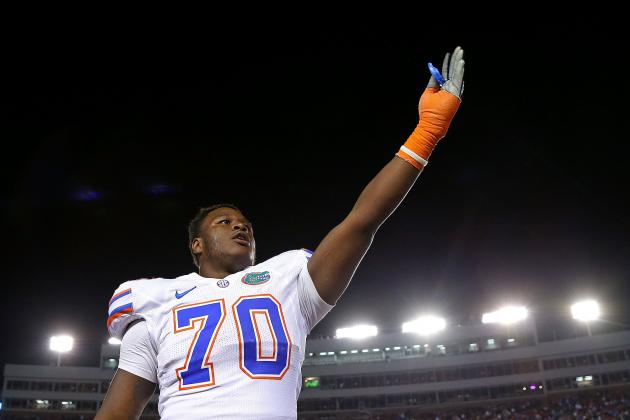 Mike Ehrmann/Getty Images

Starter: D.J. Humphries
Backup: Max Garcia
In 2013, Will Muschamp will have the deepest offensive line he has had in three seasons.
Look for D.J. Humphries, who earned considerable playing time as a freshman, to earn the starting job at left tackle.
Max Garcia, a Maryland transfer, is a more than capable backup and will push Humphries in the offseaosn.
John Sommers II/Getty Images

Starter: Jessamen Dunker
Backup: Ian Silberman
Jessamen Dunker will return in 2013 as a redshirt freshman and the favorite to replace James Wilson at left guard. Dunker was a 4-star commit in 2012 and has all the physical tools to step in and start.
Ian Silberman earned some playing time in 2012 when James Wilson went down with an injury. While SIlberman may not be ready to start just yet, he is a capable backup who can play multiple positions along the line.
Kim Klement-USA TODAY Sports

Starter: Jon Harrison
Backup: Cameron Dillard
No surprise here. Harrison has been the Gators' center for the better part of three seasons and that should not change next year.
The only true center that the Gators have on their roster other than Harrison is Sam Robey. Robey is graduating this season and someone will have to slide over and learn a new position. Cameron Dillard will be a freshman and is the likeliest candidate to earn the backup spot behind Harrison.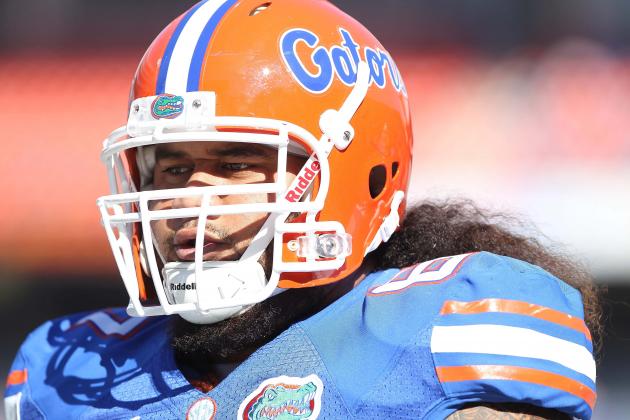 Kim Klement-USA TODAY Sports

Starter: Jon Halapio
Backup: Kyle Koehne
Jon Halapio has started every game at left guard for two consecutive seasons, and barring injury he will start every game there next season.
Kyle Koehne was his primary backup this season and that shouldn't change much next season, although Octavius Jackson could also push for early playing time.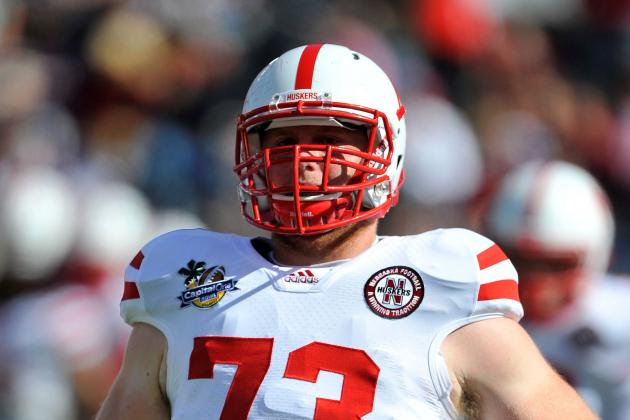 Brad Barr-USA TODAY Sports

Starter: Tyler Moore
Backup: Chaz Green
There will be a battle for the starting right tackle spot. Chaz Green played well as a freshman but struggled at times last season.
Florida will have transfers Tyler Moore and Trenton Brown competing for early playing time along with freshman Rod Johnson.
Tyler Moore is the best out of that bunch. Moore became just the 10th freshman to start a game at tackle for Nebraska. Moore started four games at right tackle at Nebraska and is familiar with the position. Moore will be a sophomore next season and should be able to earn the starting job on the right side.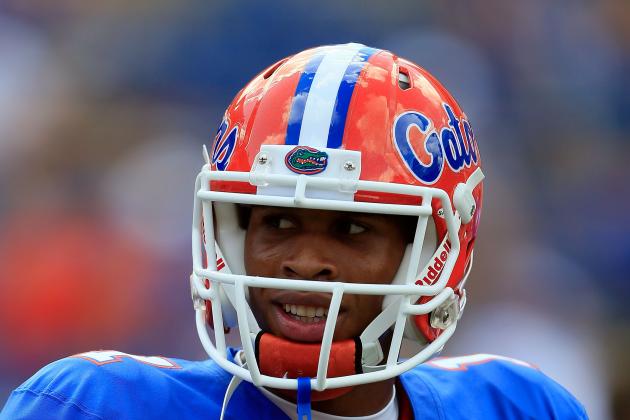 Sam Greenwood/Getty Images

Starter: Quinton Dunbar
Backup: Ahmad Fulwood
Quinton Dunbar led all receivers in receptions (31), yards (206) and touchdowns (four). Dunbar will be given every opportunity to become the No. 1 receiver, but this position is as wide open as a position can be.
Florida lacks playmakers at wide receiver and whoever performs the best in practice will earn playing time on Saturday.
At 6'4", Fulwood is already one of the biggest receivers the Gators have. His size and route-running ability will make him a candidate to earn playing time even though he will be just a freshman in 2013.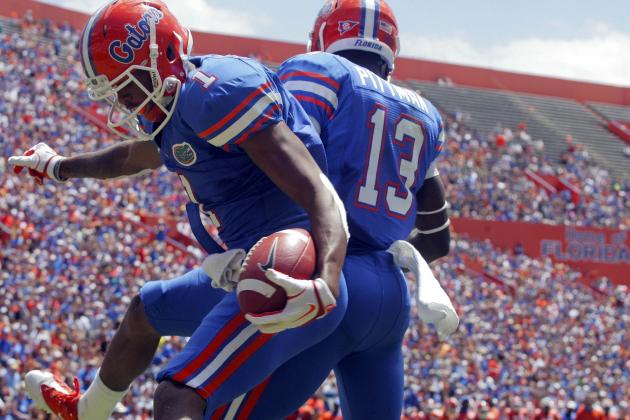 Phil Sears-USA TODAY Sports

Starter: Latroy Pittman
Backup: Raphael Andrades
As started in the previous slide, wide receiver is wide open.
Pittman and Andrades were used primarily as blockers this season, but their ability to block will earn them playing time in 2013.
Playing time at wide receiver will be determined by who performs the best during practice.