Penn State Football: Why Tyler Ferguson Is a Key 2013 Commit for Nittany Lions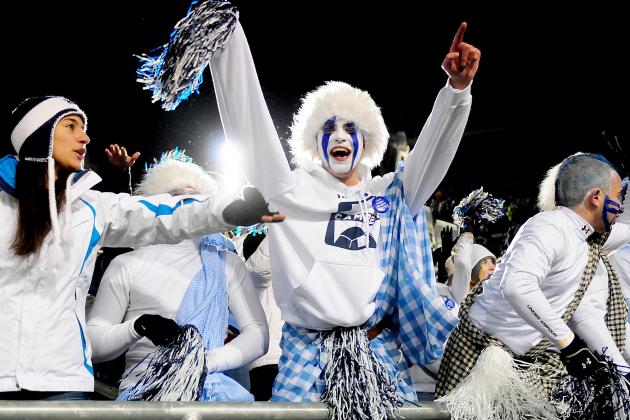 Evan Habeeb-USA TODAY Sports

Even after JUCO stud Jake Waters chose Kansas State over Penn State, the fan above was probably still cheering the next day when Tyler Ferguson committed to the Lions.
Even though he reportedly committed to Houston that same morning, Ferguson re-opened his recruitment after Waters announced he was not heading for Happy Valley.
And although the Lions now have way more depth at quarterback with the walk-on additions of D.J. Crook and Austin Whipple, Bill O'Brien has to be happy in particular about getting Ferguson.
Now that he's officially signed with the Lions, let's take a look at what the California product will bring to the program and how he'll affect its plans heading forward.
Begin Slideshow

»
While the recruit is brand new to the program, Ferguson certainly has the potential to be a starting quarterback under Bill O'Brien.
I don't say "quarterback of the future" or anything like that because those titles—for the time being—lie with blue-chip recruit Christian Hackenberg.
However, it is a strong possibility that Ferguson will start in 2013.
There are a lot of variables that need to be taken into account in regards to the quarterback position in the near future (see next slides).
With that considered, Ferguson could be starting under center if a few of those instances go his way.
And if Ferguson becomes a starting quarterback—even if it's just for one season—then his recruitment will be viewed as a successful one.
As anyone can tell from the film above, Christian Hackenberg probably has the tools that translate to the college game immediately.
However, I've said it before and I'll say it again: Hackenberg should be redshirted next year.
See the link above for a more extensive explanation, but to put it simply, it doesn't make sense for Hackenberg to play next year.
Granted, his compadre Adam Breneman has said he wants to play his freshman year, but that doesn't mean Hackenberg should—and having Ferguson makes that decision easier.
Without Ferguson, the Lions would be left with two walk-on quarterbacks and Steven Bench, who may have the ability to start.
However, if Bench couldn't pick things up, O'Brien would be left with no viable option but to start Hackenberg.
Now, the addition of Ferguson brings in a more seasoned signal-caller who has a legitimate chance to state his case for the 2013 starting job.
With that option, O'Brien shouldn't feel as pressured to start Hackenberg right away.
As previously mentioned, the Lions, along with Ferguson, added walk-on quarterbacks D.J. Crook and Austin Whipple recently.
That's great news for Nittany Lions fans, considering that, a short time ago, it looked like the only quarterback heading into spring ball would be Steven Bench.
However, Ferguson is key not only because he helps bring depth, but also due to the competition he'll create in spring camp.
Now, Penn State fans know what a quarterback competition entails, especially in the past couple of years (see: Rob Bolden-Matthew McGloin in 2011).
But competition does bring out the best in athletes, and competition in spring camp between Bench and Ferguson can only make them better quarterbacks in the long run, in my opinion.
And if Bill O'Brien and company do decide to redshirt Hackenberg, they are going to need all the competition and evidence to infer who the best option at quarterback would be for 2013.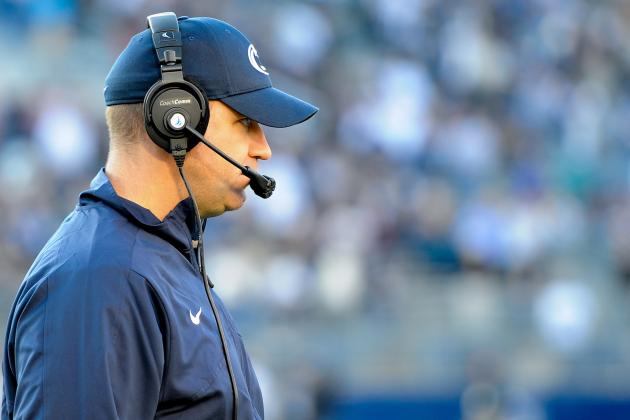 Rich Barnes-USA TODAY Sports

For Nittany Lions fans, not getting a commitment from JUCO quarterback Jake Waters had to be deflating.
However, the instant commitment of Ferguson reaffirms Bill O'Brien's ability to recruit offensive playmakers, especially at quarterback.
The fact that Ferguson immediately decommitted from Houston—a program that has nicely developed quarterbacks in recent years—is a testament to O'Brien's ability to sell his offense and scheme to quarterback recruits.
It shows that the commitment of Hackenberg wasn't a fluke, and that his style of play and his charisma are things that should be able to bring in quality talent for as long as he is coaching.