7 Reasons New York Knicks' Torrid Start Isn't a Mirage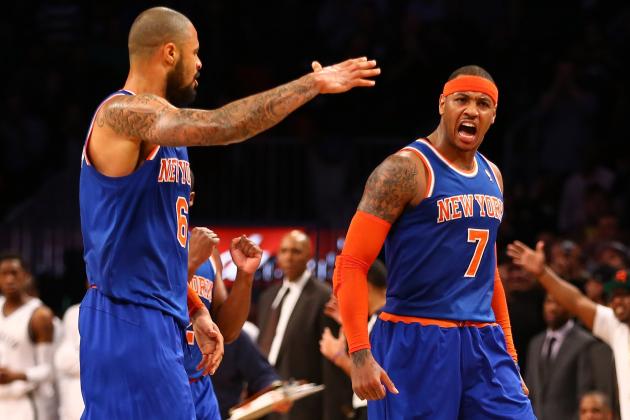 Al Bello/Getty Images
Tyson Chandler and Carmelo Anthony are leading the Knicks to a title push this season.
The New York Knicks are here to stay as a genuine NBA contender.
Two years ago, Amar'e Stoudemire, a new hope for a downtrodden organization that suffered through years of Stephon Marbury, Eddy Curry and Isiah Thomas, declared upon his arrival that "The Knicks are back."
He jumped the gun. They played much improved basketball and earned postseason bids, but only now are they truly a noteworthy team sitting at the top of the Eastern Conference.
Back among the NBA's elite, the Knicks currently possess the No. 1 seed with a 20-7 record this season.
The road to a championship will certainly be festered with bumps along the way, but this team is built sturdily enough to make a deep playoff run.
Led by the fine tutelage of head coach Mike Woodson, Carmelo Anthony and Tyson Chandler are both playing sensational basketball for New York. These two stars are setting the tone by working hard on both sides of the court.
This squad has dissected opponents through the three-pointer, an art they have mastered resoundingly.
Whether Knicks fans like it or not, reinforcements lie ahead, which will give them a deep squad heading into the postseason.
Here are seven reasons why the Knicks' hot start is far from a fluke.
Begin Slideshow

»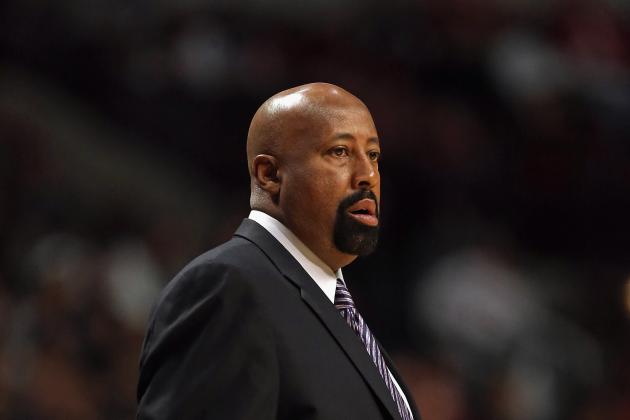 Jonathan Daniel/Getty Images
Mike Woodson is a leading Coach of the Year candidate.
For years, Knicks fans fumed at the team's defensive ineptitude under former head coach Mike D'Antoni.
Not only did he allow Anthony and Stoudemire to sleepwalk without the ball, but he frequently relegated players deep into the doghouse and adamantly refused to adapt to his players' talents, which could lead to his downfall in Los Angeles as well.
Since Woodson took charge as the Knicks' new head coach, every move he's made has worked swimmingly.
Once he seized control of the Knicks, he maximized Anthony's productivity by slotting him as a power forward. Anthony returned to form to close out the 2011-12 season and has since transferred that momentum over into this year.
Many assumed that J.R. Smith would open the season as their starting shooting guard, but Woodson aptly asserted him as the head of their second unit. Employing Smith while Anthony cools off has created a balanced offensive attack that does not suffer as greatly with its star off the court.
Instead of sharing the floor with Anthony, Smith can lead the bench's offensive attack and occasionally utilize his supreme scoring skills on isolation plays.
After surprisingly giving Rasheed Wallace regular bench minutes rather than inserting him into the "Brian Scalabrine role," Wallace has helped space the floor beautifully on offense and provide a tough defensive presence.
Woodson, who has led New York to a 38-13 record since his arrival, deserves ample consideration for Coach of the Year honors.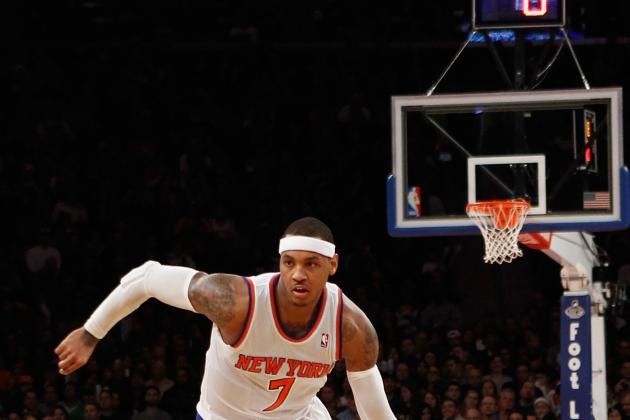 Bruce Bennett/Getty Images
Carmelo Anthony is a viable MVP candidate this year.
Ever since entering the Big Apple two seasons again, Carmelo Anthony has heard constant doubt over his credibility as an NBA superstar.
So far, Anthony has convincingly silenced his critics. The 28-year-old is following the worst season of his career with arguably his best.
Before this season, Knicks fans justifiably wondered if Anthony could carry the burden as a championship's team premium player. Last season, he scored 22.6 points per game, his lowest average in the past nine seasons, and appeared to check out under D'Antoni's watch.
Now a focused, determined Anthony is showing up every night to drive a revitalized Knicks club. Not only is he averaging 28.3 points per game with a career-high .588 true shooting percentage, but Anthony is treating his defensive duties seriously, holding his own despite playing power forward.
His 21.15 PER ranked 28th in the NBA last season. This year, he trails only LeBron James, Kevin Durant and Chris Paul with a 26.05 PER. Anthony joins James, Durant, Paul, Kobe Bryant and Tim Duncan in a class of candidates vying for the MVP award.
With Anthony evolving into a comprehensive stud, the Knicks finally have a superstar guiding them to the promised land.
Bruce Bennett/Getty Images
Tyson Chandler continues to dominate on the defensive side of the court.
They're no juggernaut halting the opposition, but the Knicks are substantially better defensively in comparison to prior years.
Two seasons removed from surrendering 105.7 points per game, the Knicks now allow 96.2 points, which ranks 12th in the NBA and paves the way for an East-leading 6.1 point differential.
Reigning Defensive Player of the Year Tyson Chandler sets the tone down low, allowing Woodson to play small around the center.
Newcomer Ronnie Brewer has filled the void during Iman Shumpert's injury, but the sophomore's eventual return will only aid their defense.
Lately, their defense has stumbled after stifling opponents to start the season. The 14-12 Houston Rockets have carved New York up on two separate occasions.
Still, the Knicks no longer need to accumulate triple digits to preserve any hope of winning. They have room for improvement, particularly in the rebounding department, in order to solidify themselves as a top defense, but Knicks fans will accept this upgrade.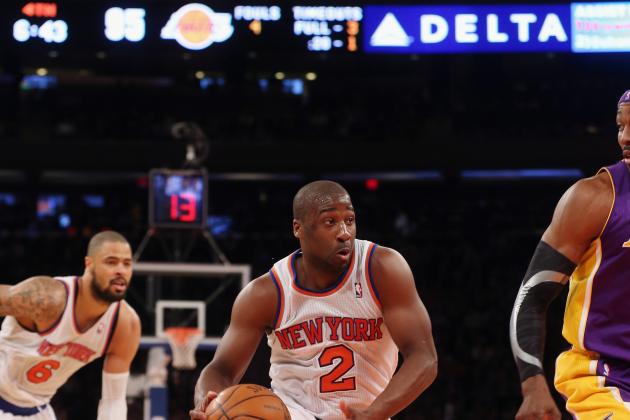 Bruce Bennett/Getty Images
Raymond Felton has returned to provide the Knicks with stability at point guard.
With exception to Jeremy Lin's brief ascendancy, point-guard play hindered the team significantly last season.
They tried, and failed, to morph Shumpert into a point guard. Baron Davis displayed a brief glimpse of usability before quickly landing back on the injury list.
And Mike Bibby, let's not even go down that road.
Although Lin's departure initially displeased fans, they'll live now that Raymond Felton and Jason Kidd have formed a formidable duo running the Knicks' backcourt.
Kidd is shooting 43.5 percent from long range, pick-pocketing 1.9 steals per game, grabbing 4.2 boards and dishing out 3.7 assists. The 39-year-old has served a prominent role in shifting New York's culture from a dysfunctional mess to a well-oiled machine.
Returning to New York to reclaim his starting point guard position, Felton is averaging 16.1 points and 6.5 assists per game. While he deteriorated during his previous stint with the Knicks, he also logged more minutes under D'Antoni's hyper-rushed offense.
Pablo Prigioni is unselfish to a fault at times, but the reserve shows a knack for running the pick-and-roll and hitting open teammates with a crisp pass.
Lacking a floor general last season, the Knicks counted on Anthony, Smith and Stoudemire to make plays individually. Now they have three point guards capable of running the show.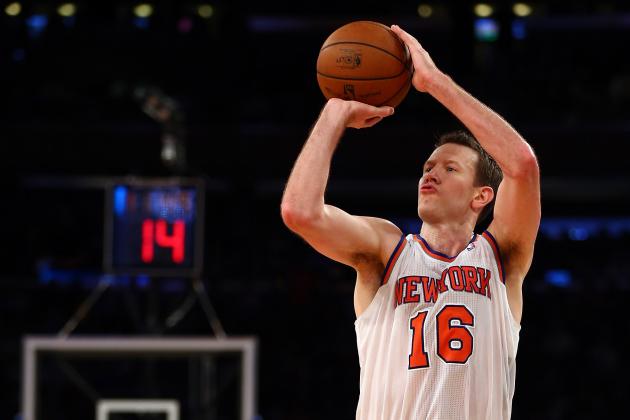 Elsa/Getty Images
Steve Novak deserves the title belt as the NBA's top three-point shooter.
The Knicks shoot three-pointers more than any other team in the NBA, which leaves critics wondering what happens when their shooters go cold.
It's a legitimate concern; there will be a game here and then when nothing goes in from long distance. Every team, however, has to worry about laboring through off nights.
Considering how the Knicks run their offense, a rapid decline in three-point efficiency should not cause their downfall.
Jacking up quick, contested threes signifies poor basketball, but the Knicks take their time and selflessly distribute the ball until earning an open three-point attempt.
They have the personnel to support a non-stop attack from the outside. Every regular other than Tyson Chandler can sink an open three-pointer. When Wallace occupies the court as their center, all five players can convert from downtown.
Steve Novak is paid just to drain threes, and he's earning his money, notching 56 of them in 26 games.
Worrying about their reliance on the three is the equivalent of fearing that the New York Yankees hit too many home runs. Excelling at an integral part of the game is a good thing.
As long as they can keep generating open looks, the Knicks should continue to cash in from behind the line.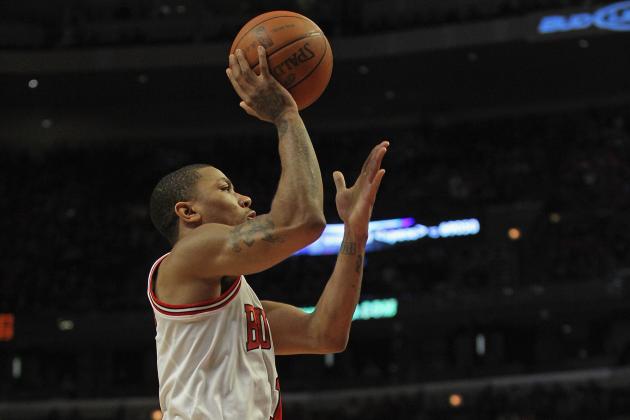 Jonathan Daniel/Getty Images
The Knicks could be in trouble when Derrick Rose returns.
Even those who don't consider the Knicks elite have to at least concede that few Eastern Conference teams are capable of knocking them off.
A handful of Western Conference clubs could pose a significant threat to the Knicks' title hopes, but the Knicks mainly have to fret the Miami Heat and Chicago Bulls in the East.
The defending champions have quietly strolled to a 18-6 record, but two of those losses came at the hands of New York. After demolishing Miami without Anthony, the Knicks should feel fairly confident about a potential Conference Finals bout with the Heat.
Chicago, which has already topped New York twice without Derrick Rose, could represent a road block to the Finals with its star point guard.
The Boston Celtics and Brooklyn Nets are the East's two key wild cards. Boston is showing its age at 13-13, but the veteran squad typically wakes up for the postseason. Right now, they are an old, wounded squad past their inevitable expiration date.
The Nets present a much more curious case. They have already rattled off five straight victories on two straight occasions, but they have dropped eight of their last 11 contests, frequently squandering late leads.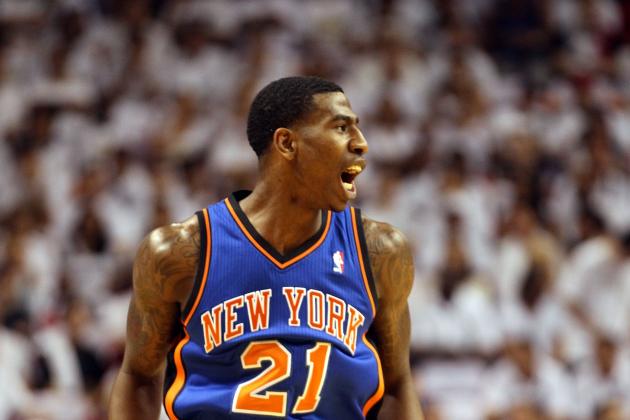 Marc Serota/Getty Images
With all the talk about Stoudemire's return, it's easy to forget about Iman Shumpert.
A player averaging 21.6 points per game over his career will soon join an already deep Knicks team. A guy who once notched nine straight games with at least 30 points will soon resurface, and Knicks fans are terrified.
Stoudemire is set to make his season debut shortly, but Knicks fans all wish that he wouldn't.
If handled correctly, Stoudemire can offer some assistance by accepting a bench role. Anthony and Stoudemire can each do their thing without getting in the other's way, and no team could match their bench's offensive firepower.
This is a guy who gave himself a nickname, so it's fair to wonder if his ego can handle starting, and more importantly finishing, games on the bench.
All the discussion revolves around Stoudemire's pending return, but another big name, one that New York will welcome back with open arms, will soon bless the Big Apple with his glorious high-top, musical prowess and stout defense.
Defensive dynamo Iman Shumpert won't beat Stoudemire back on the court, but he'll at least arrive before the postseason tips off. In his rookie season, Shumpert emerged as one of the league's finest perimeter defenders, so he'll fit right in with the new-look Knicks.
Anthony. Chandler. Felton. Kidd. Smith. Stoudemire. Shumpert. Novak. Ain't nobody messing with the Knicks.