This is the time of year when visions of playoff matchups dance in my head.
As things stand now, there are roughly a million possibilities and scenarios for the NFL playoffs, but there are a select few that stand out as the best matchups.
Sticking to reasonable possibilities, here is how the ultimate first round would shape up.
NFC
Seattle Seahawks at Green Bay Packers
The Fail Mary, part two! While the debacle that happened in Seattle earlier in the season, when Green Bay was robbed of a game with a terrible call in the end zone by the replacement officials, never needs to be seen again, I would like these two teams to settle the score with a more believable answer.
This game would be fun to see if one of the teams could land a blow like Juan Manuel Marquez did to Manny Pacquiao and provide a definitive answer as to the rightful winner.
The Packers faithful would be at their boisterous best for this one as they let the fury of their frustration from the botched call rain down on the Seahawks. It would be a great environment, and both teams would be going all out. Oh, it would also feature one of the league's best passing attacks against one if its best pass defenses.
Minnesota Vikings at Washington Redskins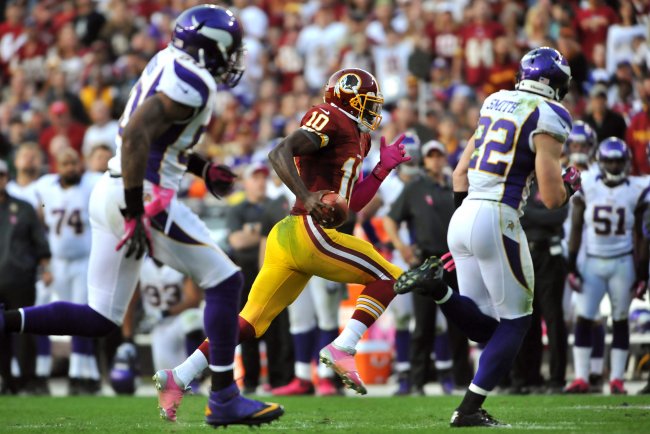 Larry French/Getty Images
I don't have any traditional rooting interest in the NFC East, but I'm pulling for the Redskins this year—simply so I can see Robert Griffin III in the playoffs.
The rookie brings so much added excitement to the game, and he certainly doesn't seem to shy away from the kind of bright lights the playoffs would bring.
The Vikings would be a fun matchup for them. For starters, Adrian Peterson is must-see TV right now. He is flat unstoppable.
It would also create for some interesting decision-making on that side of the ball. The Redskins defense has struggled mightily against the pass and has been better against the run. Would the Vikings just try to pound it down their throats anyway?
AFC
Indianapolis Colts at Denver Broncos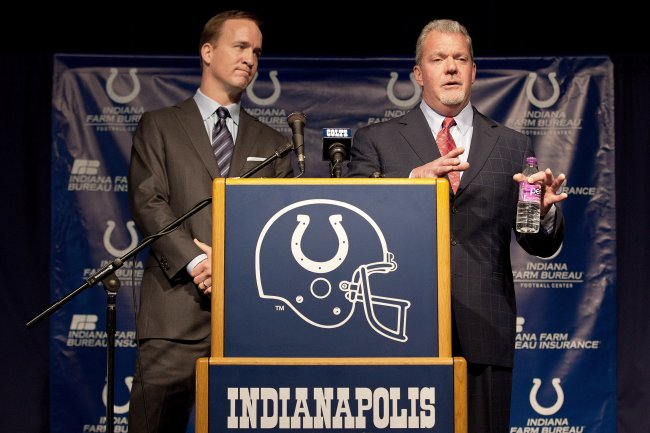 Joey Foley/Getty Images
How fun and improbable would this be? Peyton Manning going against the franchise he resurrected but then ditched him when they had a shot at taking Andrew Luck in this past year's draft?
Manning is essentially running the same offense in Denver as he did in Indianapolis. Yes, he has different names for his many audibles, but it would be fun to see if the Indianapolis defense could pick up on little things that would tip them off.
Meanwhile, this would give Andrew Luck a chance to upstage the legend whose shoes he is trying to fill.
Pittsburgh Steelers at Baltimore Ravens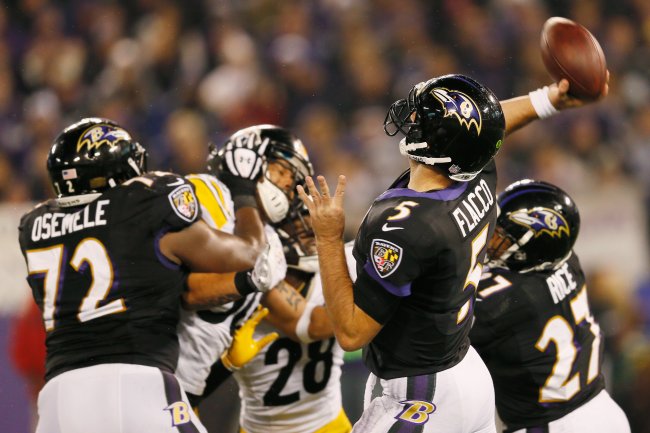 Rob Carr/Getty Images
It's the Ravens and the Steelers! What else needs to be said?
Well, I guess a lot. This year something should be added to the rivalry. It's not like either of these teams have looked like the monstrous versions of their recent past, and neither is playing particularly good football right now.
Still, these two teams seem to bring out the baddest and the best in each other.
This season has been no different. The Steelers and Ravens have already played twice. They split the season series, and each game was decided by three points.
NFC PLAYOFF PICTURE
DIVISION LEADERS
No. 1 Seed Atlanta Falcons (12-2) Clinched NFC South
No. 2 Seed San Francisco 49ers (10-3-1) Lead NFC West; Clinched Playoff Berth
No. 3 Seed Green Bay Packers (10-4) Clinched NFC North
No. 4 Seed Washington Redskins (8-6) Lead NFC East
WILD CARD LEADERS
No. 5 Seed Seattle Seahawks (9-5)
No. 6 Seed Minnesota Vikings (8-6)
IN THE HUNT
Chicago Bears (8-6)
Dallas Cowboys (8-6)
New York Giants (8-6)
St. Louis Rams (6-7-1)
New Orleans Saints (6-8)


AFC PLAYOFF PICTURE
DIVISION LEADERS
No. 1 Seed Houston Texans (12-2) Clinched AFC South
No. 2 Seed Denver Broncos (11-3) Clinched AFC West
No. 3 Seed New England Patriots (10-4) Clinched AFC East
No. 4 Seed Baltimore Ravens (9-5) Lead AFC North; Clinched Playoff Berth


WILD CARD LEADERS
No. 5 Seed Indianapolis Colts (9-5)
No. 6 Seed Cincinnati Bengals (8-6)
IN THE HUNT
Pittsburgh Steelers (7-7)
Miami Dolphins (6-8)

REMAINING SCHEDULE
NFC
Atlanta: vs. Detroit, vs. Chicago
San Francisco: at Seattle, vs. Arizona
Green Bay: vs. Tennessee, at Minnesota
Washington: at Philadelphia, vs. Dallas
Seattle: vs. San Francisco, vs. St. Louis
Minnesota: at Houston, vs. Green Bay
Chicago: at Arizona, vs. Detroit
Dallas: vs. New Orleans, at Washington
New York: at Baltimore, vs. Philadelphia
St. Louis: at Tampa Bay, at Seattle
New Orleans: at Dallas, vs. Carolina
AFC
Houston: vs. Minnesota, at Indianapolis
Denver: vs. Cleveland, vs. Kansas City
New England: at Jacksonville, vs. Miami
Baltimore: vs. New York Giants, at Cincinnati
Indianapolis: at Kansas City, vs. Houston
Cincinnati: at Pittsburgh, vs. Baltimore
Pittsburgh: vs. Cincinnati, vs. Cleveland
Miami: vs. Buffalo, at New England