Buying or Selling Chances Calvin Johnson Breaks Every Remaining Receiving Record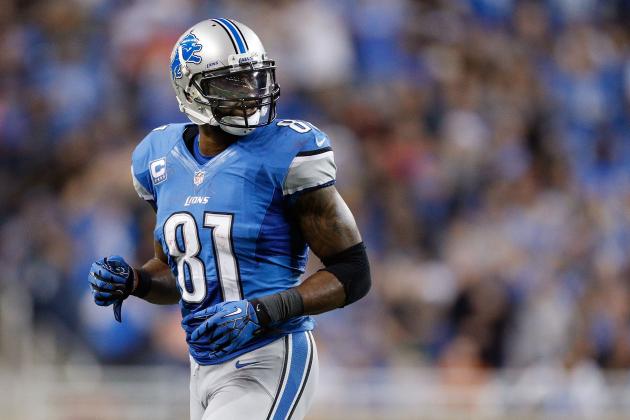 Gregory Shamus/Getty Images

Calvin Johnson's assault on the NFL record book may be just beginning.
Thanks to 225 yards Saturday night, the Detroit Lions' 27-year-old receiver broke Jerry Rice's record for most receiving yards in a single season (1,892). Johnson also broke records for most consecutive games with 100 or more yards (eight), 100-yard games in a season (tied, 11), consecutive 10-catch games (four) and most receptions in a calendar month (44).
While not all of the NFL's receiving records will fall to Johnson, he may put his name in the running for each of the five major receiving records left.
In the following slides, we'll buy or sell Johnson breaking each of the five.
Begin Slideshow

»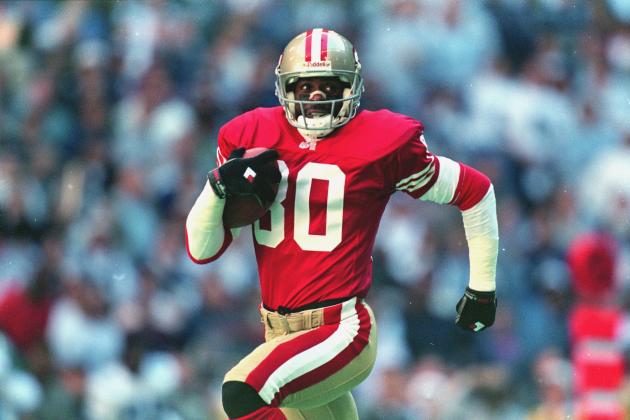 Jamie Squire/Getty Images

Record: Jerry Rice, 1,549
Johnson: 483
Will anyone ever catch Rice's 1,549 receptions?
Johnson is currently 1,066 catches behind Rice, so he would need to play at least another 10 years and average almost 107 catches a season to break his mark. Johnson is a special athlete and has stayed relatively healthy, but he would likely need to play into his 40s to break Rice's mark.
Not impossible, but certainly improbable.
Buy/Sell: Sell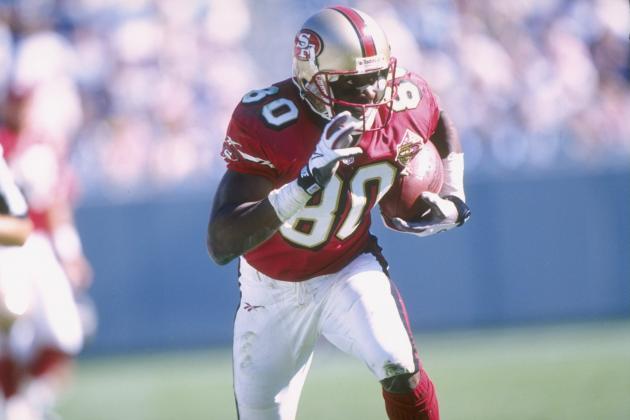 Doug Pensinger/Getty Images

Record: Jerry Rice, 22,895 yards
Johnson: 7,764 yards
Putting Johnson's current numbers up against Rice's career record only magnifies how consistently dominant Rice was. Johnson needed all 215 yards Saturday to just get over the one-third hump of Rice's yardage total.
Again, we'll use the 10-year mark here to stack up his chances; If Johnson plays another 10 years, he would need to average 1,514 to break Rice's mark. Johnson likely has another 2-3 years of 1,500 or more receiving yards, but there's only been 30 individual seasons with 1,500 or more receiving yards in NFL history.
Buy/Sell: Sell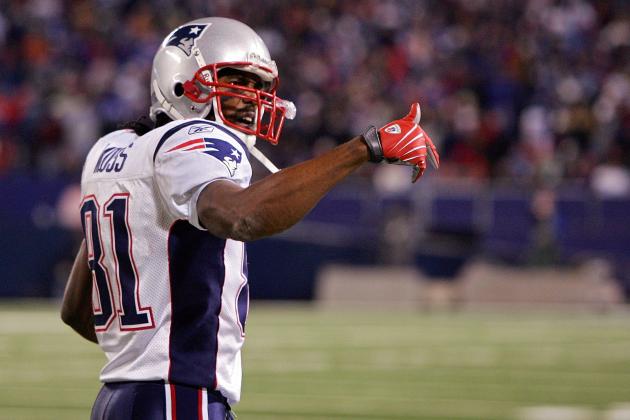 Jim McIsaac/Getty Images

Record: Randy Moss, 23, 2007
Johnson: 5
Obviously, Johnson is not breaking the single-season record in 2012. But there's reason to think he could eventually challenge the pace Moss set in 2007.
Johnson caught 16 in 2011—the 14th-most in NFL history—and his ability to win in the red zone and stretch defenses vertically represents the exact blueprint Moss followed five years ago. To make up the seven scores, however, Johnson would need Matthew Stafford to take some leaps forward.
Eventually, you'd have to think Johnson will have a season that pushes the 23 touchdowns Moss corralled in New England.
Buy/Sell: Buy
George Rose/Getty Images

Record: Jerry Rice, 197
Johnson: 54
Rice's 197 scores is a record that might stand the test of time. Moss appeared to have the best chance to break it, but he tailed off late and still remains 41 short of Rice.
There's no reason to think Johnson can't finish in the top 10 (Isaac Bruce is No. 10 with 91 touchdowns), but reaching 197 is crazy talk. Johnson would need to average over 14 touchdowns a season for 10 straight seasons to break Rice's mark.
Buy/Sell: Sell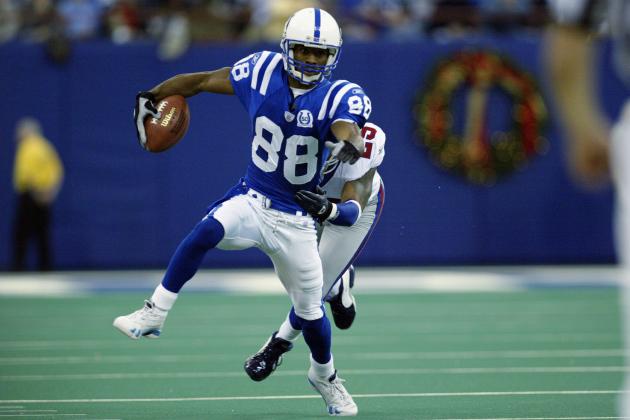 Jeff Gross/Getty Images

Record: Marvin Harrison, 143, 2002
Johnson: 117
Getting to 143 receptions means averaging nearly nine a game over a 16-game season. Considering Johnson's last month, nine catches a game doesn't seem all that crazy.
However, the Lions won't be trotting out no-names to play alongside Johnson next season, and the target load he's received over the last month probably isn't sustainable over a full season. It's likely going to take a dominant slot receiver to break Harrison's mark.
Buy/Sell: Sell