Where Does Calvin Johnson Rank Amongst NFL Receivers All-Time?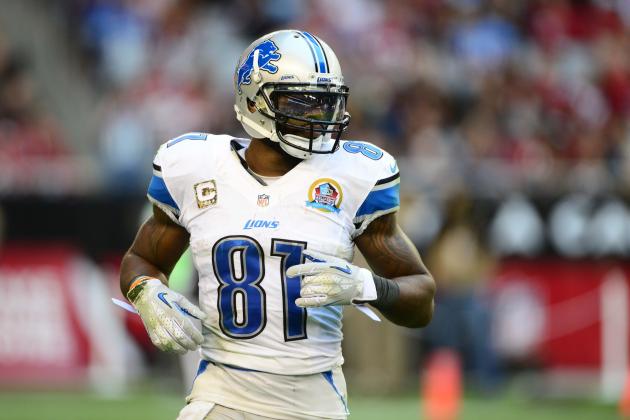 Mark J. Rebilas-USA TODAY Sports

Once Jerry Rice's records start to fall, Calvin Johnson has to be considered among the best receivers in NFL history.
There are many things to like about Johnson, from his size, speed and agility to his demeanor and clear desire to succeed.
Johnson's body of work is smaller than everyone else on this list, but it is hard to argue he has not already surpassed some of the greats.
So, let's stir up some controversy and find out where Johnson already ranks in the annals of NFL receiving history.
Begin Slideshow

»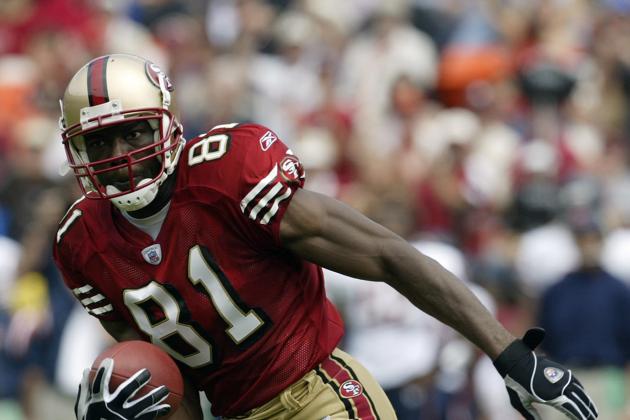 Jed Jacobsohn/Getty Images

First, let's give a quick rundown of the players that Johnson has already surpassed on the all-time scale.
10. Michael Irvin
8. Paul Warfield
7. Charley Taylor
Keep in mind that this list is clearly subjective, so while you will undoubtedly agree with every pick on the list you are free to share opinions in the comments section below.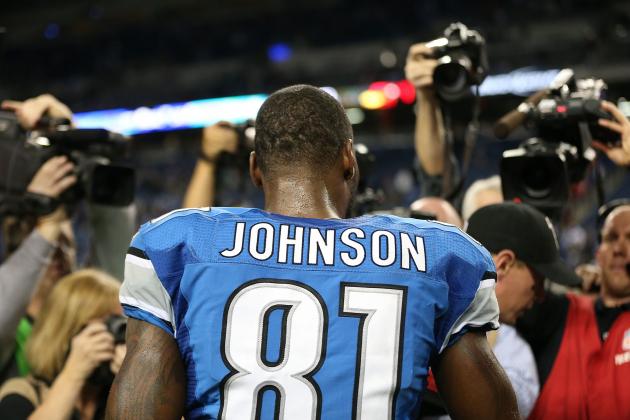 Leon Halip/Getty Images

It is amazing how quickly Calvin Johnson has thrust himself into the conversation of the immortals.
Johnson has done everything expected of him and more since coming out of Georgia Tech. He has averaged 16 yards per catch, scored 54 touchdowns and gained 7,539 yards.
Johnson almost never garners single coverage, but is instead swarmed by double and triple teams. He is a threat at every interval of the field and can run precise routes in ways that most receivers his size were never capable of.
His career is young and there is a strong likelihood that Johnson will only move up this list as time moves on, but for now he sits comfortably at No. 6.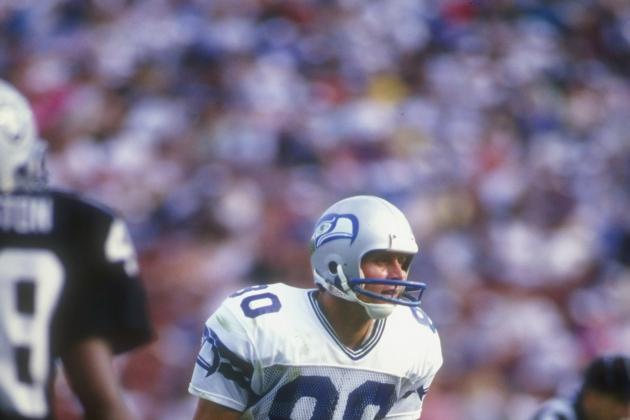 Rick Stewart/Getty Images

"He was as crafty as anybody I could recall. He wasn't a big guy, but he knew exactly how to lean on people and his hands were unbelievable."
This quote from Green Bay Packers GM Ted Thompson perfectly sums up the type of player that Steve Largent was in his time with the Seattle Seahawks.
At 5'11", 187 pounds, Largent was never the strongest player on the field, but he ran precise routes and rarely (if ever) dropped passes.
Largent had 819 catches for 13,089 yards over the course of his 14 year career and added 100 touchdowns.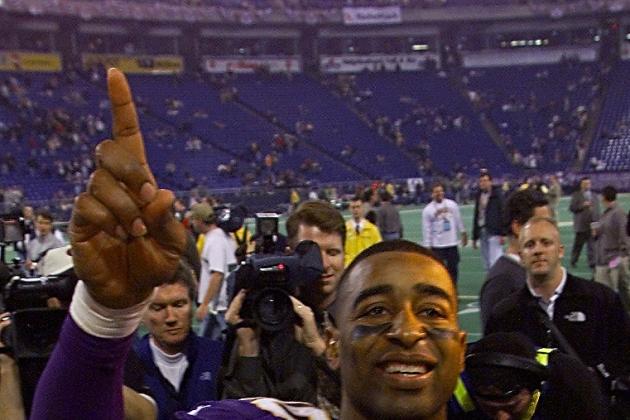 Brian Bahr/Getty Images

130 career touchdowns, 13,899 yards and 1,101 receptions. Cris Carter earned those impressive statistics through years of disciplined play and work ethic, mainly with the Minnesota Vikings.
He is considered one of the hardest workers in the history of football for a reason. Carter was not the fastest or the most agile player the game had ever seen, but he had hands like glue and was always finding open space.
Carter was one of the best at adjusting his routes to help out a QB moving the pocket or getting into trouble. He had a knack for finding the end zone and scored 10 or more touchdowns in a season six times.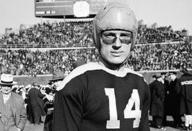 For a long time, Don Hutson was considered the best receiver in NFL history, and for good reason.
The 1930s and '40s Green Bay Packers star had 99 touchdowns, 7,991 yards and 488 receptions in just 60 games of action.
In an era where rushing the football was paramount, Hutson helped the Packers have a legitimate aerial attack.
Hutson was a tremendous pass catcher and never let go, having just one fumble in his entire career.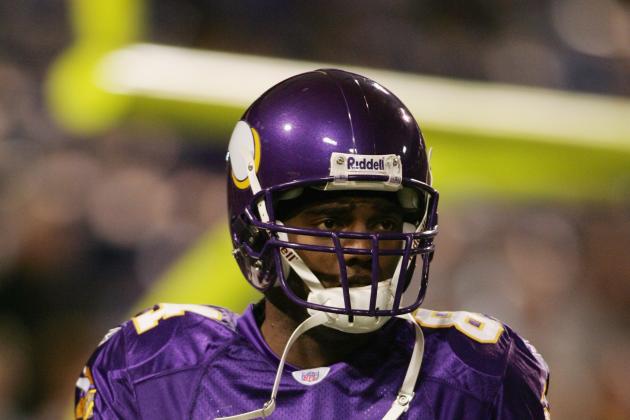 Jonathan Ferrey/Getty Images

Sometimes it is hard to look past the current incarnation of Randy Moss. The one that has been increasingly mediocre with the San Francisco 49ers, Tennessee Titans and even the Minnesota Vikings.
However, when you look past that and get down to the best times of Moss' career, you find one of the most dominating receivers in NFL history.
There has never been a greater vertical threat than Moss. His pure speed and agility allowed him to fly off the line of scrimmage and often sneak by safeties before they even knew what was happening.
Physically imposing at 6'4", 215 pounds, Moss currently has 977 receptions, 15,220 yards and 156 touchdowns.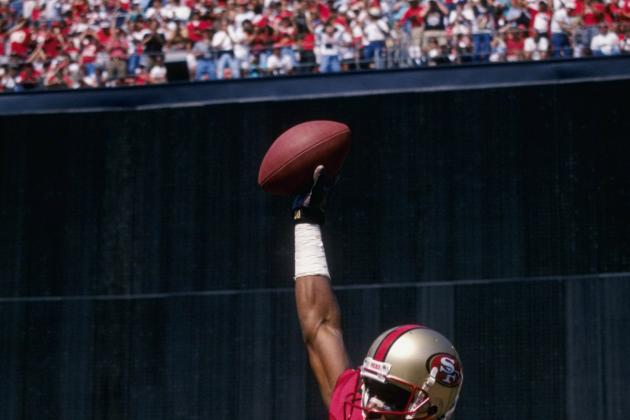 Otto Greule Jr/Getty Images

Yes, Jerry Rice is No. 1.
Rice is No. 1 on every receiving list ever made and perhaps always will be. It will be interesting to follow Calvin Johnson's career and see if he continues breaking records held by the greatest of all-time.
Still, he has a steep climb ahead of him. Rice had 197 career touchdowns, 22,895 yards and 1,549 receptions.
Rice put his 6'2", 200-pound frame to the best use possible every time he stepped on the field, and perhaps Mike Holmgren summed up Rice's ability best when he said the following: "Jerry had a tremendous combination of speed, size, toughness, smarts."
Yes he did, and that's why he is the G.O.A.T.