Fantasy Football Live Blog for NFL Week 16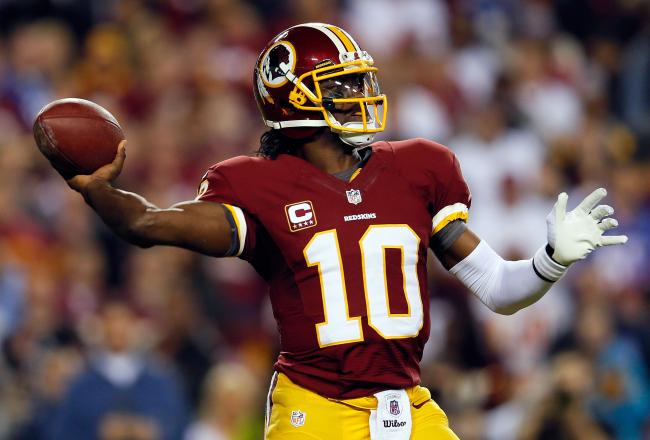 Rob Carr/Getty Images
It's Week 16 of the 2012 NFL season, and that means that this is it, the end of the line.
This is championship week in the majority of fantasy football leagues, and by the time the dust has settled, one team in each will reign supreme as league champion.
Whether you're locked in battle for your league's trophy or just not willing to say goodbye to the fantasy season just yet, be sure to check back here throughout the day for injury news and player updates from around the NFL.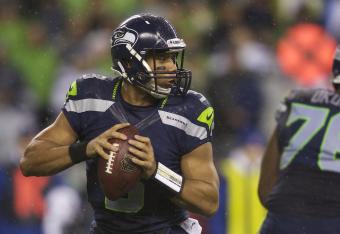 The Sunday night game has been ALL Seattle, and as the San Francisco 49ers and Seahawks wrap things up it will bring to a close another season of fantasy football.
I hope the season treated you well, and that all of you and your families have a very Happy Holidays.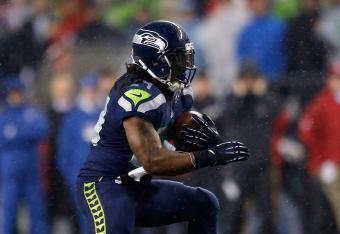 Two quick touchdowns for Marshawn Lynch of the Seattle Sehawks against the stout San Francisco defense.
Fantasy owners who started Lynch despite the matchup are being rewarded handsomely.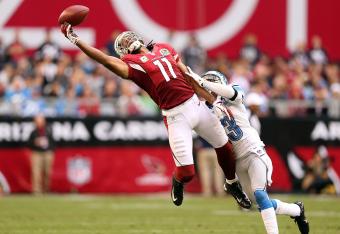 I don't know what's sadder.
That eight catches for 111 yards is what passes for a big game from Arizona Cardinals wide receiver Larry Fitzgerald now.
Or that he finally had one sitting on most fantasy team's benches.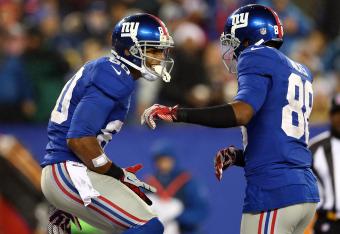 So, if you started New York Giants wideouts Victor Cruz or Hakeem Nicks in your fantasy league's title game I'm guessing that you were hoping for more than two catches for 10 yards.
Those were Cruz's. Nicks has a fat bag of nothing.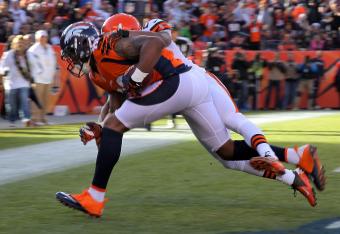 Huge days for the Denver offense against the Cleveland Browns.
Quarterback Peyton Manning and wide receivers Eric Decker and Demaryius Thomas have all had big games, and you know it's been that kinda day when Knowshon Moreno's 100+ total yards is viewed with a shrug.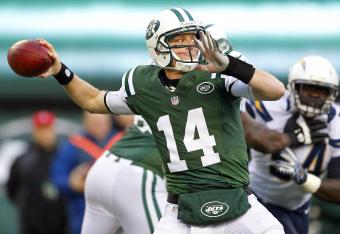 From both the fantasy team defense and oh my God they're terrible files:
Fantasy teams that rolled the dice on the San Diego Chargers' nice matchup with the New York Jets were rewarded to the tune of 11 sacks Sunday.
J-E-T-S!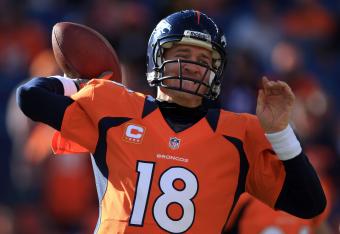 Denver Broncos quarterback Peyton Manning is spreading the fantasy wealth in Week 16, finding both Demaryius Thomas and Eric Decker for touchdowns against the Cleveland Browns.
Denver leads 14-3 at halftime.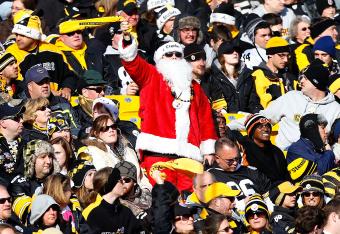 OK...scratch that last Flacco score.
Merry Christmas!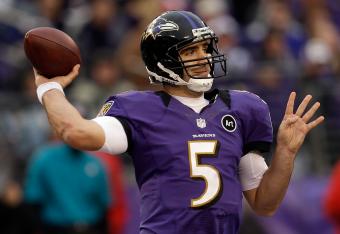 Joe Flacco's having a huge first half for the Baltimore Ravens, throwing for two touchdowns and rushing for another as the Ravens lead the New York Giants 21-7.
If you started Flacco this week congrats. That was either very savvy or completely insane.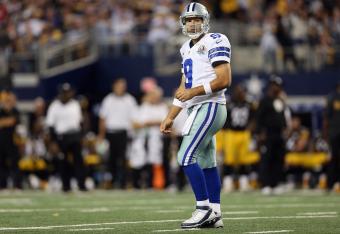 Add Tony Romo to the list of quarterbacks posting huge numbers in Week 16.
Romo and Drew Brees of the New Orleans Saints are locked in a dogfight headed to overtime thanks Romo's fourth touchdown pass of the day.
31-31 headed to bonus time.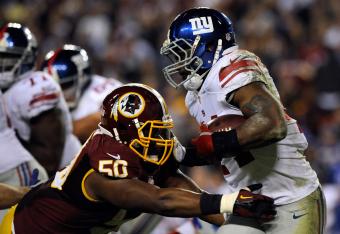 The New York Giants backfield has hit stay-away mode.
Ahmad Bradshaw is active, but nursing a knee injury Bradshaw will cede significant touches to rookie David Wilson, sucking the fantasy value from both.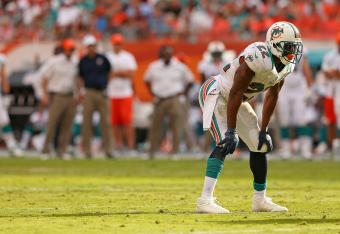 Fantasy owners may not have been happy with Tom Brady, but they're positively giddy about Reggie Bush.
The Miami Dolphins running back, who started the season red-hot before fading, topped 100 total yards and found the end zone three times in a Dolphins win.
Ugly day for the New England Patriots and quarterback Tom Brady, although the Pats managed to defeat the Jacksonville Jaguars 23-16.
Fantasy owners, however, were likely not pleased with less than 250 yards, two touchdowns, and two interceptions from Brady in championship week.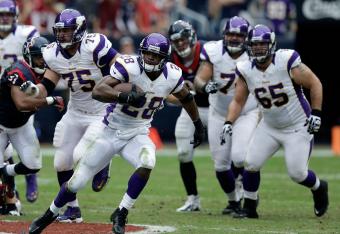 Stunner of the day in Houston, where the Minnesota Vikings rolled the Houston Texans 23-6.
Houston Texans running back Arian Foster was forced from the game with an illness, while Adrian Peterson's streak of 100-yard games came to an end, with Peterson gaining 86 yards on 25 carries.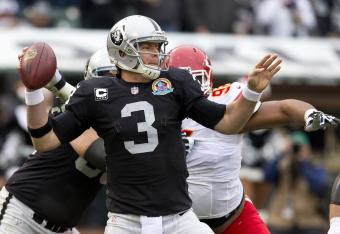 Anyone who gambled their championship hopes on Carson Palmer or the Oakland Raiders got a lump of coal for Christmas.
Palmer attempted all of three passes on the day before getting hurt, and with Matt Leinart under center the Oakland offense lapsed into a coma.
Humbug!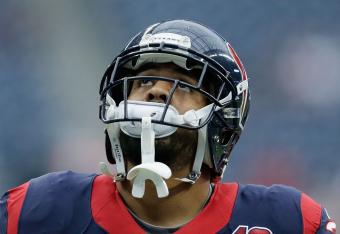 Big news from Houston, where Stacy Dales of the NFL Network reports that Houston Texans running back Arian Foster has been taken to the locker room with an undisclosed injury.
Timing isn't so good fantasy-wise, but the NFL ramifications of that one could be huge.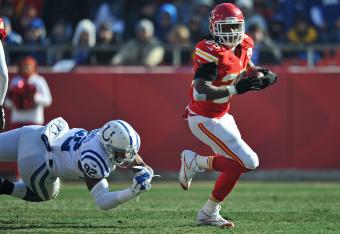 Adrian Peterson may be struggling, but another running back returning from an ACL tear is doing just fine, as Jamaal Charles of the Kansas City Chiefs has rolled for 179 yards against the Indianapolis Colts, including an 86-yard touchdown scamper.
For the Colts a bit of history, as quarterback Andrew Luck broke Cam Newton's year-old record for passing yards by a rookie.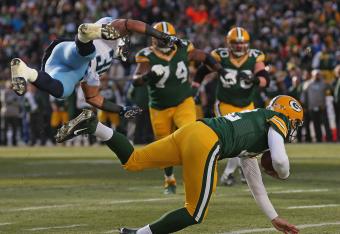 The rout is on in Titletown, as quarterback Aaron Rodgers' second TD pass of the day has staked the Green Bay Packers to a 34-0 lead over the Tennessee Titans.
In addition to the passes to Greg Jennings and Randall Cobb Rodgers also has a touchdown on the ground.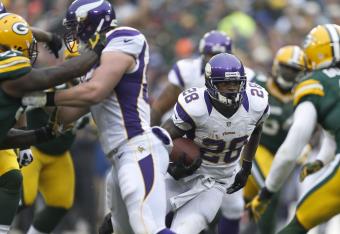 Tough sledding so far in Week 16 for Adrian Peterson, as the Minnesota Vikings running back has tallied only 58 yards on 16 carries against the Houston Texans.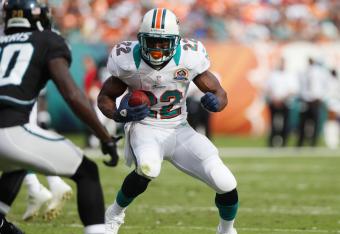 Outside of the aforementioned Dez Bryant and Aaron Rodgers it's been a pretty quiet first half, but some players are faring pretty well.
QB: Tony Romo, Dallas Cowboys: 169 passing yards, 2 touchdowns; Cam Newton, Carolina Panthers: 174 total yards, 2 touchdowns
RB: Reggie Bush, Miami Dolphins: 68 total yards, 2 touchdowns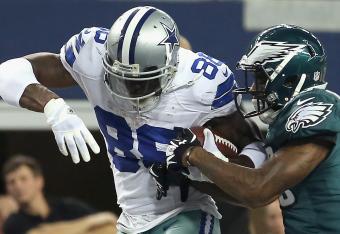 This is not a repeat.
ANOTHER 58-yard touchdown pass from Dallas Cowboys quarterback Tony Romo to Dez Bryant, who now has five catches for 145 yards and two touchdowns.
In the first half.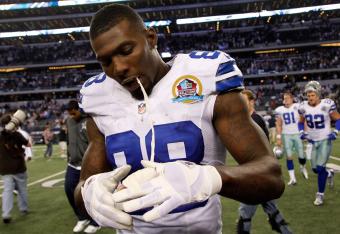 Finger seems OK.
Dallas Cowboys wideout Dez Bryant, broken finger and all, catches a 58-yard scoring strike from Tony Romo that knots their game with the New Orleans Saints at 7.
A tidy 12-point play.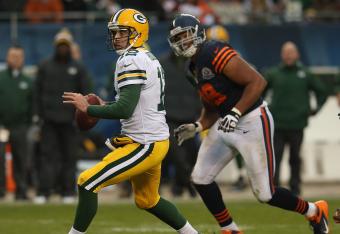 Green Bay Packers quarterback Aaron Rodgers is off to a hot start.
Rodgers has thrown a touchdown pass to Randall Cobb and run for another score as the Packers have jumped out to an early 14-0 lead over the Tennessee Titans.
If Rodgers keeps this up he could be swinging a lot of title games Sunday.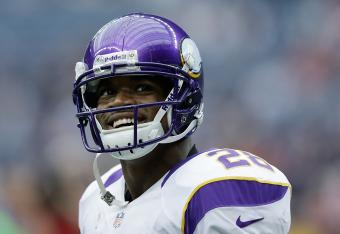 Obligatory Adrian Peterson check.
So far the Houston Texans have contained Peterson as he chases 2,000 yards and Eric Dickerson's single-season rushing record, limiting the sixth-year pro to five carries for 22 yards.
The Minnesota Vikings lead the Texans 7-3 in the first quarter.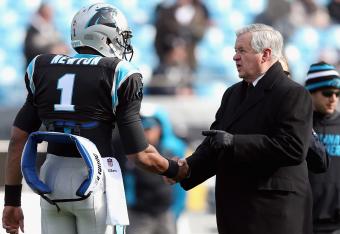 Cam Newton's still white-hot.
The Carolina Panthers quarterback has already topped 100 total yards, throwing for 83 yards and a score and rushing for an additional 29.
7-0 Panthers over the Oakland Raiders in the first quarter.
This article is
What is the duplicate article?
Why is this article offensive?
Where is this article plagiarized from?
Why is this article poorly edited?