Ohio State Football: Projecting Buckeyes' 2013 Depth Chart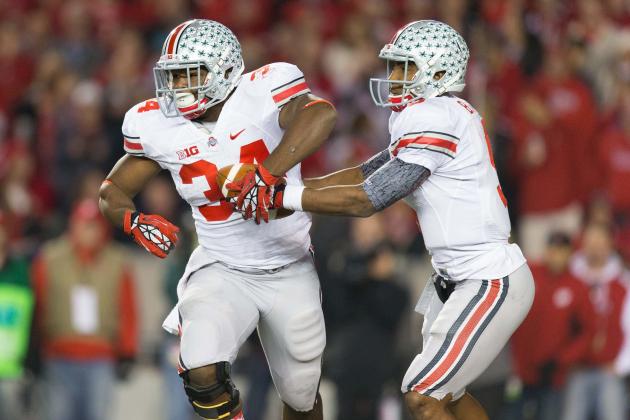 Jeff Hanisch-USA TODAY Sports
Ohio State's offense leaned heavily on Braxton Miller and Carlos Hyde in 2012, they will look for more options in 2013.
Urban Meyer and his co-offensive coordinators, Tom Herman and Ed Warriner, took over an offense that was well below-average in 2011 and turned them into the Big Ten's best scoring offense in one season.
In year two of the Meyer regime, Ohio State will return 100 percent of its passing yards, 99 percent of its rushing yards, 85 percent of its receiving yards and 80 percent of the starting offensive line.
The Buckeyes will also regain the services of Jordan Hall and bring in a new crop of Meyer-recruited high-profile recruits.

Put all that together, and we'll likely see some more offensive explosions in Columbus next fall.
Here's a breakdown of what I expect the depth chart to look like for the 2013 season.
Begin Slideshow

»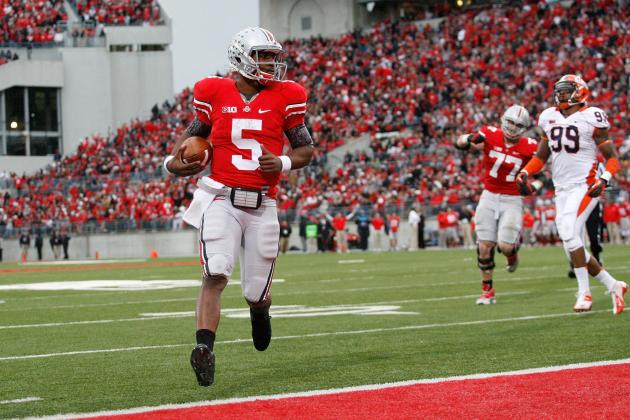 Kirk Irwin/Getty Images
Braxton Miller returns after setting the school record for single season all-purpose yards in 2012.
1st—Braxton Miller, Jr.
2nd—Kenny Guiton, rSr.
3rd—Cardale Jones, rFr.
4th—J.T. Barrett, Fr.
This one is pretty clear-cut.
Miller is the Heisman candidate, Guiton is a veteran backup with decent experience, Jones is a big-armed QB waiting his turn and Barrett is a high-profile recruit that is coming off a serious leg injury.
Miller will get all the snaps if healthy. If he's hurt, Guiton will step in. The only two questions here are, will Jones earn mop-up duty? And will Barrett redshirt?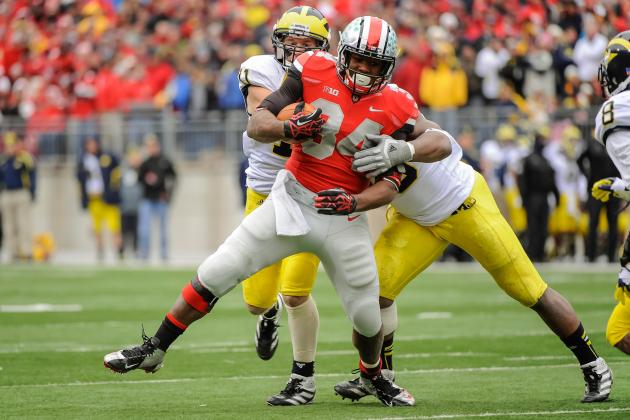 Jamie Sabau/Getty Images
The Ohio State offense took off when Carlos Hyde provided the thunder to Braxton Miller's lightning.
1st—Carlos Hyde, Sr.
2A—Rod Smith, rJr.
2B—Bri'onte Dunn, Soph
2C—Jordan Hall, rSr.
5th—Ezekiel Elliott, Fr.
6th—Warren Ball, rFr.
After the way he came on late in 2012, Hyde has distanced himself from the rest of the stable of backs Ohio State has for 2013.
The next three backs are highly-skilled athletes, but all posses different skills.
Smith could see time as the H-back, along with carries from the running back spot. Hall could play the hybrid "Percy Harvin" role, and Dunn could be the change-of-pace back to Hyde's downhill style.
Elliott and Ball are talented backs and may see the field, but with such a deep backfield and a running QB like Miller, there won't be many carries left over.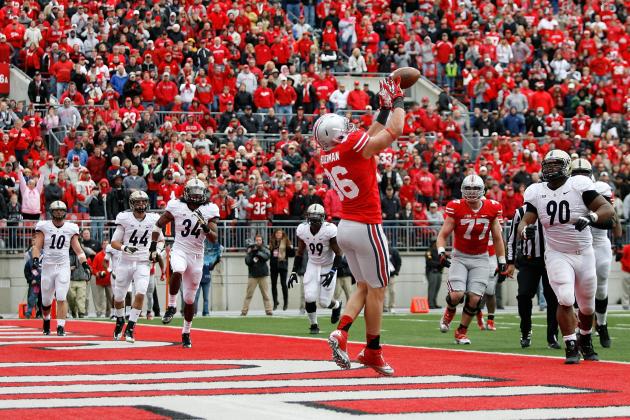 Kirk Irwin/Getty Images
Jeff Heuerman caught the game-tying 2-point conversion to send Ohio State to overtime versus Purdue.
Tight End

1st—Nick Vannett, rSoph.
2nd—Jeff Heuerman, Jr.
3rd—Marcus Baugh, Fr.
4th—Blake Thomas, rFr.
H-back

1st—Jeff Heuerman, Jr.
2nd—Rod Smith, rJr.

After Zach Boren moved from offense to defense, Ohio State used Vannett on the line of scrimmage at tight end and Heuerman as an H-back. Both are decent pass-catchers, but neither will be relied upon to make big plays after the catch.
I could see Ohio State trying to get Smith and Baugh on the field as playmakers at these two positions, but still lean heavily on Vannett and Heuerman to provide extra blocking muscle.
Jamie Sabau/Getty Images
Devin Smith proved to be Braxton Miller's best deep-threat in their first two seasons together.
Wide Receiver (X)

1st—Devin Smith, Jr.
2nd—Michael Thomas, Soph.
3rd—Frank Epitropoulus, rFr.
Smith is the big-play receiver who led the team in receiving TDs and the Big Ten in yards per catch. He and QB Braxton Miller seem to have a great connection, and when Miller scrambles, Smith is usually who he is looking to find.
Thomas has good size and showed in the 2012 spring game that he can catch the ball. But since Ohio State was limited in the passing game in 2012, he didn't get much of an opportunity to shine. That could change in 2013.
Epitropoulus adds size, athleticism and depth. If Ohio State can land a commitment from James Quick, then pencil him in on the second team.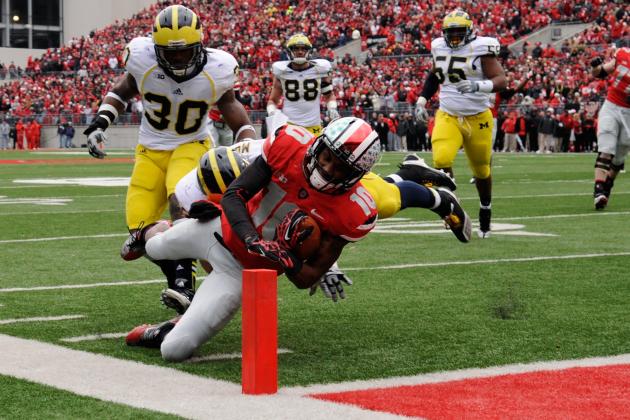 Jamie Sabau/Getty Images
Corey Brown led the Buckeyes in receiving in 2012.
Wide Receiver (Z)

1st—Corey Brown, Sr.
2nd—Chris Fields, rSr.
3rd—Taivon Jacobs, Fr.

Brown proved to be Braxton Miller's favorite target in 2012 with a team-high in receptions (60) and yards (669). He will look to duplicate his success in 2012.

Even as a career backup, Fields has shown he has the ability to make plays when the team needs them the most. His punt return for a TD against Toledo in 2011 and his late-game TD catch against Purdue are the proof.

Jacobs is a speedster from Maryland and is cut from the same mold as Brown. Like Brown, he could also provide help in the return game.
Shelton Gibson, a Cleveland Glenville star, is still being recruited and could become a backup here as well.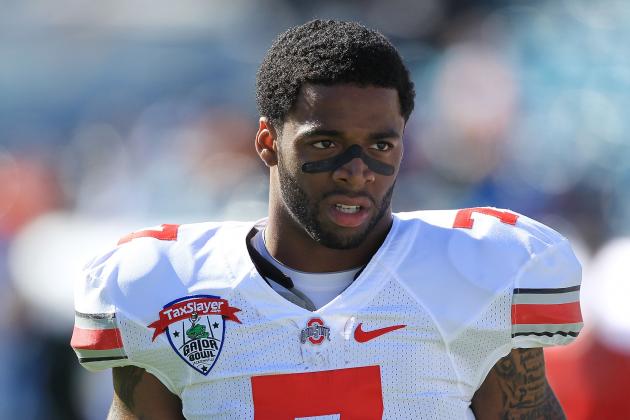 Scott Halleran/Getty Images
Jordan Hall is back for a fifth season in 2013.
Wide Receiver (H)

1a—Jordan Hall, rSr.
1b—Evan Spencer, Jr.
3rd—Jalin Marshall, Fr.

This is the hybrid position that Urban Meyer has set aside as his "Percy Harvin" role. Hall was seemingly set to play this position in 2012, but injuries kept him from doing so.
In his stead, Jake Stoneburner and Spencer filled in. But instead of playing a hybrid role, those two were just third receivers. Neither were used in options or reverses.
If Ohio State goes with a third receiver, then expect it to be Spencer.
If it goes with a hybrid, then expect it to be Hall and Marshall.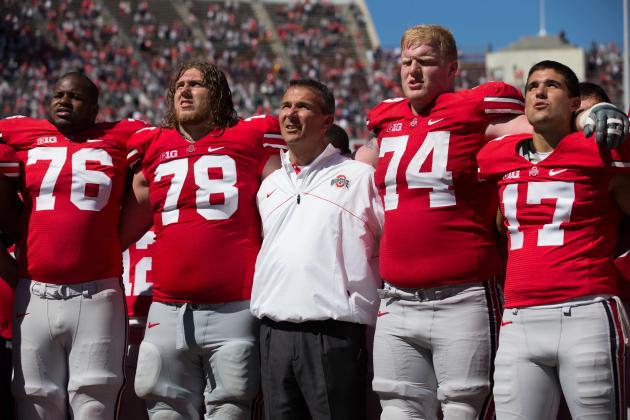 Greg Bartram-USA TODAY Sports
Andrew Norwell (78) and Jack Mewhort (74) will anchor the offensive line again in 2013.
LT—Jack Mewhort, rSr.
LG—Andrew Norwell, Sr.
C—Corey Linsley, rSr.
RG—Marcus Hall, rSr.
RT—Taylor Decker, Soph.
Reid Fragel was the only senior starter on the offensive line in 2012, so the Buckeyes return four starters.
The only new starter will likely be Decker, but others could factor into the equation.
According to the media selections, Norwell was a first team All-Big Ten selection, and Jack Mewhort was selected to the second team. Linsley garnered honorable mention as well.
Jeff Hanisch-USA TODAY Sports
Corey Linsley will be back at center.
Second Team

LT—Darryl Baldwin, rJr.
LG—Joey O'Connor, rFr.
C—Jacoby Boren, Soph.
RG—Chase Faris, rSoph.
RT—Kyle Dodson, rFr.
If Ohio State goes to a second-team line, that is what I expect it to look like. However, I don't necessarily expect the backup to enter if a starter got hurt.
Boren would likely enter at center, but Faris could earn the backup spot at all of the other spots.
Also, if a tackle got hurt, the Buckeyes could sub in a guard and move Andrew Norwell or Marcus Hall out to a tackle spot.
Overall, Ohio State should have plenty of talent and depth in 2013, something it didn't have in 2012.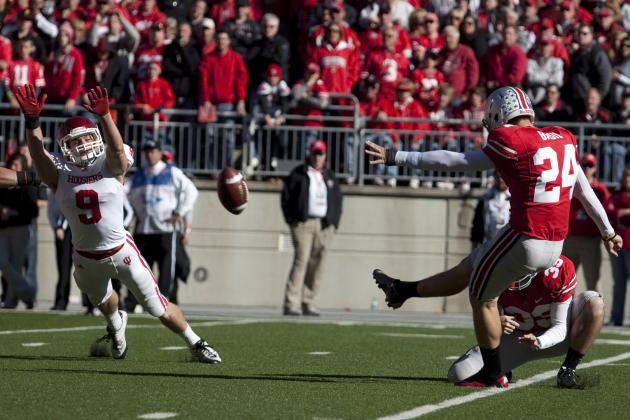 Greg Bartram-USA TODAY Sports
Drew Basil will handle the kicking for a third season in Columbus.
Kicker

1st—Drew Basil, Sr.
2nd—Johnny Townsend, Fr.

Basil was lightly used in 2012, but has proven to be a capable kicker in his first three seasons at Ohio State.

Townsend, a U.S. Army All-American, will likely be a punter first. But will also be the backup place-kicker in 2013 since he is the only other scholarship kicker/punter.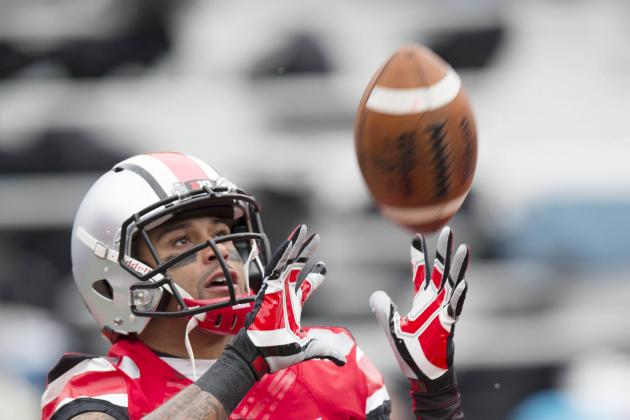 Greg Bartram-USA TODAY Sports
Sure-handed Chris Fields has helped out in the return game the last two seasons.
Punt Returner

1st—Corey Brown, Sr.
2nd—Taivon Jacobs

Brown didn't return many kicks in 2012, but did take two back to the house. Jacobs has shown great return ability in high school and has great speed.
Chris Fields and Devin Smith also returned punts, but neither had great success. Fields seemed to be the returner when Ohio State had blocks on and just wanted him to fair catch it.
Kick Retuner

1st—Jordan Hall
2nd—Jalin Marshall

Ohio State didn't have success in 2012 with returns. It had a revolving door with Devin Smith, Bri'onte Dunn, Bradley Roby, Armani Reeves and Rod Smith all getting their chances.
Hall has proven to be a good kick returner and in the past and will likely get another chance, but lacks that next gear to pull away.
Marshall is similar to Hall, but is taller and has better speed. But as a high school QB, he doesn't have experience as a returner.