Buffalo Bills vs. Miami Dolphins: Live Score, Highlights and Analysis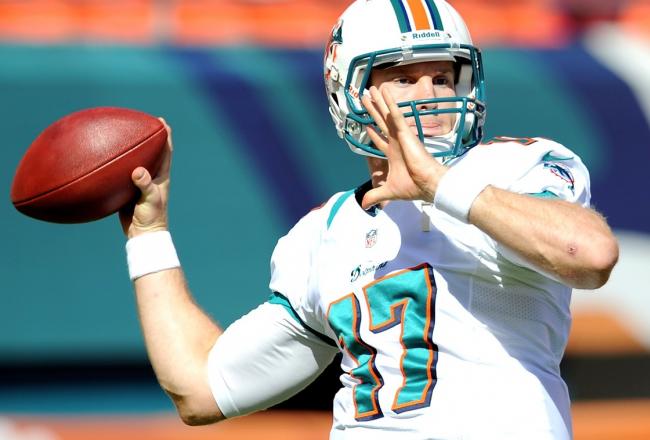 Bills 10 - Dolphins 24
FINAL
With their playoff livelihood on the line, the Miami Dolphins delivered one of their best performances of the season.
Conversely, with nothing on the line, the Buffalo Bills delivered one of their worst.
The Bills continually shot themselves in the foot, whether it was Stevie Johnson's first quarter fumble, dropped touchdown pass, the team's 11 penalties, or Ryan Fitzgerald's game-sealing interception at the Dolphins one yard-line.
However, the Dolphins didn't back into a win by any means.
They earned this one.
Ryan Tannehill tossed a pair of touchdown passes and tacked on 44 rushing yards on six carries. Thanks to big contributions from both Reggie Bush—who scored three touchdowns—and Lamar Miller, Miami racked up more than 185 rushing yards.
The Dolphins battered Fitzpatrick throughout the afternoon, registering at least four quarterback hits and two sacks.
Although the Cincinnati Bengals' victory over the Pittsburgh Steelers eliminates the Dolphins from the playoffs, this team should walk away with its head held high and optimism for the future. The Bills, meanwhile, may be preparing for yet another overhaul in what seems like a perpetual cycle.
Here's your final box score: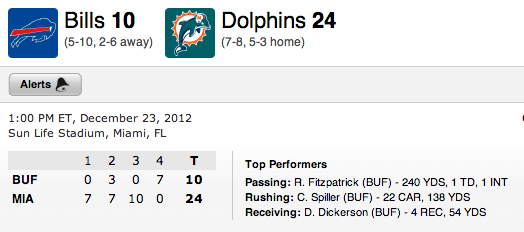 Thanks for stopping by, everybody.
Happy holidays!
Just as the Dolphins seal this victory, the Bengals also seal one over the Pittsburgh Steelers. That eliminates Miami from playoff contention. Bittersweet afternoon for the Dolphins.
4Q - 1:10
Ryan Fitzpatrick marches the Bills all the way down to the Dolphins one yard-line...and then throws an interception.
Incredible play by Reshad Jones, who finishes this game with two fumble recoveries and an interception: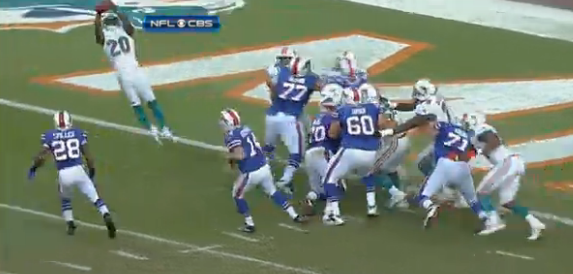 Pittsburgh short on a 54 yard FG. 10-10 with 1:51 left, now Bengals have great field position

— Ben Volin (@BenVolinPBP) December 23, 2012
You know an injury is bad when opposing players come over to offer their support: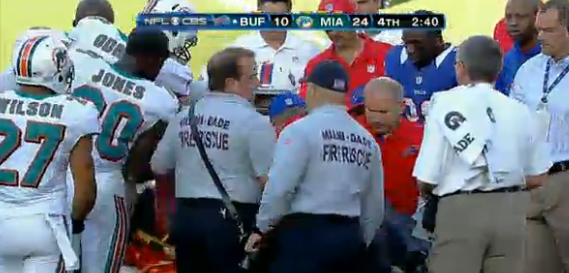 Looks like Dickerson may have broken his leg or ankle.
Trainers are putting an air-cast onto his right let and have the medical cart out on the field.
Bills H-back Dorin Dickerson is being looked at by team trainers. Buffalo already lost tight end Scott Chandler earlier this afternoon. Its arsenal is getting stretched very thin right now: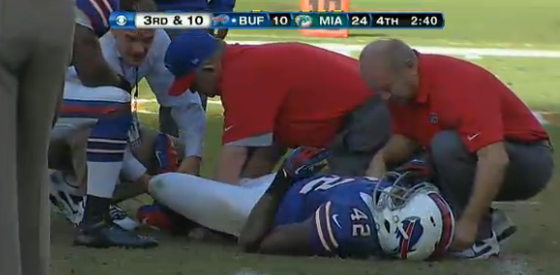 Bengals and Steelers still tied at 10 in the fourth quarter. The Dolphins need the Steelers to win in order to stay alive in the playoff hunt:
Steelers driving .... 12 yard run by Mendenhall on third and 10 brings it down to CIN 42

— Ben Volin (@BenVolinPBP) December 23, 2012
Jared Odrick was trying to bat Fitzpatrick's pass down but made contact with his face instead: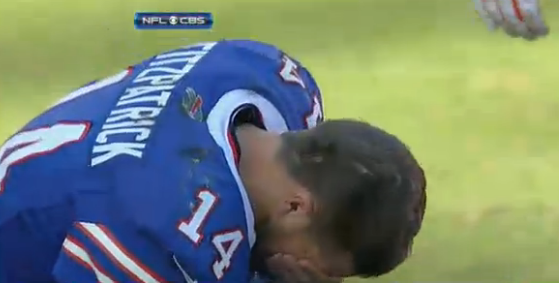 This photo is also very representative of Buffalo's season.
Terrible penalty for the Dolphins right here:
Roughing the passer gives the #Bills 15 more yds. 1st and 10 from the MIA 45 #BUFvsMIA
— Buffalo Bills (@buffalobills) December 23, 2012
Randy Cross: "When Jake Long is healthy, he's the best tackle in the league."
First of all, Long has been chronically injured for the last three years. Secondly, even when he's not hampered by a major injury, he was hardly more than pedestrian this season.
This might be the worst Dolphins broadcast I've seen all year.
No shortage of empty seats in Miami today...or are there just thousands of people dressed as orange seats?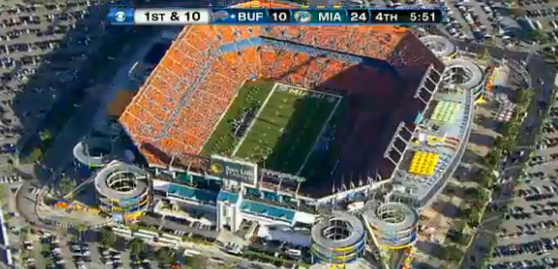 4Q - 5:51
The Bills get the ball back with just under six minutes remaining and a chance to make this a game.
Interesting that Hartline has been so quiet with Davone Bess and Charles Clay inactive. Then again, he has developed a tendency to disappear in games: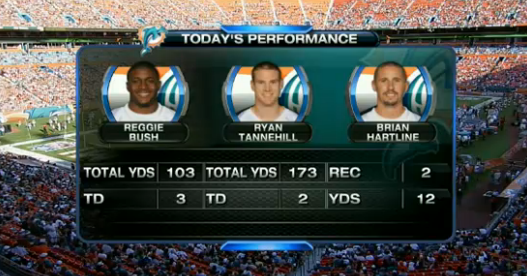 Bills scoring drive summary: 12 plays, 80 yards in 5:14


4Q - 8:52
TOUCHDOWN BILLS
The Bills are down but they're not out.
Ryan Fitzpatrick connects with Brad Smith for a two-yard touchdown pass, which cuts the deficit down to 14 points with half of the fourth quarter still to play.
Bills 10 - Dolphins 24
Cornerback Dmitri Patterson just got away with a textbook armbar on T.J. Graham. Dolphins have caught quite a few breaks from the referees today:
#Dolphins don't have a penalty today. Per the radio broadcast, team has done that just 5 times in history #jinx

— Ben Volin (@BenVolinPBP) December 23, 2012
Fitzpatrick has been wildly inaccurate with his deep ball today. Regardless, Bills fans should be excited about rookie T.J. Graham. Might not become a 70-reception guy, but his speed is uncanny. He can slip behind any secondary.
Nice catch by Graham on that deep ball. Of course a better pass and it would have been a TD

— Sal Maiorana (@salmaiorana) December 23, 2012
The Dolphins have scored 17 of their 24 points off of takeaways.
Buffalo dug its own grave today.
4Q - 14:06
The Dolphins line up for a 53-yard field goal attempt but try a pooch punt instead.
Nate Kaeding actually delivers a near-perfect kick, but long snapper Jon Denney—the first player downfield—couldn't spot the ball in time to down it.
Buffalo takes over at its 20 with 14 minutes remaining.
Dolphins up 24-3 after 3 quarters. Fins are +3 in turnover margin and have yet to commit a penalty. Good recipe.

— Jesse Agler (@finsjesse) December 23, 2012
Here's a look at how the Dolphins can sneak into the playoffs: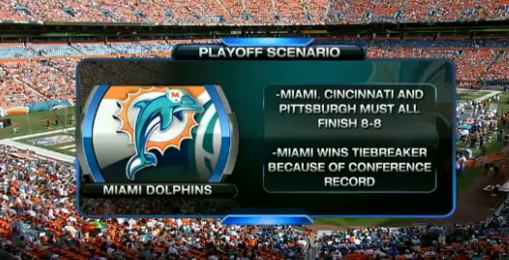 The Steelers and Bengals are currently tied at 10 late in the third quarter.
No shortage of cynicism to go around in Buffalo these days:
Hey, the Bills defense kept this to a three-score game!

— Sal Maiorana (@salmaiorana) December 23, 2012
Cameron Wake registered his 15th sack of the season, which is a career-high. He undoubtedly deserves a trip to the Pro Bowl.
3Q - 4:18
FIELD GOAL DOLPHINS
A sack 'n' strip by Cameron Wake leads to another Dolphins field goal.
Time is running out for the Bills to salvage this game.
Bills 3 - Dolphins 24
This article is
What is the duplicate article?
Why is this article offensive?
Where is this article plagiarized from?
Why is this article poorly edited?