Gonzaga Basketball: Early Season Grades for the Zags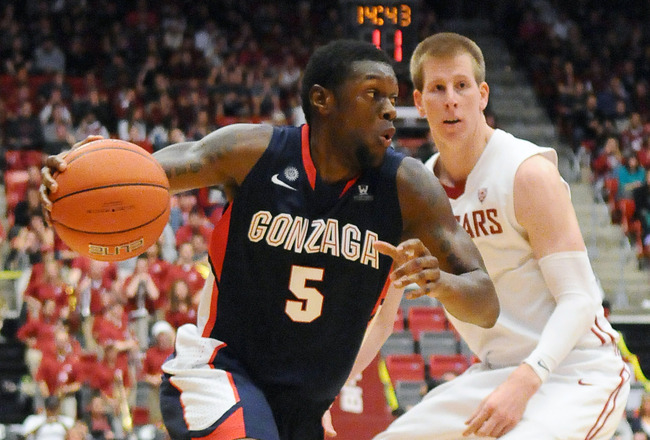 Gary Bell Jr. and Gonzaga have impressed thus far this season.
James Snook-USA TODAY Sports
At 11-1, Gonzaga is off to one of the best starts in recent memory.
Gonzaga has had some incredible moments already this season: It throttled West Virginia in the ESPN Marathon Tip Off, and it defeated Clemson, Oklahoma and Davidson to win the Old Spice Classic Championship.
Gonzaga has had some low points as well, though, which includes a near loss to rival Washington State and a humbling loss at home to Illinois.
As the season moves from nonconference to conference play, it is important for every team to check in on its players and coaches.
Each team's progress report should work to figure out what is working and what is not. Most importantly, teams should look to solve the problems they face and continue to utilize that which is working the best.
The following grades are for Gonzaga's starting-five, bench and head coach Mark Few for their efforts so far this season.
Kevin Pangos
Kevin Pangos will look to shoot out of his sophomore slump
Steven Bisig-USA TODAY Sports
Kevin Pangos has been going through a slight sophomore slump this season.
While there have been glimpses of his explosive potential on the offensive end, he has, for the most part, been a bit of a disappointment thus far this year.
His scoring dipped from 13.6 PPG to 9.9 PPG. Even more concerning is the drop off in his shooting accuracy.
Pangos demands a lot of defensive attention because of his ability to shoot at a high percentage.
This season, though, Pangos is shooting just 37 percent from the field and 36 percent from beyond the three-point line.
The Zags rely on Pangos to score efficiently and run the offense, but his struggles on the offensive end of the floor have interrupted the offense at times.
Pangos must improve his play and find his shots—even if he is being targeted by defenses—as the Zags take on Baylor and Oklahoma State before conference play.
Grade: B-
Gary Bell Jr.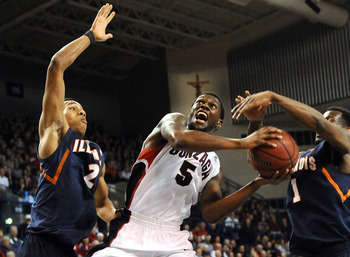 Gary Bell Jr. must continue to play great defense, but he must start to take over on the offensive end of the floor
James Snook-USA TODAY Sports
Gary Bell Jr. is one of the best on the ball defenders in the country. Despite being slightly undersized for the two-guard position, Bell has done a good job defending the perimeter this season.
Bell, however, was torched by Illinois guard Brandon Paul in Gonzaga's only loss of the season. At 6'4", Paul was able to bully Bell a bit and found good looks throughout the game.
Bell will have to find a way to neutralize guards such as Baylor's Pierre Jackson, Oklahoma State's Marcus Smart and St. Mary's Matthew Dellavedova if the Zags are going to be successful moving forward.
However, Bell has been consistent on the offensive end of the floor this season, and the Zags can count on the sophomore to score 10.5 PPG.
One knock on Bell is that despite his knack for scoring, he has never taken control of games. Towards the end of last season, Bell did a great job of picking up the slack when other starters such as Kevin Pangos were struggling.
Bell must be more assertive and find the lane more often to keep Gonzaga from being too reliant on three-point shooting.
Grade: B+
Guy Landry Edi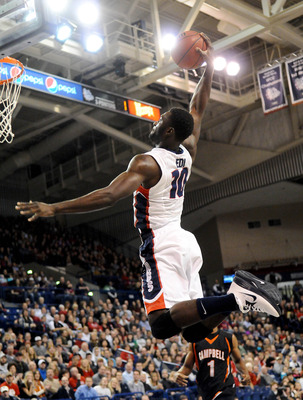 Guy Landry Edi must learn to work within the offense if he is to be successful
James Snook-USA TODAY Sports
Guy Landry Edi has been disappointing in his senior season.
Edi joined the Zags as a transfer last season, and while he was not by any means a superstar, he showed that he had incredible potential to be the scoring wing Gonzaga needed.
This season, though, Edi has not improved on any of the weaknesses that plagued him last season.
While he is an excellent athlete and an above-average defender, Edi is prone to losing control on the court.
Edi averages just 6.3 PPG as a starter, but this is not the greatest hindrance on Gonzaga's offense.
What is worse is the fact that Edi disrupts Gonzaga's offensive flow.
He does not do a good job of passing and getting into the offensive set. Furthermore, Edi's inability to remain in control leads to turnovers and moves Gonzaga out of its groove.
Edi must learn his role as a member of the offense, or Gonzaga fans will continue to call for Mike Hart to usurp him as a starter.
Grade: C+
Elias Harris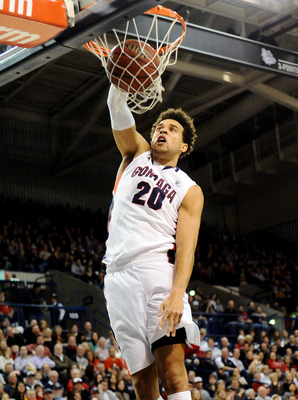 Elias Harris is the leader Gonzaga needs to be successful.
James Snook-USA TODAY Sports
Elias Harris has been playing like a man possessed this season.
While originally considered a likely lottery pick after a phenomenal freshman season, Harris entered his senior year as one of the most underrated players in all of college basketball.
Harris is now a complete player, and this can be seen in the way he has scored this season.
Once reliant on his ability to dunk the basketball, Harris has now developed a consistent back-to-the-basket game that makes defenses crazy.
Harris uses his explosiveness as an athlete to beat slower opponents to the rim.
Add these skills to his improvement as a ball handler and Harris is looking like a solid first-round draft pick by the end of the season.
A defining moment this season was during the Illinois loss: Harris, who too often is accused of lacking effort and emotion, turned to the student section and raised his arms, demanding more noise and greater support.
Harris must continue to play with this fire and be a leader for the Zags as they face tougher challenges down the road and into March.
Grade: A
Kelly Olynyk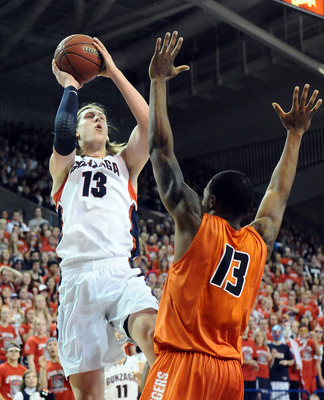 Kelly Olynyk's unique skill set makes him an asset to Gonzaga's offense.
James Snook-USA TODAY Sports
Kelly Olynyk is an example of how to best use a redshirt season.
At 7'0", Kelly Olynyk has the size to abuse most frontcourts in the country. Through his freshman and sophomore seasons, Olynyk had not yet developed a skill set suitable to a center his size.
The Canadian big man used his season off to add strength and develop a post game.
While Olynyk had been afraid of banging around in the lane and relied on three-point shooting to score before he redshirted, he has done most of his damage in the paint this season.
Olynyk's unique skill set makes him a terrific asset to Gonzaga's offense.
Guards such as Kevin Pangos and David Stockton have formed excellent partnerships with Olynyk in terms of the pick-and-roll offense.
Furthermore, Olynyk is a terrific passer for a big man. Consequently, he is able to feed the high-low offense from the top of the key to low-post players such as Elias Harris and Przemek Karnowski.
Grade A+
Bench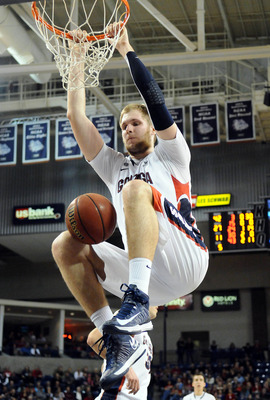 Przemek Karnowski has been a reliable center off the bench.
James Snook-USA TODAY Sports
Gonzaga is incredibly deep this season, and Mark Few is not afraid to go three or four players deep into his bench.
Some standouts this season have been Przemek Karnowski, David Stockton and Mike Hart.
Karnowski, the 7'1" freshman out of Poland, is incredibly developed for his young age. He has improved his fitness for a terrific effect this season. Karnowski averages 9.3 PPG and has been used by Mark Few to bully opposing frontcourts often.
I would venture to say that Karnowski is the best freshman center in the country.
David Stockton has put on a show at times this season. His ability as a passer rivals that of his famous father, and when Gonzaga's offense is stagnant or flustered, he is always able to right the ship.
Mike Hart is the type of player that every great team needs. A former walk on, Hart is an energizer bunny of a player who hustles after every loose ball and gets rebounds that most give up on. More than anything, he facilitates offense in a way that allows his teammates to get the shots they need to be successful.
On another note, one of the disappointing members of Gonzaga's bench is Sam Dower. The signs were bright for Sam Dower, and many, including myself, thought that he was set for a breakout season.
Dower has not lived up to this billing though. He has been in constant foul trouble, and when he plays, he disrupts the offense with turnovers and an inability to pass out of the post.
Gonzaga's bench will get a good amount of minutes in WCC play. Gonzaga will have to hope that its bench continues to improve so that it can be successful in March.
Grade A-
Mark Few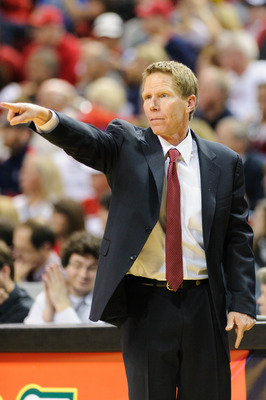 Mark Few has one of the most talented teams of his career this season
Steven Bisig-USA TODAY Sports
Mark Few is one of the absolute best coaches in all of college basketball.
Each time a high profile coaching job becomes vacant, his name is mentioned as a possible replacement.
Few is not likely to leave Gonzaga any time soon, as he has turned Gonzaga into a mid-major powerhouse. Gonzaga recruits the best the nation has to offer, and it has become a constant factor in the NCAA Tournament.
This season, Few has done a great job in mixing offenses and defenses to confuse opponents.
Few has also experimented with different lineups, which feature everything from three-guards to two seven-footers.
The one negative mark on Few's record this season is the loss to Illinois. The Illini's game plan is a simple one: Shoot 15 to 20 three-pointers a night, and follow Brandon Paul's scoring to victory.
Few was not able to create a game plan to stop the barrage of three-pointers and was not willing to give up on the failing zone defense until it was too late.
Furthermore, Few has not taught pick-and-roll defense adequately to his players. This was certainly on display as Brandon Paul found open three-pointers and an open lane after almost every high-ball screen. The Zags will continue to be exploited because of it.
Overall, Few has done a great job with the Zags this season. With some more focus on defense, Few can coach this team to one of the best records of his career.
Grade: A-
Overall
James Snook-USA TODAY Sports
There is some work to be done as the season progresses, but Gonzaga's 11-1 record speaks for itself.
The Zags have already taken down some impressive opponents, and while the loss to Illinois quelled some of the national praise that they were receiving, they are still equally deserving of national attention.
With one of the most potent offensive attacks in the country and a quickly improving defense, Gonzaga could conceivably end the season with as few as two losses.
Grade: A
Keep Reading