Wisconsin Football: Projecting the Badgers' 2013 Offensive Depth Chart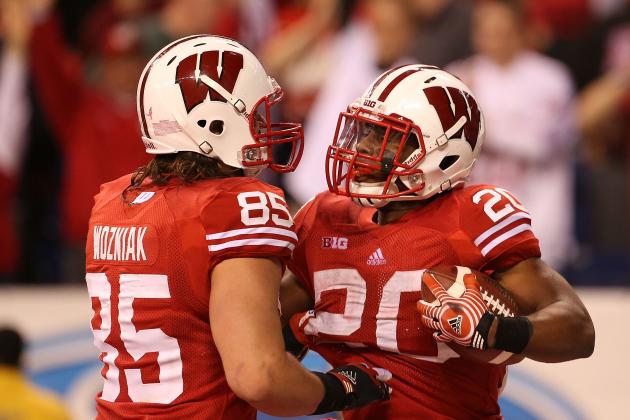 Leon Halip/Getty Images

The Wisconsin Badgers coaching staff has undergone a complete overhaul for the second year in a row. Does that mean the offensive depth chart will also see significant changes heading into fall practice?
Of the current 11 starters on offense, only three are seniors, and one of those players, quarterback Curt Phillips, could be returning if a petition for a sixth season of eligibility is accepted by the NCAA.
Left tackle Rick Wagner and running back Montee Ball will both be playing on Sundays next year. Let's see where that leaves the remainder of the Wisconsin offense heading into Week 1 of the 2013 season.
Begin Slideshow

»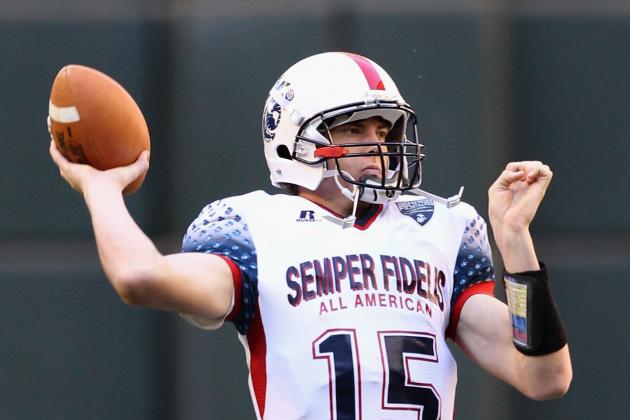 Christian Petersen/Getty Images

With Joel Stave returning from his collarbone injury and Curt Phillips still awaiting word on a potential sixth year of college football, it's possible that the Badgers could have three quarterbacks returning next season with starting experience—pending any incoming or outgoing transfers.
But none of them will start in 2013 if redshirt freshman Bart Houston has anything to say about it.
Houston, a 2012 4-star recruit out of De La Salle high school in California, is one of the most coveted incoming quarterbacks in Wisconsin history, and he will have an opportunity to compete for the starting job along with at least two other candidates.
Stave may be the favorite heading into the spring, but Houston will wow the new coaching staff in Madison and give head coach Gary Andersen and the Badgers no choice but to have a fresh start under center. Stave and Co. simply don't have the same intangibles and upside that Houston brings to the table.
*Projected backup: Joel Stave (freshman)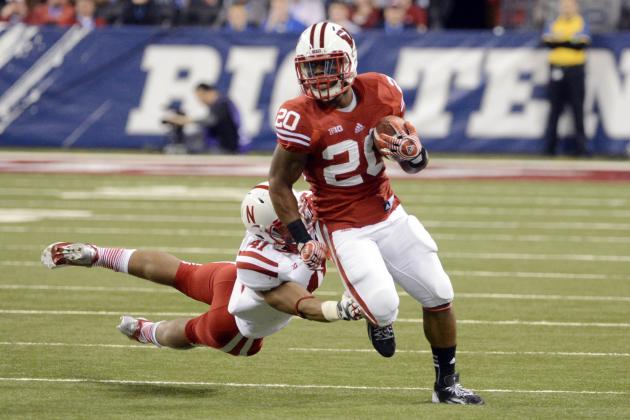 Richard Mackson-USA TODAY Sports

Even with the departure of Montee Ball, Wisconsin is still going to be loaded in the backfield, and the man who will lead the rushing attack in 2013 is junior running back James White.
White has never been a true every-down back for the Badgers, and thanks to the options Wisconsin will have behind him, White likely won't be asked to carry a large bulk of the load a la Ball over the past few years.
Redshirt freshman Melvin Gordon should get several more looks in the backfield, and both Gordon and White could continue to be split out wide to give opposing defenses different looks—and fits. Sophomore Jeff Lewis, freshman Vonte Jackson and 4-star recruit Corey Clement may also factor into the running back rotation depending on if Clement is given a redshirt.
Even with so many backs hungry for carries, White has paid his dues and deserves a shot as the premier back thanks to his stellar first three years in Madison.
*Projected backup: Melvin Gordon (freshman)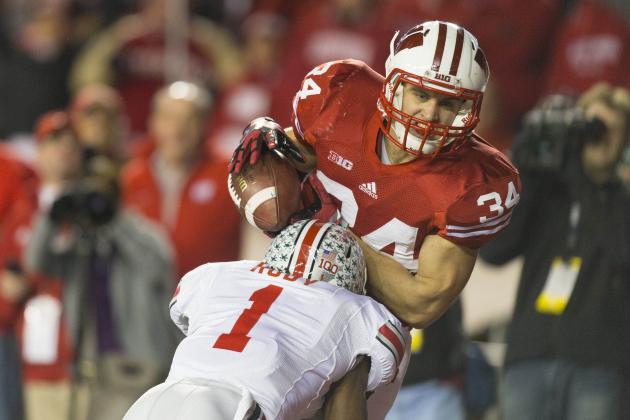 Jeff Hanisch-USA TODAY Sports

It remains to be seen how much of a role the fullback will have in Gary Andersen's offense, but there won't be much of a competition when it comes to who will be leading James White through the hole up front.
As a freshman, Derek Watt quickly earned the starting role this season, and there are no signs of him giving up the position throughout the remainder of his tenure in Madison.
Watt showed the ability to catch the ball out of the backfield and was the fourth-leading receiver in terms of yardage on the team.
And who knows—perhaps Andersen will utilize Watt as a tight end in some sets if the fullback position falls out of favor. However, with Andersen stating that Wisconsin would stick to the power running game, it's likely that Watt will still have an important role in the offense.
*Projected backup: Sherard Cadogan (sophomore)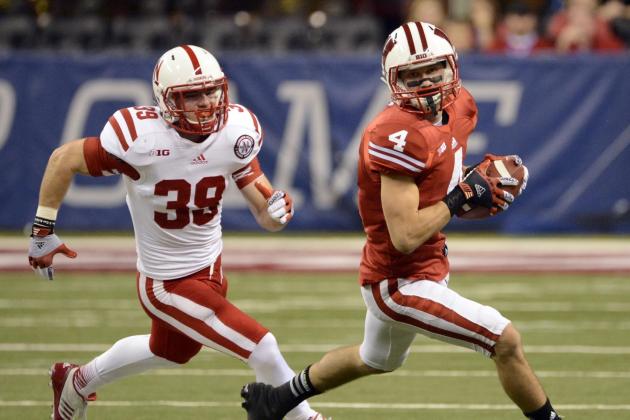 Richard Mackson-USA TODAY Sports

The No. 1 wide receiver slot might be the biggest no-brainer heading into the 2013 season—assuming Jared Abbrederis chooses to remain at Wisconsin for his senior season.
Despite being the only legitimate option in the passing game, Abbrederis was an unquestioned first-team All-Big Ten selection as defenses keyed in on the junior game after game with the Badgers lacking another pass-catching threat.
Abbrederis did most of his damage down field, averaging over 17 yards a catch and totaling 793 yards in all on just 46 receptions. Depending on who wins the starting job at quarterback next season, it could be difficult for Abbrederis to match those numbers and remain one of the most dangerous deep threats in the nation if another viable option doesn't emerge.
*Projected backups: Reggie Love (freshman), A.J. Jordan (freshman)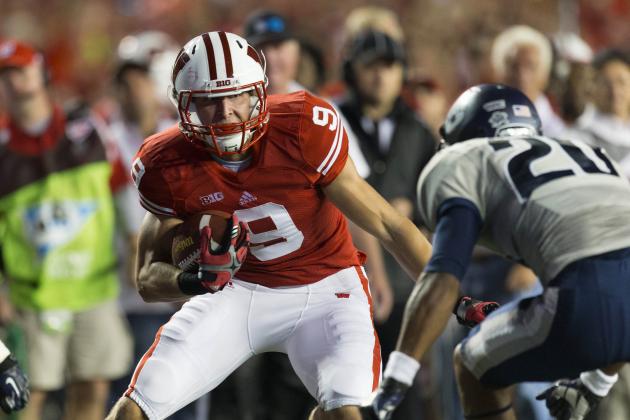 Jeff Hanisch-USA TODAY Sports

Whether or not he deserves a starting nod, Jordan Fredrick will be the No. 2 wide receiver next season because nobody did anything to take that distinction away from him in 2012.
On the plus side, Fredrick is only a freshman, and there is plenty of upside with the 6'3," 218-pound receiver thanks to his size and the opportunities that should be presented because of the presence of Abbrederis.
But even with a lot of attention focused on Abbrederis this season, Fredrick was essentially a non-factor in the offense, only catching 16 balls for 192 yards and no scores.
There's no doubt that Fredrick's development was slowed due to the struggles at quarterback as well as on the offensive line earlier in the season, but unless someone really comes on during fall practice—such as sophomore Kenzel Doe—it will be Fredrick's job heading into next season.
*Projected backups: Kenzel Doe (sophomore), Jeff Duckworth (junior)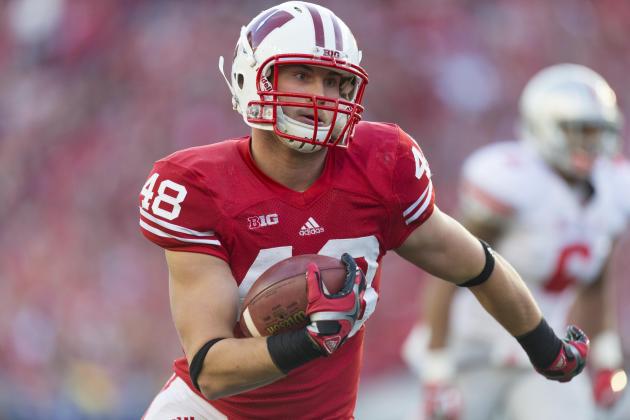 Jeff Hanisch-USA TODAY Sports

This season, we saw the production of Jacob Pedersen take a slight hit, but he was still the second-leading receiver despite only amassing 346 yards.
He'll be a senior next season, and for the third straight year, Pedersen will be the featured pass-catching tight end, while Brian Wozniak will likely reprise his role as the blocking specialist.
Another tight end that could emerge is Sam Arneson, but he will have to wait for the departure of Pedersen to have a true impact on the offense. For now, look for the leadership of soon to be seniors Jared Abbrederis and Pedersen to lead the attack through the air.
*Pedersen's projected backup: Sam Arneson (sophomore)
*Wozniak's projected backup: Brock DeCicco (junior)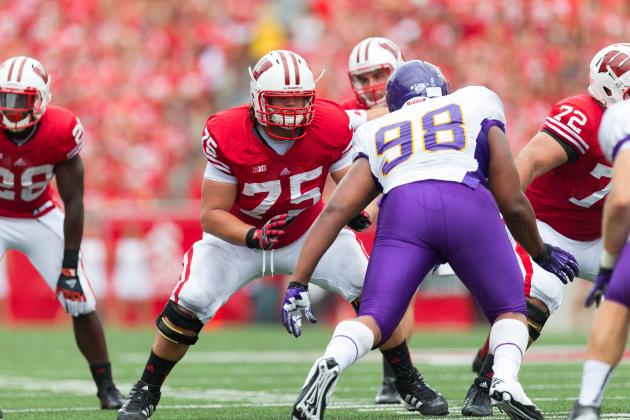 Jeff Hanisch-USA TODAY Sports

Gone is future NFLer Rick Wagner, and that means there is an opening at left tackle on the Wisconsin offensive line.
It may be the only position without a returning starter, but it's the most important position on the line as the protector of the quarterback's blind side, so it will be essential that Gary Andersen and his staff select the right man for the job.
There are several candidates, including freshmen Ray Ball, Tyler Marz and Dan Voltz, but junior Zac Matthias' seniority will win out in the end over the two underclassmen.
Matthias entered the season as the starting right guard, but lost the job to Kyle Costigan even though the two were very even in practice. Still, Matthias' experience over Ball and Voltz aught to give him a slight advantage heading into next season, and unless the Badgers decide to move Rob Havenstein over to the left side, it will be Matthias starting at left tackle in 2013.
*Projected backup: Tyler Marz (freshman)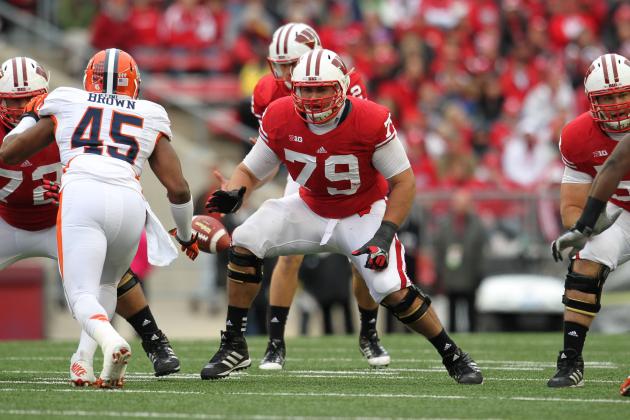 Brace Hemmelgarn-USA TODAY Sports

Returning at left guard will be junior Ryan Groy, who manned the left guard position for Wisconsin all season long.
He had a difficult job in replacing Travis Frederick, who shifted over and replaced Peter Konz at center, and it was rough sledding for the left side of the offensive line—and the offensive line as a whole—in the early going of the season.
But Groy and Co. picked it up and had a resurgent second half of the season after Bart Miller took over as the offensive line coach after just two games. It should be interesting to see how the big uglies respond to yet another change in 2013, as Andersen's line coach at Utah State, T.J. Woods, will follow him to Madison.
*Projected backup: Ray Ball (freshman)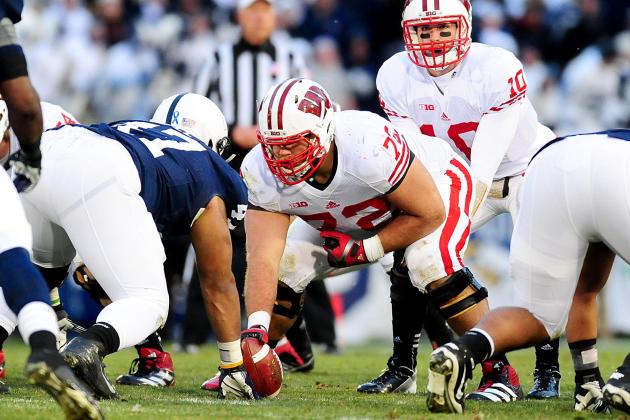 Evan Habeeb-USA TODAY Sports

Yet another senior once 2013 rolls around, Travis Frederick will be the new leader of the offensive line with Rick Wagner moving on to professional football.
It may have been a bit of an adjustment for Frederick to make the switch to center, but everything appeared to gel as the season wore on, and there won't be a competition for who will be snapping the ball to the quarterback next season.
It will just be a matter of who is named the signal-caller for Wisconsin.
*Projected backup: Dan Voltz (freshman)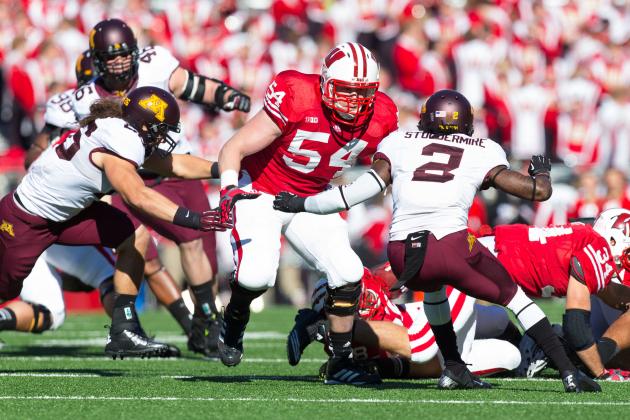 Jeff Hanisch-USA TODAY Sports

Kyle Costigan was an onlooker from the sidelines when the season began, but after three games, the sophomore did enough to be named the starting right guard over Zac Matthias.
Costigan never looked back, helping to stabilize the right side of the line, as he now has a stronghold as the right guard despite battling a foot injury during the regular season. His presence in the lineup against Nebraska in the Big Ten Championship Game was evident based on the ridiculous success of the run game.
Look for Costigan to be in the starting lineup from the start in 2013, health pending.
*Projected backup: Jack Keeler (incoming freshman)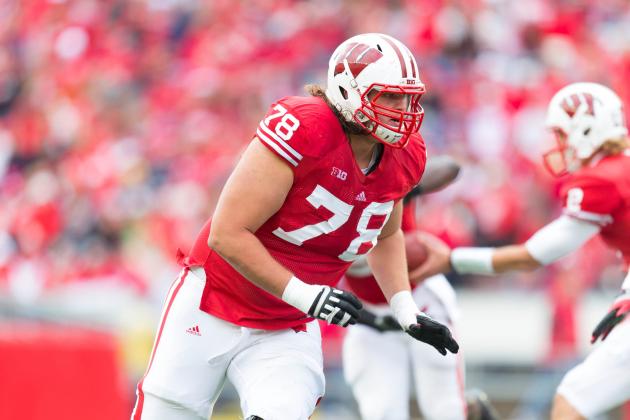 Jeff Hanisch-USA TODAY Sports

Rob Havenstein is a large, large man, and the Badgers are quite fine with that.
Wisconsin has a decision to make about where they want to line Havenstein up next season with the left tackle position open, but the Badgers might not want to mess with what they have going on the right side of their offensive line.
Therefore, it will be Havenstein, who also dealt with some injury problems, starting at right tackle for the second year in a row. That will make for a very experienced offensive line, as three seniors and two juniors are presumably set to battle in the trenches and build off its recent success once the 2013 season rolls around.
*Projected backup: Dallas Lewallen (sophomore)