St. Louis Rams vs. Tampa Bay Buccaneers: Live Score, Highlights and Analysis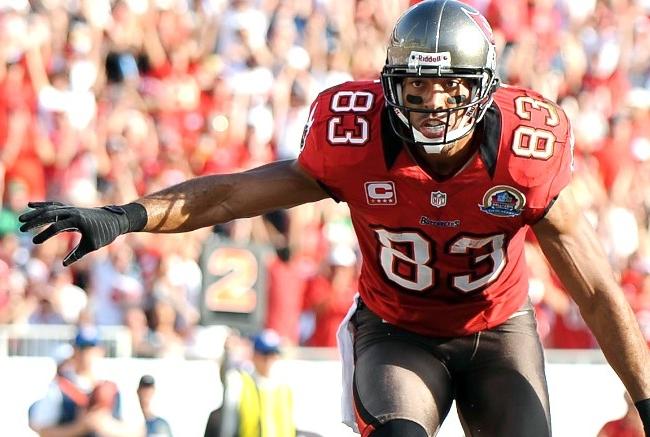 The St. Louis Rams (7-7-1) were able to best the Tampa Bay Buccaneers (6-9) and pick up their third road victory of the season.
In a game dominated by turnovers, Tampa Bay QB Josh Freeman coughed up four interceptions including one that was returned for a touchdown, while Rams QB Sam Bradford found the endzone twice to give his team a 28-13 victory.
Read on for live commentary from the game.
Score
St. Louis Rams 28, Tampa Bay Buccaneers 13
Final
Offensive Leaders
Passing
Sam Bradford (STL): 13-for-27, 196 yards, 2 TD, 1 INT
Josh Freeman (TB): 30-for-54, 372 yards, 1 TD, 4 INT
Rushing
Steven Jackson (STL): 19 carries, 81 yards, 1 TD
Doug Martin (TB): 18 carries, 62 yards
Receiving
Lance Kendricks (STL): 4 receptions, 119 yards, 1 TD
Mike Williams (TB): 7 receptions, 132 yards, 1 TD
Michael Brockers has quietly had a remarkable rookie season at defensive tackle for St. Louis. He tipped a Josh Freeman pass and allowed DE Eugene Sims to get the interception.
As for Freeman, that's his fourth interception of the game, making it his second-consecutive week with four picks.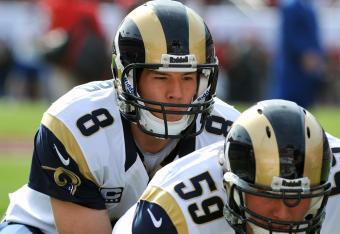 Despite having two offensive touchdowns in the third quarter, the Rams have picked up just one first down in the second half.
With a 15-point lead, their inability to move the chains has not come back to haunt them, at least not yet, but the Rams cannot afford to give Josh Freeman and the Bucs one opportunity after another. There's an entire quarter of football remaining, leaving too much time for something to go wrong for St. Louis.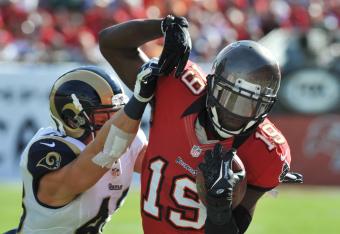 A 61-yard connection from Josh Freeman to Mike Williams gives Tampa Bay their first touchdown of the game.
The Rams still have a comfortable 15-point lead, but it's important they don't relax on defense. With guys like Vincent Jackson and Doug Martin, the Bucs have enough firepower to get back in this game.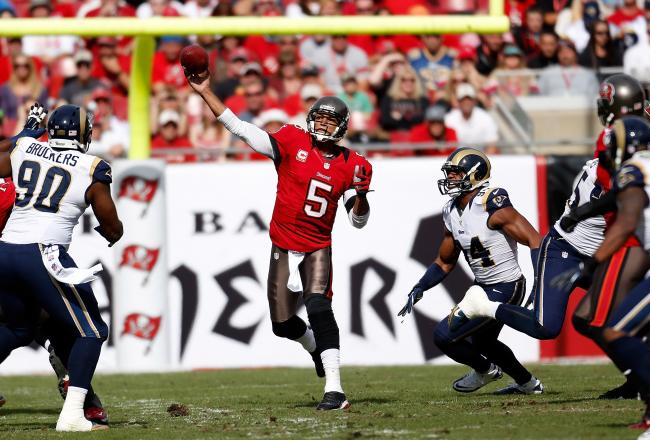 The "Boo Birds" are out in full force in Tampa after Sam Bradford hit Lance Kendricks for an 80-yard touchdown on the first play in the second half, followed by another Josh Freeman interception.
Freeman had four interceptions in New Orleans last week and has three this afternoon, making a total of seven interceptions in two weeks.
If the Bucs lose this game, it will be their fourth loss in their last five appearances in front of their home crowd. So understandably, the crowd is growing restless.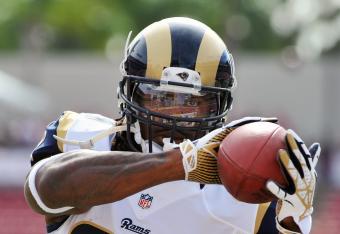 The Rams cashed in on the James Laurinaitis interception by marching downfield and capping off their drive with a Steven Jackson touchdown.
Jackson entered this game with 909 rushing yards, leaving just 91 yards until he records his eight-consecutive 1,000-yard season.
Jackson has 30 yards in this game and needs 61 yards in the second half to break the 1,000-yard barrier. If he falls short, he still has Week 17 in Seattle to finish the job.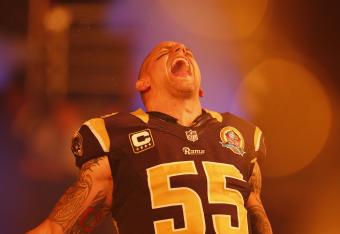 LB James Laurinaitis picked off QB Josh Freeman with just over three minutes left in the first half and the Rams are on the move.
The Rams have two interceptions and a fumble recovery, while the Bucs have an interception and fumble recovery.
This game is being dominated by turnovers and the outcome will likely be determined by which team can take care of the ball in the second half.
If the Rams are not careful, their defense will be completely winded by the second half due to constantly being on the field.
The Rams have just 16 plays on offense with three and a half minutes in left in the half, while the Bucs have 29 plays.
Tampa has possessed the ball for 19 minutes and 16 seconds, compared to the Rams' seven minutes and 14 seconds.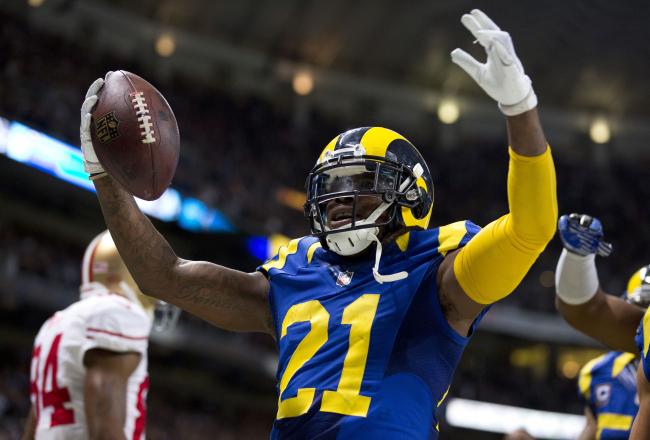 Sam Bradford ended the first Rams drive by coughing up an interception, but St. Louis CB Janoris Jenkins took the ball right back from Tampa Bay with his third pick six of the season.
It's Jenkins' fourth interception of the season and his fourth defensive touchdown.
Jenkins is every bit in the discussion of Defensive Rookie of the Year.
Sam Bradford was picked off on the Rams' first drive of the game after forcing the ball to Danny Amendola in the endzone.
Bradford only has 12 interceptions on the season, but he has now tossed a pick in 11 games this season. He only has four games without an interception and has not gone two-consecutive weeks without giving up a pick.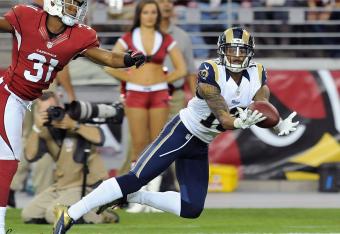 Chris Givens was targeted on a downfield pass and came up short, but he redeemed himself with a 14-yard first-down reception.
Even with Danny Amendola on the field, Givens is rapidly becoming Sam Bradford's favorite target. The speedster had just 13 catches in the first eight weeks, but now has 24 catches in his last five games.
The rookie will be a major part of this offense moving forward.
This article is
What is the duplicate article?
Why is this article offensive?
Where is this article plagiarized from?
Why is this article poorly edited?