Titans vs. Packers: Final Grades and Analysis for Tennessee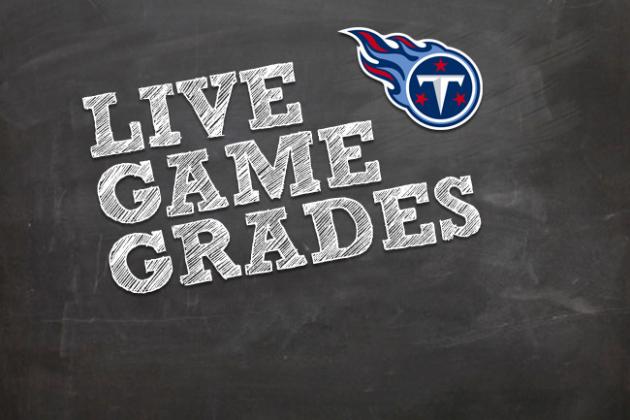 Green Bay had its way with Tennessee up and down the field on Sunday. The Packers scored on their second drive and never looked back, eventually running the score up to 55 points before the Titans finally answered with their lone touchdown.
It's one thing to lose, another entirely to lose in such embarrassing fashion.
Action is underway on CBS. Stick around for game grades and player analysis upgraded every quarter.
Final Score: Green Bay 55, Tennessee 7

Begin Slideshow

»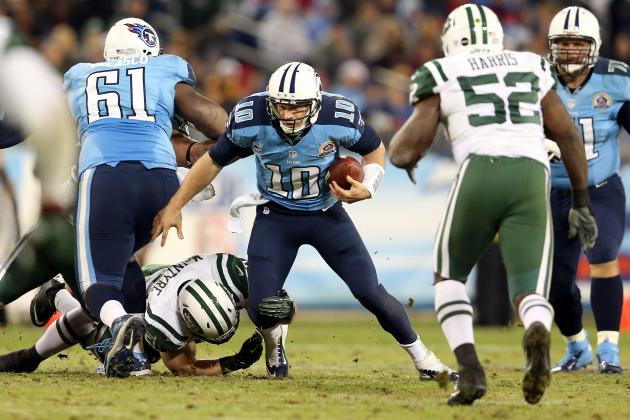 Andy Lyons/Getty Images

Jake Locker was pretty bad. He completed 13 of his 30 attempts for 140 yards, a touchdown and two interceptions. However, those numbers don't indicate how bad his play was.
That said, he also had four rushes for 32 yards, which made him the Titans' leading rusher.
Normally, a performance like that would warrant an F, but Locker had no help. The running game was entirely shut down, and he had no protection from his offensive line.
Locker was sacked seven times, knocked down a dozen times, and hurried more than a dozen times. With that kind of pressure in your face, it's tough to get anything done.
Final Grade: C-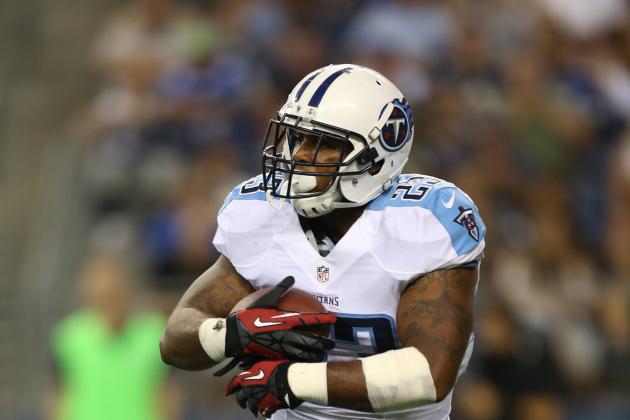 Otto Greule Jr/Getty Images

Chris Johnson took a couple of big hits, and a lot of them came from behind the line of scrimmage.
For the game, Johnson only ran 28 yards on 11 attempts, with his only even remotely good run a mere 8 yards.
For a moment, it looked like Jamie Harper was going to have a good game. He rushed for 13 yards on his second carry and then started chugging for a few yards on his next several. However, eventually the Packers defense figured him out and stuffed him back into the backfield.
The offensive line play was awful, like I said, so it's tough to give either running back a grade as low as the numbers would make it appear.
Final Grade: C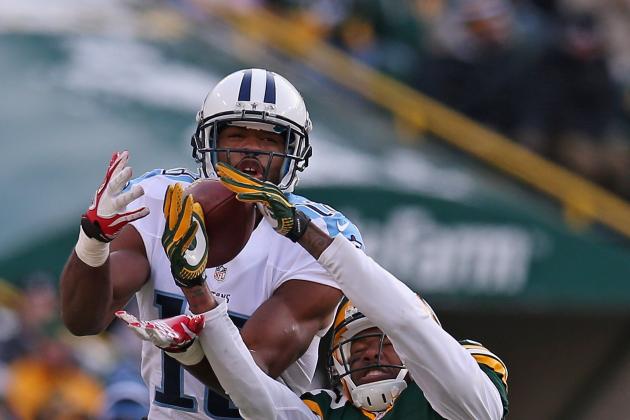 Jonathan Daniel/Getty Images

Locker's poor throws made it tough for receivers to do their job, but there were certainly more catchable throws than were caught, and if the receiver corps were playing at a higher level, there would have been way more completions than there were.
Kenny Britt was the leading receiver with only two catches for 41 yards and a touchdown. He was also Locker's most frequent target.
Damian Williams, Michael Preston and Nate Washington all had a few catches as well, but the offense was so bad that their contribution was insignificant.
Final Grade: C+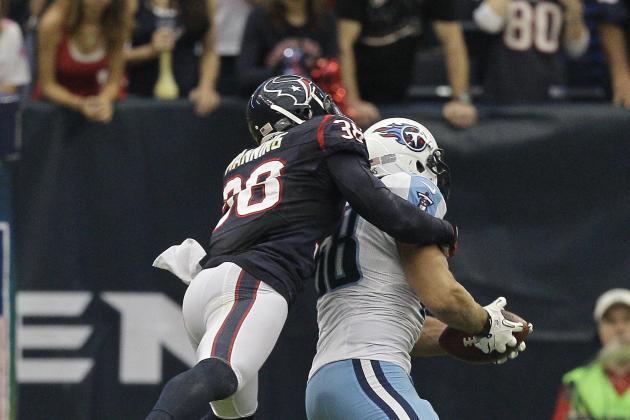 Bob Levey/Getty Images

Taylor Thompson almost had a huge play, managing to nearly catch an underthrown pass when he was wide open, but couldn't come away with it.
He caught another pass later on for eight yards, while Craig Stevens' one catch was for seven hard fought yards.
Neither contributed very much to the futile offensive effort, but both seemed to do their jobs when they needed to. It's hard to say what would have been different if Jared Cook had been in the game.
Final Grade: B+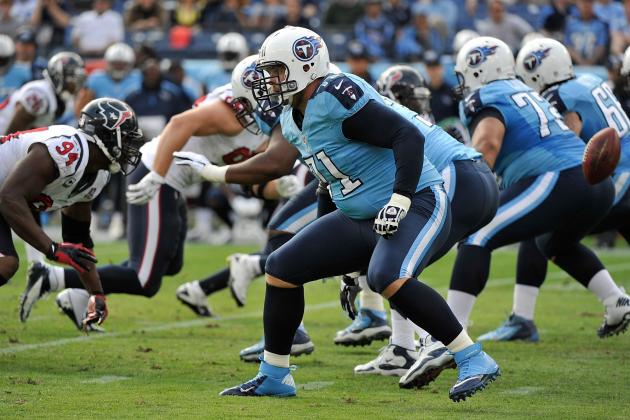 Frederick Breedon/Getty Images

There isn't enough I can say about the poor offensive line play, but the only starter from the season's beginning that's still on the field is left tackle Michael Roos.
Locker was constantly under pressure, the running game never had a chance to develop with no holes and constant defensive penetration, but maybe the numbers are the best indicator.
The Green Bay defense racked up seven sacks, 10 tackles for loss and one pass batted down at the line of scrimmage. That's pretty bad.
The Titans are one of the most banged up teams in the league, and their offensive line is where most of the injuries are. It certainly showed against the Packers.
Final Grade: F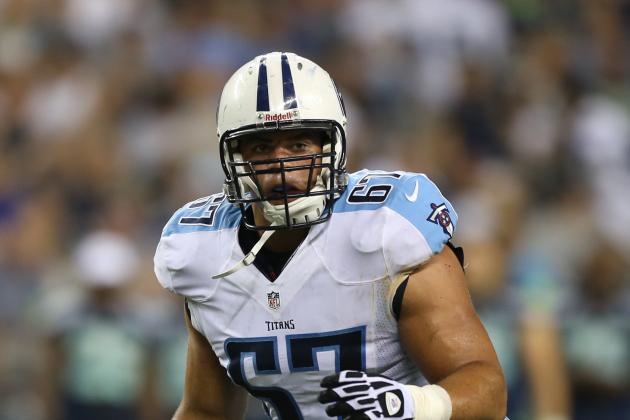 Otto Greule Jr/Getty Images

It was an off performance for the defensive line, but there were some good plays. Mike Martin had a good game, with one sack, one tackle for loss, and a hit on Aaron Rodgers.
Derrick Morgan got a little pressure going as well, but since Rodgers was able to get passes off immediately, it didn't matter how much pressure the defensive line brought.
There was also the problem that the defense was probably gassed pretty early into the game. The Packers run a fast paced offense that tires defenses out, especially when they can't stay off the field.
Final Grade: B-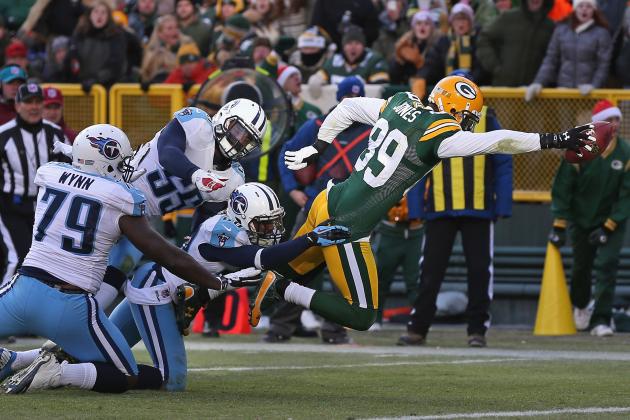 Jonathan Daniel/Getty Images

Zach Brown improved more on his great rookie season, getting nine total tackles (eight of them solo). Will Witherspoon also had a lot of tackles, with six, and Akeem Ayers sealed his end of the field with five solo tackles.
However, the three of them put no pressure on Rodgers, and as a unit, didn't seem to be on the same page all the time.
The group had no sacks, no tackles for loss and no defended passes against the Packers. How much of that is on them is tough to say, but everyone has seen that they're a capable group, and they have to do better.
Final Grade: C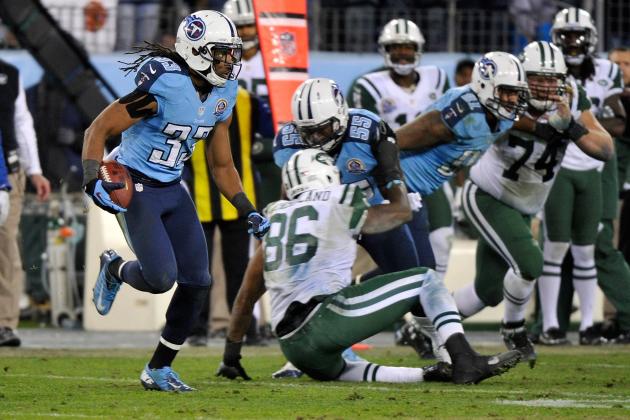 Frederick Breedon/Getty Images

The defensive backs all gave Green Bay's receivers far too much of a cushion off the line of scrimmage. It's the same problem the Titans had in the defensive backfield early in the season, and it's probably on Jerry Gray.
That said, the tackling was pretty good amongst the corners and safeties, but that's all you can really say about them.
Rodgers completed more than 71 percent of his passes for 342 yards. That's all that really needs to be said.
Final Grade: C-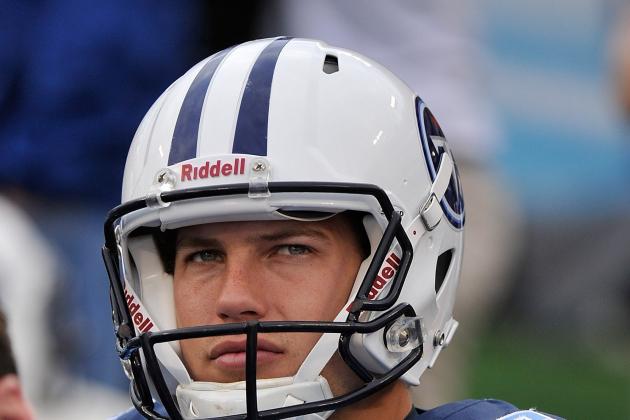 Frederick Breedon/Getty Images

Darius Reynaud didn't have such a great day returning kicks, but it was the right call to keep bringing them out.
With the Titans unable to do much of anything on offense, Reynaud had to take chances to try to provide a spark, so you can't fault him for taking too many risks in this scenario.
Tackling on punt and kicking coverage could have been better, but the Packers have a few dangerous returners, so they actually did a pretty good job holding them to the yardage they did.
Brett Kern averaged 47 yards per punt on eight punts, making up for his awful performance against the Jets.
Final Grade: B-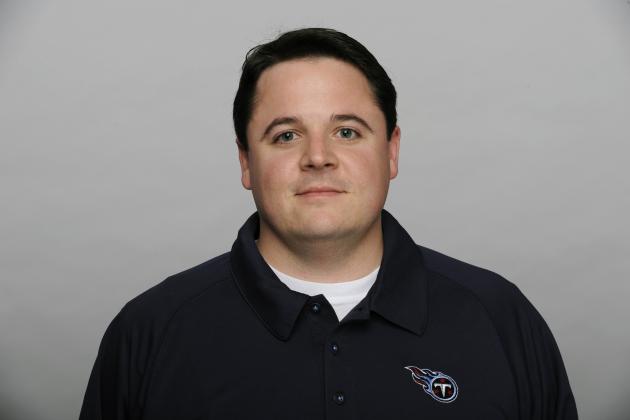 Handout/Getty Images

Like I said in earlier slides, there is no excuse for Jerry Gray giving the Packers' receivers the cushions he gave them. If he didn't learn already from how well that worked earlier in the season, then I don't know what to say to him.
Dowell Loggains needs to reassess what he's doing with Jake Locker. Whatever the game plan was this week, it didn't work. That might have been different if the offensive line provided any protection, but even with the awful line play, the performance was just bad.
He had better hope for a good offensive performance in the Titans' last game against the Jaguars if he wants any chance of keeping his promotion into next season.
No matter what, a 55-7 loss is just plain unacceptable.
Final Grade: D