Grading Steve Nash's Return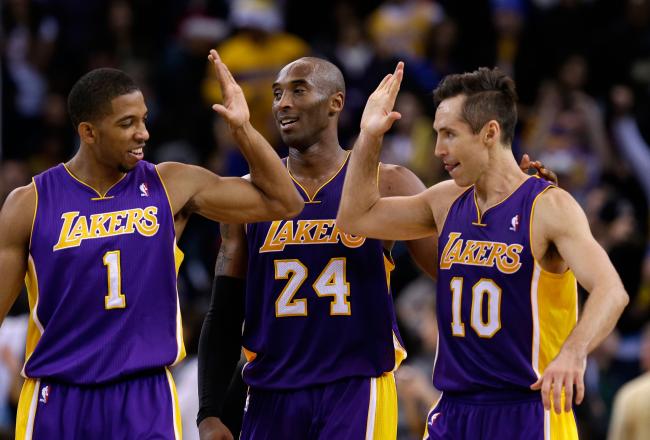 Ezra Shaw/Getty Images
The Los Angeles Lakers surely missed Steve Nash this season. During the time he was sidelined with a leg injury, the Lakers accumulated a losing record and had difficulty running their offense.
In his first game back, most of the Lakers problems seemingly went away. Los Angeles won the game against the Golden State Warriors after a great performance by the two-time MVP.
Let's take a deeper look at how Nash performed in his first game back.
Playmaking
Mike D'Antoni's offense sure missed its favorite point guard. Nash and D'Antoni haven't played together since 2008. In his return, Nash dished out nine assists. Not too shabby.
The Lakers have surely needed his passing. Kobe Bryant has had to pick up the slack in this offense, and it hadn't been working. With Nash's return, Bryant went back to his original role as a shooter and knocked down a few shots off passes from his new point guard. One of those included a highlight alley-oop early in the game.
Nash flirted with a double-double—something tells me the Lakers will be seeing a lot of that as the season progresses.
The one downside about his playmaking: he had three turnovers. Still, that's a pretty darn good assist-to-turnover ratio when you think about it. No complaints here.
Grade: A-
Defense
Let's be frank, Nash is a pretty bad defender.
In his return, Nash had to guard both Jarrett Jack and Stephen Curry. Curry ended up with 20 points and seven assists. Jack had an even better game with 29 points and 11 assists.
This was not a great defensive outing by Nash. But what did you expect?
At least, statistically speaking, the man did contribute some: He had the most steals for the Lakers with two.
Grade: C+
Shooting
Despite being arguably the most effective pure shooter in the league, Nash has never really been a huge scoring threat. But when his team really needs him, he usually shows up.
Nash had two of the biggest shots for the Lakers in the win over Golden State. The first came late in the fourth, and it tied the game to send it into overtime. The second was one of the Lakers best plays of the year, as he hit a shot with under a minute left in overtime to extend the Lakers lead to three points.
How did Nash perform in his return?
Hitting a game-winner was not a bad way to come back.
Nash finished the night 5-of-8 from the floor and 2-2 from the beyond the arc for 12 points. Not bad, Nash.
Grade: B+
Overall
The Lakers won a game against a good team. A lot of credit must be given to Nash. He came up with a couple of the Lakers' biggest buckets in the game, and he helped out his teammates by passing the ball to them in the right place and at the right time.
At the end of the day, it was a pretty memorable return.
Overall Grade: B+
This article is
What is the duplicate article?
Why is this article offensive?
Where is this article plagiarized from?
Why is this article poorly edited?

Los Angeles Lakers: Like this team?