Titans vs. Packers: Final Report Card, Player Grades for Green Bay
The Green Bay Packers dominated the Tennessee Titans 55-7 as they advanced to 11-4 on the season. The Packers put themselves in strong position to challenge for the second seed in the NFC with the San Francisco 49ers playing late.
The Packers used a big offensive attack to take a 20-0 lead into halftime to turn this game into a blowout. They went up 55-0 before the Titans scored in the final minute to avoid a shutout.
Let's take a look at final post-game grades and evaluations for the Packers.
Final Score
Packers–55
Titans–7
Quarterbacks
Tom Lynn/Getty Images
Rodgers played an incredible game during his three quarters of action, setting the Packers up with a 41-0 lead before giving way to Graham Harrell. Rodgers made plays with his arms and legs and looks primed for another run like the one he put together down the stretch in 2010.
Graham Harrell–C
Harrell did his job when he entered the game. He threw safe passes and handled the ball off without a hitch. He finished the game completing one of his two passes for nine yards.
Running Backs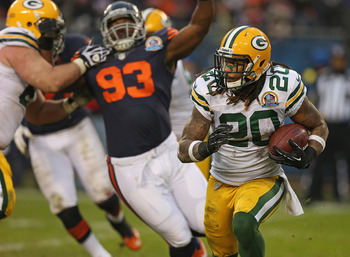 Jonathan Daniel/Getty Images
Ryan Grant–A
Grant scored twice and had over 100 yards rushing and receiving. His addition has been a huge positive for this team. He was a huge factor today and allowed the Packers to hold onto and build their impressive lead.
DuJuan Harris–A-
The unexpected role player continued to look good whenever he touched the football. He ran eight times for 29 yards and scored again. He runs the ball extremely hard and makes defenders pay for trying to tackle him.
John Kuhn–B
Kuhn played a solid game by helping to protect Aaron Rodgers. In addition to that, Kuhn caught one pass for nine yards late in the game. His physical play has helped the Packers change their identity and become a tough running team.
Wide Receivers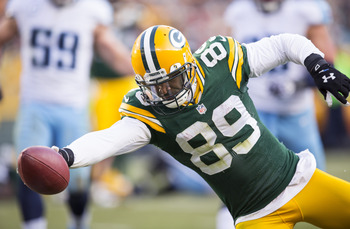 Tom Lynn/Getty Images
Randall Cobb–B+
Cobb continued to show his development as a wide receiver before he was injured in the third quarter. He has shown an ability to find holes in defenses that provides a great valve for Rodgers. With a harsh grading scale, he dropped two passes that could have made things even easier for the Packers offense.
James Jones–A
Consistency and touchdowns are the only two words that perfectly sum up James Jones' season. Jones was at it again catching seven passes for 100 yards and another score. He's been the Packers touchdown machine this year and leads the league with 13 scores.
Greg Jennings–B+
Jennings continued to get back into rhythm and find his place in the Packers offense. His seven catches tied the team high. Jennings adds yet another threat to the Packers attack and should be even more dangerous with Jordy Nelson back.
Donald Driver–D
In what is likely his last regular season game at Lambeau Field, Driver was missing in action until the final minutes when he couldn't haul in a pass from Graham Harrell. While his playing time has diminished, Driver has handled his situation with class and flashed big smiles as time expired in this game.
Tight Ends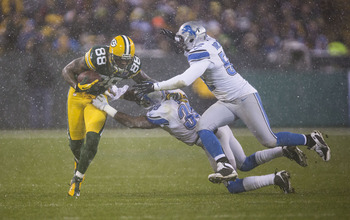 Tom Lynn/Getty Images
Jermichael Finley–B+
Finley has improved his all-around play during the last few weeks of the season. Not only has he had a bigger role in the passing game, he's been much more physical in blocking. With the Packers seeing tons of Cover-2 defense, Finley could be the key in the playoffs.
D.J. Williams–C+
With Tom Crabtree out of the lineup with a hamstring injury, Williams saw more time on the field. He finished with three catches for 20 yards. He offers more in the passing game, but less in terms of blocking than Crabtree. It's something to keep an eye on if Crabtree's injury is worse than initially thought.
Ryan Taylor–C
Taylor had his first catch of the season late in the game good for 11 yards.. He hasn't had much of, if any, role in the offense this season, but it was pleasant to see him get some action.
Offensive Line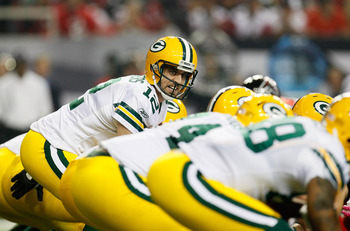 Kevin C. Cox/Getty Images
Marshall Newhouse–A
Newhouse played a great game and looked great blocking on Ryan Grant's 18-yard run early in the game. He has not only improved in the passing attack, but in the rushing attack as well. He and the rest of the line deserve a lot of credit for the Packers rushing success.
T.J. Lang–B+
After injuries and time at right tackle, Lang is back inside at left guard and playing strong football. He came back from a concussion this week and showed little effects of the time off. He did give up a pressure, but played very well in the run game.
Evan Dietrich-Smith–A-
Dietrich-Smith got promoted this week as he replaced Jeff Saturday as the team's starting center. There was no drop-off as a result of the move as Dietrich-Smith played well. Any time a new center takes over, there is risk of miscommunication, but that didn't seem to be an issue.
Josh Sitton–A
Sitton was extremely silent on the offensive line, giving good protection to Aaron Rodgers and blocking to the running backs. He's been a constant while the rest of the offensive has had to shuffle based on injuries and performances.
Don Barclay–A-
Barlcay deserves ton of credit for his performance since he replaced Bryan Bulaga. He was a liability in the passing game at first, but has really improved his pass blocking. In addition, he's been extremely physical in the run game.
Defensive Line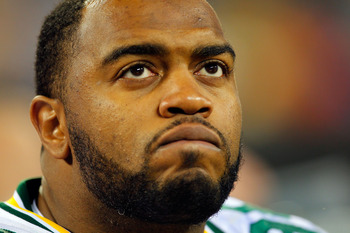 Rich Schultz/Getty Images
B.J. Raji–A
Raji continues to be a beast on the defensive line. He has played extremely well over the last few weeks of the season. His strong play has helped the rest of the Packers front-seven get opportunities to rush the passer.
Mike Neal–A-
Not only is Mike Neal healthy, but he's playing the best football of his career. He finished the game with a sack and forced pressure throughout the game. With injuries all over the defensive line, Neal's breakout has been much needed.
Ryan Pickett–B+
Pickett only got credit for one tackle on the afternoon, but played a big role in clogging the middle and making sure Chris Johnson wasn't able to get going. Pickett has been a force on the line, especially in the run game. His positive play will be needed in the playoffs.
Mike Daniels–C
Daniels didn't have a particularly strong game, but didn't the Packers didn't suffer much of a drop-off when Daniels was in the game. He also missed a tackle on the afternoon.
Jordan Miller–C
Miller got his first action for the Packers late in the game. He didn't play enough snaps to deserve a positive or negative grade although he did get credited with a quarterback hit.
Linebackers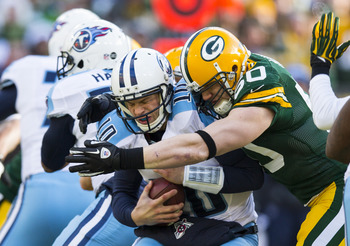 Tom Lynn/Getty Images
A.J. Hawk–A
Hawk had his best game of the season with two sacks. He hasn't made many big plays this season, but delivered against the Titans. With the other playmakers on that side of the ball, getting big plays from Hawk is simply just icing on the cake.
Brad Jones–A-
Similarly to Hawk, Jones had a big game with a sack and a pass defense. He led the team in tackles with 10 total. While his play has been solid over the last few weeks, it was great to see Jones come up with a big play.
Clay Matthews–A
Matthews re-addition to the lineup has been huge for the Packers. He got another sack on the day as he continues to destroy opposing defenses. His presence has made things easier for the rest of the Packers defense.
Dezman Moses–B
Moses got the easiest sack he'll ever get as Jake Locker fell down and Moses happened to be the closest man to him. It was Moses' only quarterback hit of the game, but he still poses a threat opposite Clay Matthews.
Erik Walden–B+
Walden came up with a big interception early in the game that helped the Packers put away the Titans early. Over the last couple season, he often seems to be in the right place at the right time to make game-changing plays. He didn't have much else of an impact, but his interception was enough.
Frank Zombo–C
Zombo got some action late in the game with Matthews resting during the fourth quarter. He failed to make an impact on the game. His lack of pressure helped the Titans get their only score of the afternoon.
Defensive Backs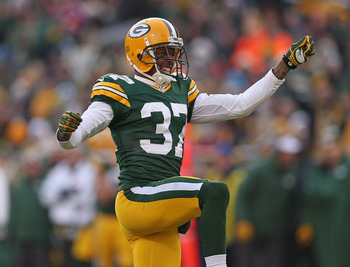 Jonathan Daniel/Getty Images
Morgan Burnett–B
Burnett hasn't had any signature big plays that he's been known for, but did come up with seven tackles on the afternoon. He was involved in a miscommunication early that left a Titans tight end wide open, but a terrible pass bailed the Packers out.
M.D. Jennings–B
Jennings didn't give up any big plays and finished the game with two tackles. He didn't make many plays, but did enough to force Locker into throwing incomplete most of the game.
Tramon Williams–A-
Williams was very good against the Titans and helped the Packers defense hold Jake Locker to a quarterback rating of 41.0. Williams led the charge as the Packers defensive backs really prevented the Titans wide receivers from having any real role in the game.
Casey Hayward–B+
Hayward continues to impress. He is doing all different types of things for the defense. He finished the game with five tackles, one pass defense, one tackle for a loss and a quarterback hit. He's been a big part of the Packers strong defensive performance over the last few weeks.
Sam Shields–A-
Sam Shields is a different man following his return from injury. He's not only playing physical football, but coming up with plays like he did in 2010. He had an interception and a sack in the impressive showing.
Jerron McMillian–C
McMillian saw some extended action during the final moments of the game, but failed to have a big impact.
Special Teams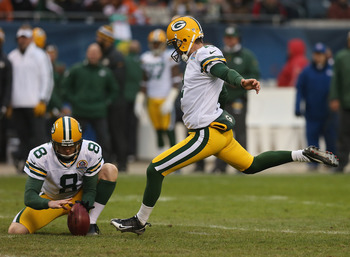 Jonathan Daniel/Getty Images
Mason Crosby–A-
Crosby did well to hit both field goal attempts. It's still an uneasy feeling when jogs out onto the field for an attempt, but the Packers are playing it out. While his one kick did bounce off the upright, he hit both kicks fairly well.
Randall Cobb–A
Cobb had a few nice returns and made an incredibly smart play that equated a 36-yard return. On the second half opening kick, Cobb let the ball roll towards the sideline and stepped out of bounds before touching the ball. While it won't show up in the box score, it was worth 36-yards of field position.
Jeremy Ross–B+
Ross filled in well after Cobb was injured with a 58-yard punt return. He showed great speed and patience on the return. If Cobb's injury is serious or scary-enough to the Packers, Ross could be an option in the return game the rest of the way.
Coaching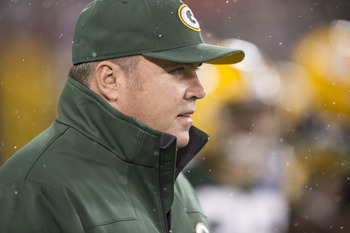 Tom Lynn/Getty Images
Mike McCarthy–A
McCarthy had his team ready to against a weaker opponent. The Packers not only got off to the fast start they need, but were able to keep up the confidence all the way through the game. He called a great game offensively as he stuck with run game despite Aaron Rodgers' success.
Dom Capers–A
Capers called a gorgeous game as the Packers came within a minute of a shutout. Had they kept their stars in the game, there's no doubt they would have had a much better shot at the accomplishment. Capers was able to get stop the run and get pressure that made Jake Locker's day hell on turf.
Keep Reading

Green Bay Packers: Like this team?