Christmas is almost here, which means family, friends and, of course, football.
Bowl games specifically, the best available feast of the holiday season. Day after day, the best teams in the college game face off, and some of the best matchups involve teams from the self-proclaimed No. 1 conference in America, the SEC.
OK, maybe the accolades are deserved. The SEC does lay claim to the last six national championships, with a possible seventh on the way when Alabama squares off with Notre Dame on Jan. 7.
That game should be competitive, but there are others that are guaranteed to be dominated by the top-heavy SEC. Specifically, a number of the SEC's Top 10 teams should have pleasant bowl experiences.
Here are the SEC teams sure to find success in their bowl games during this holiday season.
Sugar Bowl
Florida (11-1) vs. Louisville (10-2)
When: Jan. 2, 8:30 p.m. ET
TV: ESPN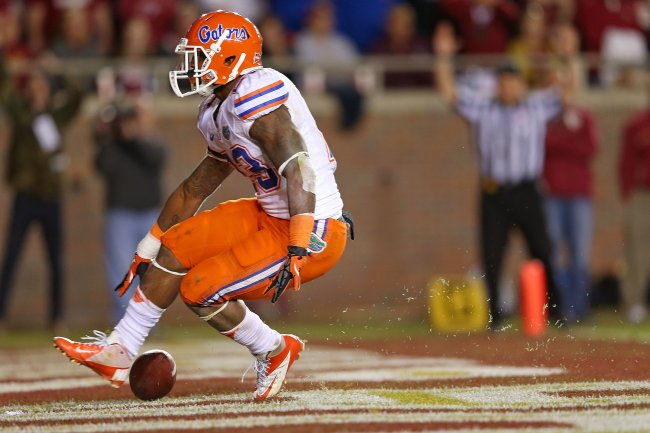 Mike Ehrmann/Getty Images
This is a matchup between the Big East champion Louisville Cardinals and the third best team in the SEC—at least according to the final standings—Florida.
Seems like Louisville should have the advantage, right?
Well, if you answered yes to the question above you would be wrong, very wrong.
Louisville barley scraped through an abysmal Big East to claim the conference title. The Gators, on the other hand, were one touchdown short of beating Georgia and potentially participating in the national title game.
Florida's defense surrenders only 12.9 points per game, the third best mark in the NCAA. Don't expect Louisville to garner much more than that. The Cardinals haven't seen anything like SEC speed and talent in the Big East.
Capital One Bowl
Georgia (11-2) vs. Nebraska (10-3)
Time: 1 p.m. ET, Jan. 1
TV: ABC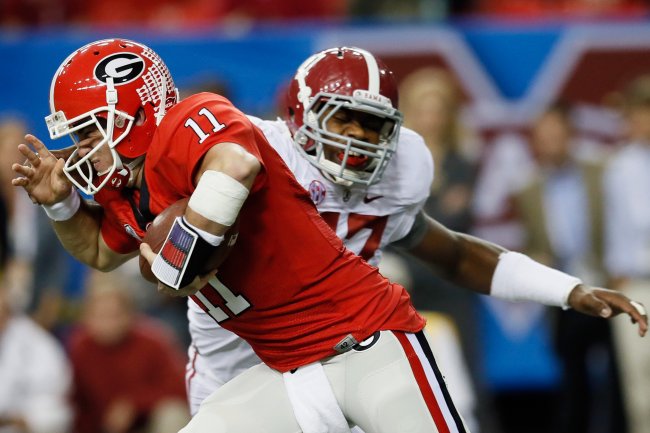 Kevin C. Cox/Getty Images
To breakdown this game, one doesn't have to look much farther than these two teams' performances in their respective conference title games.
Georgia fell about 30 seconds short of beating Alabama and earning a spot in the BCS National Championship game against Notre Dame.
Nebraska had a bit of a different experience. The Cornhuskers also lost their conference title game, but they were embarrassed, 70-31, by a Wisconsin team with five losses.
See much of a difference in the quality of those losses?
Nebraska is certainly a better team than it showed in the Big Ten championship game, but, much like Louisville, the Cornhuskers have yet to see a team with the talent of Georgia.
Taylor Martinez and company will put up a fight, but expect the Bulldogs to skate to a Capital One Bowl victory.

BCS National Championship Game
Notre Dame (12-0) vs. Alabama (12-1)
Time: 8:30 p.m. ET, Jan. 7
TV: ESPN
This game will be competitive, but that doesn't mean Notre Dame can topple the giant that is the SEC champions.
Sure, the Irish are very SEC-like in their own right. They feature a large and athletic front seven on defense that stifles opposing rushing attacks. That group is offset by a solid, but not spectacular, offense.
Who wins the BCS National Championship Game?
Alabama just does that formula better.

The Tide's front seven is just as big and dominating. Moreover, their offensive line on the other side is as good as it gets in college football, featuring two All-American's in Barret Jones and Chance Warmack.
However, the real difference between the two teams is under center.
Alabama's AJ McCarron is a proven quarterback. He's already helped the Tide to a national title and has led the team to comeback after comeback this season.
Notre Dame's quarterback, on the other hand, isn't nearly as experienced. Everett Golson is in his first year as the Irish's starting QB, and the offense is often ran in spite of him, instead of because of him.
He'll be a great quarterback in the future, but at the moment, he's nothing more than a game manager.
That will be the difference.
McCarron is reliable to make the plays down the stretch. Golson hasn't shown that ability yet.