Texas A&M Football: Projecting the Aggies' 2013 Offensive Depth Chart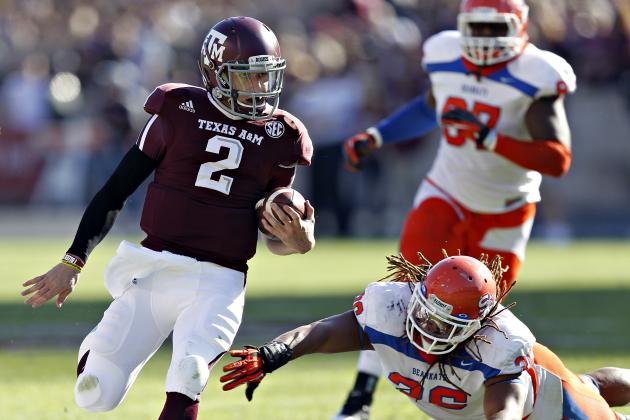 Bob Levey/Getty Images

The 2012 college football season has almost come to an end, and it is time to start looking towards 2013. The Texas A&M football team will return most of their two-deep on offense and should again be one of the top offenses in the nation.
The Aggie coaches will not know who they have to work with on offense until after the NFL draft deadline passes. Offensive tackles Luke Joeckel and Jake Matthews are both considered likely first round draft picks if they declare for the draft as juniors.
If the two juniors declare then it will cause some shuffling on the offense line. If they both decide to come back, then the Aggies will return seven of the 11 starters on the offensive side of the ball.
The Ags offense is still a relatively young one with a lot of youth throughout the two-deep. This is a look at the projected depth chart for the A&M offense in 2013.
Begin Slideshow

»
Starter: Johnny Manziel
Backup: Matt Davis
The Aggies have the best quarterback situation in the country because they return Heisman Trophy winner Johnny Manziel for his sophomore season. Manziel will attempt to add to his legend after passing and rushing for an Southeastern Conference record 4,600 combined yards in 2012.
Jameill Showers was the second string quarterback in 2012, but will likely transfer before the 2013 season. Showers is talented enough to start at quarterback at the collegiate level and is going to look elsewhere for the opportunity to play every day.
Matt Joeckel was the third-string quarterback in 2012. He will be pushed throughout the Spring and Fall by freshman Matt Davis. With the Ags utilizing more zone-read in their offense because of the presence of Manziel, do not be surprised to see the more mobile Davis pass Joeckel on the depth chart.
Starter: Ben Malena
Backup: Brandon Williams
The running back position is an embarrassment of riches for A&M. The Ags return Ben Malena who averaged 5.8 yards per carry while rushing for 752 yards with seven touchdowns in 2012.
Trey Williams returns for his sophomore campaign after accumulating 1,000 total yards as a freshman. He rushed for 335 yards with four touchdowns.
Brandon Williams sat out the 2012 season after transferring from Oklahoma. He will be a redshirt sophomore with three years of eligibility left. He was the star of the 2012 spring practices. Brandon Williams might be the fastest player on the team.
Tra Carson is a powerful between the tackles runner who also say out the 2012 season after he transferred from Oregon. He should see a lot of time in the red zone.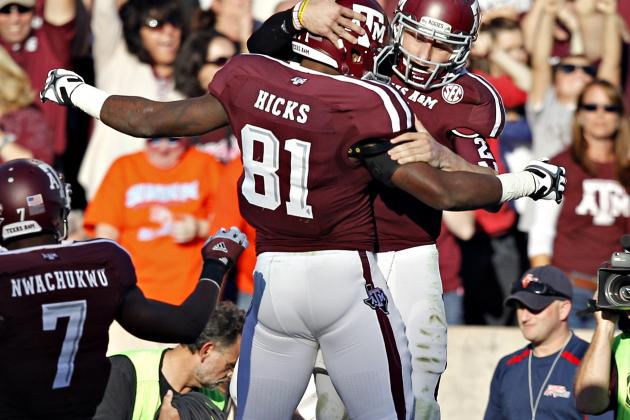 Bob Levey/Getty Images

Starter: Cameron Clear
Backup: Nehemiah Hicks
The Aggies often move their tight end into the backfield and use him as an extra blocker in a fullback role. Michael Lamothe graduated and will be missed in that spot. Cameron Clear is a midterm enrollee from junior college.
The 6'6" 280 lb Clear will offer the Ags size and the ability to block on the edge. They did not have that option in 2012. Hicks is a tremendous athlete who has yet to fulfill his potential. He can give the Ags a nice receiving option but need to be more consistent.
Starter: Malcome Kennedy
Backup: Sabian Holmes
Starter: Derel Walker
Backup: LaQuvionte Gonzalez
The Aggies employ two slot receivers in their base four-wide offensive formation. The graduation of Ryan Swope and Kenric McNeal will leave some large shoes to fill.
Malcome Kennedy really came into his own towards the end of 2012. For the season he had 23 catches for 257 yards with two touchdowns. He has been playing some of the best football on the team ever since the Alabama game.
There were rumors coming out of summer workouts that Sabian Holmes would be an immediate contributor, but he was inconsistent as a freshman. He should improve after a year on campus and in the system.
Derel Walker proved a capable backup when Swope was lost to injury. He had eight receptions for 85 yards for the season. Expect him to catch 30-40 passes in 2013.
Laquvionte Gonzalez is the most explosive recruit in the state of Texas. Look for the Aggies coaches to move him all over the field in an attempt to get him the ball in space.
Starter: Mike Evans
Backup: Ricky Seals-Jones
Starter: JaQuay Williams
Backup: Edward Pope
As in the slot, the Ags use two outside receivers in their base offensive formation.
Mike Evans was one of the best freshman receivers in the nation in 2012. He caught 75 passes for 1,022 yards with five touchdowns. He will be one of the top returning receivers in the SEC in 2013.
Ricky Seals-Jones is a rare combination of size and speed at 6'5" 220 lbs. He will see the field immediately.
JaQuay Williams was one of the top wide receiver recruits in the nation when he signed with Auburn in 2012. He spent a year at prep school and will participate in spring practice at A&M. Williams has incredible body control. The prospect of defending Williams and Evans in the red zone should keep many a SEC defensive coordinator up at night.
Edward Pope was the 2012 scout team offensive most valuable player. He redshirted so he could add some good weight, and should contribute in 2013. Do not be surprised if incoming recruit Kyrion Parker forces his way into the two-deep. He is very polished and is physically ready for college.
Left Tackle Starter: Cedric Ogbuehi
Backup:Jeremiah Stuckey
Right Tackle Starter: Jake Matthews
Backup: Joseph Cheek
The Aggies featured the best bookend offensive tackles in the nation in 2012 in Luke Joeckel and Jake Matthews. If Joeckel does decide to enter the draft then that will leave a void at left tackle.
Matthews and Ogbuehi can both play left tackle and will both likely end up at left tackle in the NFL. Expect Matthews to remain at right tackle because the line is better with Matthews at right tackle and Ogbuehi at left tackle, than the other way around.
Jeremiah Stuckey is a junior college signee who will participate in spring practice. He displayed good feet on video. Cheek needs to play better as a sophomore. He was not impressive as a freshman.
Ronald Martinez/Getty Images
A&M OG Jarvis Harrison
LG Starter: Jarvis Harrison
Backup: Shep Klinke
RG Starter: Germain Ifedi
Backup: Kimo Tipoti
If Ogbuehi moves to left tackle, then the coaches will need to find someone to fill his spot at right guard. Ifedi is talented enough where head coach Kevin Sumlin considered playing him as a true freshman at left tackle so he would be ready to take over the position in 2013 if needed.
The Aggies used a similarly athletic Ogbuehi at right guard in 2012, and Ifedi should be able to slide into that spot. Tipoti redshirted in 2012, so he could lose some bad weight. He was a road grader in high school.
Harrison really needs to come into his own in 2013. He might be the most athletically gifted lineman on the Aggies' roster. He had a solid 2012 but has the potential to be a great offensive lineman. He could potentially follow Joeckel and Matthews into the first round of the NFL draft one day.
Klinke will be a senior in 2013. He has been solid but not spectacular as a starter in the past. Klinke can be counted on as a solid backup OG in the SEC.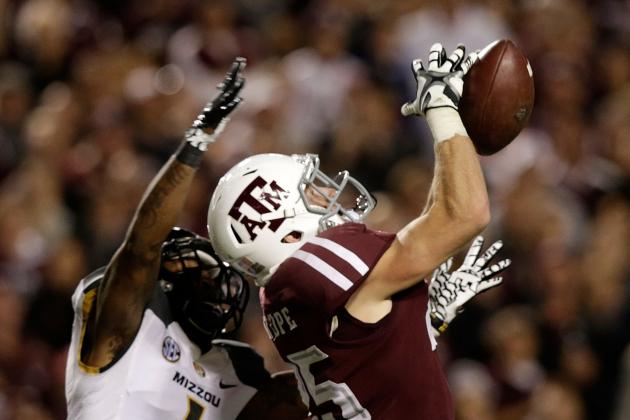 Scott Halleran/Getty Images

Starter: Mike Matthews
Backup: Ben Compton
Patrick Lewis was a four-year starter on the offensive line. He spent the last two seasons at center and will move on to the NFL. Mike Matthews backed him up in 2012 and did a very admirable job.
He will now have three years to play in the SEC before he too moves on to the NFL.
Ben Compton has seen time at nose guard and offensive guard for the Aggies. Look for him to settle nicely into the backup center spot.