LA Lakers Who Will Gain the Most from Steve Nash's Surprise Return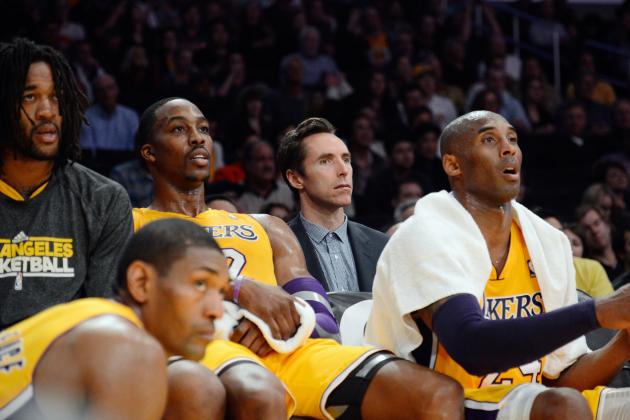 Kevork Djansezian/Getty Images

The Los Angeles Lakers will see the return of Steve Nash sooner than they expected, as he'll play Saturday night against the Golden State Warriors, rather than waiting to come back on Christmas Day, according to Sam Amick of USA Today.
Even though Nash has only scored nine points and had eight assists in his 50 minutes with the Lakers this season, excitement abounds, as would be expected.
Not only is he coming back to join a team that has won three games in a row (to varying degrees of critical acclaim and derision), but he's joining a coach who he knows very well.
Nash and Mike D'Antoni spent four years together with the Phoenix Suns, including the 2007 season when they were a part of what was arguably the best team of the 2000s to miss out on the NBA Finals.
With the return of the wily old point guard, Los Angeles finally has somebody to run the offense and potentially keep it from stagnating for long stretches throughout games.
Nash is going to help the team's flow more than anything, but there are are a handful of members of this Lakers team who will benefit more than others.
Begin Slideshow

»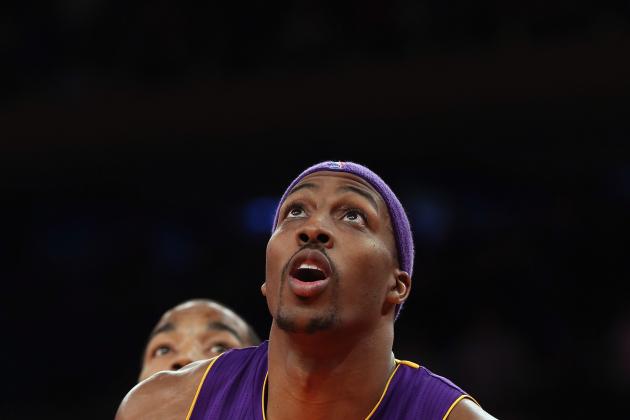 Bruce Bennett/Getty Images

On an extremely basic level, Dwight Howard is going to be able to score more, or perhaps just more efficiently, with Steve Nash at his side.
Aside from the fact that Howard is obviously going to see more alley-oops, Nash is also going to be able to get him the ball in the post in situations where Kobe Bryant might have gone into full-on isolation mode despite a matchup advantage for Howard.
Defensively, there might be some trouble.
Howard is going to have to be on his toes for the drivers that inevitably get past Nash. However, this might have an unanticipated consequence in the form of more blocks by Howard when he does come around to help.
At the very least, we know we've got an ultra-intelligent basketball mind running the point with a guy who is stronger than 99 percent of the rest of the league in the post. They'll definitely be able to work out some advantageous relationship.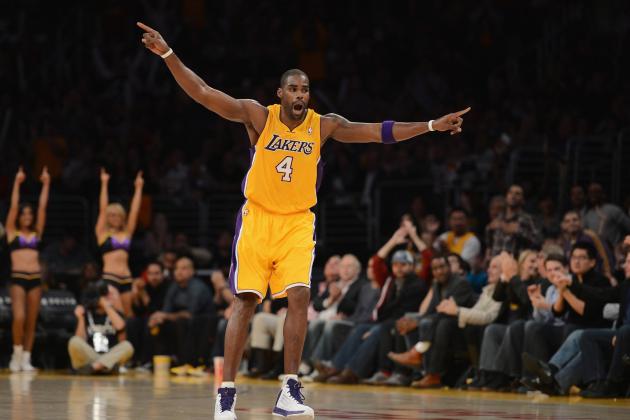 Harry How/Getty Images

All Antawn Jamison needs to be effective is an open three-pointer every now and then, and he's done his job.
There should be no problem getting him that with Nash running things in Los Angeles.
Jamison has been very off-and-on without Nash, shooting just 31 percent from three with Kobe Bryant as the main ball-handler.
However, with Nash's history of working wonders with spot-up shooters, there's no way Jamison won't benefit.
Nash's magic led to Joe Johnson shooting 48 percent from three in 2005, Leandro Barbosa putting in two seasons of 40 percent three-point shooting or better and Raja Bell shooting nearly two percent better than his long-distance career average for the three-plus seasons he was in Phoenix.
If Jamison is open, Nash is going to find him.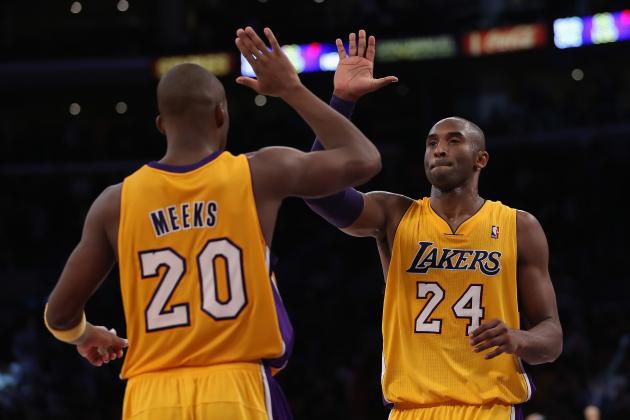 Jeff Gross/Getty Images

The same arguments that arose before the season have begun to crop up again: Kobe Bryant can't work alongside a ball-dominant point guard like Steve Nash.
It's true that they're going to have to work out some sort of system to fold in a bunch of Kobe isolation, but there's no reason to think Nash can't help out Kobe in the process.
He's played well with isolation basketball players in the past, and he's helped them find open three-pointers and lanes to the hoop on a cut, leading to career-high field-goal percentages.
Most notable was Joe Johnson, who was able to shoot nearly 48 percent from the three-point line and just over 46 percent from the field in the 2005 season.
Once these two figure out how to work best together, they're going to be a dangerous duo hell-bent on league domination.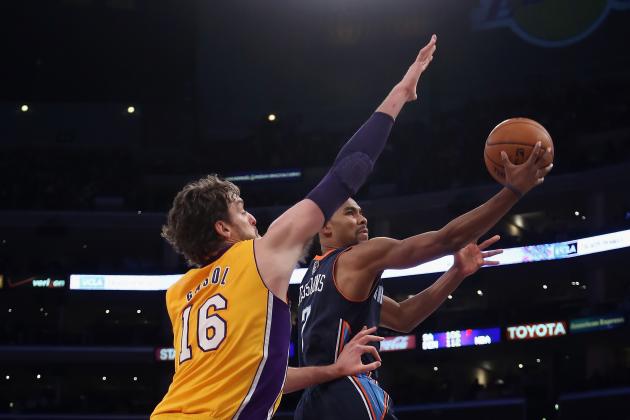 Jeff Gross/Getty Images

It's long been said that Pau Gasol has the most to benefit from the likes of Steve Nash, and that's no different today.
Gasol is going to be able to run the pick-and-pop with Nash as well as anybody in the NBA. And with Nash getting the ball around the floor, he'll be able to find Gasol in the perfect spot for a jumper from the high block, rather than a contested shot from just outside of the paint.
With Nash coming back, Gasol gains something he was in desperate need of: someone he could rely on.
Kobe has always been able to find Gasol in the post when he needed to, and Gasol is always happy to accept an entry pass from a wing player. But he's never had a point guard like Nash to give him the ball at the perfect opportunity every time.
It's going to be like a quarterback hitting a tight end off a curl route, throwing him the ball just as he turns. They won't miss a beat and will end up looking almost telepathic at times.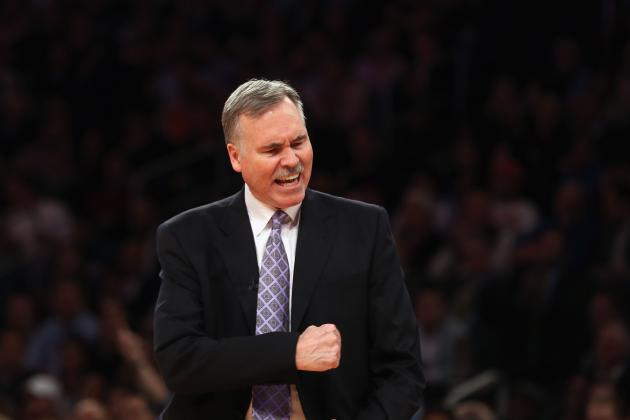 Bruce Bennett/Getty Images

If ever there's been something that makes Mike D'Antoni look good, it's a point guard who knows what he's doing with the ball.
It's even better for D'Antoni that this point guard happens to be the best one he's ever had the pleasure of coaching.
With Nash on the floor, D'Antoni will hardly have to coach the offense. There's going to be a representative there for him at all times.
These two know each other so well after spending time together in Phoenix that it's going to be the easiest transition to a new coach Nash has ever had. That's mostly because he's transitioning back to an old friend.
D'Antoni was in need of someone with the knowledge of offenses that Nash has, and with him in the lineup, the Lakers are going to get back to winning games as often as we once expected them to.