How NBA's Western and Eastern Conference Stack Up Heading into the New Year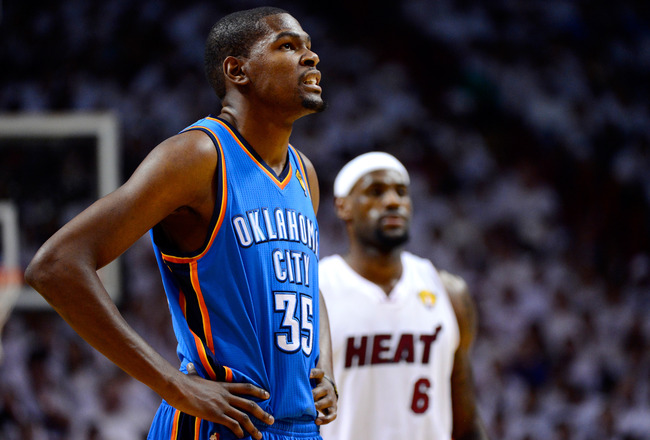 Ronald Martinez/Getty Images
The NBA has turned All-Star weekend into a more competitive, "my side is better than your side" event, pitting the Eastern Conference against the Western Conference during the Saturday night skills competitions.
It's an attempt to make the weekend more competitive rather than the goof-off festival that it has been over the course of the past few seasons.
Rather than relying on an endless array of props and gimmicks to keep our attention, the league is hoping that there will be players getting more into the competitions in an attempt to win glory and more money donated to charity for their conference.
It's going to be interesting to see how this all ends up playing out, but it seems like there will be a bit more intrigue laced into the game.
In order to figure out exactly which conference is superior in more ways than the Saturday night competitions will tell us, let's take a look at how the two sides stack up against each other across the board.
Skills Competition Winner: Western Conference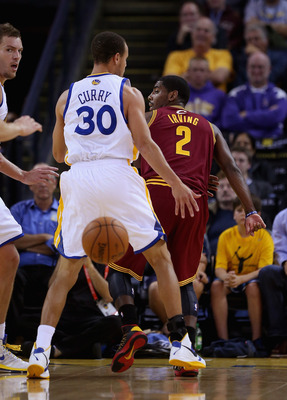 Ezra Shaw/Getty Images
Eastern Conference's Top: Kyrie Irving, Deron Williams, Rajon Rondo, Jrue Holiday, Jose Calderon
Western Conference's Top: Stephen Curry, Chris Paul, Russell Westbrook, Ty Lawson, Ricky Rubio
It's more than just the league's best point guards. If that were the case, we could just take a look at which conference has the best assist-to-turnover ratio and pretty much conclude whoever has the higher number is the more skilled conference.
We're talking about a multitude of things here, from speed to passing ability and ball-handling, along with any and all shooting situations possible.
If we were to give the award to the most skilled guard, it would probably go to Kyrie Irving based on raw ability to handle the ball, scoot around the court and shoot.
However, taking a look at the top guards in each conference makes it pretty obvious, especially with Derrick Rose injured and Deron Williams struggling.
The Western Conference is just too deep to go down to the East in this competition. Their top five are far and above the East's top five.
Best Dunkers: Eastern Conference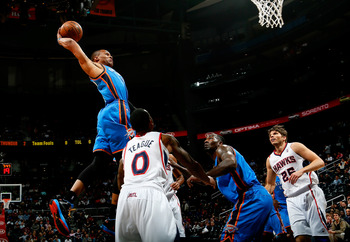 Kevin C. Cox/Getty Images
Eastern Conference's Top: LeBron James, DeMar DeRozan, Terrence Ross, Paul George, Josh Smith
Western Conference's Top: Blake Griffin, Jeremy Evans, Serge Ibaka, Russell Westbrook, Rudy Gay
Going tit for tat, this is a pretty close one.
If we're talking in-game dunks, the top two in the league have to be LeBron James and Blake Griffin, two guys who more or less cancel each other out.
The Eastern Conference keeps going and going, however. Past Josh Smith and Paul George, you'll find guys like J.R. Smith, Gerald Green, Joe Johnson, Gerald Wallace, Taj Gibson and even Dwyane Wade.
The West goes relatively deep, but they run more on power dunkers like Dwight Howard and Kenneth Faried, with the creative and skilled dunkers like Kevin Durant going relatively light.
West taking on East would be a terrific competition if we could force the best dunkers from each league to participate, but in the end, the East is just a hair in front of the West in terms of both top-tier dunkers and dunker depth.
Internet Fame Winner: Western Conference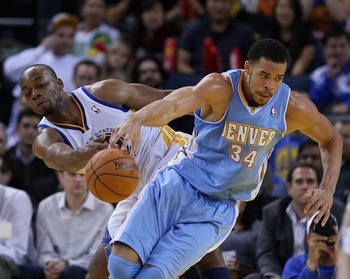 Ezra Shaw/Getty Images
This is an interesting yet important conversation to have based on today's NBA.
There aren't nearly enough "Internet famous" NBA players to make a long list of the most famous Internet personalities on each side of the argument, and we're a bit on a primitive level at this point.
It's kind of like the early days of basketball—just having Bill Russell was nearly good enough to land the Boston Celtics a championship. That's the same deal with the Internet fame award.
JaVale McGee is a modern-day Bill Russell in this conversation.
There's no other player in the NBA who is consistently watched like a hawk as McGee is, and every time he does something even remotely silly, people are going to take notice.
He's the NBA's Internet Elvis, and if you're putting together a team of early rock-and-roll singers, if you've got Elvis on your team, then you win.
Three-Point Shooter Winner: Eastern Coneference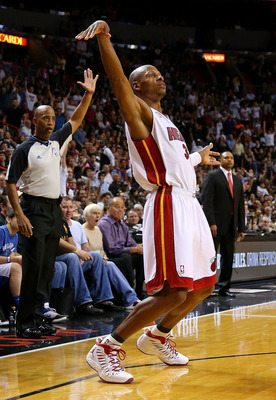 Mike Ehrmann/Getty Images
Eastern Conference's Top: Ray Allen, Carmelo Anthony, Jason Kidd, Ryan Anderson, Steve Novak
Western Conference's Top: O.J. Mayo, Matt Bonner, Kevin Martin, Klay Thompson, Stephen Curry
Now, this is one where we can completely take objectivity out of the question and just look at numbers to determine who the best three-point shooting conference is.
If you go about combining all the three-pointers taken throughout this season, the Eastern Conference teams combine for 294.9 three-pointers attempted per game, making 106.4 of them.
Meanwhile, the Western Conference shoots 302.9 each game, making 108.1 of those attempts.
Comparing the two percentages, the East shoots 36.08 percent from the three-point line, while the West shoots 35.68 percent.
I would say the Western Conference has a bit of an advantage at the top of the three-point shooting comparison, but going down deeper, the East has done slightly better.
Athleticism Winner: Tie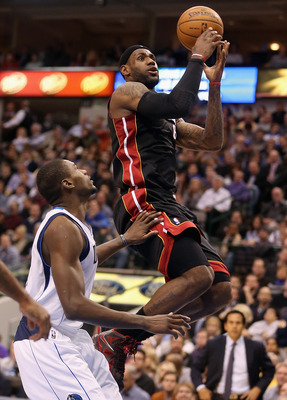 Ronald Martinez/Getty Images
Eastern Conference's Top: LeBron James, Josh Smith, Andre Drummond, Paul George, DeMar DeRozan
Western Conference's Top: Blake Griffin, Dwight Howard, Russell Westbrook, Andre Iguodala, Serge Ibaka
We move from a completely objective category to a totally subjective category in athleticism.
At the tippy-top, we can see that everything is pretty much even. Both teams are saturated with players who can jump out of the gym and run for miles at a time.
LeBron James, Josh Smith, Blake Griffin and Dwight Howard can easily be described as athletic freaks, while the guys backing them up is a wash, more or less.
Going the rest of the way through the ranks, the West seems to take a bit of an edge in lesser-acknowledged athletic categories, like body control and speed, while the East continues to hold the lead in leaping and strength.
In the end, this one is just way too close to call. You've got to call it a wash.
Fan Support Winner: Eastern Conference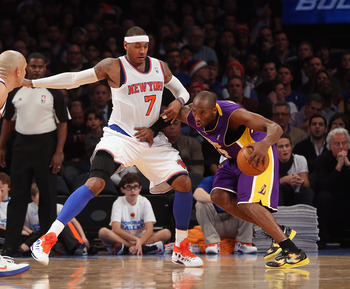 Bruce Bennett/Getty Images
Eastern Conference's Top: Miami Heat, New York Knicks, Brooklyn Nets, Chicago Bulls, Boston Celtics
Western Conference's Top: Los Angeles Lakers, Oklahoma City Thunder, Los Angeles Clippers, Golden State Warriors, Dallas Mavericks
This is another one that's hard to really call out just which teams are the most popular, but there are a few tools we can use to get it all straight.
First of all, there are the best teams in the league, which creates a kind of bandwagon affect. That's something that's obviously happening with the Heat, Lakers, Thunder and Clippers, but there's a bit of it going on with the San Antonio Spurs and now the Knicks.
Looking at population sizes of the cities, it seems evident that the East has a distinct advantage, having two teams in New York City, a team in Boston, Philadelphia, Atlanta, Miami and Toronto.
Top-Tier Talent Winner: Western Conference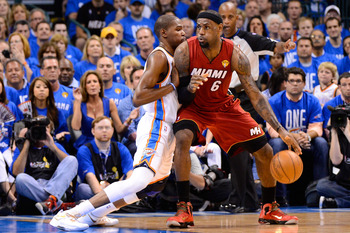 Ronald Martinez/Getty Images
Eastern Conference's Top: LeBron James, Carmelo Anthony, Dwyane Wade, Rajon Rondo, Chris Bosh
Western Conference's Top: Kevin Durant, Dwight Howard, Chris Paul, Kobe Bryant, Kevin Love, Russell Westbrook
How can we possibly whittle this one down to size?
The Eastern Conference has what seems to be two of the three best players in the NBA in LeBron and Carmelo, but the West pulls out more top-10 players, as Durant, Howard, Paul, Kobe, Love and Westbrook are all top-10 talents, whereas the injury to Derrick Rose forces the East to move down to Chris Bosh as their next best player.
Further, the struggles of Deron Williams and injury to Andrew Bynum hurt them even more.
On the other side, Tim Duncan is back to playing at an All-Star level, and the Golden State Warriors have a few players who are knocking on the door of stardom.
It seems to be the slightest of edges, but this one has to go to the West.
Winner: Western Conference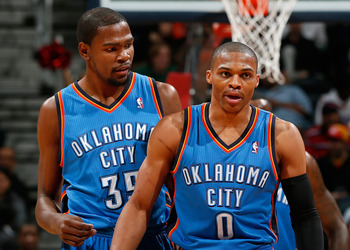 Kevin C. Cox/Getty Images
We had seven categories, three of which went to the Western Conference, three to the Eastern Conference and one was a tie.
Crap.
To figure out a winner, it seemed pertinent to weigh the value of each category.
Each side won a relatively basketball-irrelevant category, the West winning Internet fame, and the East fan support. Those two basically cancel each other out.
If I were to rank the most important categories, it would start with top-tier talent, move on to athleticism and then drop down to the "skills" competition, followed by the three-point shooting, and finally dunking.
That gives the Western Conference victories in two of the three most important categories, with a tie in the third.
From there, it seems obvious who the winner is. The Western Conference is the superior conference, now and for the past dozen years.
Keep Reading