Illinois vs. Missouri: Live Score, Updates and Analysis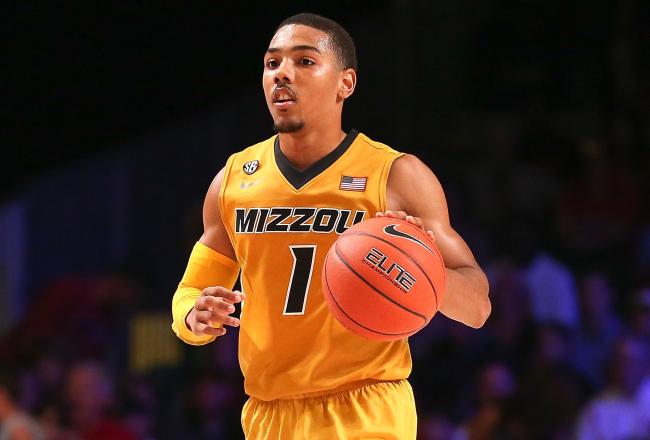 Final Score - Missouri 82, Illinois 73
The No. 12 Missouri Tigers scored their first marquee victory of the 2012-13 season by defeating the No. 10 Illinois Fighting Illini 82-73 in the Braggin' Rights game at the Scottrade Center in St. Louis on Saturday night.
Both teams played an up-tempo brand of basketball that featured 145 total shots, but the Tigers were too much inside for the Fighting Illini to handle. Missouri out-rebounded Illinois 48-30 and pulled down 17 offensive boards.
Senior forward Laurence Bowers paced Missouri with 23 points, while Oregon Ducks transfer Jabari Brown poured in 18 points and Alex Oriakhi turned in his fourth double-double of the season.
The Fighting Illini got a 23-point effort from senior guard Brandon Paul along with 12 points from sophomore center Nnanna Egwu.
Missouri has beaten Illinois each of the last four times the teams have met on the hardwood.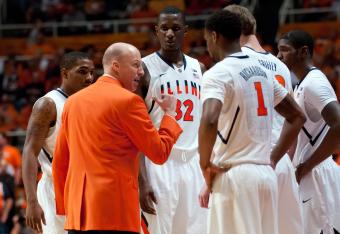 Illinois already had a marquee win over Gonzaga to establish itself in the top 10, but the Fighting Illini will not stay there for too long after the loss to Missouri.
Head coach John Groce's team played well through 12 games and are going to be much better than the experts believed the Fighting Illini would be leading up to the start of the 2012-13 campaign, though.
Illinois looks like a top 15 team and simply did not make three-pointers or rebound well enough to score a win over a Missouri team that featured a much bigger front court.
The Fighting Illini have a dynamic scorer in Brandon Paul, and a couple of complimentary parts in Tyler Griffey and Joseph Bertrand, but Illinois will need Nnanna Egwu to do a better job of rebounding in the paint and keeping opposing bigs at bay.
If Illinois does not resolve its rebounding issues before the latter portion of the Big Ten slate, the Fighting Illini will be out of the conference race and could be an easy out in the NCAA tournament.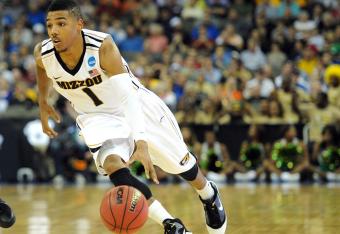 Missouri established itself as a legitimate top 15 team and the Tigers look like they have enough talent and experience to make a run at an SEC title.
The Tigers came into the game a little overrated and unproven, but after the victory over the Fighting Illini their ranking looks fairly accurate.
Laurence Bowers is going to give numerous teams fits as the season goes on, Phil Pressey will gives opposing defenses fits with his speed and passing abilities, while Alex Oriakhi gives Missouri a much needed physical presence in the paint to compliment its speed.
We will continue to learn more about Missouri over the next couple of weeks, though, the Tigers passed their toughest test to date with an above average performance against Illinois.
Mizzou 82, Illinois 73 - End of Game
Pressey lays one in to close out the Fighting Illini. Mizzou tops Illinois for a fourth straight time.
Anyone who dismisses the college hoops regular season has never seen Illinois-Missouri.

— John Gasaway (@JohnGasaway) December 23, 2012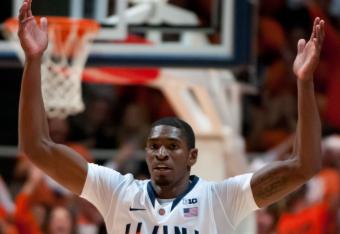 Mizzou 79, Illinois 73 - 0:20 2nd Half
Bad defense by Illinois there. Griffey missed the three-pointer, but none of the Fighting Illini players fouled Pressey, who drove to the basket for two points.
Paul clanks a three-pointer and the Tigers cash in on two more free-throws. Paul makes a deep trey on the following possession.
Mizzou 75, Illinois 70 - 0:54 2nd Half
Pressey drives the baseline and sets Bowers up for a wide open two-handed jam. Mizzou might have just sealed it there, though Illinois can knock down threes at will.
Mizzou 72, Illinois 70 - 1:51 2nd Half
Griffey knocks down Illinois third trey of the second half to bring the Fighting Illini within two points.
Mizzou 70, Illinois 67 - 3:33 2nd Half
Griffey hits a three in transition, but makes a silly mistake by fouling Pressey near the arc on the ensuing possession.
Mizzou 70, Illinois 64 - 3:50 2nd Half
Missouri is turning on the jets in transition right now. Oriakhi started the outlet with a handoff to Pressey, who drove the length of the floor and finished with a tear drop from just inside the free-throw line.
Pressey now with six points and 10 assists.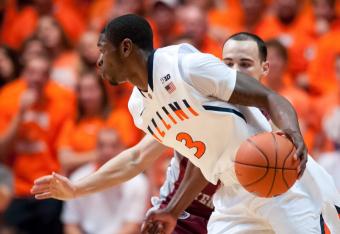 Mizzou 66, Illinois 64 - 4:42 2nd Half
Timeout Illinois.
Look for Brandon Paul to get this shot out of the timeout.
Mizzou 65, Illinois 64 - 5:32 2nd Half
Nice possession by the Tigers there. Bowers caught it in the post and drew two defenders, Pressey got an open look from three and Ross cleaned up the miss with a strong rebound and put-back.
Egwu only needs one rebound to get himself a double-double:
Nnanna Egwu's best game as an #illini

— Jeremy Werner (@WernerESPNCU) December 23, 2012
Illinois 64, Mizzou 61 - 6:22 2nd Half
Egwu wets a jumper from the baseline, and Bowers gives a silly foul on the play. Egwu misses the free-throw.
We all freaked over Bruce Webber losing his gig,great dude-Groce has this team playing better.Period.oh and w/o lottery pick center

— Doug Gottlieb (@GottliebShow) December 23, 2012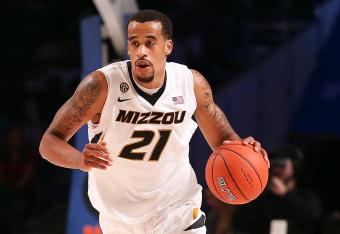 Illinois 62, Mizzou 59 - 6:57 2nd Half
Bowers' big game continues with an impressive spin move on the block to get an easy lay up. Bowers now has 21 points.
I think abysmal is a better word to descrive Pressey's shooting tonight:
Rough shooting night for Pressey, who is 0-for-14 from the field

— Terez A. Paylor (@TerezPaylor) December 23, 2012
Illinois 60, Mizzou 57 - 8:06 2nd Half
Bertrand now with four straight points and a critical rebound with Paul on the bench. Bertrand has 11 points and is going to the free-throw line after a timeout.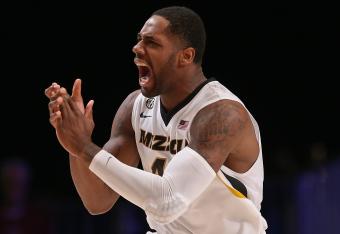 Illinois 58, Mizzou 57 - 9:00 2nd Half
Bowers back in for Oriakhi, who goes to the bench with 13 points and 12 rebounds.
Illinois 54, Mizzou 54 - 10:00 2nd Half
Another Pressey drive and miss results in second chance points from Mizzou's bigs. Griffey nails a three-pointer to give himself eight points on the night.
Missouri and Illinois….PacQuiao-Marquez of college basketball right now. This is a fight.

— Myron Medcalf (@MedcalfByESPN) December 23, 2012
Illinois is currently on a 12-2 run.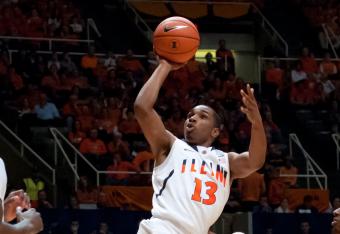 Illinois 51 Mizzou 50 - 11:50 2nd Half
Abrams gives Illinois the lead with a coast-to-coast drive and finish.
This one is starting to get a bit physical and if the officials keep letting this play out like it is now there are going to be some more scrums.
Mizzou 50, Illinois 49 - 12:35 2nd Half
Illinois cannot buy a basket. The Fighting Illini picked up at least four or five loose balls and got fresh shots each time, but could not knock down any of them.
Mizzou 50, Illinois 49 - 13:30 2nd Half
Paul is just 4-of-12 from the field, but he has attempted 14 free-throws, and made 11 of those attempts.
This article is
What is the duplicate article?
Why is this article offensive?
Where is this article plagiarized from?
Why is this article poorly edited?

Illinois Fighting Illini Basketball: Like this team?