New Orleans Bowl 2012: Grading ULL and ECU's Performances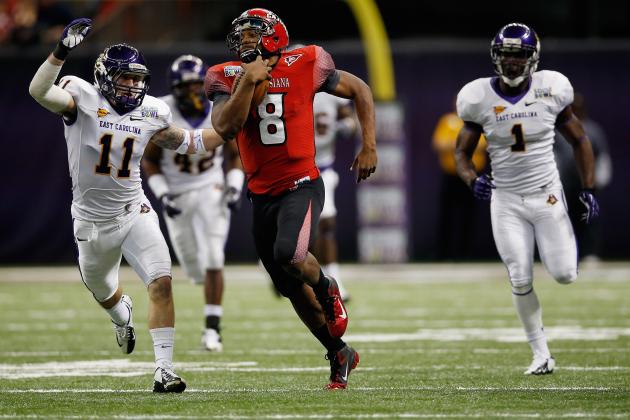 Chris Graythen/Getty Images

Bowl season has a knack for giving us exciting football games when we least expect them.
Louisiana-Lafayette came into the game and appeared to be too much for ECU to handle. The Ragin' Cajuns got off to a fast start and a 14-0 lead in the second quarter. ULL extended their lead to 28-7 and it appeared the rout was on.
Then ECU was able to put together a 10-play 80-yard drive to cut the lead to 14. ULL fumbled on the ensuing kickoff and the Pirates scored on the very next play to pull within seven.
The score went back and forth the rest of the game, but ULL was able to hold on for their second consecutive New Orleans Bowl victory.
Let's take a look and grade how both teams performed today.
Begin Slideshow

»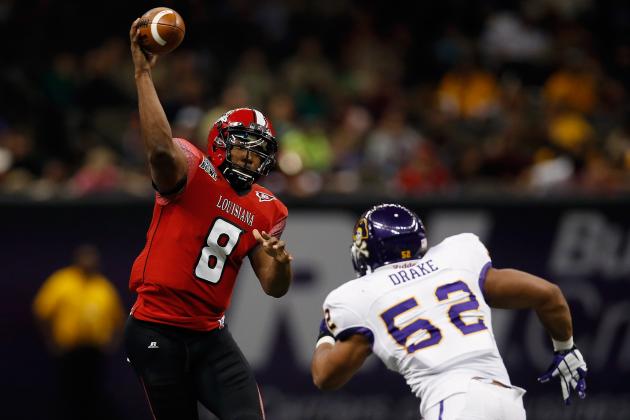 Chris Graythen/Getty Images

Terrance Broadway and Blaine Gautier, ULL: Overall Game, Grade A
Broadway, a Houston transfer, took over the starting quarterback job this season when Gautier went down with an injury. The sophomore played so well that he remained the starter, even when Gautier recovered from his injury.
Broadway had a phenomenal game completing 21-of-32 pass attempts for 316 yards, a touchdown and an interception. He added 15 rush attempts for 106 yards and another score.
Gautier was 1-of-2 on the game for eight yards and added a 16-yard carry.
Shane Carden, ECU: Overall Game, Grade B-
Carden and the Pirates got in an early hole, but were able to regain their composure and claw their way back into the game.
Carden completed 25-of-42 pass attempts for 278 yards, two touchdowns and one interception. Carden's interception came at the most inopportune moment and really cost his team. ECU had just picked off Broadway deep in ULL territory and the Pirates had a chance to take their first lead of the day. Carden's first pass was intercepted by Jemarious Moten, who should have had three interceptions on the day, and momentum swung back in the Cajuns' favor.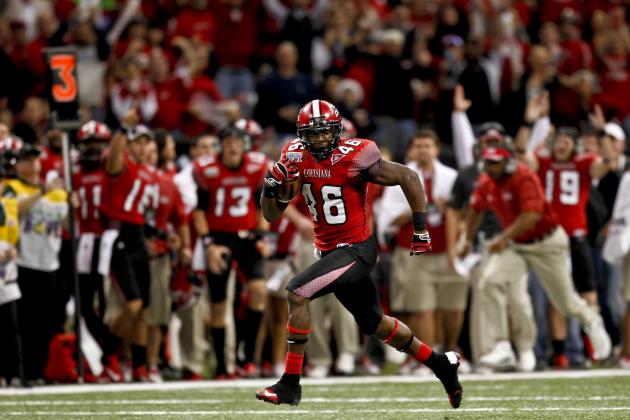 USA TODAY Sports

ULL Overall Game Grade: A
The running backs, and quarterback Terrance Broadway, were able to take advantage of strong offensive line play and torch the ECU defense. Led by Alonzo Harris' 117 yards and two touchdowns, the Cajuns were able to run for 267 yards on 6.4 yards per carry and win the time of possession battle.
ECU Overall Game Grade: C
After getting behind early, and against a tough ULL defensive line, ECU just couldn't get a real running game going.
The Pirates were led by Reggie Bullock's 99 yards and two scores, but only managed to run for 143 yards on the game.
Streeter Lecka/Getty Images

ULL Overall Game Grade: B+
Jamaal Robinson led all receivers in the game with 116 receiving yards, and Javone Lawson came up with two catches that will surely be in SportsCenter's top 10 tonight.
ECU Overall Game Grade: D
You hate to pile on a student athlete, but this game could have been a lot closer if Jabril Solomon didn't drop three passes. Two of the drops could have gone for six, and the other would have been for a huge gain and first down.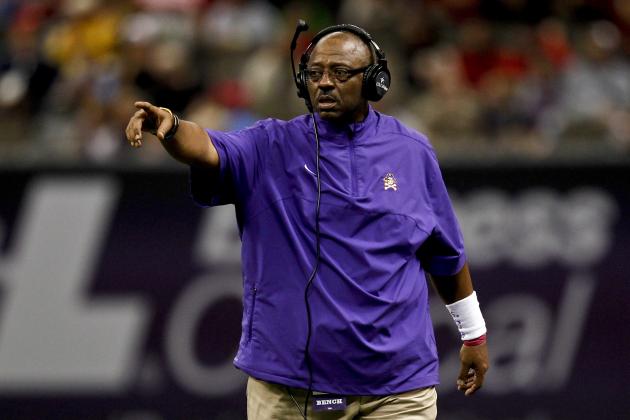 USA TODAY Sports

ULL Overall Game Grade: Incomplete
Only one tight end caught a pass today for the Ragin' Cajuns—Jacob Maxwell—and it went for just seven yards.
ECU Overall Game Grade: Incomplete
ECU has just two players listed as a tight end on their roster—Justin Jones and Zico Paust—and they combined to catch two passes for 10 yards.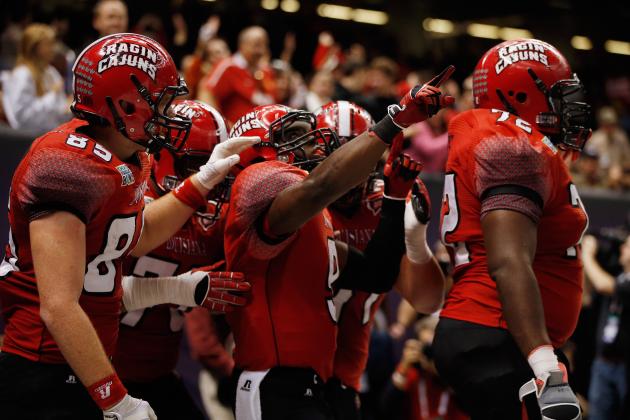 Chris Graythen/Getty Images

ULL Overall Game Grade: A
You don't run for 267 yards on 6.4 yards per carry without great offensive line play.
ECU Overall Game Grade: B-
The Pirates offensive linemen did a good job of keeping Carden upright, but couldn't really give the running backs big lanes to run through.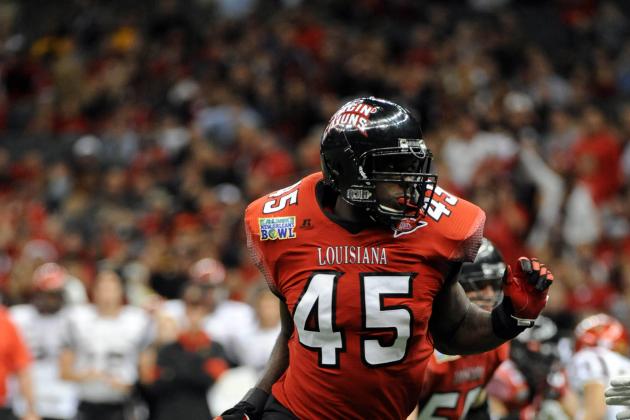 Chuck Cook -USA TODAY Sports

ULL Overall Game Grade: C
Cordian Hagans registered the only sack of the game and there was virtually no pass rush for most of the game. For the most part, the Cajuns were able to stop the Pirates on the ground but ECU still managed to average 4.8 yards per carry.
ECU Overall Game Grade: F
267 rushing yards allowed.
ULL averaged 6.4 yards per carry.
No sacks.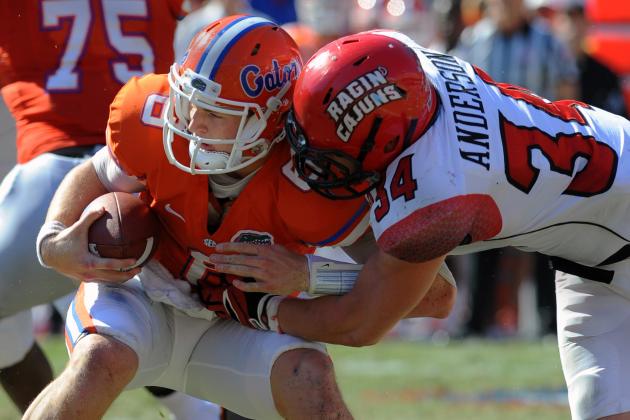 Al Messerschmidt/Getty Images

ULL Overall Game Grade: C
There wasn't a standout linebacker for the Cajuns today, but the defense as a whole played well enough to secure the win.
ECU Overall Game Grade: C
There were no real standouts, but no key mistakes from the unit.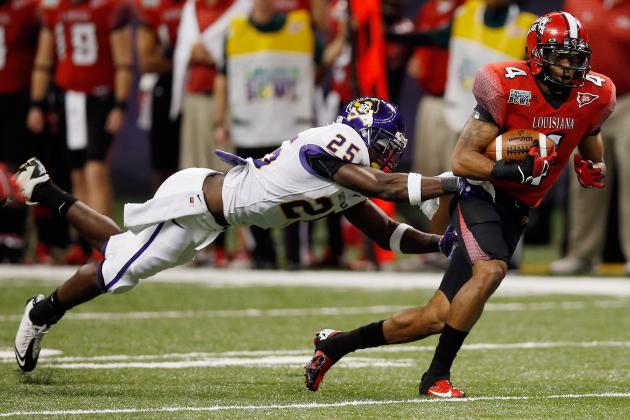 Chris Graythen/Getty Images

ULL Overall Game Grade: B-
It's hard to say that Jemarious Moten had a bad game. Yes, he should have had a pick-six and three interceptions, but he did have a crucial interception and two pass breakups.
ULL gave up 278 passing yards, but on just 6.5 yards per attempt. After getting up big early, ECU was forced to throw the ball a lot and the Ragin' Cajun secondary stood up tall against the test.
ECU Overall Game Grade: D
The Pirates gave up 324 yards through the air and allowed Broadway to average 9.9 yards per completion.
The only reason they avoided an "F" grade was the interception that set the offense up with great field position.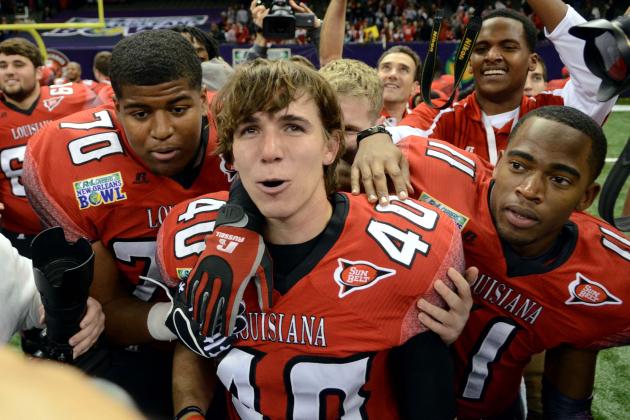 Chuck Cook -USA TODAY Sports

ULL Overall Game Grade: B-
Brett Baer might be one of the most steady kickers in college football. Baer was 3-of-3 on his field goal tries, including a 50-yarder, and his 40-yard field goal with just 10 seconds left in the game iced it for ULL.
The grade would have been higher if not for a fumble on a second-quarter kick return. The fumble came after a long ECU touchdown drive, and was followed by another touchdown that made it a one-possession game.
ECU Overall Game Grade: B+
Warren Harvey was 2-of-2 kicking field goals on the day and 4-of-4 on his extra point attempts. The kick coverage team came up with a huge turnover that swum momentum in the Pirates' favor and changed the complexion of the game entirely.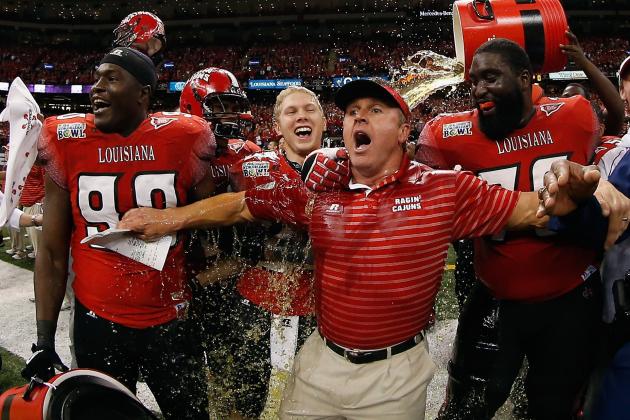 Chris Graythen/Getty Images

ULL Overall Game Grade: A
Mark Hudspeth has done an incredible job. Before last season, ULL hadn't been to a bowl game since World War II, and today won two consecutive bowl games for the first time in school history.
In a state where kids grow up dreaming of playing for LSU, Hudspeth has been able to recruit players who believe in his system and want to play for him and the university.
ECU Overall Game Grade: B
Head coach Ruffin McNeill's team couldn't adjust to an 11 a.m. local time kickoff and took a while to wake up. By the time ECU woke up, they were already in a 21-point hole and couldn't claw their way out of it.
McNeill was seen in the second quarter gathering his entire team on the sideline and speaking with them. Shortly after that, the Pirates were able to come within three points of ULL, but lost to the better team today.