UFC 155: Junior Dos Santos vs. Cain Velasquez Head-to-Toe Breakdown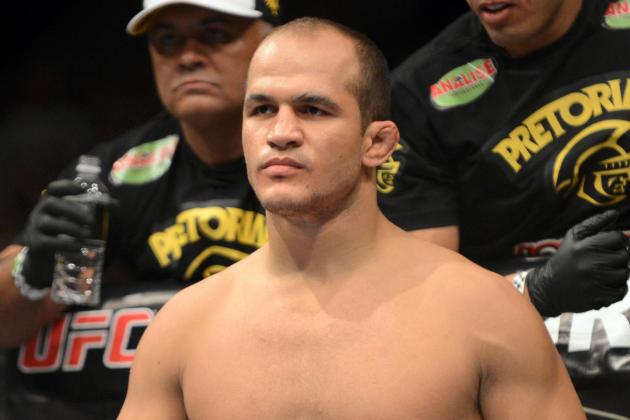 Ron Chenoy-USA TODAY Sports

Junior dos Santos has only defended his title once since taking it from Cain Velasquez in November 2011, but the Brazilian titleholder is now set to meet the former champion in a rematch at UFC 155.
In their first bout at UFC on Fox 1, Dos Santos put Velasquez away in only 64 seconds via knockout. Both Dos Santos (via Ariel Helwani) and Velasquez (via Bobby Razak) were dealing with knee injuries in that fight, though, so things could play out much differently on Saturday.
Velasquez is coming off of a brutal beatdown of Antonio Silva, which was ultimately enough for the UFC to give him a shot at reclaiming the heavyweight belt. On the same fight card that saw Velasquez defeat Silva, Dos Santos breezed through Frank Mir.
Clearly two of the best heavyweights in the world, Dos Santos and Velasquez could fight one another several times before all is said and done. For now, let's take a look at which fighter will most likely win the second meeting.
Begin Slideshow

»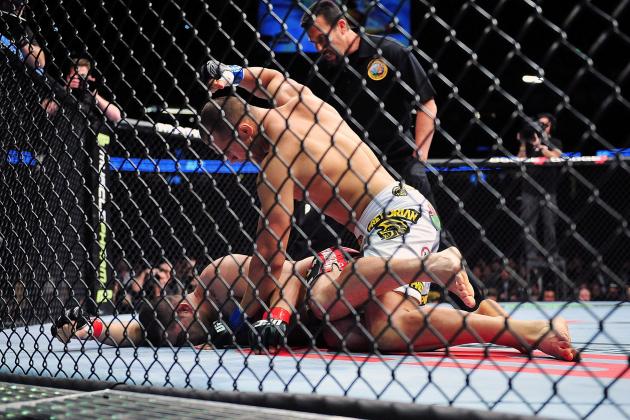 Gary A. Vasquez-USA TODAY Sports

Striking Percentage
Dos Santos—51.53 percent
Velasquez—62.06 percent
Striking Defense Percentage
Dos Santos—63.32 percent
Velasquez—61.80 percent
It took only eight significant strikes for Junior dos Santos to dethrone Cain Velasquez at UFC on Fox 1.
Velasquez obviously wasn't in top form in that contest but neither was Dos Santos. All things being equal, the Brazilian champion will almost always have his way with Velasquez in a stand-up fight.
The first fight may not have told us everything we need to know about this matchup, but it did show that Dos Santos is the superior striker.
Edge: Dos Santos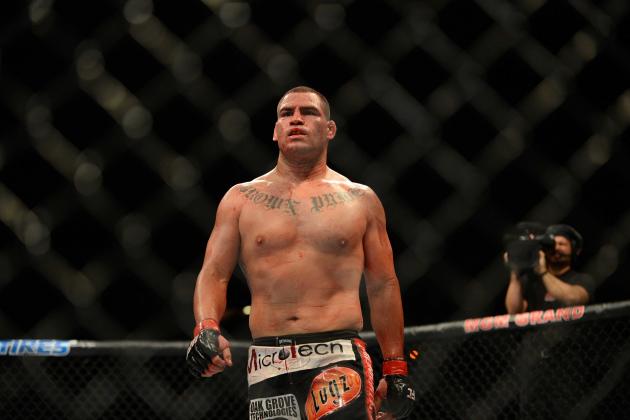 Ron Chenoy-USA TODAY Sports

Takedown Percentage
Dos Santos—75.00 percent
Velasquez—77.78 percent
Takedown Defense Percentage
Dos Santos—87.50 percent
Velasquez—66.67 percent
Thoughout his UFC career, Junior dos Santos has been excellent at defending takedowns to utilize his boxing.
However, Dos Santos was only forced to defend one takedown attempt in his first bout with Velasquez, who is undoubtedly the best wrestler he's had to compete against.
While Dos Santos was successful in keeping his original fight against Velasquez standing, there's a good chance a healthy Velasquez will have much more success taking the Brazilian to the ground.
Edge: Velasquez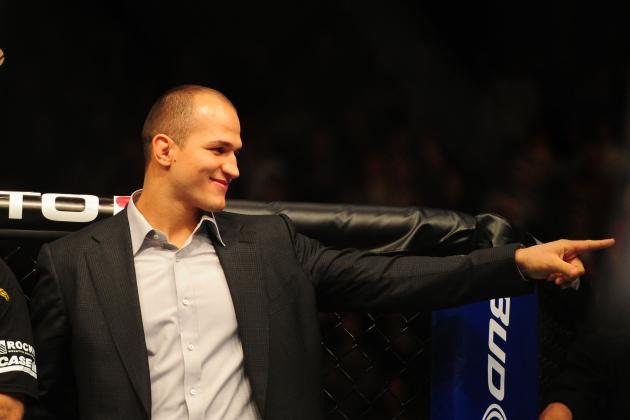 Mark J. Rebilas-USA TODAY Sports

Submission Percentage
Dos Santos—N/A
Velasquez—N/A
Submission Defense Percentage
Dos Santos—N/A
Velasquez—N/A
In their past five fights, neither Junior dos Santos nor Cain Velasquez have had to defend against or attempt a submission. If one fighter has their way at UFC 155, that trend will likely continue.
Dos Santos is going to want to stand and bang with Velasquez, who is surely planning on utilizing his ground-and-pound en route to victory.
If one fighter has to be given an advantage in the submissions department, though, it would probably be Dos Santos. The champion did beat one opponent via guillotine choke early in his career and trains frequently with one of the best heavyweight grapplers in the world, Antonio Rodrigo Nogueira.
Edge: Dos Santos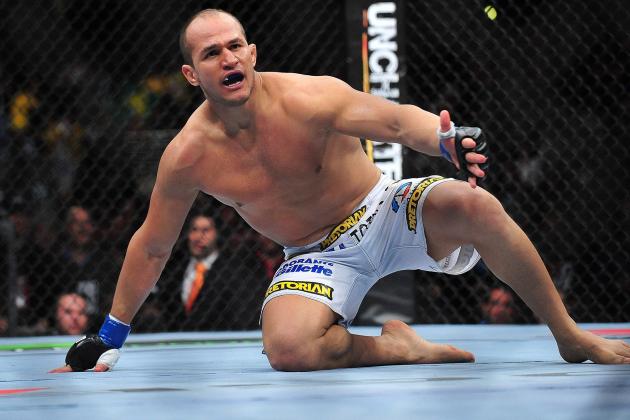 Gary A. Vasquez-USA TODAY Sports

UFC Fights
Dos Santos—nine
Velasquez—nine
Days Inactive
Dos Santos—217
Velasquez—217
Junior dos Santos and Cain Velasquez have an equal amount of experience competing at the highest level and will have both fought a pair of times in 2012.
There's a certain amount of confidence that Dos Santos must have after knocking out Velasquez in the first scrap between the elite heavyweights. However, any advantage gained from that feeling is likely minimal, with Velasquez knowing he did not perform as best he could at UFC on Fox 1.
Edge: Push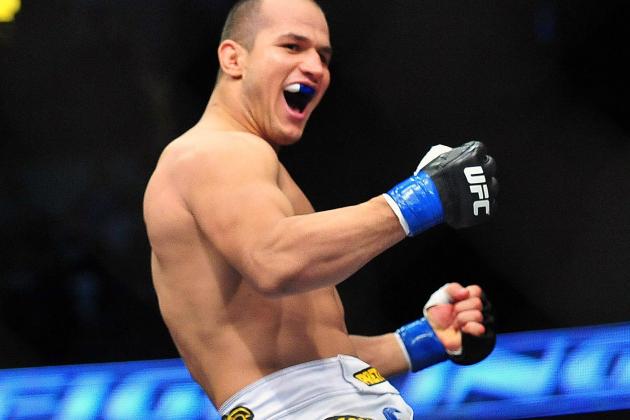 Gary A. Vasquez-USA TODAY Sports

Cain Velasquez is one of the best heavyweights MMA has ever seen, but Junior dos Santos could be on a path toward becoming the best heavyweight of all time.
With more mobility in his legs, Velasquez will last longer than one minute in this outing, but he still won't last too long standing with Dos Santos.
Dos Santos has shown he possesses the wrestling to keep this fight standing long enough to land a knockout blow and he will at some point in the opening frame once again.
Prediction
Dos Santos defeats Velasquez by knockout (punches) at 3:00 of the first round.
Statistics from fighters' past fight fights via FightMetric.com.