Kansas vs. Ohio State: Live Score, Updates and Analysis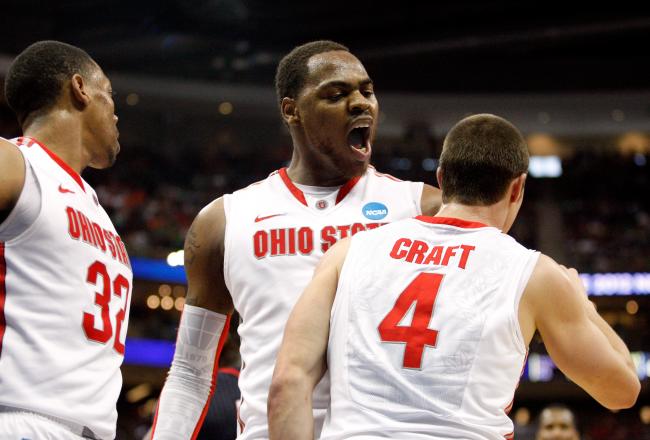 Jared Wickerham/Getty Images
Kansas did it again. The Jayhawks had a Top 10 matchup with the Ohio State Buckeyes in what looked to be a tough game, but Bill Self's squad pulled away in the second half to win on the road.
Kansas disrupted the Buckeyes for most of the game, and controlled the entire game other than a big run by Ohio State in the middle of the first half Kansas.
Ben McLemore led the way for the Jayhawks in Columbus, OH, and the talented redshirt-freshman helped Kansas continue its winning streak against Ohio State after the Jayhawks won both meetings last year.
Final Score: Kansas 74, Ohio State 66
And now a few of the top tweets from tonight's action:
Kansas: won last 6 meetings vs Ohio State; 7-2 in last 9 games vs Top 10 teams

— ESPN Stats & Info (@ESPNStatsInfo) December 22, 2012
Kansas is listed as "Daddy" on Ohio State's birth certificate.

— Mick Shaffer (@mickshaffer) December 22, 2012
Matta said this Kansas team may be the best team that's come in here since Illinois back in 2005.

— Brandon Castel (@BCastOZone) December 22, 2012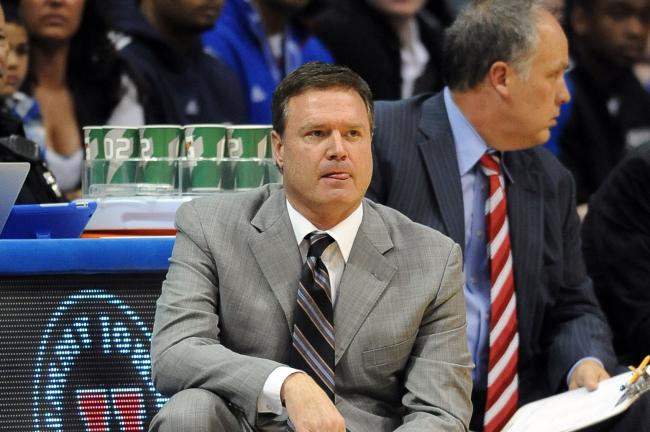 What's Next?
Kansas: An Interesting Matchup With Temple
The Jayhawks are flying high right now, and the team's last challenge before conference play begins will come against a dangerous Temple team on Jan. 6.
The Owls took down No. 3 Syracuse earlier today in a huge upset, but this marked the fifth straight year Temple has beaten a Top 10 opponent. The Owls could give Kansas some problems, but if Kansas wins the game it will enter Big 12 play with a 12-1 record and likely a Top 5 ranking.
The Big 12 looks much easier this year than it did last year, as Missouri is gone, Baylor is struggling, and the only team ranked in the Top 25 other than Kansas is Oklahoma State.
KU has an easy schedule ahead of it.
Ohio State: A Formidable Big Ten Schedule
It couldn't be a more different story for Ohio State.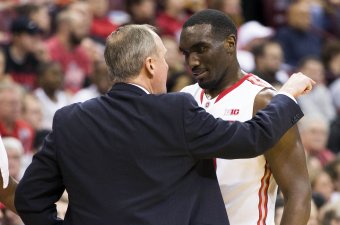 USA TODAY Sports
The team's last non-conference matchup comes against Chicago State, which should be a laugher of a game. However, after that the team is in trouble.
During its Big Ten schedule, Ohio State must play No. 13 Minnesota, No. 6 Indiana twice, No. 10 Illinois twice, No. 20 Michigan State twice and No. 2 Michigan twice. That's nine game against ranked opponents, which could be devastating for the Buckeyes.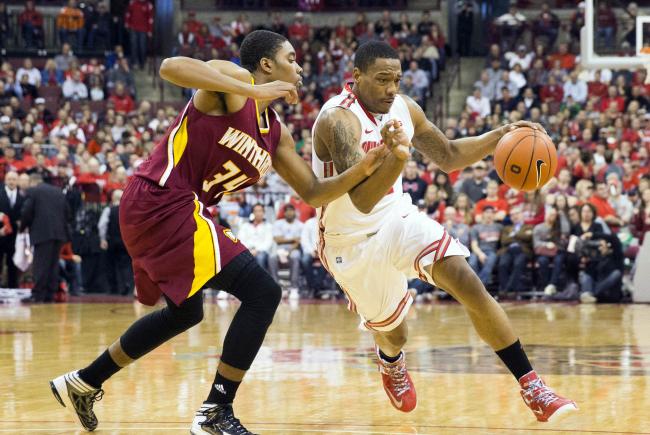 Why Kansas Won
Kansas never let Ohio State get into a rhythm. The Jayhawks did a great job of slowing things down when the game was too fast and favored Ohio State, and it went the last 28 minutes or so without allowing the Buckeyes to get into a groove.
By playing disruptive defense and not allowing a flow to the game, Kansas made Ohio State feel uncomfortable, which was seen by the Buckeyes shooting 30.8 percent from the floor.
Why Ohio State Lost
The right shots were taken by the wrong guys.
DeShaun Thomas should have taken at least 15 shots in this game and led the team in that category, but instead Lenzelle Smith Jr. led the way with 13, and Shannon Scott's 12 shots off the bench gave him more than Thomas.
Ohio State wasn't in a rhythm, thanks to Kansas' defense, and that led to guys looking like there was something wrong when they shot. Smith Jr. was the biggest culprit of adjusting his shot in midair despite being wide-open, and he finished the game by shooting 0-of-7 from three.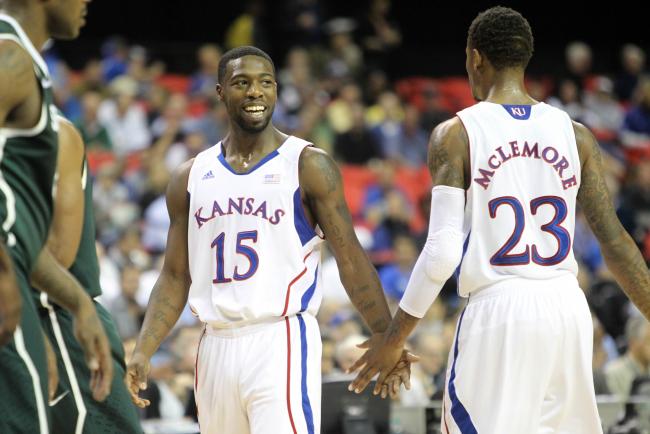 Key Players
Kansas: Ben McLemore
The redshirt-freshman looked like the best player on the floor all night. He started off the game with a couple of big threes to give Kansas and early lead, and he kept his foot on the gas all night.
He finished with 22 points and six rebounds in the game, including three huge threes and a few impressive hustle-plays on defense that won't show up on the stat sheet.
He got the better of National Player of the Year contender DeShaun Thomas in the biggest matchup of the game, and his performance was the difference-maker in this game.
Ohio State: DeShaun Thomas
At the end of the first half it was all Shannon Scott, who came off the bench to score 10 points and help spark Ohio State's big run. However, he struggled in the second half, and finished with 15 points on 5-of-12 shooting.
Thomas is the guy who had the best game of any Ohio State player, but that doesn't say much. He finished with 16 points and six rebounds, which is a bad game for him, but no one really stood out for Ohio State.
Kansas went on the road for the first time all season and beat a Top 10 opponent in Ohio State today. This was a huge victory for the Jayhawks, so now let's take a closer look at exactly what happened in this game, and what it means.
Kansas 74, Ohio State 66 (End)
The game finally ends in Columbus, as Kansas wins a huge game.
Ohio State has now lost twice on the season (although both losses came against Top 10 opponents), while the Jayhawks will be vaulting up the rankings after this game.
Stick around for post-game analysis, and a preview of what's to come for both teams.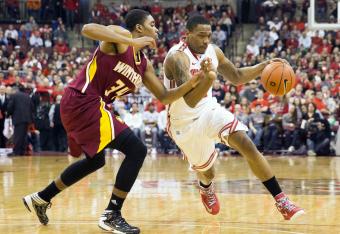 Kansas 70, Ohio State 63 (0:19 second half)
Ohio State missed a lot of open shots today. You can bet that Lenzelle Smith Jr. will be thinking about his 0-for-7 performance from three for a loooooong time.
Ohio State Timeout. Kansas 69, Ohio State 61 (0:31 second half)
OSU has the ball, and a three would cut the deficit to just five. A miss or wasted possession would be devastating.
Kansas 69, Ohio State 59 (0:35 second half)
This is now a four-possession game. Realistically, the game is over. However, if Kansas misses six straight free throws it's not over.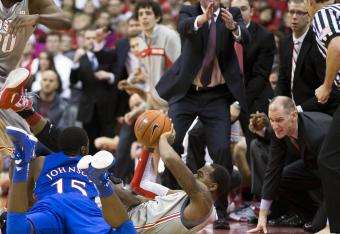 Kansas Timeout. Kansas 67, Ohio State 59 (0:44 second half)
Ohio State plays good defense to force Kansas to burn a timeout. If the team can force a quick turnover or two and knock down some threes this game isn't over, but it's going to take a heroic effort.
Ohio State Timeout. Kansas 67, Ohio State 59 (0:44 second half)
Ohio State is just trying to make this score look respectable at this point. The Buckeyes were dominated during the second half, even if the score doesn't show just how bad it was.
Kansas 65, Ohio State 56 (1:00 second half)
Ohio State has just reached 20 points in the second half. The team has been stymied for the last 19 minutes, and Kansas' defense deserves a lot of credit for the job it did.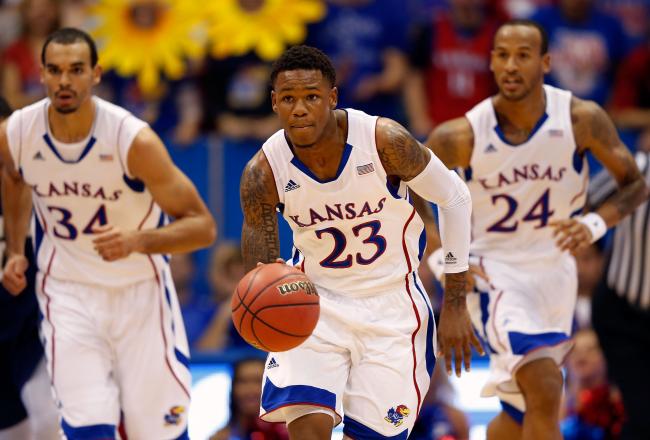 Ohio State Timeout. Kansas 64, Ohio State 54 (2:12 second half)
Another big transition defense play by Ben McLemore. He is doing it all for Kansas, with 22 points, six boards and a few crucial stops. Unfortunately for him Ohio State still scored afterward.
TV Timeout. Kansas 64, Ohio State 52 (2:30 second half)
Ohio State just keeps slipping away. The Buckeyes need to be in attack-mode for the rest of this game. The team looks tired, but this slow pace isn't helping at all.
Kansas 64 Ohio State 52 (4:36 second half)
Kansas is starting to pull away in this game. Ohio State needs to knock down a couple of threes, and DeShaun Thomas needs to be the one taking those shots.
Ohio State Timeout. Kansas 60, Ohio State 52 (6:00 second half)
That was the kindest rim I've ever seen in my life. That shot hit the iron twice before dropping in.
Kansas 56, Ohio State 52 (6:55 second half)
Ohio State has done well on the boards, and the teams are tied with 27 rebounds apiece. The reason why the Jayhawks are winning is because they are shooting 24.2 percent better than Ohio State.
TV Timeout. Kansas 56, Ohio State 52 (6:55 second half)
This second half has absolutely no flow. Every time it looks like a team gets going there is a dead ball or a timeout.
Kansas 53, Ohio State 48 (8:35 second half)
Ohio State is still missing out on a ton of open threes. I already count at least four times when a shooter was completely open and just missed the shot. That's 12 points the Buckeyes have left on the table.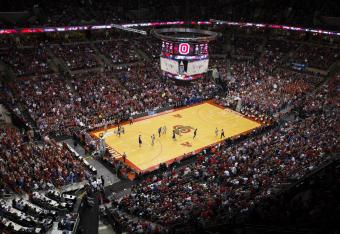 Kansas 53, Ohio State 48 (10:15 second half)
This has been a really choppy second half. Neither team has been able to get into much of a rhythm, and that seems to favor Kansas.
Those Taco Bell appetizer wraps are all I can think about right now. That commercial just makes me so hungry.
Kansas Timeout. Kansas 49, Ohio State 48 (11:20 second half)
This game is going to be determined by the tempo of the last 11:20. Whichever team can control the pace of the game will win a nail-biter.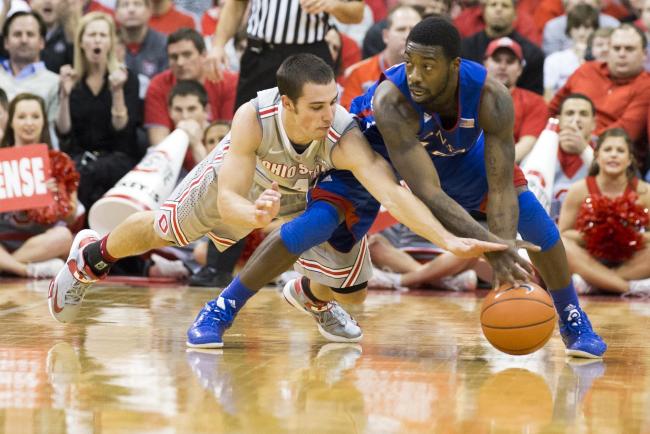 TV Timeout. Kansas 49, Ohio State 47 (11:47 second half)
The crowd is getting into the game again. The score doesn't reflect it, but it looks like Ohio State has all the energy and is poised to go on a big run right now.
Kansas 49 Ohio State 45 (12:37 second half)
Stupid play by Tharpe. No need for that flagrant foul, and now Ohio State has all the momentum.
Kansas 45, Ohio State 43 (13:35 second half)
Perry Ellis just checked it. Be sure to keep an eye on the talented freshman in the first road game of his collegiate career.
This article is
What is the duplicate article?
Why is this article offensive?
Where is this article plagiarized from?
Why is this article poorly edited?