Green Bay Packers: 5 Players That Have Defined the Packers' Season So Far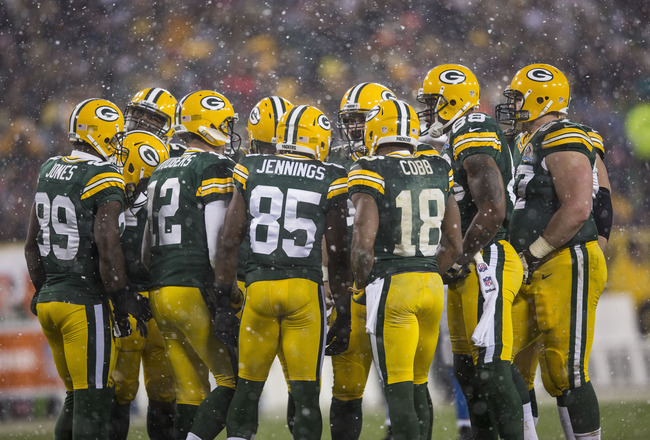 Tom Lynn/Getty Images
2012 has been a big year so far for the Green Bay Packers.
Following its heartbreaking loss to the New York Giants in the NFL playoffs last year, Green Bay has slowly sought to rectify that mistake this year—chalking up another divisional title and place in the playoffs for the 2012-13 season.
Mike McCarthy's men currently sit at 10-4 on the season so far and whilst it's nowhere near the 15-1 that they finished with last season, it's certainly nothing to be ashamed of either—particularly when it yields a divisional title and place in the playoffs.
Here are the five players that have defined the season so far for the Green Bay Packers—both in terms of their success and their impact to the team.
5. James Jones, WR
Jonathan Daniel/Getty Images
Due to injuries to the likes of Greg Jennings and Jordy Nelson, Green Bay has needed the likes of James Jones to step up at wide receiver to fill their shoes, and there is little doubt that Jones has done just that—reeling in 622 receiving yards from 51 catches so far this year.
Perhaps most impressive is Jones' 12 receiving touchdowns which currently leads all players in the NFL, despite the fact he's had fewer catches than any other player inside the top 10.
4. Clay Matthews, LB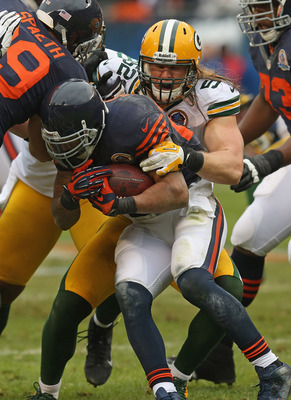 Jonathan Daniel/Getty Images
Despite a stint on the sidelines due to injury, Clay Matthews has once again proven himself as one of the top linebackers in the league—harassing quarterbacks and offensive lines alike throughout the season.
Matthews has only played 10 games this season and yet he still has 11 sacks for the year—leading Green Bay and ranking inside the top 10 for the league also.
Having watched him completely destroy the Chicago Bears, there is little doubting Matthews' importance to the Packers down the stretch this season as well as the impact he has already had on their year.
3. Aaron Rodgers, QB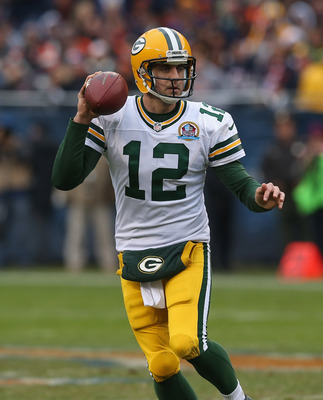 Jonathan Daniel/Getty Images
If we're talking impact, then it's hard not to include Aaron Rodgers in any discussion, with the quarterback proving once again that he is one of the top players under center in the league.
Had he not had such an incredible season last year, Rodgers' 3,588 passing yards, 32 touchdowns, eight interceptions and league-high 104.7 quarterback rating would be getting more credit than they currently have, for those numbers are once again truly phenomenal.
His ability to convert on third-down and not turn the ball over despite a large number of sacks is a testament to just how effective Rodgers has been this season—not that we expected anything else, though.
2. Randall Cobb, WR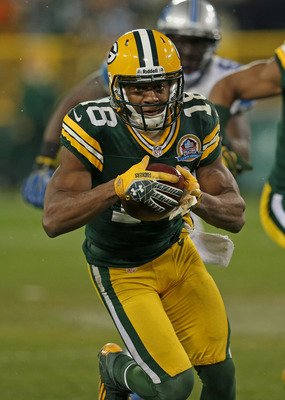 Jonathan Daniel/Getty Images
Similar to Jones, Randall Cobb has stepped up in a huge way this season for the Packers—becoming Rodgers' most targeted wide receiver and one of the most effective runners of the ball in the league.
Cobb is rapidly approaching 1,000 receiving yards for the season and will likely finish with close to 90 catches for the regular season—numbers that will both be team-high achievements.
Throw in all his kick and punt return skills also, and Cobb has been an invaluable player so far this year and one that has definitely defined the Packers offense to date.
1. Casey Hayward, CB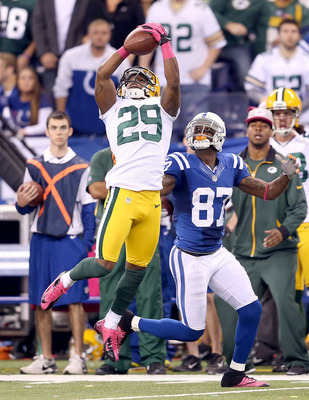 Andy Lyons/Getty Images
However, no player has defined the Packers' season so far more than rookie cornerback Casey Hayward, who has been simply tremendous in defense this year.
The rookie has a team-high six interceptions on the year so far—more than Tramon Williams, Morgan Burnett and M.D. Jennings combined and in the top five players right across the league.
Hayward also sits second to Chicago Bears corner Tim Jennings in pass deflections for the year, but the greatest testament to his significance has been the fact he is yet to allow an opposing touchdown when in coverage this season.
He has completely defined the Packers defense this year—which was ranked dead last in passing yards last season—and no doubt has a tremendous future ahead of him at Green Bay as well as a very important role to play in the upcoming NFL playoffs if the Packers are to repeat their championship success from two years ago.
Which player(s) do you think has most defined the Packers' season?
Comment below or hit me up on Twitter: Follow @dantalintyre
Keep Reading

Green Bay Packers: Like this team?