Dissecting L.A. Clippers' Franchise-Record 12-Game Winning Streak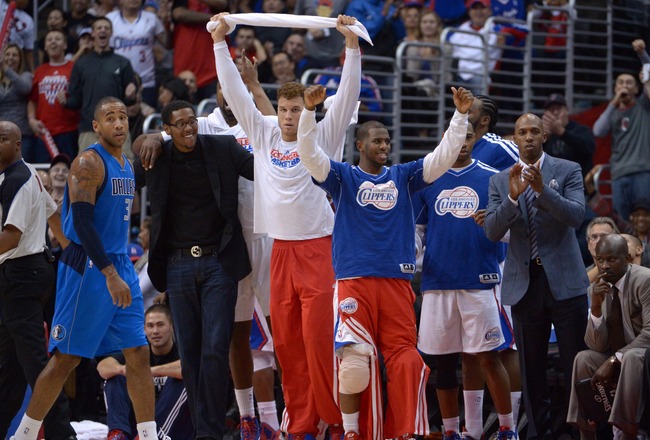 USA TODAY Sports
With a 97-85 home victory against the Sacramento Kings, the Los Angeles Clippers have set a new franchise record with 12 consecutive wins.
The previous record was held by the 1974-75 Buffalo Braves. Head coach Jack Ramsay led the likes of Bob McAdoo, Garfield Heard and Randy Smith to 11 consecutive W's.
Next in line for the 2012-13 Clippers is the '75 Braves' franchise record of 49 wins. The 2013 club has already compiled a record of 20-6.
Based off of percentages, they're on pace for 63 victories.
Until then, let us embrace the significance of the Clippers' current 12-game winning streak. Most importantly, let us dissect how it has all gone down.
Enough of the buildup, folks. Let's take a look at just how dominant Los Angeles' top team has been.
Leading the Charge: Balance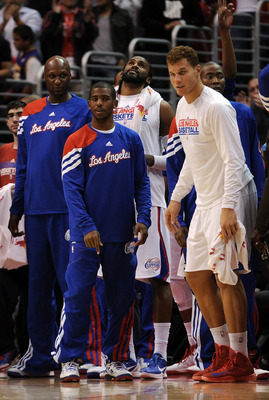 Harry How/Getty Images
The Los Angeles Clippers have not won games because of an individual's brilliance. Even as Chris Paul and Blake Griffin display All-NBA ability, it has been a balanced attack every time out.
Each and every time.
From Matt Barnes' surprising scoring touch to Lamar Odom's work on the glass, the unexpected stars of the second unit have been an intricate part of team success.
From DeAndre Jordan's low-post progress to Eric Bledsoe's two-way explosiveness, player development has played an equal level of importance.
Veterans such as CP3, Griffin and Jamal Crawford are handling business as usual.
No matter which way you cut it, the Clippers are winning games because of their unparalleled level of depth. At each and every position, there are athletic legs and crafty veterans who are contributing on a nightly basis.
On both ends of the floor.
For this reason, though the win streak may end, the Clippers' status as an NBA championship contender will not.
Let's break down what this slide truly means.
Most Recent Loss: November 26, 2012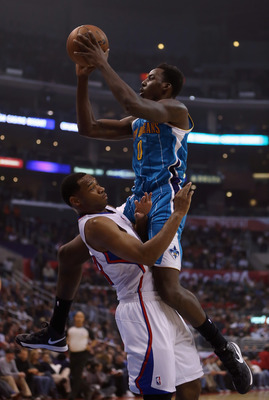 Jeff Gross/Getty Images
The last time the Los Angeles Clippers lost a game, they fell 105-98 to the New Orleans Hornets. That game was on Nov. 26, 2012.
L.A. avenged the loss with a 93-77 win over the Hornets on Dec. 19.
With potential victories over Phoenix on Dec. 23 and Denver on Christmas night, the Clippers could go a full month without a loss.
With a potential loss to Denver on December 22, the Charlotte Bobcats would go a full month without a win.
Which streak is most likely to last? L.A.'s franchise-best? Or Charlotte's latest low?
Both?
Appreciate the brilliance of the Clippers, folks. You won't see this very often.
Points Per Game: 103.0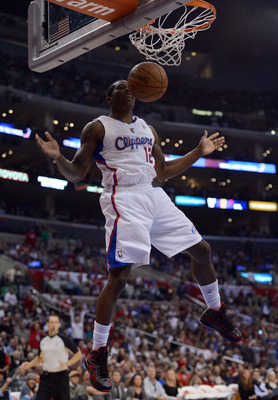 Harry How/Getty Images
During their 12-game winning streak, the Los Angeles Clippers have scored an average of 103.0 points per game. They've failed to top 100 in just four outings.
Furthermore, the Clippers have scored at least 110 points in four of their 12 consecutive wins. They topped that mark just twice in their first 14 games.
Both of which were losses.
In other words, the Clippers have been dominating the scoreboard with a high-octane offensive attack. The key to their success, however, is not just scoring.
Once again, it is balance.
Points Allowed Per Game: 88.2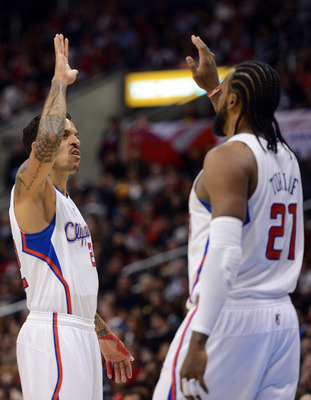 Harry How/Getty Images
Not only have the Los Angeles Clippers been an unstoppable offensive force, but they've smothered opponents defensively.
During their 12-game winning streak, LAC has held the opposition to an average of 88.2 points per game. That's a consistently constructed number, as well, and not one made up of outliers.
For instance, they've only allowed one team to score at least 100 points: The Utah Jazz scored 104.
The Clippers have limited 10 of their 12 opponents to less than 95 points. They've tamed the opposition to less than 90 in seven of those games.
Furthermore, L.A. has held six teams to 85 points or less. Two have failed to top 80.
Impressed yet?
Average Margin of Victory: 14.8
Stephen Dunn/Getty Images
If you've done the math from the previous two slides, you know how impressive this number is.
Over the span of the Los Angeles Clippers' 12-game winning streak, their average margin of victory has been 14.8 points.
In that time, only four games have been decided by single digits. Three of those four games came against postseason-caliber opponents.
101-95 over the Minnesota Timberwolves, 105-104 at the Utah Jazz and 94-89 at the Chicago Bulls. The other was a 100-94 victory at the Charlotte Bobcats.
Utah is 9-2 in Salt Lake City while Chicago is 8-6 in their own house, but much better than their record suggests.
Charlotte has five of their seven wins at home.
In other words, L.A. has traveled the difficult road to victory. A road that leads seven of their next 11 games being played at home.
Where the Clippers are 12-3.
Field Goal Percentage: 48.0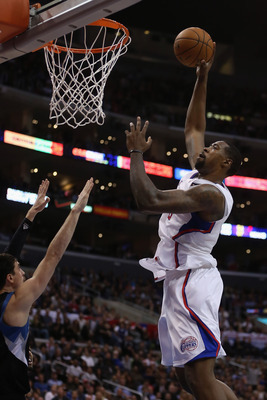 Jeff Gross/Getty Images
Not only are the Los Angeles Clippers averaging 103.0 points per game, but they're shooting 48.0 percent from the floor. Life is good when nearly half of the shots you throw up are going in.
And this doesn't appear to be a trend that will end.
As they shoot 48.0 percent from the field, they're connecting on 30.9 percent of their three-point field goals. In other words, the Clippers are attempting high-percentage looks and finishing close to the basket.
With the three-point bombs soon to fall with more consistency, their field-goal percentage should actually improve. Not dip.
Opponent Field Goal Percentage: 41.5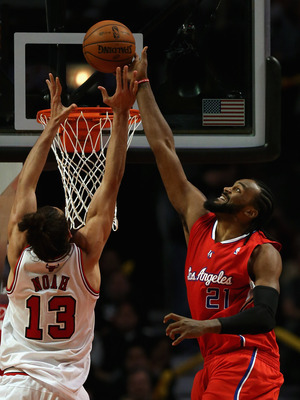 Jonathan Daniel/Getty Images
Over the past 12 games, the Clippers are holding opponents to 41.5 percent shooting from the floor. If the average of 88.2 points allowed doesn't impress you, perhaps this number will.
With LAC converting 48.0 percent, that's a differential of positive-6.6 between L.A. and their opponent.
Only the Utah Jazz have shot 50.0 percent or above against L.A. since the beginning of their winning streak. Seven of their opponents have failed to convert 35 field-goal attempts.
Once again, this is proof of defensive balance and dominance.
Turnover Differential: +4.9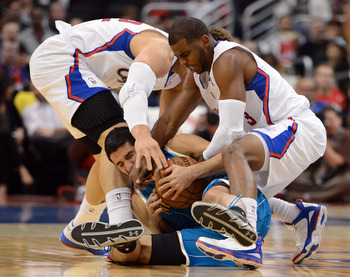 Harry How/Getty Images
The Los Angeles Clippers have won the turnover battle in 11 of their past 12 games. The only time they've failed to was in their most recent victory, a 97-85 victory over the Sacramento Kings.
Over the span of their streak, the Clippers have committed an average of 11.8 turnovers per game. They've forced opponents into 16.7 turnovers per contest.
That's a turnover differential of positive-4.9. That's how you win games.
Bench Scoring Per Game: 44.8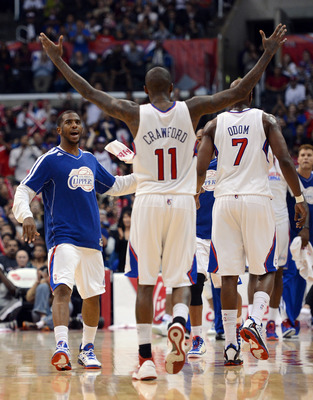 Harry How/Getty Images
A Tribe Called Bench have been phenomenal.
Over the span of their 12-game winning streak, the Clippers have received an average of 44.8 points per game from their second unit. Contrary to outside belief, it hasn't just been Jamal Crawford contributing.
It's everyone.
We can't sell J-Crossover short, as Crawford is averaging 13.9 points per game over this span. What we must do, however, is acknowledge the rest of the pack.
Matt Barnes is averaging 12.6 points over the past 12 games.
Eric Bledsoe is adding an additional 7.8 points, 3.1 assists, 2.6 rebounds and 1.8 steals per contest in that time. He's playing just 18.1 minutes per game.
Impressed yet?
What may be most important of all is the fact that Lamar Odom has finally found his groove. This comes after he struggled to do anything at all through the first 14 games.
During the current winning streak, Odom has posted averages of 5.7 points, 7.1 rebounds, 1.9 assists and 0.9 blocks per game.
He's done so in an average of 22.3 minutes.
Odom has found his game and the Clippers are unstoppable. Coincidence?
Dunks: 108
Don't like the Lob City moniker? Tough luck.
The Los Angeles Clippers have thrown down 108 dunks since the streak began. That's all I have to say about that..
Enjoy the highlight provided.
Still Injured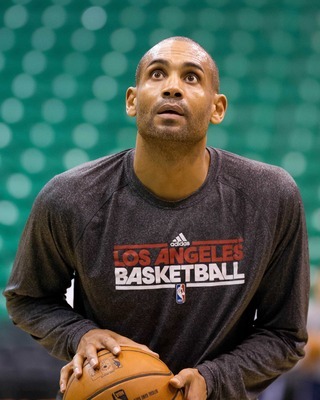 USA TODAY Sports
Just a quick note to add here.
The Los Angeles Clippers have been playing without two injured veterans in Chauncey Billups and Grant Hill.
Hill is expected to return in mid-January from the latest episode in a career-long saga of knee injuries (via The Miami Herald).
Billups is without a timetable due to peroneal tendinitis in his left foot (via The Miami Herald).
While some may suggest that this will crowd their rotation, both Billups and Hill are known more for their team-oriented leadership than production.
The Clippers will only get better.
Keep Reading

Los Angeles Clippers: Like this team?