Men's Tennis: Who Will Win the 4 Majors in 2013?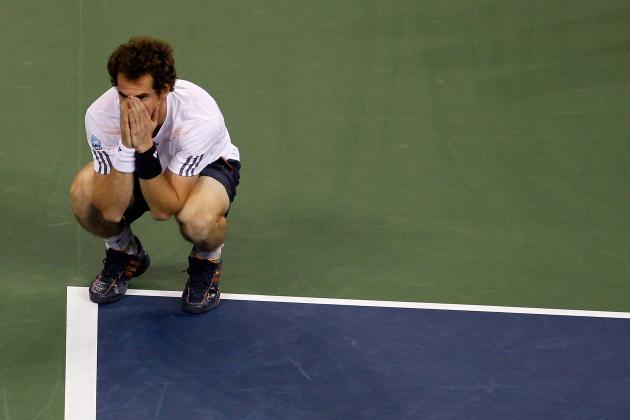 Mike Stobe/Getty Images

Looking back at 2012, it really was a great year for men's tennis. For the first time since 2003, we saw a different winner at every single Grand Slam.
We saw Britain's much-anticipated first slam of the open era. We also saw the triumphant return of 31-year-old Roger Federer to No. 1 and the end of his three-year Grand Slam drought.
So what does 2013 hold?
Earlier we previewed 10 players to look out for on the men's side. Let's now predict the four Grand Slam winners in 2013.
Begin Slideshow

»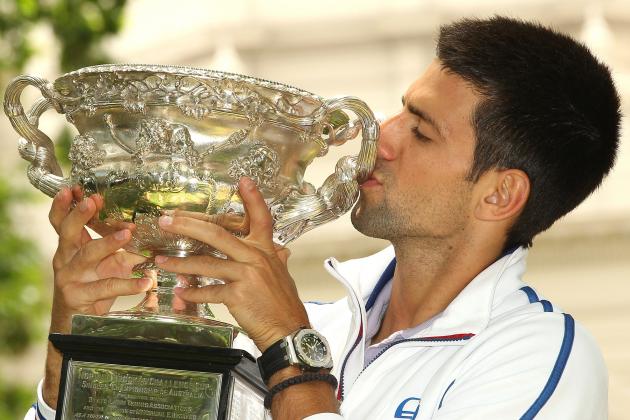 Lucas Dawson/Getty Images

Winner: Novak Djokovic
There's no reason to think that Djokovic couldn't repeat at Melbourne Park as champion for a third straight year.
The Serb has been downright dominant the last two years at the Australian Open, so you can expect nothing less from him in 2013. However, the march toward his third straight title might be the toughest yet, especially with Andy Murray playing some of the best tennis of his career.
Dark Horse: Juan Martin Del Potro
Del Potro stepped his game up to near-2009 levels last year. The Argentine had his best performance at a Grand Slam since his title at the U.S. Open with a quarterfinal appearance at Melbourne Park in 2012.
Del Potro was ousted in straight sets last year by Roger Federer, but he has been showing more of the form that made him a champion. While fitness is always a concern with DelPo, all signs point to him being ready for a deep run Down Under.
Player to Watch: Kei Nishikori
Nishikori announced himself to the world tennis stage last season when he made his way to the quarterfinals in Australia before being ousted by Andy Murray.
He's a man to keep an eye on in the tournament considering his strong past results and his great finish to 2012.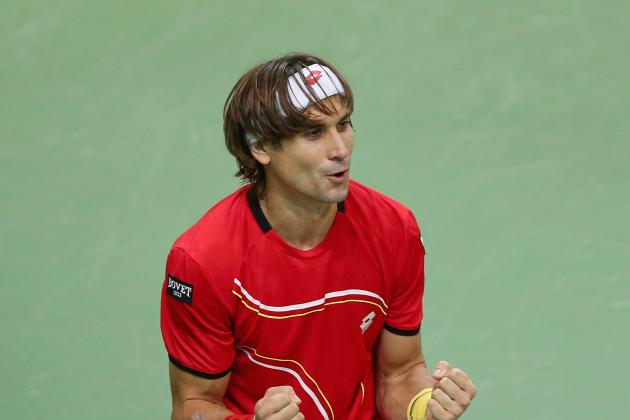 Clive Brunskill/Getty Images

Winner: David Ferrer
Personally, I just feel like it might be Ferrer's year. He had a career year in 2012 and will be looking at a field that will likely feature a less-than-100 percent Nadal.
In 2012, Ferrer cruised through to the quarters, dropping just 21 games before ousting fourth seed Andy Murray. Ferrer suffered a crushing defeat at the hands of his Spanish compatriot Nadal, but that could play out as a very different scenario this year.
Ferrer's best surface is clay, and he might have his best chance ever coming up in late May and early June to achieve that coveted slam.
Dark Horse: Rafael Nadal
It's funny to talk about Nadal in a dark-horse context, but it really is a toss-up right now.
Will he be healthy? Will he be able to compete at the highest of levels by June? It's tough to say. This will become much more clear by April or so, but it is a huge question mark right now.
He's the defending champion, and we all know what a battler he is. Will he be primed and ready to defend his title? For the sake of competition, let's hope so.
Player to Watch: Richard Gasquet
Gasquet quietly had one of the best years of his professional career in 2012. He made it to the fourth round or better in every major and saw his ranking rise back into the Top 10 by the end of the year.
Last year he made it to the Round of 16 in Paris before falling to Andy Murray. He tends to struggle against Top 10 opponents, but don't think that Gasquet isn't a tough out.
He plays beautifully on the red dirt, and he will have the sixth man, the French crowd, on his side if he makes a deep run in the tournament.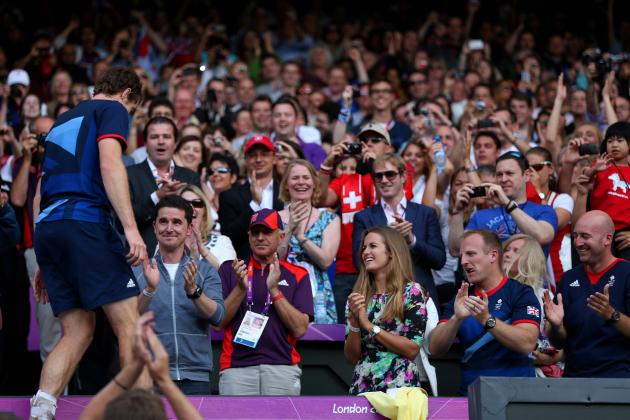 Clive Brunskill/Getty Images

Winner: Andy Murray
It's his time. Andy Murray finally got the 10-ton gorilla off his back with a Grand Slam title in Flushing Meadows. He replaced the turmoil of a 2012 Wimbledon final loss to Federer with memories of centre-court redemption at the London Olympics.
With a newfound confidence in himself and a familiarity with high-pressure situations on centre court, Murray can finally bring home a Wimbledon title. It's a title that has alluded the Brits since the days of Fred Perry.
Since 1936, Great Britain has waited for a homegrown champion at the All England Lawn Tennis and Croquet Club, but it may not have to wait much longer.
Dark Horse: Jo-Wilfried Tsonga
Big Jo-Willy has been a semifinalist the last two years at Wimbledon. In 2011, he was defeated in four very tight sets by eventual champion Novak Djokovic. He was defeated in a competitive four-set match by Andy Murray in 2012.
Tsonga has been so close he can taste it these last two years. He's an absolute beast to contain when he's on his game, and grass is by far his best and most suitable surface.
If he can get hot in the late rounds of the tournament, it might be his time. He's already pushed the top players to their limits in the semis. Can he take it a step further?
Player to Watch: Tomas Berdych
Berdych had an incredibly disappointing 2012 Wimbledon. No one expected the 2010 finalist to be bounced in the first round by the Latvian Ernests Gulbis, but that was the reality.
However, Berdych is an intense competitor and will likely be looking for a bounce-back tournament.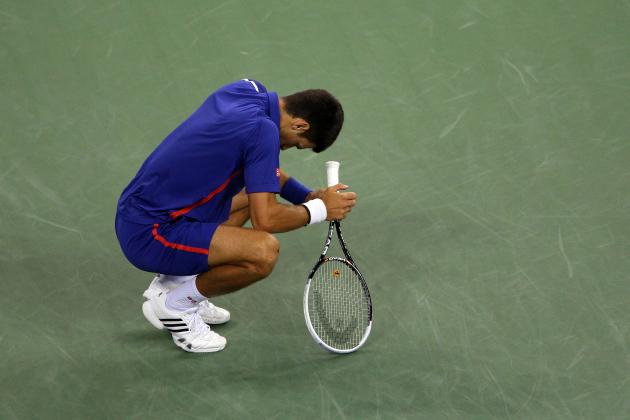 Cameron Spencer/Getty Images

Winner: Novak Djokovic
Yes, it's going to be a double kind of year for Novak Djokovic.
He will back up his hard-court slam in Australia with a hard-court slam under the bright lights of New York City. He was bested last year by Andy Murray, but the 2011 champion will not be denied in 2013.
Djokovic is arguably the most dominant hard-court player on tour right now, and he loves playing at the U.S. Open on the big stage. It's tough to bet against Djokovic in New York, but if he runs into Andy Murray again, we could be in for a slugfest of the ages.
Dark Horse: Tomas Berdych
Berdych gave Murray a definite run for his money last season in the semis of the U.S. Open. It was a very tense four-set match, and after Berdych took the first, it looked like momentum might be on his side.
However, the rest is history. Murray blasted Berdych off the court the next two sets, won a tight breaker in the fourth and went on to win the title.
Berdych always leaves fans wanting more; he has showed an ability to beat top players and make deep runs in the big tournaments. He looked strong in the Big Apple last season, and this might be the year he puts it all together.
Player to Watch: Milos Raonic
The big Canadian had a great run last season, losing to eventual champion Andy Murray in the fourth round. He showed a very big game that was well suited for the hard courts of Flushing Meadows.
While Ferrer, Berdych and Del Potro all had fantastic runs worth talking about, Raonic may have had the most surprising one considering his young age, 21, and mental stability at the big moments.
He's cool as a cucumber under pressure, and backed with that strong service game, this might be a tournament year where Raonic tosses his hat into the conversation of Grand Slam champions at New York for years to come.