As much as some fans would like to think they want to see these mythical UFC superfights, the reality is that deep down in their hearts they know, without a shred of doubt, that the fights are essentially useless.
Fans clamoring for Anderson Silva versus Georges St-Pierre or Anderson Silva versus Jon Jones know that no matter who wins either of those fights they will still be left unsatisfied and that questions will still remain unanswered and worse than that, legends will be tarnished and legacies sullied.
Yes, there will be winners if these fights take place, oh, there will be winners all right. The UFC will win; undoubtedly setting records for gate, attendance and pay-per-view buys. The fighters will take home record paychecks. The host cities will see money flow through the streets as UFC fans take over for fight week, because you know that the promotion will pull out all the stops to increase fan interest in the days leading up to the fight. But once it's all over, once there is a winner and a loser, and there will be a winner and a loser, reality will sink in and that reality will be a mistake was made in pushing for these type of fights.
Let's face facts, no matter who wins, there will be no questions answered by a superfight; there will just be excuses as to why one fighter lost. If St-Pierre loses to Silva, it will be because of a weight difference or the fact that his surgically repaired knee couldn't withstand the rigors of facing someone with such high level skills. If Silva loses to St-Pierre, it will be because of the difference in age or Silva had to cut too much weight or a mystery injury that went unreported. If it's Silva versus Jones, the same type of excuses will surface.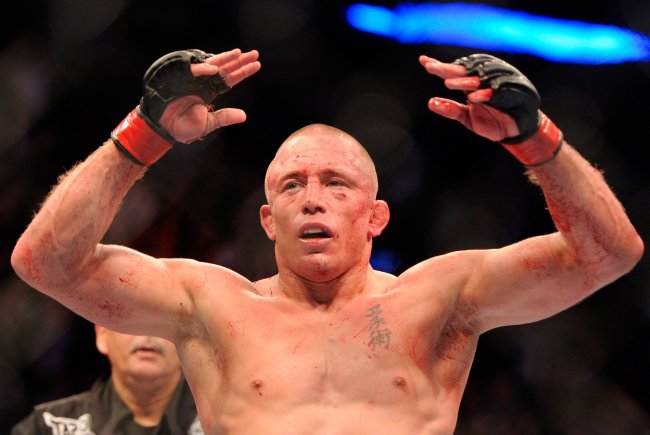 Eric Bolte-USA TODAY Sports
The losing fighter will see their legacy unfairly tarnished if they fall in one of these superfights. Sure, arguments will be made that the loss doesn't really count because it wasn't in the weight division that fighter has dominated for so long, but there will always be those that bring it up, yeah but "Fighter X" lost to "Fighter Y" and therefore he can't be one of the greatest ever and eventually those words, repeated enough will become truths.
If the superfights do take place and there is a definitive winner and loser, where do we, as fans, stand at that point? There will be finger pointing and chest beating and well, we'll be at the same place we are right now, debating who would have won if the fighters had met when each was at the peak of their career or at least what each fan involved in the discussion perceives as the peak of each fighter's career.
Thankfully the hoopla around these fights has died down a bit as of late. St-Pierre is fighting Nick Diaz, there's talk that Anderson Silva will possibly be facing Michael Bisping if Bisping can get past Vitor Belfort and Jon Jones has some possible light heavyweight opponents he can face if he proves victorious over Chael Sonnen.
Sure, UFC president Dana White has said he will make these fights happen, but White is a promoter, his job is to get fans talking, to build up interest in his product and if he has to hype some things that may not come to fruition every once in a while, so be it.
The much-ballyhooed superfights are no longer on the table for the near future and that is nothing, but a good thing for fight fans, because fans know deep in their hearts they would resolve nothing and ultimately leave fans feeling empty and unsatisfied.
Sports fans always want that one big fix, the one moment that they think will leave them totally satisfied. The problem is that last fix never comes, they always want more and more and more. Superfights won't fill the need of the MMA fan, no matter how much they think they will. It's time to walk away from the idea, leave these fights hanging out there as an unreachable brass ring, we'll all be happier in the end.