Memphis Grizzlies vs. Houston Rockets: Live Score, Results and Game Highlights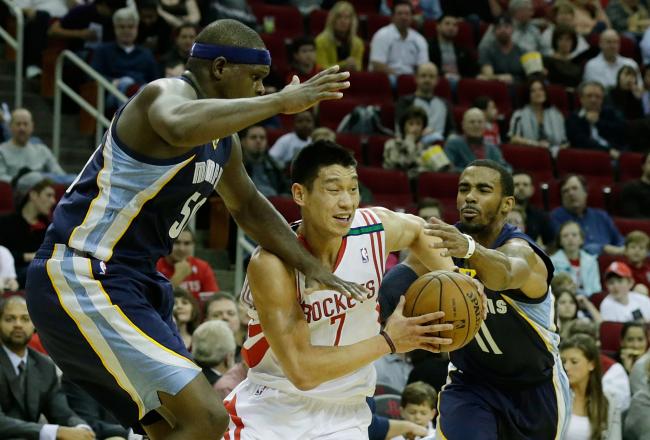 Scott Halleran/Getty Images
Behind a strong performance from James Harden, the Houston Rockets blew out the Memphis Grizzlies, 121-96. Houston moves to 14-12 on the season before facing San Antonio, while the Grizzlies drop to 18-7, as they prepare for the 76ers on Wednesday.
Why Houston emerged victorious:
Houston, we no longer have a problem. After a shaky start to the season, the Rockets have seemingly transitioned into a legitimate playoff contender. Though it may be a long shot right, now, if they play this well every night, they should be able to sneak in with a low seed. Here are four reasons why they were able to sink the elite Grizzlies tonight.
Passing: The Rockets moved the ball flawlessly today, recording a season high 32 assists. Only 12 of their field goals were unassisted, as Lin led the way with 11. Harden contributed with eight of his own. They shot an outstanding 54 percent from the floor tonight, with many open looks, especially from beyond the arc. With ball movement like that, scoring shouldn't be a problem.
Defense: Memphis entered the game as the league's top defensive team—but Houston finished as the better defensive squad tonight. Limiting Zach Randolph to 10, Marc Gasol to just 11 and Rudy Gay to a season-low, six, Memphis struggled on the scoring end. They were also limited to just two points in transition, a season low there as well.
Three-point shooting: The Rockets shot 43 percent from long range, an outstanding statistic especially in comparison to the Grizzlies' 15 percent. Sinking 12 of their 28 attempts, Houston was able to silence the Grizzlies whenever a comeback seemed on the horizon.
Beardsanity: Jeremy Lin and James Harden have struggled to coexist thus far into the season, although that wasn't a problem tonight. Harden totaled 31 points in just over 30 minutes, while Lin finished with 15, 11 and six. Harden's performance marks yet another 30 point game, and his third straight game with at least 28. He'll be in contention for player of the week. On the other hand, Lin continues to bounce back after a poor start. The stardom he gained in New York had been quickly dissolving, but after tonight's strong performance, Linsanity is very much alive.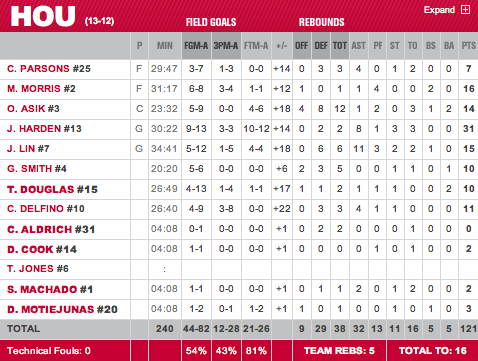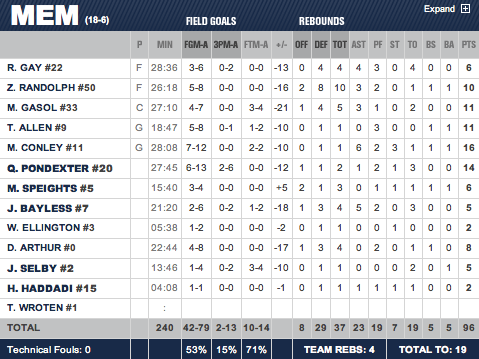 And that's a wrap! Houston holds on for the win: 121-96. Here are your box scores for tonight.
Memphis 94, Houston 119; 0:42 remaining in 4Q
Pondexter called for the charge, erasing the third and fourth fast-break points for Memphis. Montiejunas takes the charge, and then converts on the other end with a nice scoop bucket.
I'm saying it right now. By the end of next year, he'll be really good.
With four minutes left, Rockets clear the bench, putting in Machado, Aldrich, Motiejunas and Cook. They lead 114-90.

— Jonathan Feigen (@Jonathan_Feigen) December 23, 2012
Here are the highlights of the first half of tonight's contest. You know—before it became a blowout.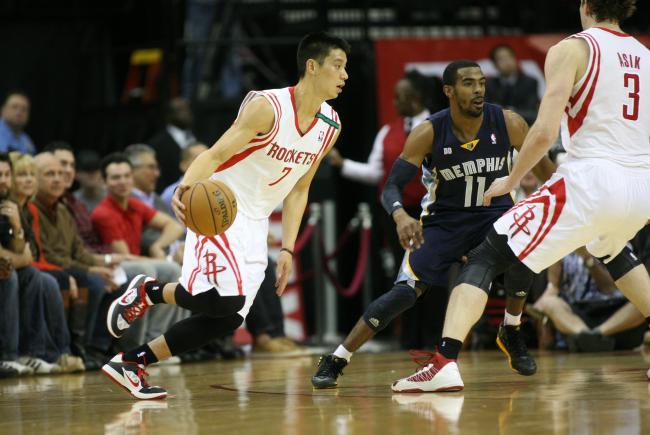 Jeremy Lin exits with 15 points and 11 assists. As predicted, Muchado enters in his place. A loud round of applause for Lin, who found his inner "Linsanity" tonight.
Memphis 86, Houston 112; 7:08 remaining in 4Q
Jeremy Lin records his tenth assist of the night. He's now just four rebounds away from a triple double.

Rockets & Grizzlies both shooting 53% FG. Shows how much of the little things Rockets doing well to build 23p lead, 108-85, 5:55 Q4.

— Houston Rockets (@HoustonRockets) December 23, 2012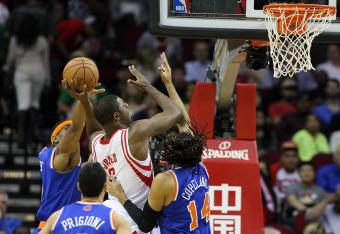 Memphis 83, Houston 106; 7:08 remaining in 4Q
With Houston having just about wrapped this one up, the Rockets should experiment with some younger guys.
With a plethora of younger talent—Smith, Muchado, Montiejunas and Jones—I would be surprised if McHale doesn't give them a chance to show what they've got.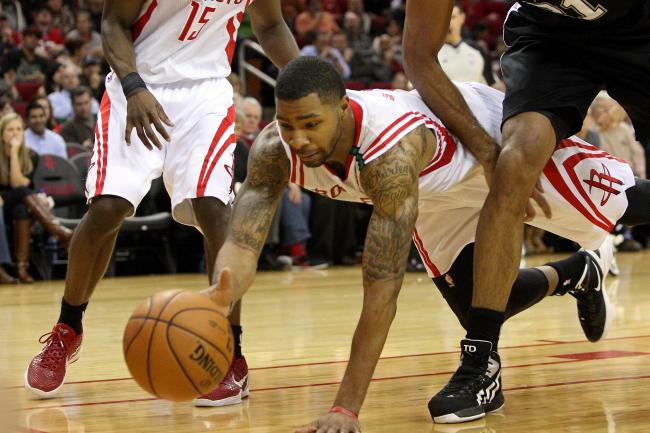 Memphis 80, Houston 103; 8:36 remaining in 4Q
An interception from Greg Smith (and no—Mark Sanchez didn't throw it) leads to a bucket underneath for Marcus Morris, who was also fouled on the play.
This 23 (and soon 24) point lead is Houston's largest of the night.
Excluding an unlikely comeback by Memphis, this one looks just about over.
Memphis 80, Houston 99; 10:04 remaining in 4Q
Marcus Morris with the three as the shot clock winds down. He has been excellent, tonight—both on offense and defense.
Despite my initial impressions, he has kept Randolph in check all night, while making him pay on D.
Memphis 78, Houston 94; 11:28 remaining in 4Q
Memphis enters the fourth quarter with just one starter—Zach Randolph. The starters just haven't been able to get it done.
Houston, on the other hand, enters with reserves for an entirely different reason. After a completely dominant performance, their service is no longer needed.
A shot of Harden on the bench gives the impression that he is done for the night. And what a night has it been for the guard—31 points.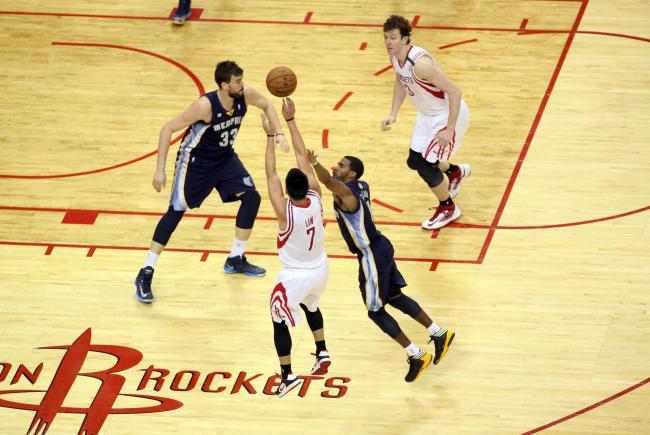 Memphis 78, Houston 94; End of 3Q
27 third quarter points for the Rockets, who lead by 16 entering the fourth quarter. At this point, a comeback from the Grizzlies will be difficult, especially considering how efficient Houston has been.
Houston's leading scorer has been Harden, with 31.
Memphis, on the other hand, have struggled. Their offensive leader? Conley—with a mere 16. By no means a stat to be proud of.
Memphis 74, Houston 89; 1:11 remaining in 3Q
Two straight turnovers for Memphis, who currently trails by 15—their largest deficit of the night.
OH MY GOODNESS.
If you didn't see that circus shot from Tony Douglas, you just missed out on tonight's play of the game. Video will be posted as soon as it is available.
A timeout from Memphis before Douglas takes the free throw.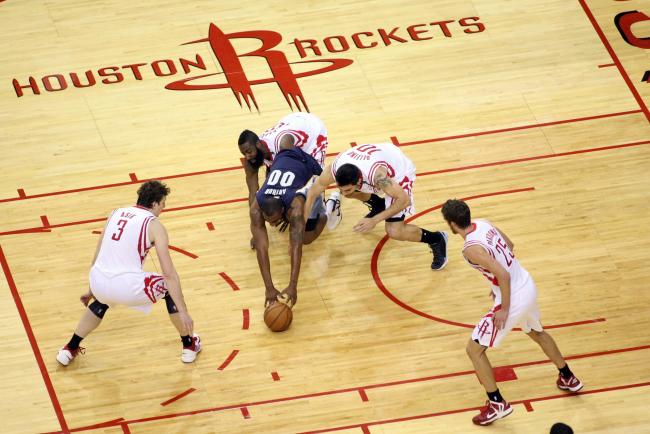 Memphis 70, Houston 83; 3:01 remaining in 3Q
James Harden has been excellent this game, especially at getting to the free throw line. After posting a career high in FTA on Wednesday, he has been just as good tonight, hitting 10 of 12 from the stripe.
The two foul shots bring him to the 30 point mark.
Memphis 68, Houston 78; 4:23 remaining in 3Q
Rudy Gay hasn't hit a three pointer in his last eight games in the Toyota Center...
Wait—what?
Memphis 66, Houston 77; 5:24 remaining in 3Q
James Harden has Houston's last seven points, as he prepares for a trip to the free throw line. His game-best 25 points, have been a surprise considering his difficult matchup, but impressive nonetheless.
As stated before, Houston is 6-1 when Harden hits 30, and at this pace, they'll have won seven by the end of the night.
Harden, Lin and Asik have all been good, but the biggest surprise has been Carlos Delfino. Check this one out.
Memphis 64, Houston 76; 7:46 remaining in 3Q
A beautiful euro step from James Harden gives Houston their 25th fastbreak point, and their 76th overall point. And there is still over half of the third to go.
Wow.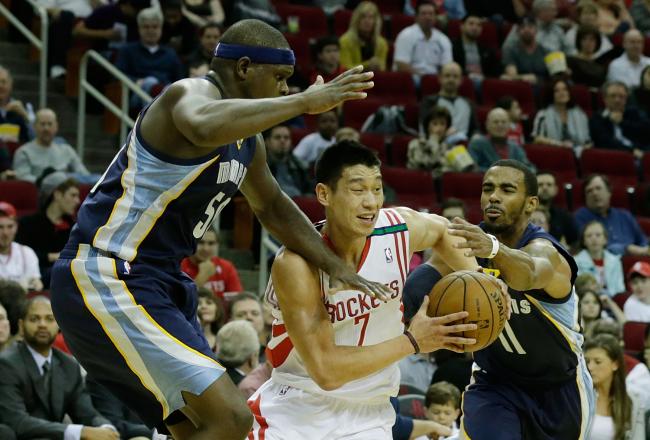 Memphis 64, Houston 70; 8:18 remaining in 3Q
"He won the jump even though he can't jump."
The Rockets announcer's reaction to Randolph winning the jump over Lin has made my night.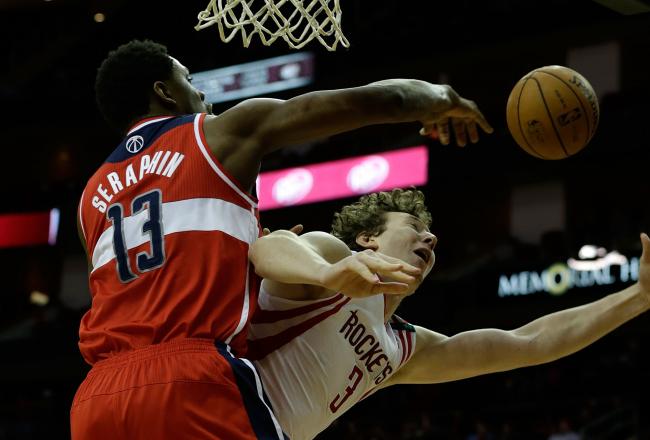 Memphis 60, Houston 68; 9:48 remaining in 3Q
Omer Asik records his 10th rebound of the night, giving him another double double. His free throw ends a 6-0 run by Memphis, who has opened the half strong.
Memphis 56, Houston 67; 10:51 remaining in 3Q
Zach Randolph completely pushing Marcus Morris around, but contact from Morris earns him his second foul. Greg Smith enters in his place.
Despite Memphis' record, they have dropped four of ten on the road, and are only two of two on the second part of double-headers. After two quarters, they look as though they'll be adding another loss.
Despite being down, Mike Conley has been red-hot for the Grizzlies—making up for the absences of Randolph and Gay (each with only four points). Conley recently became the Grizzlies all-time leader in assists. Check out the play that put him over the top.
This article is
What is the duplicate article?
Why is this article offensive?
Where is this article plagiarized from?
Why is this article poorly edited?

Memphis Grizzlies: Like this team?