Outback Bowl 2013: How Michigan Can Use Both Denard Robinson and Devin Gardner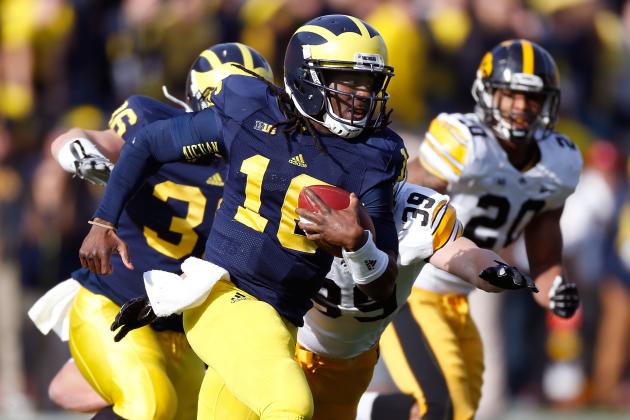 Gregory Shamus/Getty Images

The imaginative ways we thought both Robinson and Gardner would be used in the finale against Ohio never came to fruition. Why? Nobody actually knows just how injured Robinson was in that second half, but he must have been pretty darned hurt.
Over a month later in the Outback Bowl, his injuries might be all but healed. If so, how could/should he be used in the game?
Here's a look at some realistic possibilities in which both Gardner and Robinson should be used on offense against South Carolina.
Begin Slideshow

»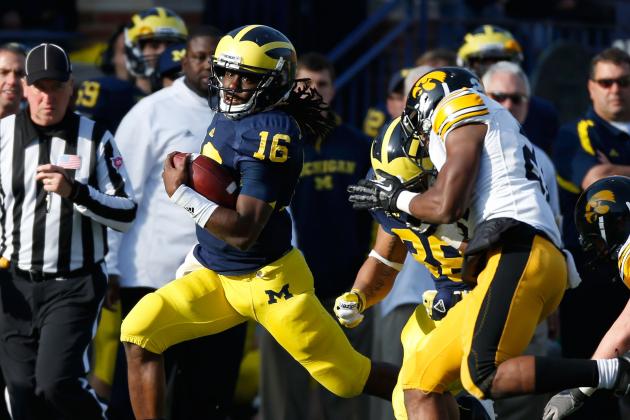 Gregory Shamus/Getty Images

This one is a no-brainer. There is absolutely no reason for either Gardner or Robinson to ever come off the field. Unfortunately, we saw that happen, though, all too often in Columbus.
Even if one of them doesn't touch the ball on a play, their presence on the field still affects the opposing defense.
Robinson can be used as a decoy because he can basically be lined up anywhere. Gardner, on the other hand, can line up at a position other than quarterback as well.
His days of playing receiver really weren't that long ago, and having him line up out there for a number of plays wouldn't hurt a thing.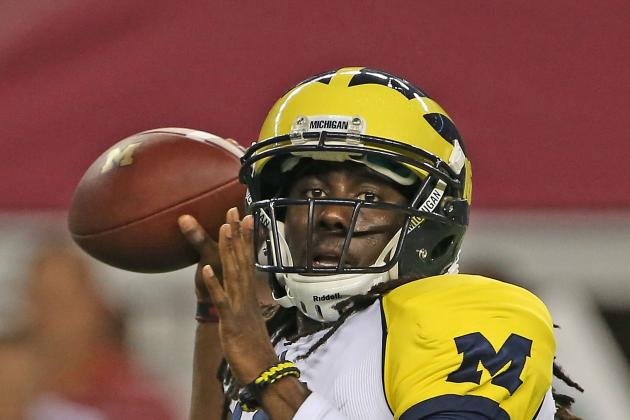 Leon Halip/Getty Images

Sure, Robinson's passing this season was disappointing, but it still wouldn't hurt to let him throw once in a while.
Against Ohio he didn't throw the ball once, causing its defense to load the box and sell out against the run.
None of us know how bad his arm is really hurting him, but logical thinking would assume that he'd still be able to at least throw the ball a short distance.
Even if it is only done sparingly, it would still keep the South Carolina defense at bay. They wouldn't be able to stack the box knowing the threat of a pass is at least possible.
Robinson just needs to make smart decisions through the air, as a potential throw here and there could definitely work.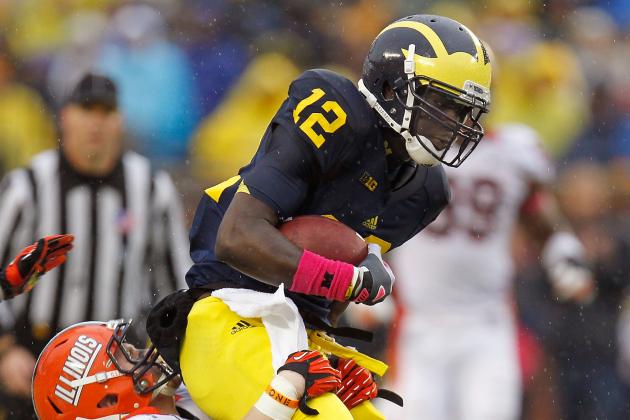 Gregory Shamus/Getty Images

Gardner should probably play quarterback for the majority of the game, but what does he do when Robinson lines up behind center?
Again, Gardner knows the plays and tendencies of Michigan's playbook, as he played receiver the entire first half of the season. Well, Borges should take advantage of that knowledge once again.
There is absolutely nothing wrong with lining up Gardner at receiver for a handful of plays, as he has shown the ability countless times to make big plays.
His body frame allows jump balls to be thrown his way, so that should be taken advantage of a time or two. Heck, even line him up in the slot for a play or two.
The more confusing for the South Carolina defense, the better.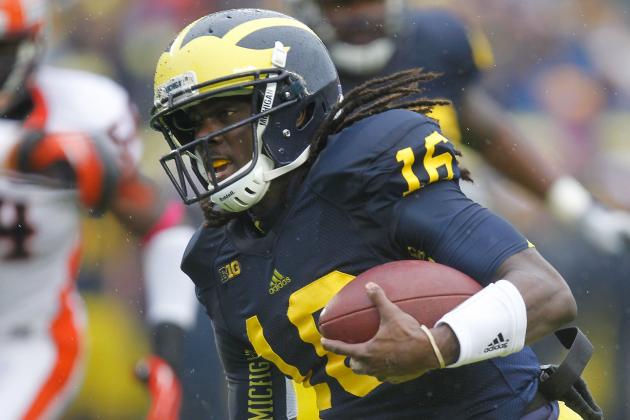 Gregory Shamus/Getty Images

I already mentioned what we could see from Robinson when he lines up at quarterback, but what about the other positions?
He has experience playing running back from the last two games of the season, so we should see plenty of him there.
We have also seen him catch a few passes, so playing him at receiver is a must as well. Constant motion and change between the three positions needs to occur.
Al Borges just needs to get as creative as possible, and let it fly. Being the last game of Robinson's career, he can't leave with any regrets.
Robinson is about as talented as it gets, and Borges needs to realize that he can be utilized in so many different ways—it would be a shame if he wasn't used to the fullest of his abilities.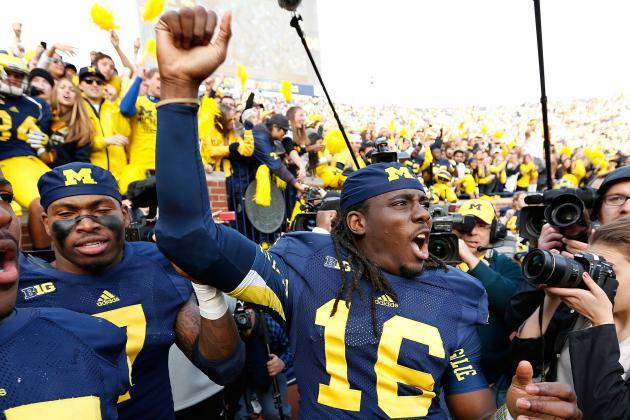 Gregory Shamus/Getty Images

Whatever it takes to win in this game needs to be done. If a hole is found in the Gamecock defense, Michigan's offense needs to take advantage.
Whether that's throwing or running or whatever it may be, this team needs to capitalize. Both Gardner and Robinson could really give this defense fits if they are utilized correctly.
Borges could redeem himself a bit with the fans if he calls a great game and Michigan winds up winning. But if he continues to under perform with the talent he has and Michigan loses this game, the rumblings are only going to get louder and louder.
A big game from Gardner would really propel him going forward next year. A big game from Robinson and a Michigan win would send him out on the perfect note. Clearly, how these two are used in this 2013 Outback Bowl is absolutely crucial.