Atlanta Falcons vs. Detroit Lions: Live Score, Highlights and Analysis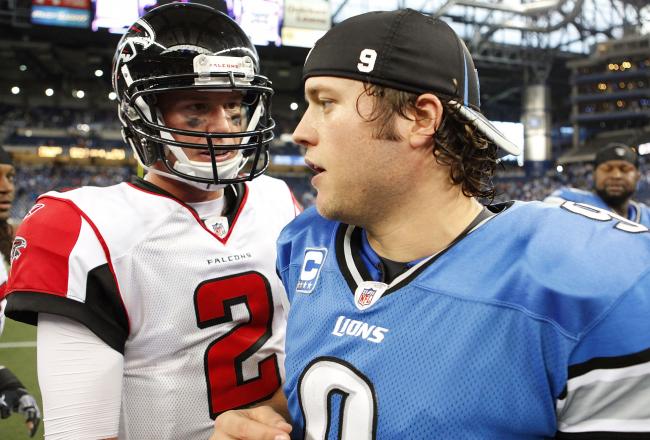 Leon Halip/Getty Images
We're underway from Ford Field, with what is maybe the mismatch of the week on paper.
In 2011, this was a matchup between the fifth and sixth seeds in the playoffs.
Since most of the potential intrigue is gone from this game, Lions fans should feel fortunate this game is on a Saturday night (at 8:30 pm on ESPN, in case you were wondering). Were it on a Sunday, it's likely it would almost certainly have been flexed out of its prime-time position.
That said, while there is no postseason intrigue, there is enough talent on both sides to make this a good game. If nothing else, the Lions have proven they can play with any team, they just haven't been able to finish against them.
Saturday night, we get to see whether that trend continues with a Falcons win, or the Lions finally break out of their slump with a victory and ease some of the questions about their future.
Final Score: Falcons 31, Lions 18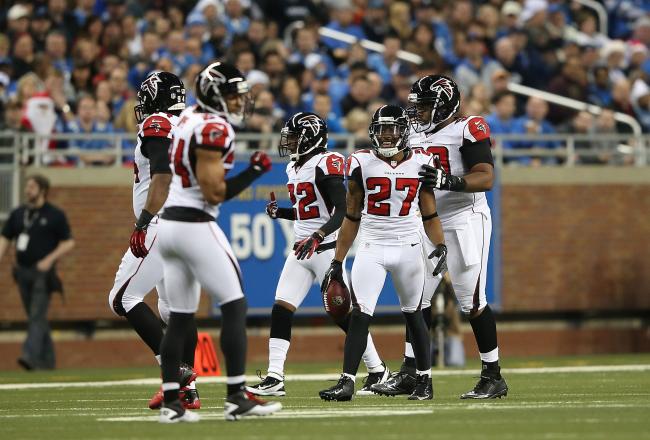 Final Score: Falcons 31, Lions 18
The outcome of this game was nothing if not predictable.
The Falcons guarantee that the NFC representative in the Super Bowl will have played at least one game in the Georgia Dome to get there, and the Lions continue their streak of team futility peppered with individual dominance.
Calvin Johnson went for 225 yards, ensuring a total obliteration of Jerry Rice's yardage record, having beat it by about 50 yards with a game left to add on.
Still, it came in a game that continued a seven-game losing streak, which neither Johnson nor the Lions can be very happy about.
The Falcons can pretty much write up the way their next two weeks will go at this point.
They can play whoever they want in an ultimately meaningless game next week, as they've already clinched the NFC's best record, and the team really seems to be clicking on all cylinders. After that, they get a week off.
For the Lions, next week simply about playing spoiler to the Bears and ending the season on a high note.
They are currently 0-5 in the NFC North, and if they don't want to go winless in the division, they'll need a big game. They don't have the record to play for anymore, but Johnson now needs only 108 yards for the first 2,000 receiving yard season in NFL history.
But either way, this game ensures that both teams play ultimately insignificant games next Sunday. That's not how the NFL drew it up, but they can't all be must-see games.
Thanks for following along and being a part of history, see you next week.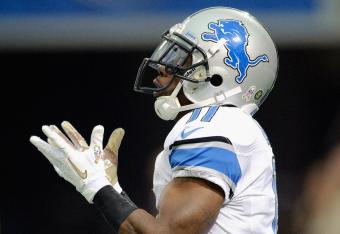 And then Stefan Logan effectively ended his NFL career by downing the free kick at the four-yard line.
Presented to you without comment.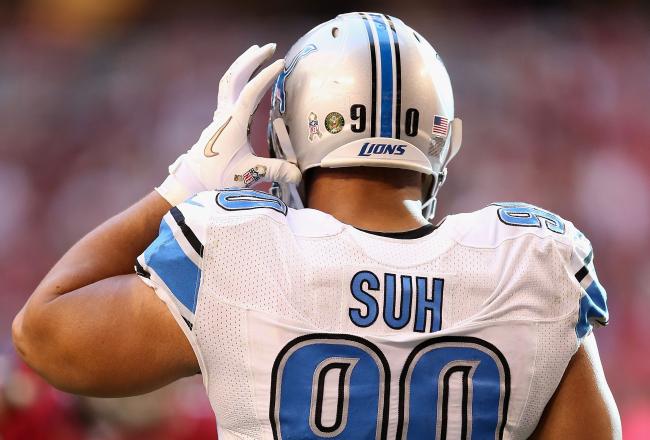 Safety Lions!
The Lions' can't convert 4th-and-1 from the two-yard line.
On the next play, Ndamukong Suh busts into the backfield and swallows Michael Turner alive for a safety.
It won't change the outcome of the game, but it's a strong finish for a team that needs whatever positive signs they can get.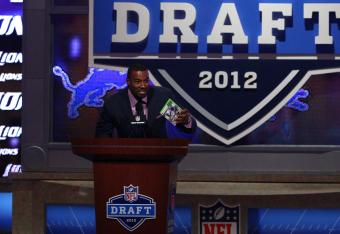 It was a 26-yard catch-and run by Johnson that made him the new single-season leader in NFL receiving yards, and in a moment typical of the understated Johnson, he walked off the field and handed the ball to his father.
We're at the two-minute warning, and it is indeed a shame that such an incredible individual season reached its apex during a Lions six (maybe seven)-game losing streak, but still, don't let that take away from Johnson's accomplishment.
And in under 15 games, no less.
History. Made.
Field Goal Falcons!
Give the Lions defense credit here. In a game that really means very little to them, they stood tall on 1st-and-goal and forced a field goal.
That keeps the game within two possessions with about three minutes to go.
Current Score: Falcons 31, Lions 16
Well, Megatron Watch ended quickly there, as did, seemingly, the Lions' hopes in this game.
Matthew Stafford had Calvin Johnson over the middle, but he stared him down and then threw the ball so far behind him, Johnson had to stop cold, and Asante Samuel was right in the way.
Interception Falcons, and they'll look to put this one in the books with about six minutes to go and a 12-point lead.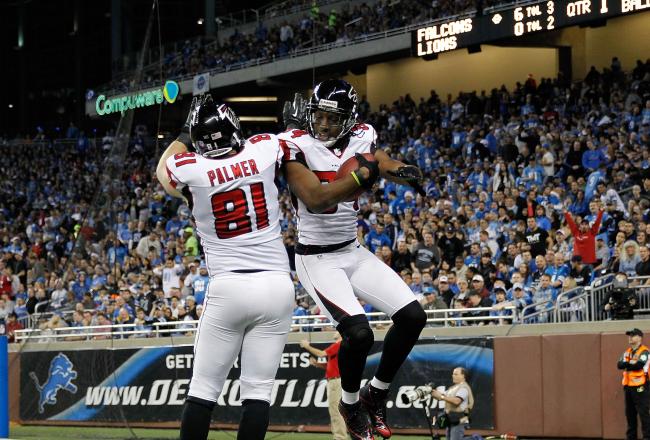 Touchdown Falcons!
With the game seemingly starting to get away from them, the Falcons respond with a huge drive that puts them back into the driver's seat.
An 11-play drive goes 78 yards, with pressure in Matt Ryan's face on just about every play, and he caps it with a one-yard pass to Michael Palmer with a defender practically hanging off him.
There is time left in the game, but the Lions need to score, and fast.
That means they need to score quickly, and that means Calvin Johnson watch is back on.
Current Score: Falcons 28, Lions 16 (4Q)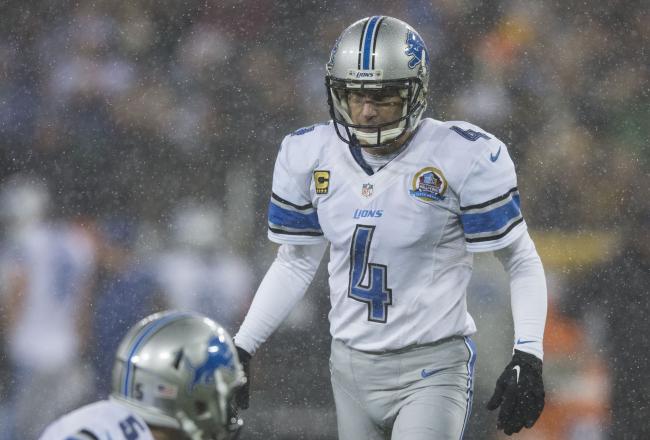 Field Goal Lions!
For now, the record stands.
The Lions can't punch the ball in from six yards out, Calvin Johnson catches no more balls, and the Falcons remain on top by five.
However, the Falcons are going to need to figure something out, because their lead has gone from comfortable to tenuous. The Lions have scored 13 unanswered points, and the home crowd has found something to cheer about.
The Falcons never really threatened in the third quarter, and now it falls on them to secure the lead, because the Lion offense is in rhythm.
Current Score: Falcons 21, Lions 16 (4Q)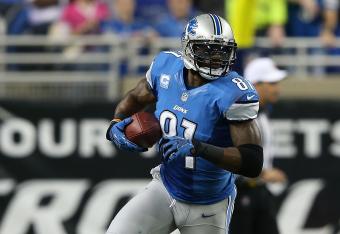 Stafford-to-Johnson, 26 yards.
A "Calvin, Calvin!" chant has fired up at Ford Field as he is 25 yards from history.
Stafford-to-Johnson, 21 yards.
Four yards to go.
If you're not watching, you might want to tune in and catch history.
Don't look now, but the Lions have come to life on both sides of the ball.
It's typical of them to wait a half to show signs of life, but here they are, down eight and forcing another Falcons punt.
They're starting to get pressure on Matt Ryan, and Chris Houston is starting to atone for a disastrous first half.
Meanwhile, the Lions offense has one touchdown in one drive in the second half. Can they make it two-for-two and make this game even tighter?
Touchdown Lions!
10 plays, 60 yards, and a one-yard touchdown run by Mikel Leshoure, and here come the Lions.
Detroit's season is long dead, but give this team (and its coaching staff) some credit for not giving up after going down 21-3. Since then, they've scored 10 straight with a forced three-and-out in between.
Momentum is starting to shift into Detroit's favor, but they will need some help from the crowd to make it all the way back.
Current Score: Falcons 21, Lions 13 (3Q)
That's Megatron with another catch, and he now stands 51 yards away from history.
Also, the Lions are threatening in the red zone once again. We may have a game yet, but remember these Lions have a tendency to make back-breaking mistakes in these situations.
Matt Ryan just doubled his incomplete pass total for the game. He now has two, and the Falcons go three-and out to start the second half.
Now the question is, can the Lions make a ball game out of this?
The second half is underway, and the Falcons will receive with a 15-point lead. This next drive will likely determine whether the rest of the game is worth watching.
Then again, Calvin Johnson is 65 yards away from making history, so there's that, too.
The Lions came into this game with only two things to accomplish:
1) establish some respectability against arguably the best team in the NFC, and
2) help Calvin Johnson break Jerry Rice's receiving yards record.
At this point, they are well on the way to accomplishing their second goal, as Johnson is already well over 100 yards at halftime.
But as for the first? Trailing 21-6 at halftime, with 14 points allowed off turnovers, is not exactly the way to blaze a trail to respectability.
On the other hand, the Falcons couldn't ask for a much better half. They've picked up right where they left off with their domination of the Giants.
The Lions, as well, have picked up where they left off, giving up points off turnovers.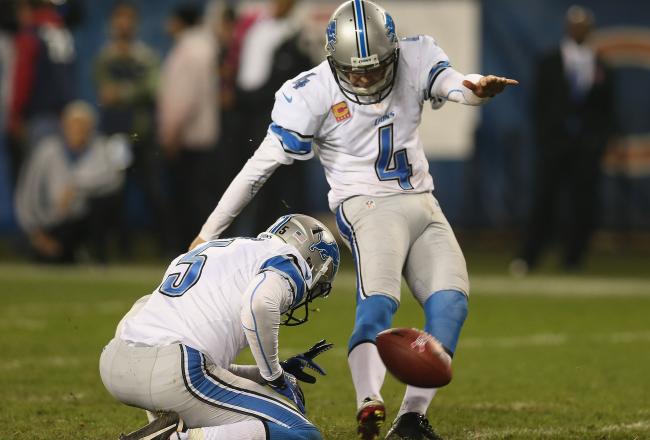 Field Goal Lions!
It's not much, but give the Lions credit for getting down the field in a hurry and putting something on the board to go into the half on a somewhat high note.
Jason Hanson drills a 38-yard field goal at the end of the half to cut into the lead, after big catches by Calvin Johnson and Kris Durham put them in position.
At the very least, the Lions cut it to two possessions in the second half. But if they can't stop Matt Ryan, it'll be irrelevant.
Current Score: Falcons 21, Lions 6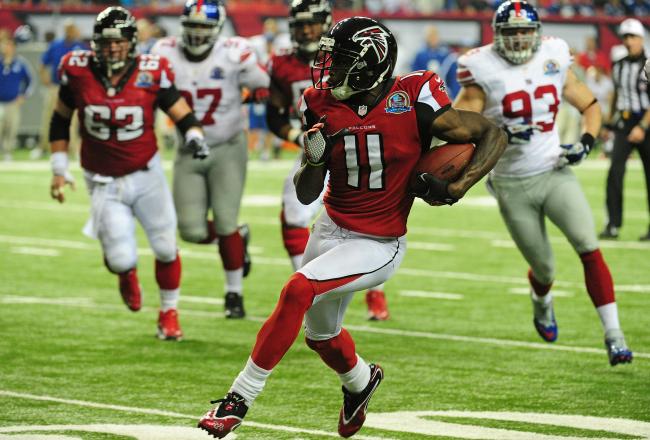 Touchdown Falcons!
Don't worry if you missed this one, you'll be seeing it on every highlight package this week.
Julio Jones hauls in a 16-yard touchdown in the back of the end zone, taps his feet, and that Falcons domination is in full force.
At this point, you have to wonder whether the Falcons would even want to rest some players in Week 17. The way they're playing right now, it would be an outright shame to squander the momentum.
Current Score: Falcons 21, Lions 3
A big third-down conversion from Matthew Stafford to Calvin Johnson results in... a fumble and recovery by Atlanta.
Now it's Falcons ball in Lions territory, and it's frankly surprising the boo-birds haven't set upon the Lions just yet.
But the Falcons are now threatening at the two-minute warning, and Lions fans' patience has to be wearing thin.
It's pretty simple for the Lions today. When they go to Calvin Johnson, who now has four catches for 90 yards, good things happen.
When they don't, it's Falcons ball.
Johnson catches a 20-yard pass, and the next three plays, to anyone and everyone else, net two yards and a punt.
It's Falcons ball again, and they're ready to pave their way to the top seed in the NFC with the ball and a comfortable lead.
It's still the first half, but the Lions look listless and out-of-sync, and have for weeks.
Here's B/R's own Michael Schottey putting things better than I could given how this game is going.
The way this game is going, Roddy White might break Jerry Rice's record

— Michael Schottey (@Schottey) December 23, 2012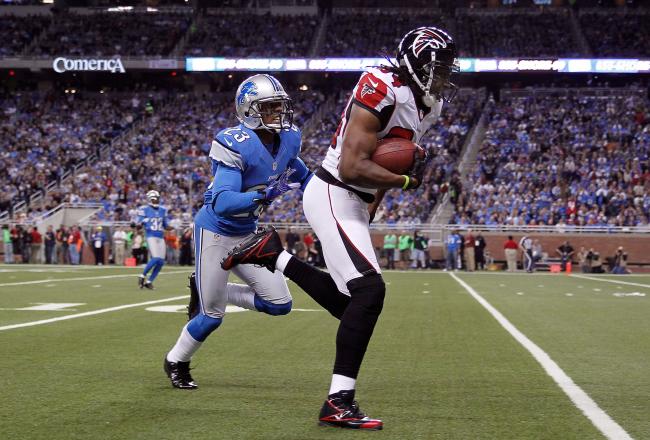 Touchdown Falcons!
I'm going to go out on a limb here and say the Lions should probably start trying to cover Roddy White.
White just added a 39-yard touchdown to his 44-yard touchdown from earlier, Matt Ryan has yet to throw an incomplete pass, and this is starting to look like total domination from the Falcons already.
Current Score: Falcons 14, Lions 3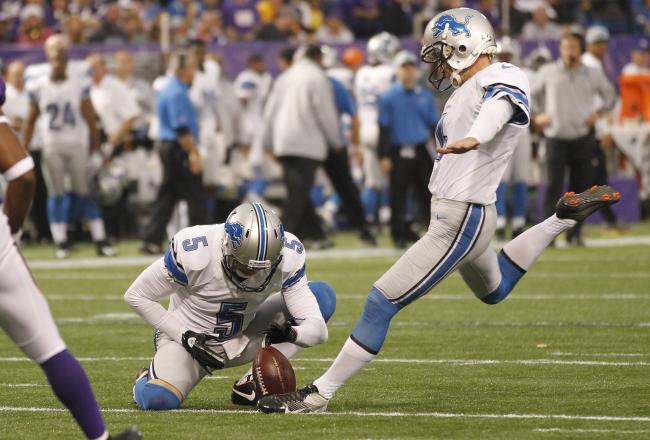 Field Goal Lions!
The Lions were able to answer back by getting on the board late in the first quarter, but it comes in the form of a 34-yard field goal.
It's almost kind of sad watching the Lions paste together enough players to finish the season, as Lions players were involved on that drive that Lions fans probably needed the media guide to identify.
Still, it's points, and after one quarter, it's a close game. For now.
Current Score: Falcons 7, Lions 3 (1Q)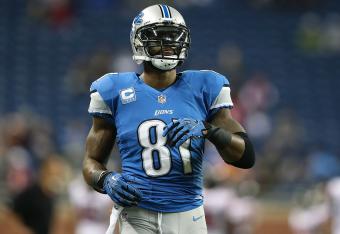 Also, I didn't get a chance to mention this because of the quick Falcons touchdown, but Calvin Johnson, with his 49-yard catch, broke Herman Moore's franchise record for single-season receiving yards.
And with another big catch on this drive, he is now 112 yards away from Jerry Rice's single-season record. It's still the middle of the first quarter, so maybe Johnson won't even need Week 17.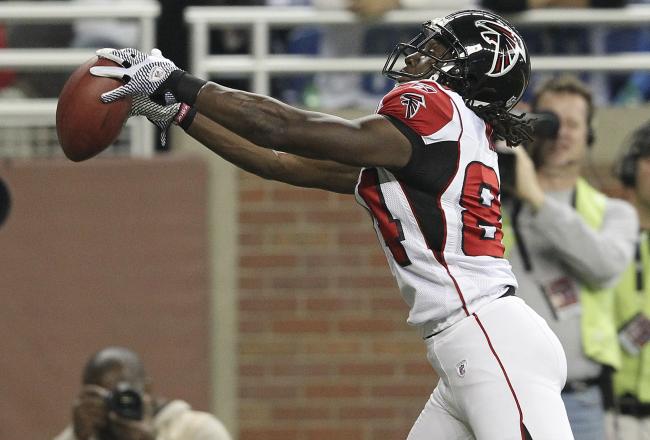 Touchdown Falcons!
On 3rd-and-1, Matt Ryan launches a missile down the field that lands squarely in the hands of Roddy White for a 44-yard touchdown.
Former Falcon Chris Houston was burned in man coverage on the play, a blemish on an otherwise quietly great season.
The Lions have picked up where they left off, giving up impact turnovers and allowing points off of them. That's what lost them the game against Arizona, and it has them in the hole here against a much better team.
Current Score: Falcons 7, Lions 0 (5:50 1Q)
This article is
What is the duplicate article?
Why is this article offensive?
Where is this article plagiarized from?
Why is this article poorly edited?

Detroit Lions: Like this team?