Indianapolis Colts Edge Kansas City Chiefs 20-13: Postgame Comments and Analysis
There weren't many Kodak moments for Andrew Luck—completing less than half of his passing attempts—but he shined brightest when it mattered most.
Luck (17-of-35, 205 yards, touchdown) engineered his seventh game-winning drive to hoist the Indianapolis Colts into the postseason.
Kansas City Chiefs running back Jamaal Charles dipped, dodged and dashed his way to 226 rushing yards, but it wasn't enough.
Next Sunday, the 10-5 Colts will host the AFC South-leading Houston Texans (12-3) in their final regular-season test before postseason play. The Chiefs (2-13) will travel to Denver and roll the credits on a disappointing season after clashing with the AFC West-winning Broncos.
Season stats provided by Pro-Football-Reference.com. Today's box score provided by ESPN.
Twitter Timeline
First Quarter:
#colts 7-0. Darius Butler 32-yd pick-6 with Brady Quinn pass. ties club record with 4th pick-6 of season.

— Mike Chappell (@mchappell51) December 23, 2012
Succop nails 47yd FG - Colts lead Chiefs 7-3 with 8:18 to go in 1st #INDvsKC

— Kansas City Chiefs (@kcchiefs) December 23, 2012
Second Quarter:
Adam Vinatieri hits a 48-yard FG to give #Colts 10-3 lead over #Chiefs. Luck is 23 yards away from breaking rookie passing record

— Eric Smith (@Ericsportsguru) December 23, 2012
Andrew Luck just broke Cam Newton's record for most passing yards by a rookie QB twitter.com/BleacherReport…

— Bleacher Report (@BleacherReport) December 23, 2012
Adam Vinatieri hits a 36-yarder to give the #Colts a 13-3 lead with 7 seconds left in the first half.

— IndyStar Sports (@IndyStarSports) December 23, 2012
Third Quarter:
Jamaal Charles goes 86 yards for the TD.His 3rd Rush TD of 80+ yards in a season ties NFL record (Chris Johnson twice, Barry Sanders).

— SportsCenter (@SportsCenter) December 23, 2012
47-yard FG by Succop is good. 13-13. #Chiefsgame, #INDvsKC

— Reid Ferrin (@KCChiefs_Reid) December 23, 2012
Fourth Quarter:
Andrew Luck rounds off record-breaking night with TD pass to Reggie Wayne to complete Indianapolis Colts' conversion from 2-14 to playoffs

— David Tossell (@David_Tossell) December 23, 2012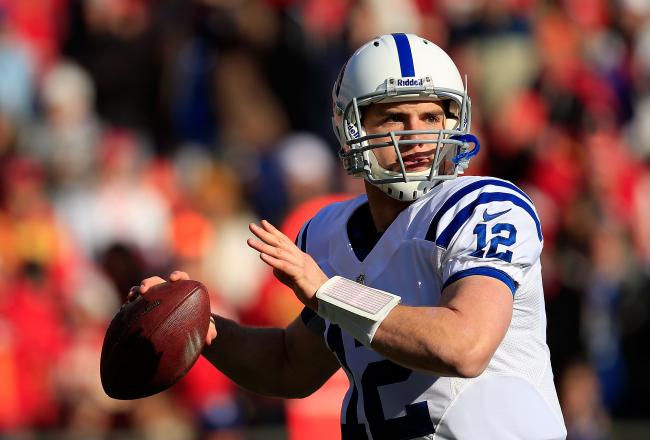 Final: Colts 20, Chiefs 13
Luck laughed in the face of adversity (again) and willed the Colts to victory.
Make room for Indianapolis in your playoff bracket.
Andrew Luck leads Colts to victory with league-leading 7th game-winning drive of season.Indianapolis clinches playoff berth.

— SportsCenter (@SportsCenter) December 23, 2012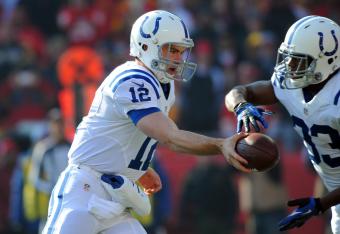 2:00, fourth quarter:
Kansas City depleted its supply of timeouts and failed to stop Vick Ballard before he rumbled past the first-down marker.
That rush will punctuate this afternoon's matchup.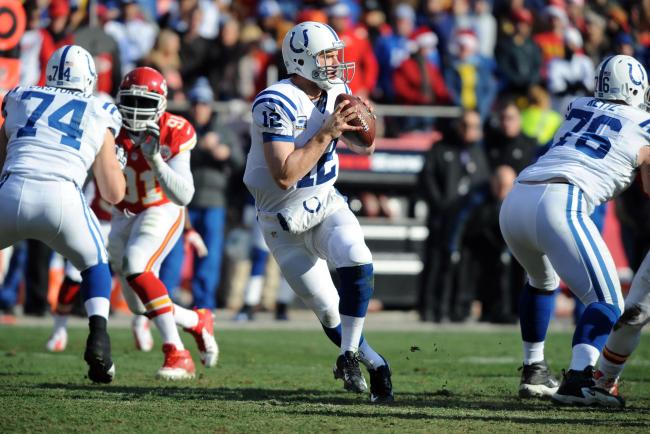 2:58, fourth quarter:
Andrew Luck systematically dissected the Chiefs secondary and recaptured the lead with a missile to Reggie Wayne.
When the chips are down, the odds of stopping Luck are, too.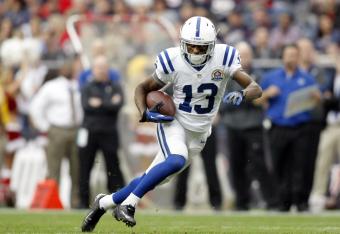 4:12, fourth quarter:
Luck pitched it to rookie wideout T.Y. Hilton who then reversed field and attempted a pass with his target barreling toward the pylon.
There is a time for trick plays—a tied ballgame in the fourth quarter with your playoff aspirations on the line isn't it.
6:32, fourth quarter:
When Luck is in a funk, don't bet on it lasting.
3rd down completion ended string of 10 straight incomplete passes for Andrew Luck. No surprise Colts are in another close one.

— Rich Nye (@TheSportsGuy13) December 23, 2012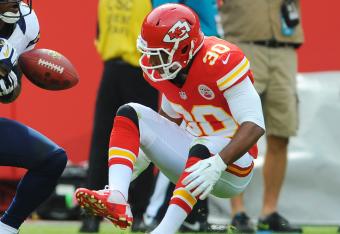 9:44, fourth quarter:
The Colts offense is exploiting Jalil Brown at will.
If Indianapolis' back is against the wall, Andrew Luck's eyes will burn lasers through Brown's jersey.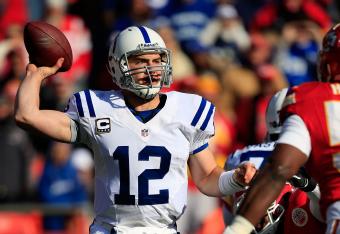 12:10, fourth quarter:
We know that the Colts offense is talented enough to make a postseason run.
However, the defense has allowed 352 rushing yards. A couple of weeks isn't enough time to correct and plug a gaping hole like that.
If Indianapolis inserts its name into the playoff race and advances, Luck is going to receive extra credit.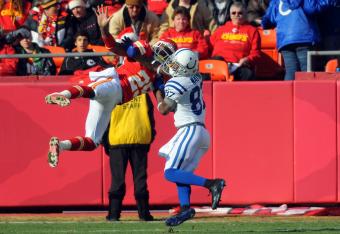 15:00, fourth quarter:
The Chiefs defense looks like a completely different animal when the team's offense allows the unit to catch its breath by moving the chains.
Brandon Flowers and Eric Berry are swatting every football spiraling their way.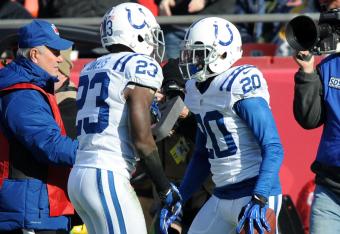 1:48, third quarter:
Jamar Newsome was activated to the 53-man roster in late November.
For whatever reason, Quinn continues to target him despite Newsome often coming up short and dropping passes.
Jon Baldwin may not be creating separation, but No. 84 shouldn't be the alternative.
Colts defenders already rattled Newsome enough to cause him to short-arm and drop a would-be first down.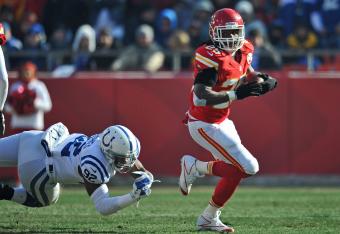 3:02, third quarter:
Jamaal Charles just eclipsed the 200-yard rushing mark (209) on only 17 carries. As of now, he has single-handedly out-gained the Indianapolis offense.
And it's still the third quarter.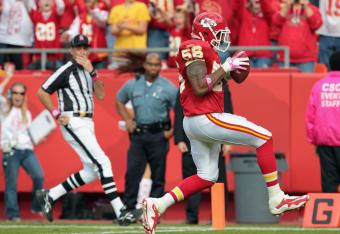 5:16, third quarter:
Eye for an eye.
Kansas City's last drive was prolonged by a phantom pass-interference call on Davis.
And now, Indianapolis' seemingly dead drive was resurrected after Derrick Johnson was penalized for a "helmet-to-chest" lick on Andrew Luck.
Both flags were ridiculous.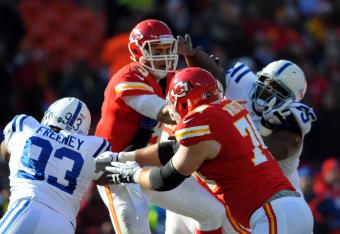 6:32, third quarter:
Excluding Stephenson, Kansas City's offensive line is manhandling the first two waves of Indianapolis' defense.
But it only takes one defensive end to alter the course of the game.
Exhibit A: Dwight Freeney.
8:04, third quarter:
Quinn narrowly avoids throwing his third interception of the day as Vontae Davis is flagged for a questionable pass-interference call—at most, it was illegal contact.
Brady Quinn's passer rating today is 39.4 points higher than yours.

— Sam Mellinger (@mellinger) December 23, 2012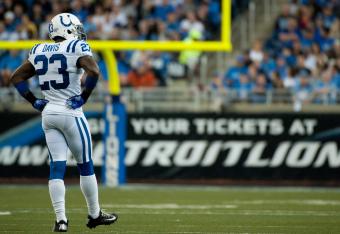 12:00, first quarter:
Jamaal Charles adds another 20-plus yard gallop to his afternoon portfolio.
But a deflated Brady Quinn lob to Jon Baldwin was intercepted at the Indianapolis pylon by ex-Miami Dolphins cornerback Vontae Davis.
Fifteen games into the season, Brian Daboll is (finally) opening up the playbook.
However, the personnel is failing to fully execute it.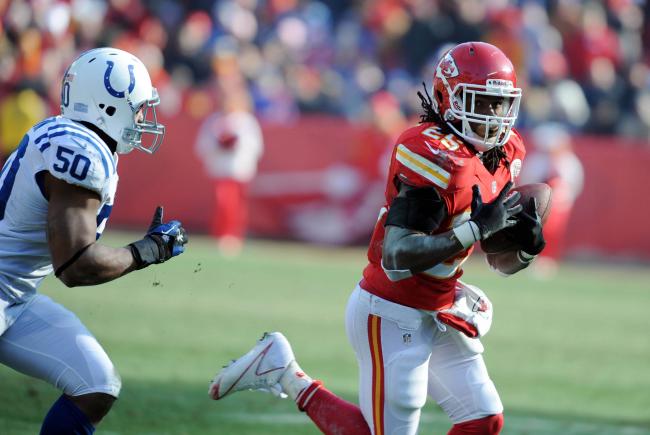 14:41, third quarter:
The second half debuted with Patrick DiMarco sealing off the left corner with a textbook block.
Jamaal Charles' afterburners, a.k.a. legs, blazed by waves of Colts defenders. 86 yards later, he was celebrating in the end zone.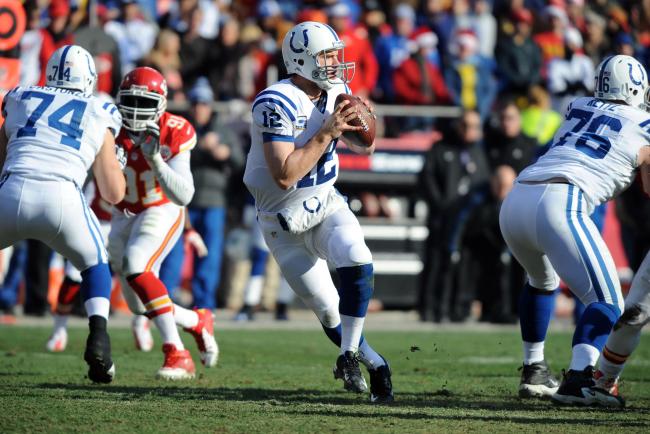 Halftime: Noteworthy Offensive Statistics
Indianapolis
Andrew Luck: 10-of-18, 123 yards
Vick Ballard: 10 attempts, 32 yards
Donnie Avery: four receptions, 39 yards
Kansas City
Brady Quinn: 7-of-15, 136 yards, interception
Jamaal Charles: 10 attempts, 48 yards
Peyton Hillis: six attempts, 48 yards
The epitome of an offensive drought:
Charles' run against Cleveland. 128 snaps ago, if my math is right. RT @rocco61 @mellinger When did the Chiefs last score a touchdown?

— Sam Mellinger (@mellinger) December 23, 2012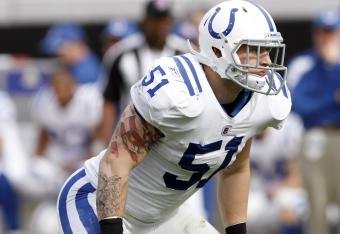 1:00, second half:
Unreal.
The Chiefs offense was masquerading as a well-oiled machine, then Jamaal Charles fumbles at the Indianapolis 16-yard line.
Pat Angerer forced the strip and Joe Lefeged recovers.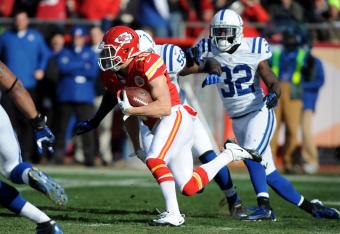 1:20, second quarter:
Brady Quinn is beginning to settle into a groove.
Also, rookie Devon Wylie, who is only playing in his fifth game of 2012 due to lingering injuries, has provided a much-needed spark in the passing game.
The slot receiver doubles as an ankle-breaking return man—another void on Kansas City's roster when he's on the inactive list.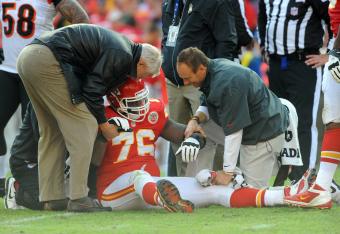 2:18, second quarter:
Kansas City's offseason to-do list should be headlined by two signings: wide receiver Dwayne Bowe and left tackle Branden Albert.
Albert has been struggling to stay on the field while battling a back injury. His replacement, rookie Donald Stephenson, has been on the receiving end of a number of yellow flags today.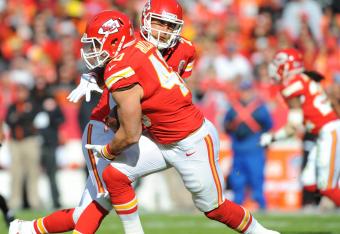 4:25, second quarter:
The Chiefs' trio of rushers have already chewed up 98 yards on the ground.
So far, Peyton Hillis (6 ATT, 48 YDS) is putting together his best game of the season.
7:08, second quarter:
Bruce Arians is taking a page out of the defensive playbook, as the Colts are sprinkling no-huddle into the current drive.
Give Luck credit: His pocket continues to collapse, but his presence has allowed him to maneuver away from the oncoming rushers.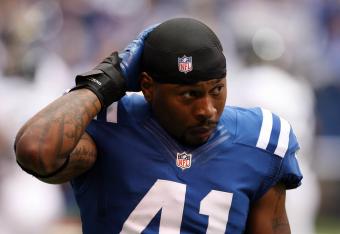 10:47, second quarter:
Colts defensive coordinator Greg Manusky, who played his final six NFL seasons as a member of the Chiefs, is starting to spice up his play-calling with a little more creativity.
Antoine Bethea's blitz just halted Kansas City's drive in its tracks.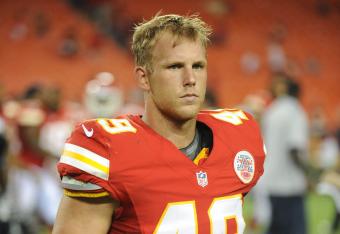 12:11, second quarter:
Kansas City's running game is finding success behind the blocking of fullback Patrick DiMarco.
Considering Kansas City's rich history at the position—from Kimble Anders to Tony Richardson—Chiefs fans will welcome the increased role of DiMarco.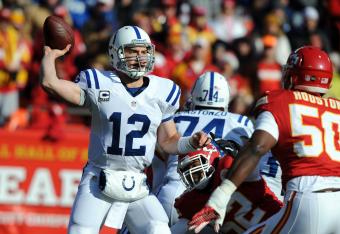 14:28, second quarter:
And on cue, Luck lobs a downfield bomb to Donnie Avery.
No. 12 has a few passing titles in his future.
This article is
What is the duplicate article?
Why is this article offensive?
Where is this article plagiarized from?
Why is this article poorly edited?