Valladolid vs. Barcelona: La Liga Live Score, Highlights, Recap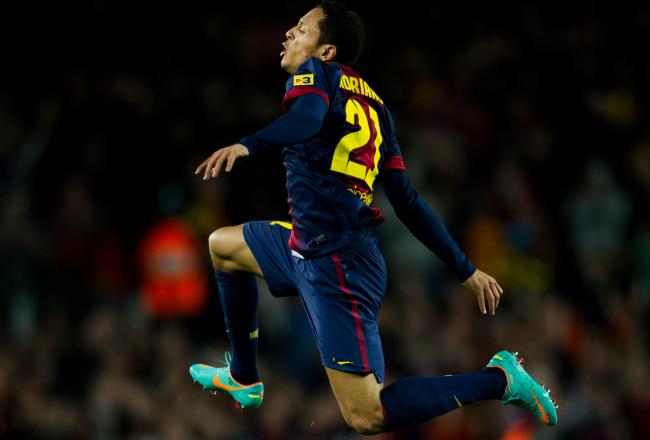 Jasper Juinen/Getty Images
Kickoff Time and Location
12:00 p.m. ET this Saturday, December 22 from Estadio Municipal José Zorrilla in Valladolid.
Score
Valladolid 0-2 Barcelona
Goals
Xavi—44'
Assist: Alba
Messi—59'
Assist: Xavi
Starting XIs
Valladolid: Dani; Rukavina, Sereno, Marc Valiente, Balenziaga; Omar, Sastre, Oscar, Victor, Bueno; Manucho
Barcelona: Valdés; Alves, Piqué, Mascherano, Alba; Busquets Xavi, Thiago, Alexis, Messi, Pedro
Adios
That will do it for me, everyone.
Thanks so much for joining me as we saw Barcelona close out the year with a fine win against a very tough team.
God-willing, I'll be back after the new year to cover La Liga's big matches for the rest of the season.
Adios and thanks again!
Lionel Messi
La Pulga's streak of scoring at least two goals ends at seven as he is unable to break a second past Valladolid.
The reigning Ballon d'Or winner finishes 2012 with an insane 91 goals and will be the favorite to retain his crown.
Fulltime—More on the Goal
The youngster had only just come on for Pedro and uses his first touch to beat and then outrun the entire Valladolid defense before sending a smooth goal past Dani for the clinching goal.
With his 26 goals scored in the Liga so far, Messi would have been season topscorer in 46 previous Spanish leagues #fcblive [via catradio]

— barcastuff (@barcastuff) December 22, 2012
With his 26 goals scored in the Liga so far, Messi would have been season topscorer in 46 previous Spanish leagues #fcblive [via catradio]

— barcastuff (@barcastuff) December 22, 2012
More on the Goal
It's the substitute who gets one back and prevents Victor Valdes from a clean sheet.
Bueno sends a good cross in and the veteran striker out-jumps Pique to send a header at goal.
Valdes makes the stop, but Guerra beats everyone to the rebound and gets a well-earned goal.
89'—GOOOOOOOOOOLLLLL Javi Guerra!!!!!!!
Lionel Messi is the 1st player in the history of the Liga to score 16 goals in away games before the end of the year #fcblive [via mrchip]

— barcastuff (@barcastuff) December 22, 2012
82'—Barcelona are just toying with Valladolid now.
Xavi, Messi, Pedro and Alves play some stunning passes around the box and open up the stout defense as the back line is left looking dizzy.
Xavi sends a stellar ball through to Alves who has beaten the line and has no one but Dani to beat, but the Brazilian cheekily sends the ball right back to Xavi instead of taking a rather easy shot on goal.
79'—Valladolid have some good chance, but Oscar's final pass is cut off by Xavi.
Surprisingly, it is then Messi who wins the ball and starts a counter almost inside his own box.
David Villa then sprints down the left flank and gets around the defense, but his low cross to Pedro is just cut off in time.
77'—David Villa comes off the bench for Alexis Sanchez with less than 15 minutes to play.
This will be Villa's last game in 2012, but will it also be his last game in Blaugrana?
LIGA RECORD - Barcelona break the Liga record with their 120th goal in the calendar year 2012 [via @infostradalive]

— MessiStats (@MessiStats) December 22, 2012
Last barcelona player who scored in 7 consecutive Liga wins (as Messi has done now) was Ronaldo (10) in the year 1997 [via @pedritonumeros]

— barcastuff (@barcastuff) December 22, 2012
Messi has now scored 40+ goals for club and country for 5th consecutive season: 41 - 48 - 57 - 82 - 40(ongoing) #fcblive [via @messistats]

— barcastuff (@barcastuff) December 22, 2012
70'—Jordi Alba uses his pace to run back and cut off what was a fine pass that gave Manucho a decent chance to shoot.
The full-back cuts the ball off and sends a pass out of danger just before the Angolan could latch on.
65'—Oscar clips Busquets' foot here and sends the defensive midfielder down. Pique was also slightly hurt and both players will need a bit of treatment.
GOOOOOOOOOOOOOOOOOOOOOOOOOOOOOOOOL MESSI! Another Ray Hudson scoregasm!

— Matthew Buening (@MatthewBuening) December 22, 2012
62'—Alexis Sanchez almost forces a third goal after Marc Valiente is forced to head the ball back to Dani, but misplaces it and sends the ball at an empty net.
The keeper made a diving run to keep the ball out just in time, though. Great work there.
More on the goal
Xavi again playing a key role here as he sends Messi in with a great ball and leaves him space to work.
Messi must have been frustrated with his earlier miss because he took the ball just outside the box and sent a gorgeous ball past Dani that left the keeper no chance of saving.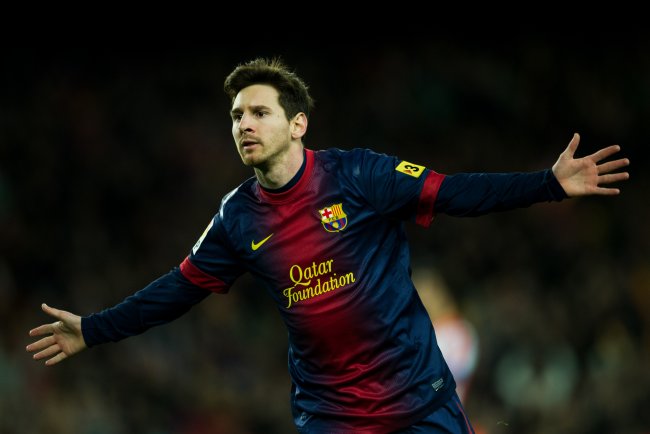 Jasper Juinen/Getty Images
59'—GOOOOOOL MESSI!!!!!!!!!!!!!
69'—Wow, very wasteful shot from Messi costs Barcelona a second goal here.
Alexis gets soundly dispossessed in the box and Barca's No. 10 runs on to take a shot, but his right-footed effort sends his shot very wide.
53'—Dani Alves again!
The Brazilian sends another spectacuar ball in, but Alexis is just unable to latch onto it for the fourth time this match.
Is Alves officially over his injury?
This article is
What is the duplicate article?
Why is this article offensive?
Where is this article plagiarized from?
Why is this article poorly edited?

FC Barcelona: Like this team?