San Diego Chargers vs. New York Jets: Live Score, Highlights and Analysis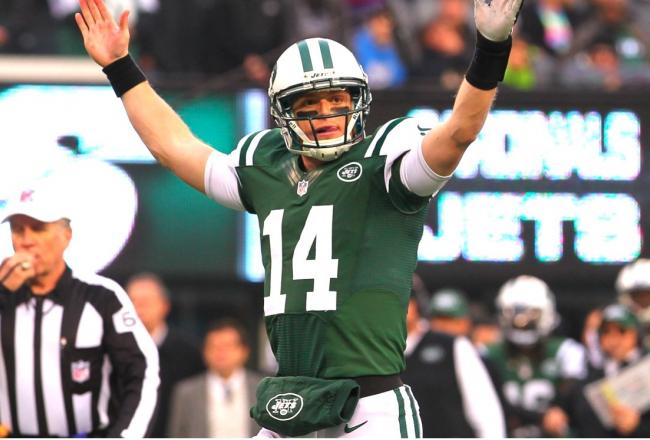 The Jets inexperience at the quarterback position finally caught up with them, and the Chargers may a handful of plays of offense to put the game out of reach for this inept offense. Greg McElroy was sacked 11 times and only completed nine passes.
This will now be the Jets first losing season under Rex Ryan.
On the other hand, the Chargers showed some heart to come back from a 14-3 deficit to get a win for their coach.
FINAL
Jets 17, Chargers 27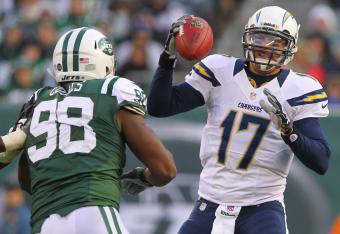 That'll do it. FINAL SCORE: Jets 17, Chargers 27.
Thanks for following along!
And there's sack number 11. A few runs or kneel downs should end this.
Rookie feasting on McElroy:
UConn's Kendall Reyes is having a career day.

— Dan Leberfeld (@jetswhispers) December 23, 2012
2 Minute Warning
McElroy is sacked for the 10th time. San Diego had 27 sacks coming into this game.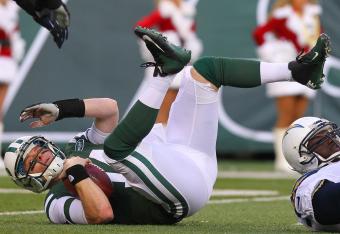 The biggest question facing the Jets now is who will start at QB next week. McElroy played poorly, but going back to Sanchez does nothing.
The team will likely move on from Tebow anyway after the season, so starting him accomplishes nothing. It simply makes the most sense to stick with McElroy.
Jets will fall to 6-9 and ensure first losing season under Rex Ryan. #nyj

— Manish Mehta(@MMehtaNYDN) December 23, 2012
McElroy's M.O. is taking care of the ball. He has two turnovers on the day.
4:46 4th Qtr
Shaun Phillips strips Greg McElroy and recovers! That all but seals the Jets fate.
6:24 4th Qtr
If I am San Diego, I would stay away from any kind of prevent defense. The Jets have not been able to sustain offense so far, why would you change yout approach?
McElroy is getting in a bit of a rhythm with a few completions and a scramble. The increased tempo has given this offense a jolt.
Jets get their 3rd down stop, and some good news.
DeVito is OK. Back in the game.

— Brian Costello (@BrianCoz) December 23, 2012
8:50 4th Qtr
A brutal holding call keeps the Chargers drive alive. No room for error now.
Mike DeVito on the ground with a knee injury. Bad time for an injury for a pending free agent.
10:00 4th Qtr
The Jets have their hands full with Jackie Battle. Has picked up one first down on his own.
Schilens questionable to return with that knee inj. Jets announce in press box. #NFL #Jets

— Jane McManus (@janesports) December 23, 2012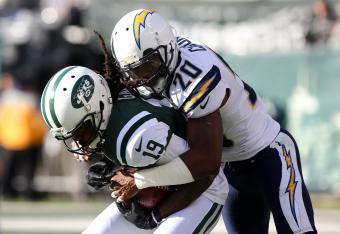 11:09 4th Qtr
Greg McElroy is unable to hit Clyde Gates on a third down, and the Jets settle for a field goal.
Jets 17, Chargers 27.
12:30 4th Qtr
A pair of completions from McElroy to Edwards and Schilens puts the Jets in scoring position.
Kerley back in to take a snap, running for a couple of yards. Tebow not in the gameplan at all.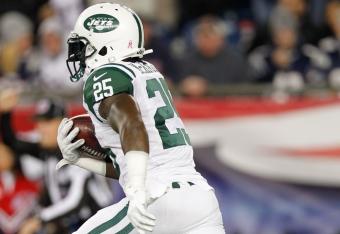 Big return by Joe McKnight to set the Jets up with good field position. Can McElroy capitalize?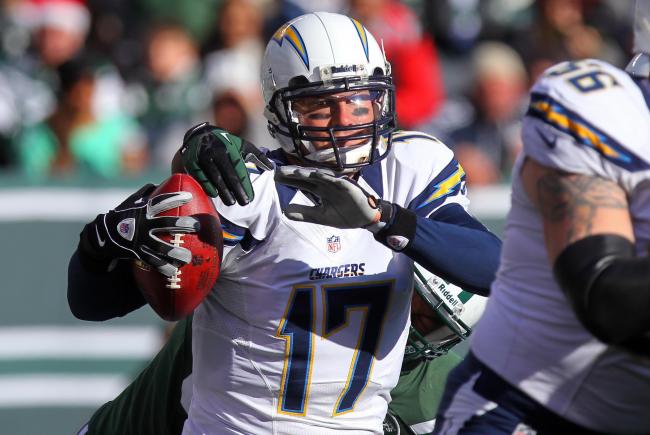 14:07 4th Qtr
Philip Rivers makes a great effort to pick up the first down with his legs, but comes up an inch short. Nick Novak makes it 27-14.
This game is still only a two-score game, but does anyone truly believe that the Jets can come back the way their offense has played?
McElroy showing what he learned under Sanchez's tutelage.

— Brian Costello (@BrianCoz) December 23, 2012
Start of 4th Quarter
It is one thing to be ineffective while taking care of the ball. You can't be ineffective and turn the ball over.
Clearly, Sanchez was not the only problem with this Jets offense.
:10 3rd Qtr
INTERCEPTION
Greg McElroy telegraphs a pass to Lynch, who takes it 30 yards to about the 20. Could we see a benching in favor of Tebow?
You can hear some faint Tebow chants from the stands.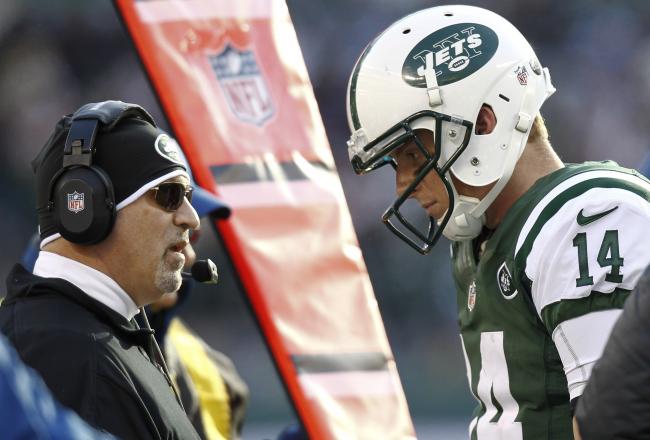 The Jets are running their head into a wall with the running game. With a 10-point deficit, there is no use in protecting the quarterback from himself now. The Jets will learn a lot from McElroy over this next quarter.
Meanwhile, Brandon Taylor is getting carted off the field. Always terrible to see a guy get hurt so late in the season in a meaningless game.
That is the first big throw McElroys made all game. By big I mean 13 yards.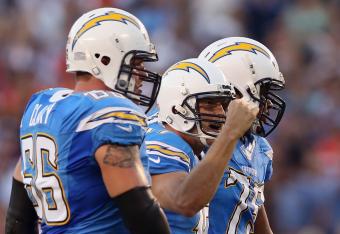 1:34 3rd Qtr
TOUCHDOWN CHARGERS
Antonio Gates beats Eric Smith like a drum to get open for the easy touchdown. Gates and Rivers were going to start connecting at some point.
Chargers 24, Jets 14
This article is
What is the duplicate article?
Why is this article offensive?
Where is this article plagiarized from?
Why is this article poorly edited?

New York Jets: Like this team?