Best Options to Make NBA Dunk Contest Worth Watching Again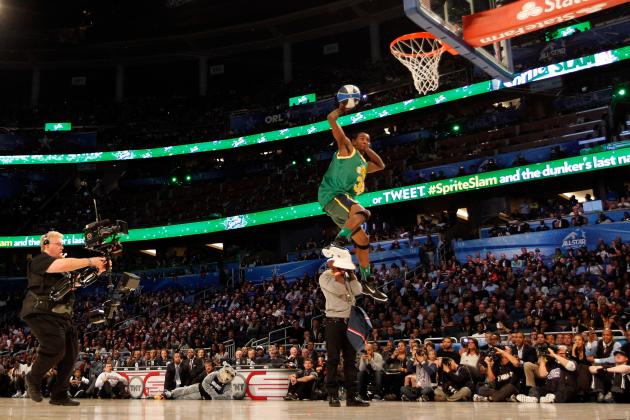 Mike Ehrmann/Getty Images

Every NBA fan looks forward to the Slam Dunk Contest. The event was established in 1984, and first featured top players and dunkers like Clyde "The Glide" Drexler and six-time champion Michael Jordan. Recently, however, the Slam Dunk Contest has become a Grade A snoozer.
Don't get me wrong: Dunks are cool to watch regardless of who does them, but whatever happened to putting the scrappy A-listers back in the contest? Nothing against Dwight Howard and Blake Griffin, but they have enough height that them dunking the ball isn't anything special, regardless of how they do it.
Give me Nate Robinson. Give me Vince Carter. Give me phenomenal athletes who actually make the Slam Dunk Contest exciting and not just an event for unknowns to shine during All-Star Weekend.
This NBA season has seen some incredible dunks from some equally incredible players, and it's time to give them their due recognition. I'm not saying that this year's Slam Dunk Contest needs to be full of stars, but definitely with men whose dunking abilities speak for themselves.
Begin Slideshow

»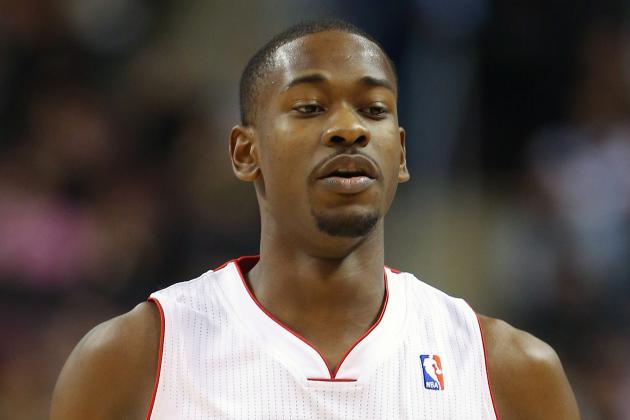 Tom Szczerbowski-USA TODAY Sports

Primarily a scorer, Ross has struggled to find his niche in the Raptors' system. He is only averaging 16.8 minutes per game, and has posted just 6.1 points while shooting just under 40 percent from the field.
However, Ross is an incredibly scrappy player who, at 6'6", 195 pounds, is built for the Slam Dunk Contest. He is a lean, mean dunking machine, and his work above the rim has given fans reason to remember him in spite of his slow start.
Yes, the man's scoring still needs some work, but heaven help the team that lets him come away with a steal and break away for the basket.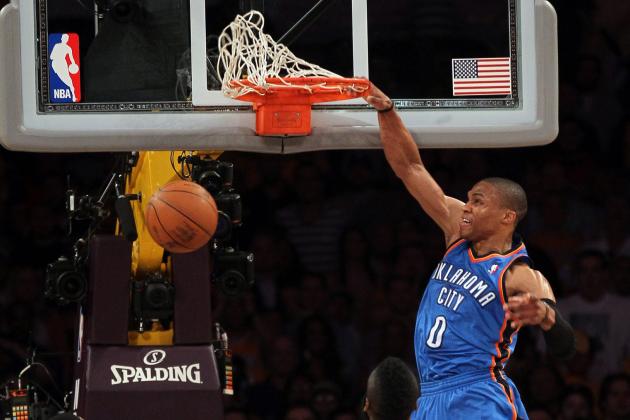 Stephen Dunn/Getty Images

NBA fans know that a point guard that can dunk is a rare find, and that makes Russell Westbrook all the more special. He is a fine all-around point guard who can score, pass and play great defense, but it's always a fun time when he can find his way through traffic to rise up for a slam.
The crazy part is that, at first glance, Westbrook does not look like a great dunker. He's only 6'3", 187 pounds.
Despite that, he plays with the passion and drive of someone much bigger. When that happens, we usually get something like this to enjoy.
This year's Slam Dunk Contest also needs a premier A-lister to headline the event. Everyone else can serve as Westbrook's opening acts, and he can be the main event.
Doing this will not only introduce NBA fans to some good young dunkers, but also up the event's TV ratings as people will wait in anticipation for Westbrook to take the stage.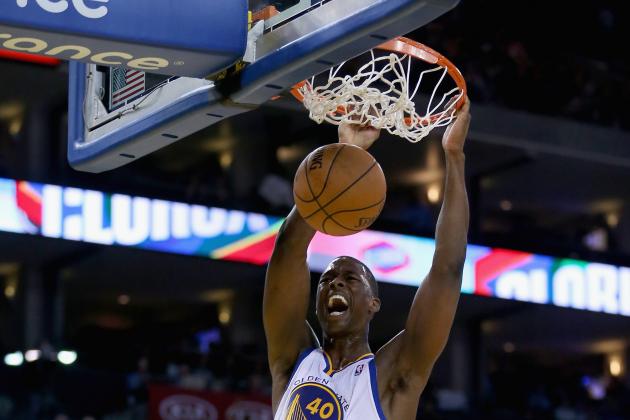 Ezra Shaw/Getty Images

Barnes has had an inconsistent rookie campaign, but just look at his face in this picture. That's the look of someone who thrives on living above the rim. I've never done it myself, but I can imagine completing a slam dunk brings about a certain sense of euphoria, especially if it's as epic as Barnes' dunk in this picture.
Barnes hasn't been having the best of seasons, but he should still be allowed to perform in the Slam Dunk Contest. He was a highly touted prospect that many NBA fans know from his days at North Carolina, and his participating in the contest would be his way of telling fans "Hey...I'm still here!"
At that point, fans could start following him more closely. He could gain more confidence on the court, and his career would blossom accordingly.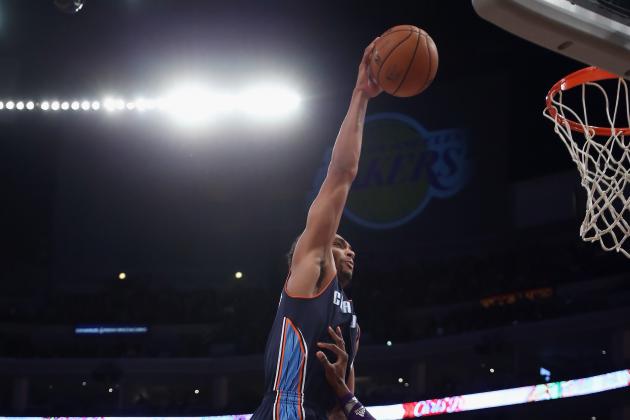 Jeff Gross/Getty Images

No, that picture is not at all doctored. That is actually Charlotte's own Gerald Henderson dunking on Los Angeles Lakers center, and three-time Defensive Player of the Year, Dwight Howard. No matter who you are, that is an impressive feat.
Henderson has always been a good dunker, but he never really had the attention of NBA fans until this season, when he posterized Howard. The dunk itself was incredible, not only because it was against Howard, but because Henderson himself is only 6'5".
Fans definitely want to see more of him following this fine accomplishment, and the Slam Dunk Contest would be a fine place for him to showcase more of his talents above the rim. He can be explosive in the air, and All-Star Weekend is a fine place for him to introduce himself to fans outside of small-market Charlotte.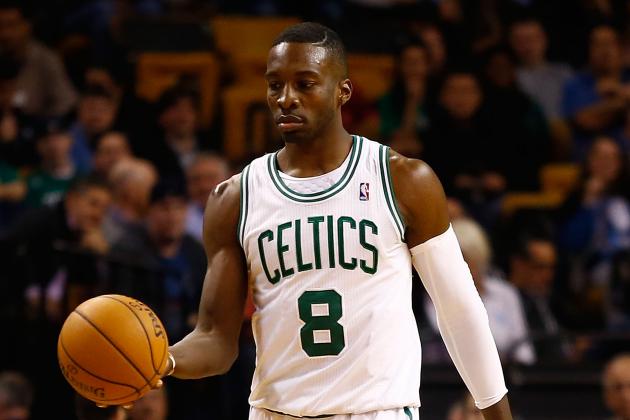 Jared Wickerham/Getty Images

Jeff Green's scoring may have dropped since he was traded to the Boston Celtics in 2011, but he has still remained one of the most underrated athletes in the league. He never backs down from a battle in the paint, and never hesitates to drive the lane and put his body on the line for the sake of drawing a foul.
Of course, this means that he often rises above the rim for a dunk. This has been his forte throughout his career, and one from this season stands out in particular.
Green also just seems like a good guy, and the fans really seem to enjoy watching him. His jovial personality off the court, combined with his on-court tenacity, would provide a good mix, and allowing him to participate in the Slam Dunk Contest would give his fans plenty of reason to watch.
It also utilizes one of his greatest talents, which would allow him to potentially be the star of the show.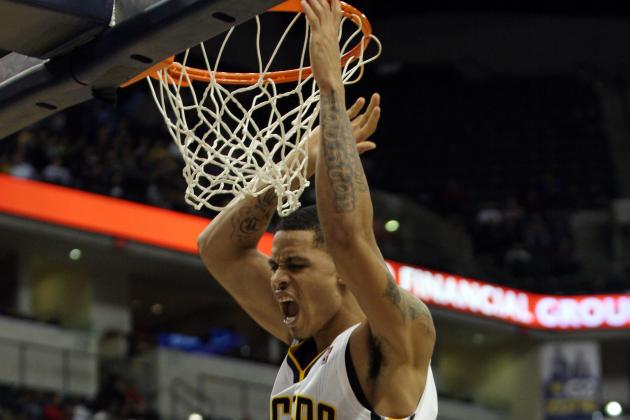 Pat Lovell-USA TODAY Sports

Gerald Green does not have a very athletic build at 6'8", 210 pounds, but is one of the game's best dunkers. He actually won the Slam Dunk Contest back in 2007, when he was with the Boston Celtics.
That also happened to be the time of Green's career where he was trying to be a shooting guard, but scoring has never been the strongest part of his game. Rather, it has been his speed and ability to get above the rim.
Green is back in the NBA following stints in Russia, China and the D-League, and fans still love him for his dunking ability. Letting him participate this year will refresh everyone's memory as to why he's fun to watch in the first place, and it would also allow him a chance at regaining the Slam Dunk Contest crown.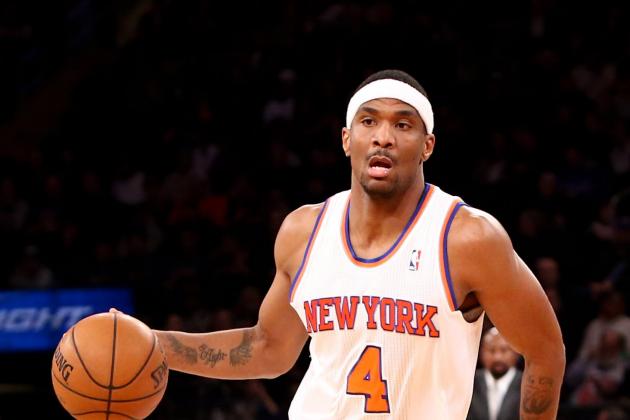 Debby Wong-USA TODAY Sports

Many of you have probably never heard of James White. He is a bench guard for the New York Knicks, and only plays 6.3 minutes per game.
However, prior to this season, White had made a name for himself in Europe. Not only could he score points, but he was also an incredible dunker.
This is why White needs to be in the Slam Dunk Contest. He doesn't get a lot of playing time right now, and his only other NBA experience includes stints with the San Antonio Spurs (2006-2007) and Houston Rockets (2009), but fans need to see just how great an athlete he is.
The best way to define White's career is through how well he can dunk. He has good size at 6'7", 215 pounds, and has enough experience and athleticism that he can turn this year's contest into a barn-burner.
Fans will cheer at his performance, and the rest of the league will take note of the relative unknown. Yes, White may not be a household name or top contributor, but there's one thing he can do when given the chance: He can rock rims and electrify a crowd in a heartbeat, and that is what the Slam Dunk Contest is all about.