Strikeforce CEO Scott Coker Officially Announces Final Event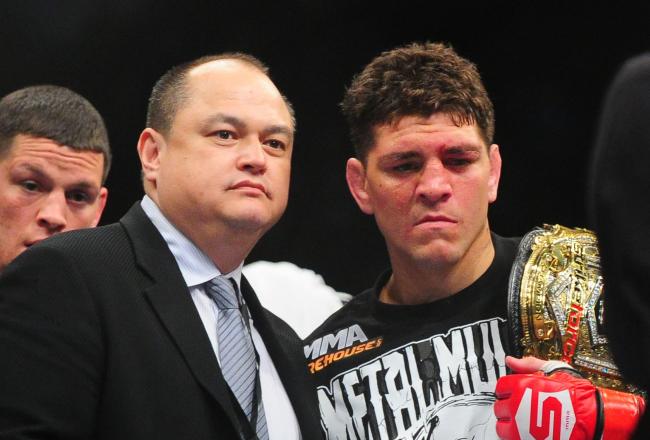 Mark J. Rebilas-USA TODAY Sports
It's official—Strikeforce, which grew to prominence over six years as the second-biggest mixed martial arts promotion after the UFC, will be no more after it hosts its final event on Showtime on Jan. 12, 2013.
The promotion has been suffering a slow death since the UFC's parent company, Zuffa, purchased Strikeforce in 2011, and now its chief executive Scott Coker has made it official (H/T MMA Mania).
"Since 2009, Showtime has been a great partner and we appreciate its support of Strikeforce and our athletes," said Coker. "For our final event, we've loaded the card with some outstanding fights. This is going to be a memorable night for the sport of mixed martial arts."
Strikeforce began life as a kickboxing promotion but over the years grew to rival the UFC with big-name MMA fighters on its roster including Frank Shamrock, Nick Diaz, Alistair Overeem and the legendary Russian heavyweight, Fedor Emelianenko.
However, it grew too big for comfort for Zuffa, especially when in February 2011 it announced the Strikeforce World Grand Prix Heavyweight Tournament.
The event was an eight-man tournament and featured an array of MMA heavyweights, such as Emelianenko, Overeem, Fabricio Werdum, Daniel Cormier, Josh Barnett and Antonio Silva. At the time Coker proclaimed that Strikeforce had the strongest heavyweight division in the whole of MMA—a clear challenge to the UFC which had traditionally struggled with putting together a deep heavyweight roster.
Zuffa quickly moved in and began plundering Strikeforce, bringing stars such as Overeem and welterweight Nick Diaz under the UFC banner, and then effectively dissolving Strikeforce's heavyweight division altogether.
However, Strikeforce had a long-term contract with Showtime which Zuffa had to honour, and so the January event in Oklahoma, Strikeforce: Marquardt vs. Saffiedine, will be the promotion's last.
Stephen Espinoza, Showtime Sports Executive Vice President and General Manager stated:
We are proud of our association with Scott Coker and the entire Strikeforce team. From Gina Carano to Ronda Rousey, Fedor Emelianenko to Daniel Cormier, Nick Diaz to Gilbert Melendez, Showtime Sports and Strikeforce have built some of the biggest stars in the sport and have produced many of the most watched and most intriguing fights in the history of MMA. We look forward to another night of competitive and explosive Strikeforce fights on Showtime on January 12 in OKC.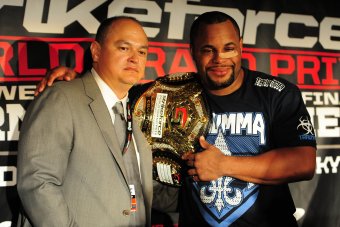 Kyle Terada-USA TODAY Sports
And so Strikeforce will wind down in the new year not with a bang, but with a whimper. Its stars plundered, the final card is an underwhelming mixture of big-name talent taking on virtual unknowns.
Most of these men will be relieved that the end is finally here. Fighters such as Gilbert Melendez, Strikeforce's lightweight champion, has been itching to get inside the UFC ever since the Zuffa purchase, and was supposed to fight on this final card. But an injury means he will likely be transitioned to the UFC later next year without having to fight in Strikeforce again.
Other men, such as Daniel Cormier and Josh Barnett, two top-10 heavyweights, will face unknowns Dion Staring and Nandor Guelmino in their last fights, in what many predict will be foregone conclusions.
Finally, Ronda Rousey, a fighter who has taken women's MMA to new heights under Strikeforce, is due to headline the UFC's first-ever female event in February as she takes on Liz Carmouche to defend her anointed UFC women's bantamweight belt.
Many had feared that women's MMA, for so long championed by Strikeforce, would suffer following the promotion's dissolution, but with Rousey's signing, female fighters may have found a new home within the UFC itself.
That leaves Strikeforce an empty shell of a promotion, without anything significant left to contribute to MMA. It can, however, look back proudly on a six-year history of having made waves in a sport dominated by the UFC.
The promotion's swansong, Strikeforce: Marquardt vs. Saffiedine, will take place at the Chesapeake Energy Arena in Oklahoma City.
This article is
What is the duplicate article?
Why is this article offensive?
Where is this article plagiarized from?
Why is this article poorly edited?