Loss of Missouri-KU Rivalry Hurts More at Time of Tigers' Showdown with Illini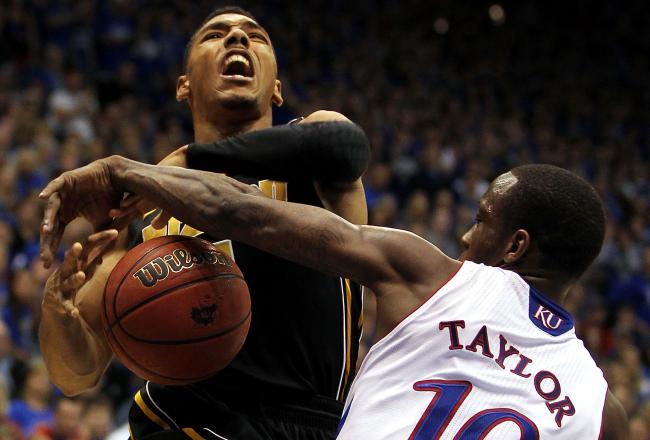 Jamie Squire/Getty Images
As tradition holds, the No. 12 ranked Missouri Tigers will travel to St. Louis on Saturday night to take on the undefeated, No. 10 ranked Illinois Fighting Illini in the annual Braggin' Rights game.
Both teams boast strong records and it should be a thrilling matchup before a packed Scottrade Center, with the arena split between Illini orange and Mizzou gold.
While the annual Braggin' Rights game is always a lot of fun, this year's game causes a different kind of emotion for Mizzou fans who relish the history of the program. Saturday's game with the Illini is the only true rivalry game on the Mizzou schedule.
With Mizzou now competing in the SEC, fans no longer have the opportunity to celebrate two matchups a year with the hated Kansas Jayhawks.
The Mizzou football season went on without a blip and fans hardly missed a matchup with an underwhelming Kansas football program.But when it comes to basketball, the rivalry between these two schools is clearly different.
When these two programs have taken the floor in the past, there is hatred in the stands among fans and unrelenting passion displayed by the players on the floor, resulting in what may not only be one of the best rivalries in college hoops, but also in all of sports.
It is important rivalry for both programs. It is an important rivalry for both states. And it is an important rivalry for the health of college basketball.
Sure, Mizzou will build rivalries over time in the SEC. Old friend Mike Anderson's Arkansas Razorbacks could fill the void and become a natural rival of Frank Haith's Tigers. But nothing will replace what Mizzou and Kansas have created over time.
Should Mizzou and Kansas Play Their Own Border War Game?
It is hard to comprehend a season without Mizzou and Kansas playing. The teams have played each other for 104 consecutive seasons, a streak that will end this year unless the two teams find each other in the NCAA Tournament.
So how many consecutive seasons will the two schools go without playing each other again?
Hopefully the two programs can come to a consensus and schedule their own version of a border war in the not so distant future.
To sit incredibly far from the court in the upper-bowl, tickets are going for over $200 for Saturday's game with the Illini in St. Louis.
Can you imagine what a ticket price would court for a Thanksgiving weekend matchup between the Tigers and Jayhawks at the Sprint Center in Kansas City?
Think of the excitement an annual game in KC over Thanksgiving weekend. Wouldn't it be nice to end Black Friday by watching a Mizzou/KU match-up on a newly purchased television?
Couldn't fans of the two schools cement themselves by beginning a new tradition of marching to Kansas City every year to enjoy some BBQ turkey while cheering on their favorite side in the battle?
When it comes to the future of a Missouri/Kansas Border War showdown, similar to the one the Tigers share with Illinois, there is no doubt regarding the fact that fans of both programs would have an appetite to see the rivalry resume as soon as possible.
The athletic departments need to call the boys in Kansas City and get this scheduled as soon as possible. It would be too big of an event not to have.
Until then, Mizzou fans must settle for the spectacle that will occur on Saturday night with their friends from the East.
The Braggin' Rights game near Christmas with Illinois every year in St. Louis is fun. An annual Border War with Kansas around Thanksgiving would be war.
This article is
What is the duplicate article?
Why is this article offensive?
Where is this article plagiarized from?
Why is this article poorly edited?

Missouri Tigers Basketball: Like this team?