Rebuilding NBA Teams Stuck in Neutral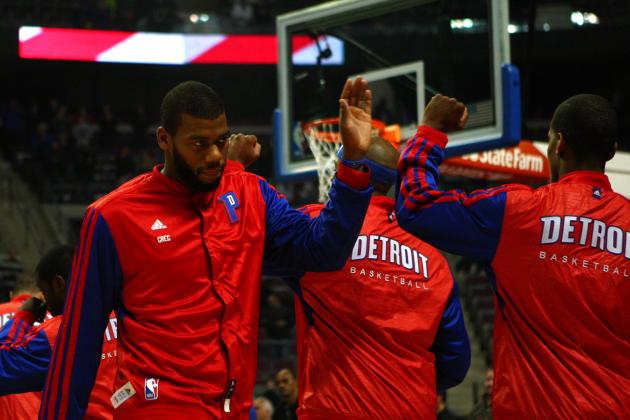 USA TODAY Sports

There's nothing more frustrating than for both a team and its fans to enter a rebuilding phase, only to become stuck in it interminably. The Detroit Pistons are a team that fits this mold almost too well, and star center Greg Monroe told Vince Ellis of USA Today that a good way to describe the team's performance was "stagnated."
Clearly, the Pistons are getting frustrated. They're not even a decade removed from a championship, but still sit near the bottom of the NBA barrel. They have no identity, and things don't appear to be looking up any time soon.
Detroit is fortunately not alone in this regard. A good number of NBA teams have been attempting to "rebuild" for a long time, yet show no improvement. The sad part is that most are just one piece away from getting back into contention, but to no avail.
These teams remain stuck in one gear, and the inability to get out of it annoys everyone from team management to devoted fans running out of reasons to provide support.
Begin Slideshow

»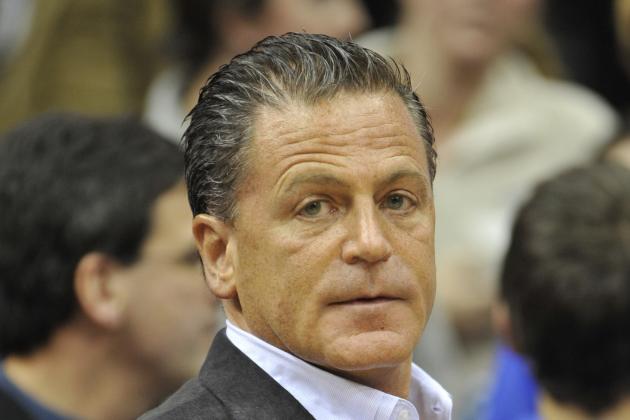 David Richard-USA TODAY Sports

It's hard to not feel bad for Cavaliers owner Dan Gilbert (pictured). Not only did team star LeBron James bolt for the Miami Heat in 2010, but Gilbert then wrote a letter to the Cleveland fans and guaranteed that the Cavaliers would win a championship before James.
Based on the result of the 2012 NBA Finals, one can see why Gilbert looks silly now.
All guarantees aside, however, the Cavaliers have still not even come close to digging themselves out of the post-LeBron hole. The team has gone just 45-130 since its first season without James, and the future is not looking too bright.
Kyrie Irving is a talented young point guard, but his lack of a solid go-to guy outside of center Anderson Varejao could ultimately damn the franchise. Tristan Thompson has talent, but is better suited as a defender. Dion Waiters has a future, but still has much to learn about becoming a reliable shooting guard on the NBA level.
The sad part is that Varejao could bring in a ton of great talent for the Cavaliers via a trade, but as David Aldridge notes on NBA.com, team management is asking for a lot in return.
I understand that Varejao is Cleveland's best defensive player and hard to part with, but Gilbert and his front office need to think about the future. Cleveland fans got used to winning when LeBron James was around, and it's time for the rebuilding phase to enter the next step: bringing in talent to build around the youth.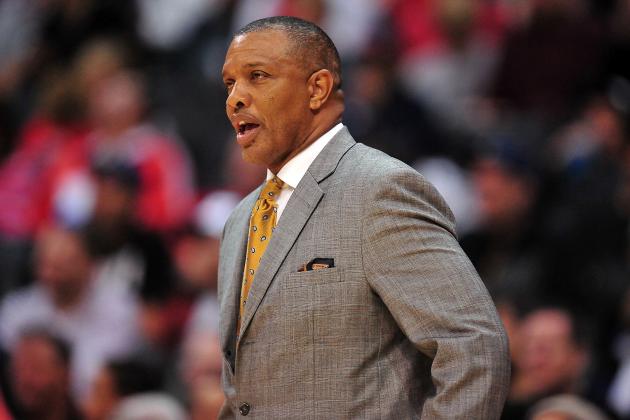 Gary A. Vasquez-USA TODAY Sports

To the Suns' credit, they have not looked absolutely terrible since entering their rebuilding phase two seasons ago. Just the same, you have to feel sorry for the team and its fans.
Phoenix first had to rebuild after star forward Amar'e Stoudemire left for the New York Knicks in 2010, and they are doing it again now that Steve Nash is a Los Angeles Laker. Since their last playoff run, which included a trip to the West finals in 2009, Phoenix has gone 84-90.
Unfortunately for head coach Alvin Gentry, his team took a giant step back this season after just barely missing the playoffs last year. Goran Dragic has done a decent job running the point, but is not the same type of point guard as Nash. He himself will improve, but won't do much in terms of making his teammates better, as Nash has done throughout his career.
The worst of it is that Michael Beasley has been nothing but a disappointment. A natural shooter/scorer, he is averaging just 10.8 points and is shooting only 38 percent from the field. The key to Gentry's fast-paced offense is consistency, and the Suns have none of it.
Even sadder is that there is no immediate cure for the Suns' woes. All that the fans and team management can do is hope that Beasley and guys like Markieff Morris start producing more consistently.
At that point, they will finally start to get out of rebuilding mode, albeit at a slow pace.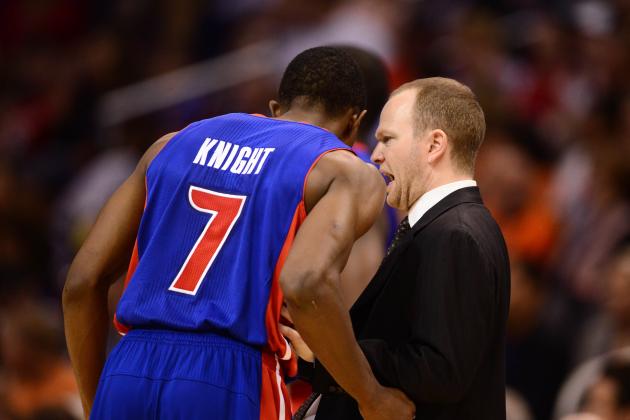 Mark J. Rebilas-USA TODAY Sports

The Pistons' rebuilding mode goes all the way back to 2008, when team management fired coach Flip Saunders despite the fact that he led Detroit to the East finals in each of his three seasons. He was replaced with the inexperienced Michael Curry, and it all went downhill from there.
Detroit is now on its third coach in the past four seasons with Lawrence Frank. Since Saunders' final season, the Pistons have gone just 128-212, not even a decade removed from their 2004 championship season.
The Pistons' greatest problem is that they have had no identity each of the past few years. Once Chauncey Billups was traded for Allen Iverson and Rasheed Wallace left to join the Boston Celtics, the core was gone.
Instead of a talented and cohesive unit committed to defense, they became a group of scorers and shooters without a strong veteran leader, save for a washed-up Ben Wallace.
This year's team isn't much different.
Young center Greg Monroe is blossoming into a great, young big man, but point guard Brandon Knight teeters between showing great potential as a leader on the floor and being just plain bad. He is averaging 14.5 points on the season, but just 3.8 assists.
Once Knight can get over the fact that he is not going to be the main go-to guy like he was at Kentucky and not try to do everything on offense, then Detroit may start showing some promise.
The team's future goes beyond Knight's improvement, such as rookie Andre Drummond getting some more playing time and forming a deadly frontcourt tandem with Monroe—Coach Frank needs to implement that strategy ASAP.
The Pistons will then go from being a lemon to a well-oiled machine, and head back to the playoffs with gusto.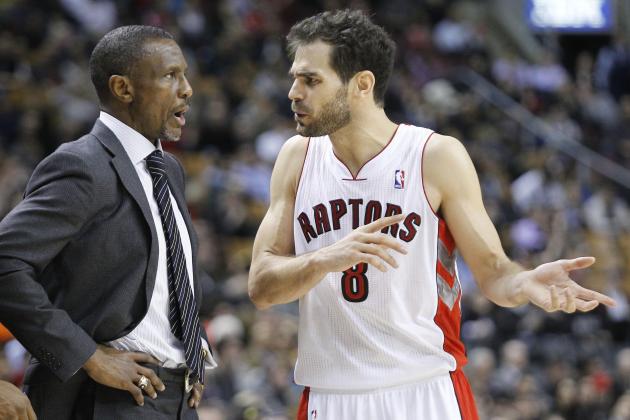 USA TODAY Sports

The Raptors have been going through a tough time since Vince Carter was traded back in 2005. Chris Bosh helped them make the playoffs twice, in 2007 and 2008, but Toronto was eliminated in the first round both times.
Since 2009, Toronto has gone just 163-213 and is struggling to find some sort of identity. The fans are a rowdy bunch, but gone are the days of the high-flying, electrifying nature of Vince Carter and Tracy McGrady.
Guard DeMar DeRozan is one who can help reestablish that culture, but he is just one man. Head coach Dwane Casey has yet to get the best out of the rest of his roster. He has a point guard controversy featuring Jose Calderon and Kyle Lowry, inconsistency throughout his lineup, and no experienced center that can dominate the middle.
Yes, the Raptors have pockets of talent, but what the team really needs is a veteran leader who can take control in the locker room and instill some confidence and patience amongst the young players—preferably a center who could also serve as a mentor to young Jonas Valanciunas while providing excellent defense on the court.
Once these holes are fixed, the Raptors will rise from their near-extinction and go back to patrolling the Eastern Conference with the sneaky tenacity that defined them in their early years. It may take a while but it is a rebuilding funk that can be climbed out of, and sooner than one may think.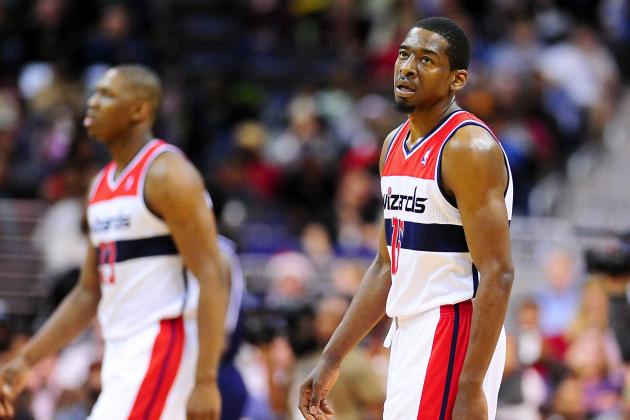 Evan Habeeb-USA TODAY Sports

If Flip Saunders isn't able to fix a team, then that's a problem. The man did not even last three seasons in Washington and was unable to turn his young and inexperienced team into contenders, even with No. 1 pick John Wall running the point. In Saunders' two-plus seasons in D.C., he went 51-130.
Long story short—the Wizards have been a complete and utter mess since 2008, when Eddie Jordan was still coach. Their overall record has been 91-244, and the team has no identity or direction.
Granted, their slow start this season has not been helped by the lack of Wall, who is battling a stress reaction in his knee. Just the same, Washington has three solid veterans on the team in Nené, Emeka Okafor and Trevor Ariza. Each of those three is capable of stepping up and becoming the team's leader in Wall's absence, but the Wizards' 3-20 mark suggests that has yet to happen.
Washington, thus, needs three things: a healthy John Wall, a reliable team leader and an experienced coach who has experience working with young players. Nothing against Randy Wittman, but he has not been able to get the job done.
The Wizards have a long history in the nation's capitol, but the good years are becoming a distant memory thanks to the uninspired play in recent seasons.
USA TODAY Sports

Well, where do I begin with the Kings?
First, the team has been absolutely lost since Rick Adelman was fired in 2006, and shoddy ownership by the Maloof brothers cannot be good for the young players' collective confidence. The team has yet to receive a deal for a new arena, and there is the ever-growing possibility that the team will move.
Even worse is Sacramento's record since Adelman was let go. The team has gone 167-334 since '06 and has shown few signs of recovery.
The saddest part is that the Kings have some incredible young talent in DeMarcus Cousins and Tyreke Evans (not to mention Jason Thompson and rookie Thomas Robinson), but no leader to help show them the way. The closest thing to veteran leadership in Sacramento is John Salmons, who is nothing more than a washed-up shooter.
The leadership problem in Sacramento is unlikely to be fixed in the near future, as no talented veteran will likely head there willingly.
All that the fans and team management can hope for is one of three things: either the players step up and start making a greater effort, a veteran coach is brought in to right the ship, or a new arena or city comes into the picture and starts pumping some money into the franchise.
Otherwise, the Kings will be sunk for years to come.