5 International NHL Prospects Who Could Be the Next Evgeni Malkin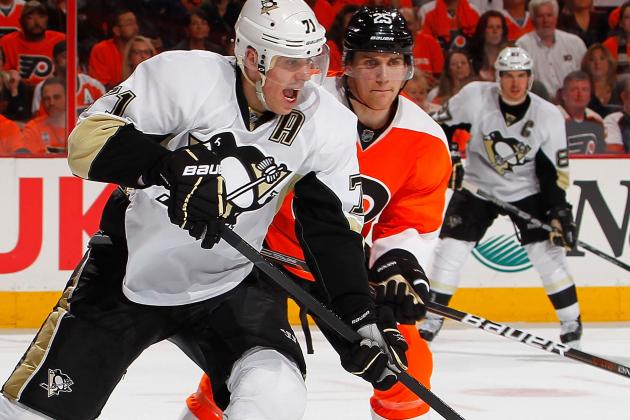 Paul Bereswill/Getty Images

Evgeni Malkin is the reigning Most Valuable Player in the National Hockey League.
He carried the Pittsburgh Penguins on his back last year while Sidney Crosby was sidelined for the majority of the season.
Malkin scored 50 goals and had 59 assists. His skill with the puck on his stick is quite magical.
While hockey fans are depressed by the current lockout that threatens the season, the business of hockey continues and scouts and general managers are looking for the next generation of superstars to lead the sport in the future.
Here's a look at the top five international prospects who will try to emulate Malkin and become great offensive stars in the future. They are offensive players who have first-round grades at this point.
Scouting information courtesy of DraftSite.com.
Begin Slideshow

»
Aleksander Barkov is a big, rangy center from Russia who can dominate plays with his top skills.
At 6'2" and 191 pounds, Barkov is strong on the puck, sees the ice well and can distribute passes to his teammates with ease.
Barkov has excellent balance and timing, but he will need to develop more speed and agility if he is going to be able to develop into a game-changing force.
Pavel Buchnevich is a highly skilled Russian forward who may become a top scorer on right wing with his explosive left-handed shot.
Buchnevich has played excellent hockey when he has faced top international competition. He gets creative with the puck in the offensive zone and he has outstanding skating ability.
At 6'1" and 170 pounds, Buchnevich has the kind of frame that will enable him to put on more weight and strength. He has excellent one-on-one moves and he is not afraid when he gets the puck in traffic.
Valeri Nichushkin offers a powerful combination of size and speed.
At 6'3" and 194 pounds, Nichushkin is a center with a big shot who is very tough to move off the puck. When he has the puck and decides to head up the ice, there is usually no stopping him.
His physical power and skating speed make him one of the more impressive prospects. He's a better scorer than he is as a setup man at this point, but there's little doubt about his overall ability or long-term potential.
Nichushkin had an impressive showing in the Subway Super Series in November.
Andre Burakowsky is a long, lanky Swede at 6'1" and 177 pounds, who has the kind of hands needed to become an impact player.
He can make the tough plays tight to the goal because he has excellent hands and the ability to put the puck in a difficult spot for the goalie to make the save.
Burakowsky plays with a burst of speed and he can be difficult to stop when he comes around the corner.
He wants the puck when the game is on the line because he has confidence that he can score.
However, he is not very quick to pass to open teammates, and that's something that he is going to have to work on.
Elias Lindholm should be one of the top picks in the 2013 draft.
The 6'1", 191-pound Swedish center has displayed unique playmaking ability along with excellent skating ability. He has the speed to get down the ice and beat defenders and he has the quickness to make moves in the offensive zone that can get him away from tight coverage.
While he still has to develop his goal scoring ability, Lindholm plays with toughness. He can take the initial hit and keep on going without getting knocked off stride.