Ohio State Basketball: 5 Keys to Beating Kansas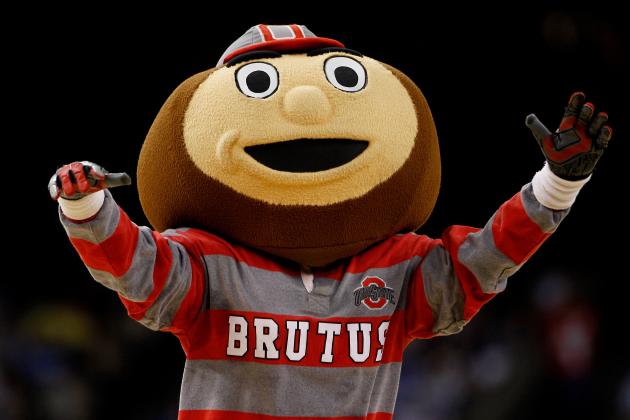 Chris Graythen/Getty Images

The players would probably never say it out loud, but the Ohio State basketball team has to have a measure of revenge on its mind heading into this weekend's showdown with Kansas.
The Buckeyes lost to the Jayhawks in Lawrence last year (without the services of an injured Jared Sullinger) during the regular season before matching up with them again in the Final Four. The Scarlet and Gray could not hold on to a double-digit lead and ultimately fell 64-62 in heartbreaking fashion.
This time around, the game is in Columbus. While a win Saturday would not be the same magnitude as the Final Four loss was, it would certainly help the Buckeyes shed that Kansas monkey off their back.
Read on to see five keys that will help Ohio State do just that.
Begin Slideshow

»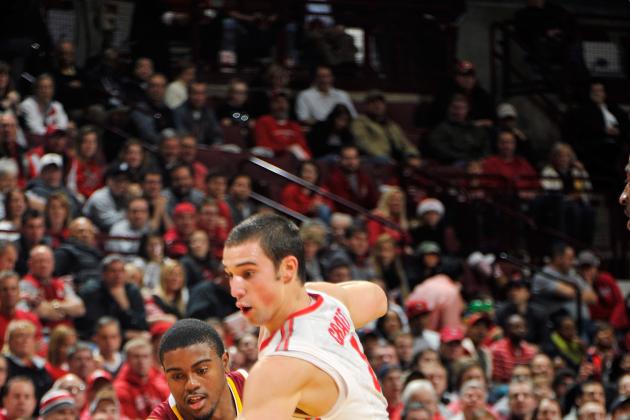 Jamie Sabau/Getty Images

Michigan State, a team that plays with a similar Big Ten physicality to Ohio State, beat Kansas earlier this season in part because the Spartans were able to force 16 turnovers.
The Jayhawks are averaging 13 turnovers per game for the season, which is not crippling but not exactly stellar either. If Ohio State hopes to win Saturday, this is an area it must exploit.
Aaron Craft is a one-man turnover machine and will pressure the ball for the entire 40 minutes. That will get the crowd involved, help sustain momentum-swinging runs and lead to easy transition buckets the other direction.
Look for Thad Matta to use Shannon Scott, Craft and Lenzelle Smith Jr. together for extended stretches of time in an effort to create some of these turnovers.
If the Spartans were able to do it against Kansas, Ohio State certainly can too.
Andy Lyons/Getty Images

As of today, Ohio State and Kansas both average exactly 38.8 rebounds per game, which is tied for 59th in the nation.
My guess is that both teams won't grab 38.8 boards on Saturday, so something is going to have to give. The Jayhawks definitely have the size advantage with Jeff Withey (who averages better than eight rebounds a night) in the paint, but the combination of Amir Williams and Evan Ravenel has to at least challenge Withey in terms of total rebounds.
The Buckeyes can get a boost in this department with Lenzelle Smith Jr. and Deshaun Thomas. Thomas leads the team in rebounds (6.9) and Smith is second (5.2), though that may say more about Ravenel and Williams than it does about these two. In any case, Thad Matta could certainly use these boards from his perimeter players.
In what should be a defensive battle, whoever is able to control the glass and limit possessions will have a much better chance at coming away victorious.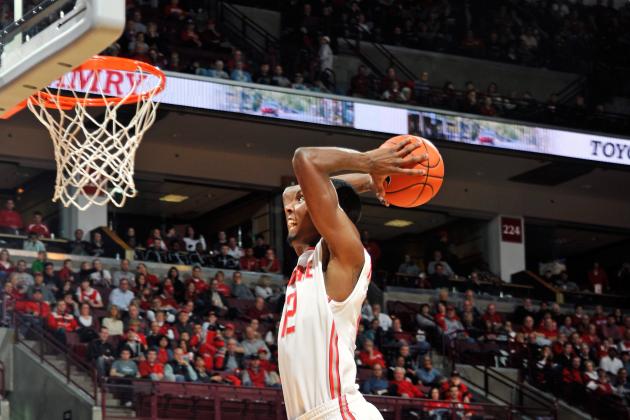 Jamie Sabau/Getty Images

The small-forward combination of Sam Thompson and LaQuinton Ross is averaging 17.5 points, 8.4 rebounds, 1.5 steals and 1.2 blocks per game.
Those would be terrific numbers if they came from one player, but they are still formidable from this two-player platoon. Each has had a breakout game or two and has flashed the potential that has been enticing Buckeye fans with thoughts of "what if" for the last two years.
Thad Matta is going to need consistent performances from both Thompson and Ross to beat Kansas. Ross needs to demonstrate why he is considered such a threat from behind the three-point line, and Thompson needs to utilize his athleticism and defensive prowess to make life difficult for the Jayhawks on both ends of the floor.
Who knows, maybe Thompson will throw down a rim-rattling dunk or two to get the crowd really into it as well.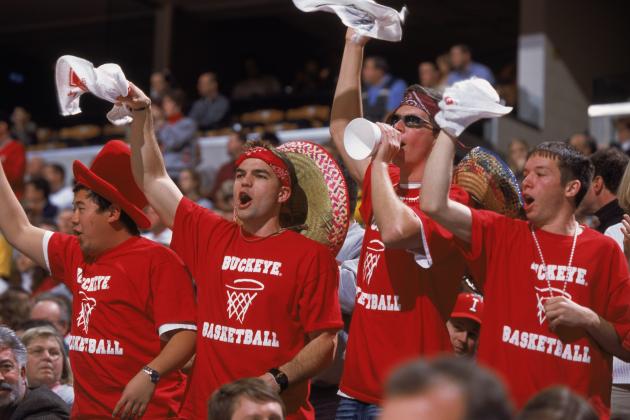 Jonathan Daniel/Getty Images

The Schottenstein Center will never be confused for the Horseshoe when it comes to Ohio State home-team advantage, but every once in a while Buckeye fans get the place rocking for hoops games.
Saturday should fall into that once-in-a-while category.
Anyone who was at the game against Duke last year undoubtedly walked out of that stadium commenting about how raucous the crowd was from the opening tip. That's not always the case for Buckeye basketball games, but when it is, it tends to rub off on the players.
Ohio State needs to jump out to a quick start, as it did against Duke last year, to get the crowd involved early. It may not rattle a Jayhawk team that is accustomed to loud arenas, but it will provide the Buckeyes with an emotional boost.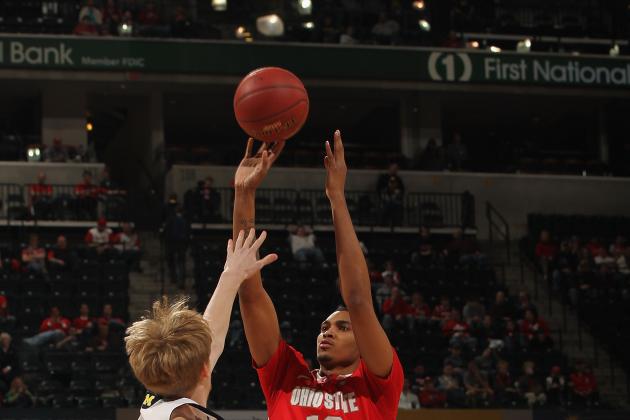 Jonathan Daniel/Getty Images

One way to get the crowd involved early is to hit three-point shots.
More than a third of Ohio State's total field-goal attempts so far have come from behind the arc, which means that the Buckeyes are incredibly reliant on the shot. A major reason why is that Thad Matta has often used four players together at once who are capable of hitting from the outside.
As a team, the Bucks are shooting 39 percent from behind the three-point line, which isn't bad. But Aaron Craft (33 percent) and LaQuinton Ross (31 percent) must boost their own individual clips for Ohio State to be seen as a truly dangerous three-point shooting team.
In fact, Ross is supposed to be the best shooter on the squad, so that number is somewhat surprising. For him to maximize his value for the team, his threes must start to fall.
Home crowds feed off of outside shots, so look for Ohio State to start firing from the start.