Hogan / Flair: The Greatest Rivalry in Wrestling History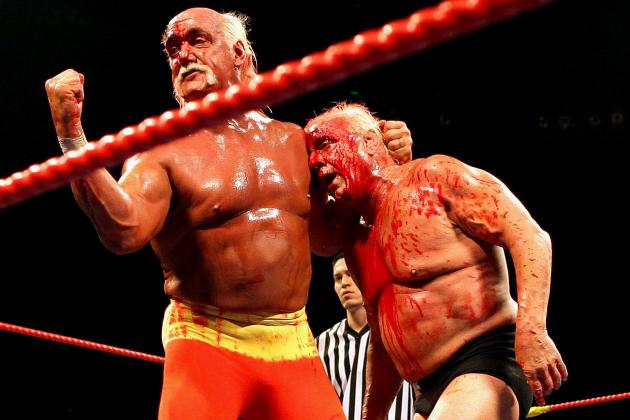 Mark Dadswell/Getty Images

There are certain rivalries that will be remembered forever by wrestling fans.
McMahon/Austin. Rock/Austin. Undertaker/Kane.
Hulk Hogan and Ric Flair both have had many feuds that will live forever. Who can forget Hogan's battles with Andre the Giant, or Flair's against Dusty Rhodes or either man's versus Sting and "Macho Man" Randy Savage?
Still, none of pro wrestling's many rivalries were as storied and often fought as that between Hogan and Flair.
This is a retrospective on the historic feud that has spanned decades, one between two of wrestling's most famous and most controversial legends.
Begin Slideshow

»
Ric Flair began wrestling in the AWA on December 10, 1972. Within a decade, he had become NWA World Heavyweight Champion. He soon held the belt on numerous occasions, besting legends like Dusty Rhodes, Harley Race and Kerry Von Erich.
Terry Bollea, known today as Hulk Hogan, began wrestling in CWF on August 10, 1977. After appearing in the film Rocky III, Hogan went on to defeat the hated Iron Sheik for the WWE Title. As champion, Hogan led the industry into a new era of popularity. His feuds with "Rowdy" Roddy Piper and Andre the Giant even attracted worldwide attention.
Throughout the 1980s, fans dreamed about a match between Hogan and Flair. While champion versus champion matches were common only a few years prior, the intense rivalry between the NWA and WWE made such a match virtually impossible by the late 1980's.
Things changed, however, as Flair left the NWA in 1991, upset about the new management of its flagship promotion, World Championship Wrestling.
As such, when Ric Flair debuted in WWE in September of 1991, it soon became clear that this "dream match" would soon become a reality.
While the stage was set for Flair and Hogan to face each other for the first time on October 25, 1991 in Oakland, CA, an unexpected hiccup occurred.
Two days prior, on October 23, "Rowdy" Roddy Piper missed a show in Dayton, OH. To cover, bookers instead had Hogan face Flair. And believe it or not, Flair actually defeated Hogan in this first match ever, via count-out.
While that first meeting in Dayton appears to have not been filmed, there is a recording above of the rivals' first advertised match ever, the one in Oakland on the 25th.
Over the following weeks, Hogan and Flair wrestled in untelevised matches around the country. The outcome often involved count-outs and disqualifications, with Hogan coming out on top more often than not.
In their first 21 meetings, Hogan won 17 matches and Flair won four.
HULK HOGAN = 17 ... RIC FLAIR = 4
On November 30, 1991, Flair and Hogan faced off for the 22nd time in just over a month. The venue: the World Wrestling Federation's home stadium at the time, Madison Square Garden.
Only three days prior, Flair had helped The Undertaker win the WWE Title for the first time by defeating Hogan via a tombstone piledriver on a steel chair.
Seeking revenge, Hogan not only defeated Flair at MSG, but in 14 of the next 15 matches that the two had over the following two months.
Of course, things changed for Flair when, on January 19, 1992, he won the Royal Rumble to become the new "undisputed" WWE Champion.
HULK HOGAN = 32 ... RIC FLAIR = 5
Of course, over these first few months of battling between Flair and Hogan, many expected that there would eventually be a match at WrestleMania VIII between the two for the WWE Title.
Unfortunately, this did not happen.
Instead, WrestleMania VIII featured two main events: one between Hogan and Sid, the other between Flair and Randy Savage for the WWE Title.
In the months leading up to WrestleMania, the two would meet four more times in one-on-one bouts. Hogan won all four matches via count-out.
It would not be for a few more years that the two would finally face each other on a grand stage for the gold.
HULK HOGAN = 36 ... RIC FLAIR = 5
Though both Flair and Hogan were still wrestling for Vince McMahon at the start of 1993, by the summer of 1994, the two were scheduled to face off for the WCW World Heavyweight Title at Bash at the Beach.
Although WCW inaccurately billed the match as being the "first ever" between the two, it was in fact the first time that the two would battle and have a clean decision. Yes, for the first time, the two had a match that ended in neither count-out nor disqualification, with Hogan pinning Flair for the belt.
HULK HOGAN = 37 ... RIC FLAIR = 5
Despite Hogan defeating Flair for the belt at Bash at the Beach 1994, the feud between the two was still just getting started.
At Clash of the Champions 28 on August 24, 1994, the two faced off once again for the title. Unfortunately, the match ended in the old WWE style, with Flair winning via count-out.
In September, WCW toured Europe, and Hogan faced Flair 11 times in the course of two weeks. Hogan won every single one of these matches, as he did three times more back in the US during October.
The two would again do battle at Halloween Havoc 1994 in a steel cage retirement match with guest referee Mr. T. Hogan once again came out on top, taking Flair out of pro wrestling for six months.
HULK HOGAN = 52 ... RIC FLAIR = 6
Although Hogan and Flair did not face each other in singles matches during 1995, they did battle on New Year's Day 1996, with Hogan defeating Flair via disqualification.
Despite losing once again, Flair had a solid victory on the opening match of Monday Nitro on January 29. Using Miss Elizabeth's shoe to gouge Hogan in the face, Flair pinned Hogan.
The two would go on to face each other in many tag matches around this period, but not one-on-one again until a major change in Hogan's career and indeed, the wrestling industry.
HULK HOGAN = 53 ... RIC FLAIR = 7
At Bash at the Beach 1996, only two years after coming to WCW, Hulk Hogan joined with Scott Hall and Kevin Nash to form the New World Order (nWo). For the first time in over a decade, Hogan was a heel.
In this new role, Hogan was defeated by Flair via disqualification at Clash of the Champions 33 on August 15, 1996.
While the two continued to feud over the next few years, they actually did not face each other one-on-one again until SuperBrawl IX on February 21, 1999. On that night, Flair's son David betrayed The Nature Boy and helped Hogan keep the WCW World Heavyweight Title.
The two would do battle once again the following month at Uncensored. Then, with the help of referee Charles Robinson, Flair defeated Hogan for a world championship for the first time ever in the duo's seven-and-a-half-year rivalry.
In the following weeks, Flair would face Hogan six more times, actually winning five of these matches via disqualification thanks again to referee Charles Robinson.
In fact, when all was said and done, Flair actually won the majority of matches against Hogan in 1999, coming out victorious in six of their nine bouts.
HULK HOGAN = 55 ... RIC FLAIR = 14
In August of 1999, Hogan returned to the red-and-yellow of Hulkamania and became a fan favorite once again.
In early 2000, his feud with Flair continued when Hogan defeated Flair on the Valentine's Day edition of Monday Nitro.
One month later, Hogan defeated Flair at Uncensored 2000 in a much-hyped Yavapai Indian Strap match that did not end correctly. Hogan touched the fourth turnbuckle after pinning Flair, not before, as stipulated.
HULK HOGAN = 57 ... RIC FLAIR = 14
In March of 2001, the Monday Night Wars ended, as WWE purchased WCW. Unfortunately, since Time Warner had signed many top-name WCW stars to individual contracts, WWE was unable to bring in WCW's main draws for nearly a year or more.
Towards the beginning of 2002, Flair had returned to WWE as supposed co-owner of the company with Vince McMahon. However, since McMahon would rather destroy the company than share it, he brought in the nWo to "poison" WWE.
Within a couple months of returning, Hogan had turned face and won the WWE Title. Not long after, Flair turned heel.
This led to another world title match between the two on the May 13, 2002 edition of Raw. As could be expected, Hogan won once again.
HULK HOGAN = 58 ... RIC FLAIR = 14
Though Hogan and Flair both appeared in WWE for several more years, they were never given a match against each other again, and certainly not for the WWE Title.
After Flair "retired" from wrestling in 2008, he stayed out of the spotlight for roughly a year and a half. This ended in the Fall of 2009, however, when Flair signed up to wrestle Hogan in four matches across Australia.
Hogan won all four matches by pinfall.
HULK HOGAN = 62 ... RIC FLAIR = 14
While Hogan and Flair actually did have their last one-on-one match in Sydney, Australia on November 28, 2009, they did continue to feud when both joined TNA in early 2010.
In fact, both participated in two featured tag team matches, along with Abyss and AJ Styles, on the March 8 edition of Impact.
While these tag matches seem to be the last time that Hogan and Flair will ever do battle, the two did continue to feud over 2010 and eventually even formed an alliance in Immortal.
During their time in TNA, Hogan and Flair did steal a bit of the spotlight, but also sought to use their names to hype a younger generation of stars.
And throughout the period, though both men were around the age of 60, they continued to entertain many fans.
FINAL COUNT
> HULK HOGAN = 62 victories / 76 matches (81.6 percent)
> RIC FLAIR = 14 victories / 76 matches (18.4 percent)