New York Jets Predictions: 7 Possible Replacements for Mark Sanchez in 2013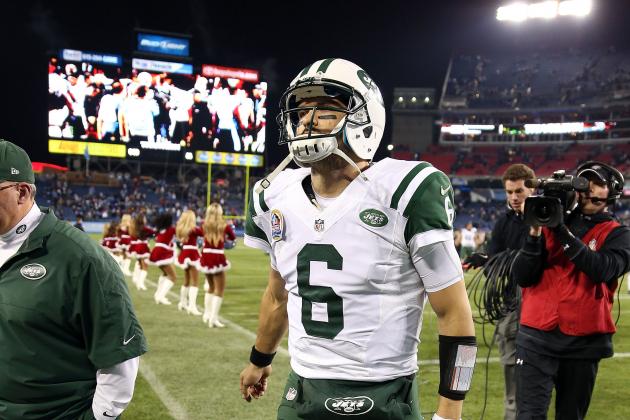 Andy Lyons/Getty Images

Let's flash back to draft day 2009.
When the trade was announced that the New York Jets would move up and make Mark Sanchez their franchise quarterback, Radio City Music Hall exploded with emotion. Excitement, cheer, and the classic "J-E-T-S, Jets Jets Jets!" chants shook the building to it's very core. You could just feel the energy coursing through the veins of each and every Gang Green fan on that faithful day.
This young USC Quarterback, with only 16 collegiate starts to his name, was being anointed the savior. Forget his accuracy issues and lack of college experience—on draft day 2009, the New York Jets staff and fans got their man, and nothing was going to stop them from celebrating.
Oh how times have changed. All of that draft day praise, the back-to-back AFC championship games and the raw emotion that Mark Sanchez carried with him onto the field each and every Sunday is now a distant memory.
Four years later, Jets fans aren't celebrating anymore. The former 5th overall pick in the draft, now reportedly will be shopped around this offseason, thereby ending his brief career in a New York uniform.
With no Sanchez under center, that raises the question, who will be the starting quarterback of the New York Jets in 2013?
Start the slideshow and check out 7 Possible Replacements for Mark Sanchez in 2013.
Begin Slideshow

»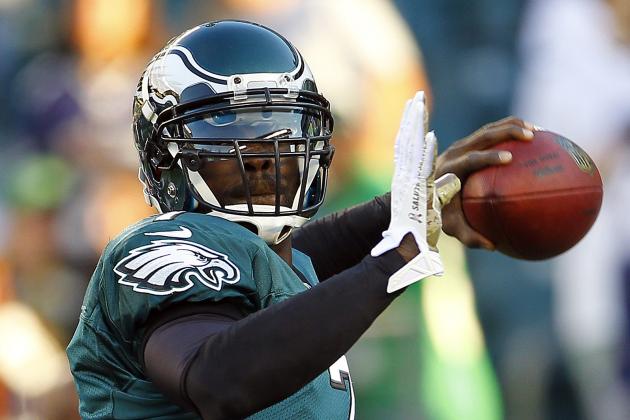 Rich Schultz/Getty Images
Michael Vick
There's no question that Michael Vick's time in Philadelphia has come to an end. Health concerns, sweeping organizational change and the "emergence" of Nick Foles has all but sealed his fate in Philly.
That means the 32-year-old dual-threat quarterback will be looking for a new home next season. Preferably a home where he can be the man—and be the man right away.
While there's no doubt that Vick is a superb athlete with a ton of starting experience, the real question becomes, is he worth the risk?
Over the course of his career, Vick has been incredibly inaccurate. His career completion percent of 56.3 is just 1 percent higher than Mark Sanchez's. Defenders of Vick will say he makes up for it with his big play ability and his legs, but any athlete who's played one full season in 10 years might not be the ideal fit for a franchise in disarray.
The one bright spot in luring Vick to New York is the hype factor. Over his career, Michael Vick has been a magnet to the press and a folk hero to fans. Becoming the next starting quarterback for the Jets could bring a renewed sense of hope to a desperate fan base. A hope that was lost this season after witnessing the "butt fumble".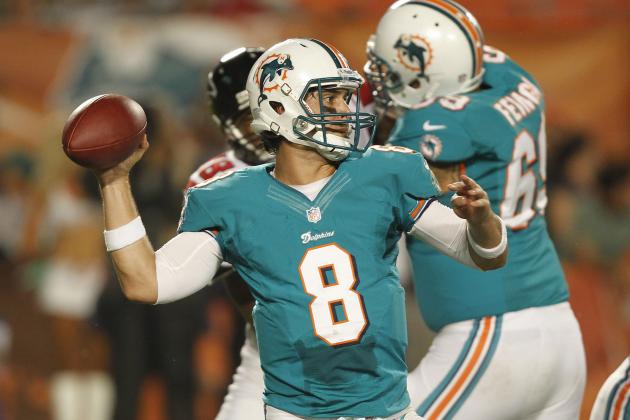 Joel Auerbach/Getty Images
Matt Moore
For my money, Matt Moore might end up being one of the most important signings for a team looking to sure up their quarterback situation in 2013. A proven quarterback with charisma and smarts, Moore could be just what the doctor ordered for the New York Jets.
Signing Moore to a reasonable short-term deal would allow the Jets to get back to the basics while building for the future. Run the ball, play great defense and don't turn it over. The same formula that got them to back-to-back AFC title games could finally take center stage again.
No more gadget plays, no more controversy. Just a quarterback who can hand it off, run play action and make the throws he's paid to make. In his 13 games starting for the Dolphins during the 2011 season, Moore completed 60% of his passes and threw 16 touchdowns to only 9 interceptions.
With a strong run game behind him and a great defense, the Jets could do worse than bringing in Moore for a season or two while they look towards the future.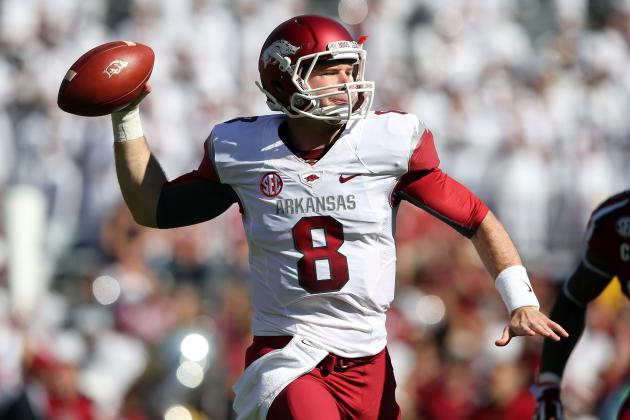 Streeter Lecka/Getty Images
Tyler Wilson: QB Arkansas
I still think it's highly unlikely the Jets will pick a quarterback in Round 1 of the draft this April. Even with the demise of Mark Sanchez and the possible end of the Tim Tebow experiment, this draft class is below average on paper when it comes to the quarterback position.
But if the Jets do decide to shake things up and reach for a guy who could take the reigns a season or two down the line, Tyler Wilson could fit the bill.
Coming off a white hot 2011 campaign, some scouts considered Wilson to be a top 10 pick. But 2012 changed everything. Wilson took a major step backwards thanks to the injury bug and the turmoil that plagued the entire Arkansas program.
So what could possibly make the Jets decide to go with Wilson in Round 1 of this years draft?
One word. Potential.
Tyler Wilson boasts decent size standing at 6'2", but has been haunted by his lack of arm strength and erratic decision making. At times during his college career, Wilson has been labeled a Tony Romo-type player, who can get outside of the pocket and feed the ball to his playmakers in space. Showing flashes of brilliance isn't always the right reason to draft a quarterback, but we all know franchises roll that dice every April.
The question will come down to the following: Is Tyler Wilson's upside worth a high draft pick? Doubtful, but with a new front office and possibly a new head coach, we all could be in for a surprise come draft day.
Stephen Brashear/Getty Images
Matt Flynn
When the Seattle Seahawks signed Matt Flynn to a $26 million dollar deal last off-season, they were banking on him becoming their franchise quarterback. Then on draft day, Pete Carroll and company took a chance on a kid named Russell Wilson. After an intense battle in training camp, Matt Flynn found himself riding fresh pine while the rookie Wilson got the starting gig.
Back in October, Bleacher Report columnist Todd Pheifer broke down what Seattle could do in regards to the contract Flynn signed if Wilson panned out. Two months later, it has become clear that Matt Flynn is now disposable and Seattle will be sticking with "King" Wilson for the foreseeable future.
In the last few days, an idea has been floated around across message boards and in tri-state area dive bars that Pete Carroll, Sanchez's former coach at USC, would considering swapping the contract of Flynn for that of Sanchez's. Will it happen? Doubtful. Why should the Seahawks front office sit around and grind out the ugly contractual details of two backup quarterbacks?
This scenario seems far fetched, but hey anything's possible right?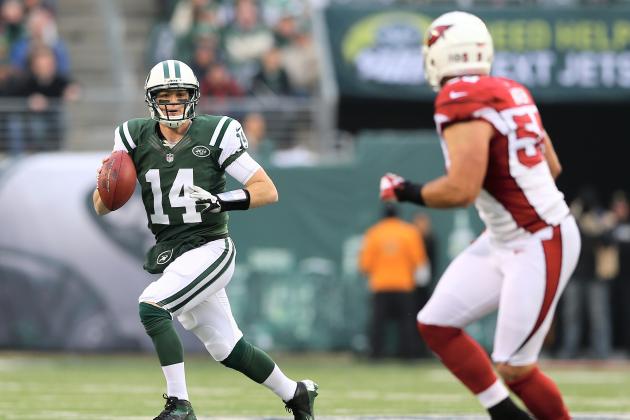 Elsa/Getty Images
Greg McElroy
When Rex Ryan decided to bring in third-string quarterback Greg McElroy in for a struggling Mark Sanchez during the Jets week 13 game against Arizona, Jets fans stood up and roared with ferocious approval.
McElroy, the former Alabama stand out, climbed under center and helped lead the Jets down the field for their only score of the game. For that one game-winning drive, that good old ground and pound Jets' run game resurfaced and McElroy did what he was supposed to do—make the important throws and do not force the ball into tight windows.
The Jets ended up winning that travesty we called a game 7-6, with significant help from Ryan Lindley and his blind man-like accuracy.
Now that Sanchez has been benched for Week 16, Jets fans (and more importantly the coaches) will have a chance to properly gauge the ability of McElroy. It should be interesting to witness Greg run the offense and run it his way against the Chargers. Can he will his way to a starting job next season in just one or two weeks? Eh, I don't know. But what I do know is, if he plays a solid game this Sunday and the Jets come away with a win, you can bet the farm he will have a chance to come into camp next year and compete for the gig.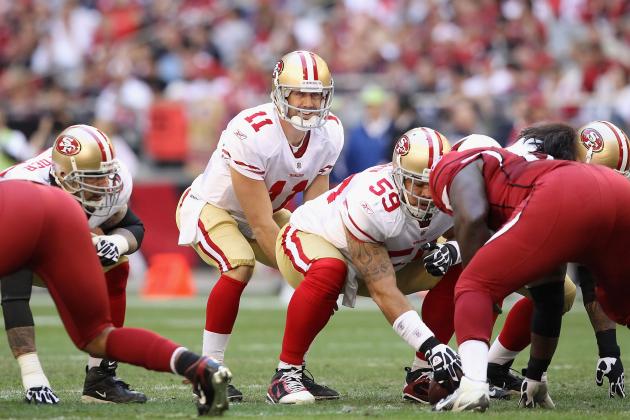 Christian Petersen/Getty Images
Alex Smith
When Alex Smith lost his starting job to Colin Kaepernick, the floodgates in San Francisco shattered and the tide of criticism and controversy created came rushing in. Just a few weeks later, coming off big victories over Chicago, New Orleans and New England, Colin Kaepernick has all but sealed up those gates.
Now we turn to the offseason and the future of Alex Smith's unique career. If Smith's time in San Francisco has in fact run it's course, the Jets may seriously consider bringing in the veteran QB to run the show in 2013.
Smith, a brilliantly accurate passer, led the NFL in completion percentage (70 %) and only threw 5 interceptions before going down with a concussion and losing his starting job.
The knock on Smith has been his arm strength and his ability to deliver the big play on a consistent basis. Forget the fact he put the 49ers on his back during the playoff game against New Orleans or that he has greatly improved with a stable head coach and QB coach, Alex Smith will always have his critics.
Depending on the financial situation surrounding Smith, the Jets may want to seriously consider making a move to bring him over to their side. Again, run the ball, play great defense and do not turn it over. Alex Smith would be the golden child for that brand of pigskin.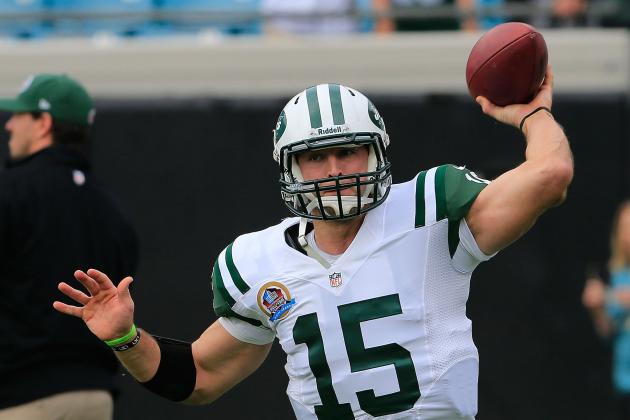 Sam Greenwood/Getty Images
Tim Tebow
Yes, this is a reach. But before you call me crazy and bash me until I can't see straight anymore, let me explain.
Two things are clear.
1. It's clear that Rex Ryan does not believe in Tim Tebow. He just doesn't see any place for Tebow on his football team. Rex made sure that outside of a few series and some gadget plays, that Tim Tebow's first season with Jets was grounded from day one.
2. Woody Johnson loves Tim Tebow. And that love affair for the former Heisman Trophy winner could become a major reason Rex Ryan is forced out of New York.
Adding up to those two elements and blending them together could give us a George Clooney/ Mark Wahlberg blockbuster of a perfect storm. That storm would start with the firing of Rex Ryan, Mike Tannenbaum and the rest of the Jets staff. Followed by Woody Johnson hand picking a new coach who adores Tebow as much as he does. And finally, ending with Woody and "enter coaches name here" giving Tebow the keys to kingdom.
Is this scenario a stretch? Yes. But like I said earlier, crazier things have happened. Remember one thing, Woody Johnson is the ultimate decision maker here and Tim Tebow has been the apple of his eye for a long time.
So here's to 2013, and Tim Tebow lacing up his boots as the starting quarterback of New York Jets.