Unprepared MLB Prospects Who Will Be Rushed to the Big Leagues in 2013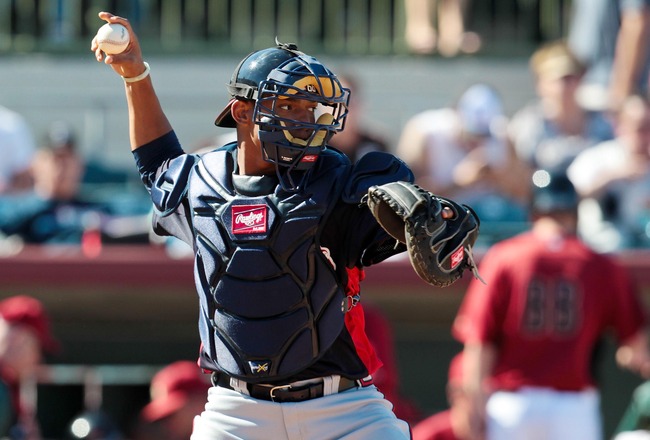 Christian Bethancourt (Braves)
Daniel Shirey-USA TODAY Sports
Unless a prospect plays a premium position such as catcher, shortstop or center field, a majority of their potential is usually tied to their offensive production. But in the case of a player who offers elite defense at one of the aforementioned positions, organizations tend to be more lenient. However, for that same reason, prospects often reach the major leagues ahead of schedule.
Here's a look at five underdeveloped prospects who will be rushed to the major leagues next season.
Josh Vitters, 3B, Chicago Cubs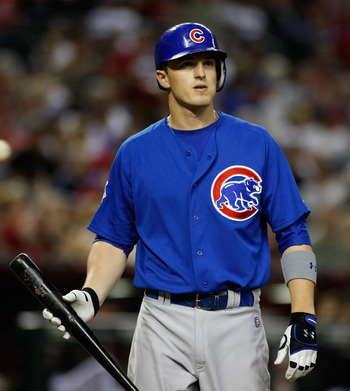 Ralph Freso/Getty Images
The third overall draft pick in 2007, Vitters didn't reach Double-A until the 2010 season—his fourth as a professional. Throughout his entire minor league career, Vitters has been the type of hitter who simply puts too many balls in play. Not a lot of strikeouts or walks; just lots of weak contact.
After six seasons in the minor leagues, he was finally called up to the major leagues last August. At the time, Vitters was enjoying a career year at Triple-A Iowa (his first at the level) with an .869 OPS through 110 games. However, his lack of plate discipline was magnified upon reaching the major leagues, as he batted .121/.193/.202 with 33 strikeouts in 109 plate appearances.
As a result, the Cubs re-invested in Ian Stewart for the 2013 season. Vitters will likely return to the major leagues at some point, but it's unrealistic to believe he'll have drastically improved.
Jared Mitchell, OF, Chicago White Sox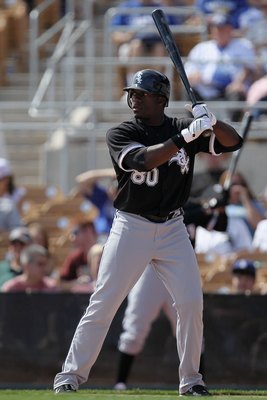 Chris McGrath/Getty Images
A first-round draft pick of the White Sox in 2009, Mitchell's career was derailed in 2010 when he suffered a season-ending ankle injury during spring training. Since his return, the 24-year-old has never showcased the same potential as he did during his professional debut at Low-A Kannapolis in 2009.
The source of his struggles continues to be a lack of plate discipline, which has resulted in 362 strikeouts over the last two seasons (259 games). Mitchell still has multiple standout tools, but his inability to mature as a hitter has him well behind the developmental curve.
Gary Brown, OF, San Francisco Giants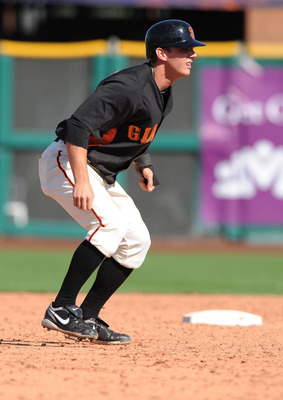 Christopher Hanewinckel-USA TODAY Sports
After batting .336/.407/.519 with 61 extra-base hits and 53 stolen bases in his full-season debut at High-A San Jose, Gary Brown found his name toward the top of most prospects lists headed into the 2012 season. However, once removed from the hitter-friendly California League, Brown's production took a hit, as he batted .279/.347/.385 with 33 stolen bases in 134 games last year for Double-A Richmond.
While he does have considerable upside at the plate, the right-handed hitter starts with his hands too close to his body, which then forces him to cast around the baseball. Overall, it appears that Brown is reaching and feeling for contact most of the time.
It's a shame, too, because he's one of only a few prospects with true 80-grade speed. Therefore, it's not surprising that he's a plus-defensive center fielder with tons of range. If his bat ever picks up, Brown has the potential to be a dynamic player.
Hak-Ju Lee, SS, Tampa Bay Rays
Kim Klement-USA TODAY Sports
Although I still believe Lee will be a solid big league shortstop, I was disappointed in his regression at the plate last season at Double-A Montgomery. As a left-handed hitter with plus speed, the 22-year-old has the potential to be a top-of-the-order threat.
However, that made his inability to work counts all the more frustrating. From a mechanical perspective, Lee was allowing his hands and hips to drift forward at the plate, which led to excessive late swings and weak contact. He's still the Rays' shortstop of the future, but he's further away than expected.
Christian Bethancourt, C, Atlanta Braves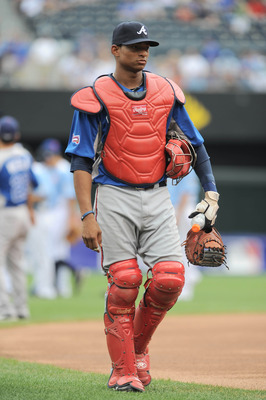 Denny Medley-USA TODAY Sports
At 6'2", 219 pounds, Bethancourt, 21, has both the natural ability and baseball skills to be an elite defensive catcher in the major leagues. Thanks to a lightning-quick transfer and accurate, plus arm, he generates sub-1.8-second pop times with ease.
But, despite his tremendous defensive potential, Bethancourt's bat has never developed as expected. More significantly, it's the reason why he didn't graduate to Double-A until his fifth professional season.
The problem is that he swings at everything, unnecessarily expanding his zone in hitter's counts and making excessive weak contact. This past season at Double-A, he struggled to drive the ball against more advanced pitching and collected only eight extra-base hits in 288 plate appearances.
Keep Reading