NFL Rumors: 8 Coaches on the Hot Seat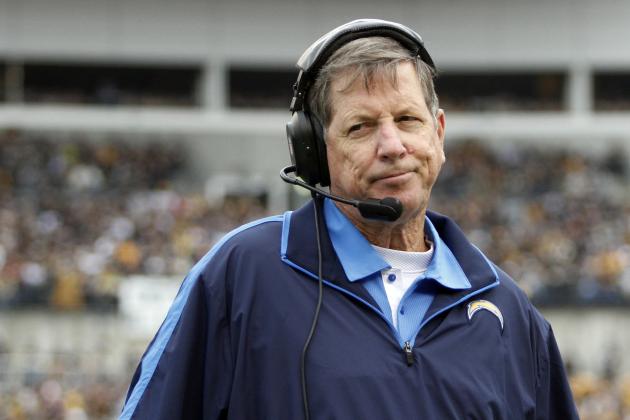 Justin K. Aller/Getty Images

College Football has seen its coaching firing/hiring period come and pass, so what's in store for the NFL's head coaches?
Last season saw seven head coaches get sacked.
With "Black Monday" fast approaching—the Monday after Week 17—many teams' coaches are feeling the heat after disappointing seasons.
So, who is doomed and who is safe?
Begin Slideshow

»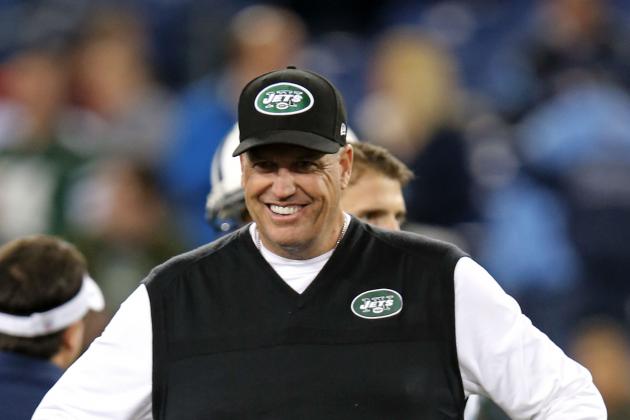 Andy Lyons/Getty Images

In a sense, the Jets have achieved what they wanted in 2012 as they have been among the NFL discussion week-to-week.
Unfortunately, the discussion has been negative, and has called Rex Ryan's coaching credibility into question.
The Jets' dysfunction goes above Ryan's pay grade, though, as general manager Mike Tannenbaum has failed to give the them a chance with this weak roster.
The worst part of the Jets' failures this season is that they invited the troubles in the front door with the contract extension of Mark Sanchez and the acquisition of Tim Tebow.
Hindsight has shown us that Ryan never intended on playing Tebow, which begs the question, why bring in Tebow to begin with?
With an overall record of 34-28 and two AFC championship appearances, Ryan certainly has earned another year.
Consecutive seasons without qualifying for the playoffs and offseason braggadocio may be the demise of Rex Ryan come Black Monday.
If Ryan is axed, expect other teams to inquire about his services.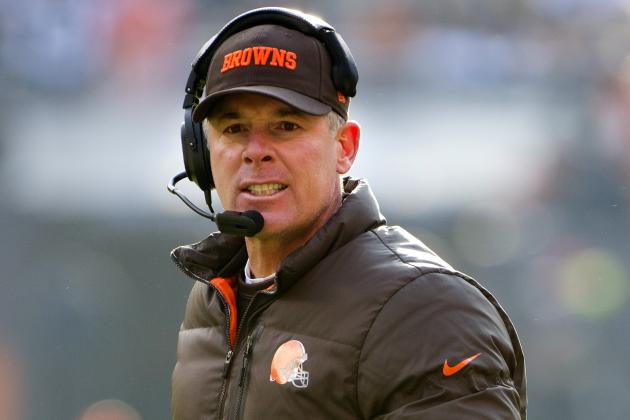 Jason Miller/Getty Images

Pat Shurmur has been on the hot seat ever since Mike Holmgren—the man responsible for hiring Shurmur a season ago—resigned earlier this season.
In two seasons as head coach, Shurmur has done little to justify being brought back for a third season.
This is especially evident because Cleveland will be hiring a new general manager, and history shows that incoming general managers usually bring in their own head coaches.
The deck has been stacked against Shurmur since his arrival, but improvements made by the young Browns have caused some speculation that Shurmur might keep his job.
Time will tell whether or not Shurmur returns, but with an overall record of 9-21 and the growing rumors of Nick Saban's return to the NFL, one should expect for Shurmur to be fired.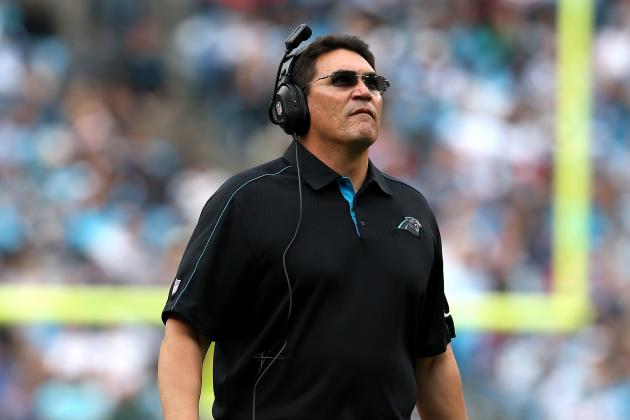 Streeter Lecka/Getty Images

With the excellent play of Cam Newton comes the expectation for the Panthers to be competitive.
Rivera, 11-19 in two seasons, could be held accountable for the Panthers' struggles this season.
Carolina got off to a rough start in 2012, starting 2-8. However, they have been playing inspired football down the stretch.
Winners of three of their last four, including a win over the division-leading Atlanta Falcons, Carolina's improved play is giving their head coach a shot at returning.
Like Cleveland, Carolina will also be hiring a new general manager, so Rivera may already be a sitting duck.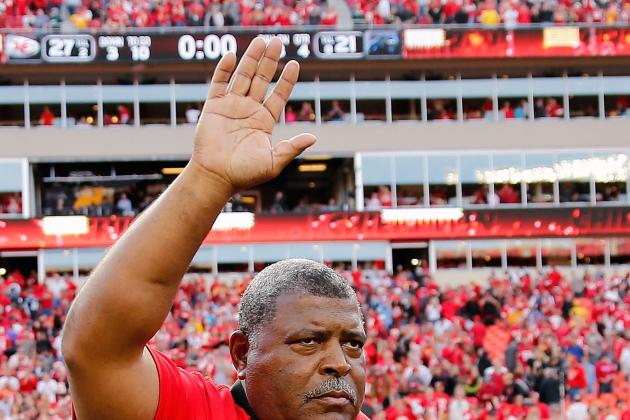 Jamie Squire/Getty Images

Kansas City was 5-8 last season when Todd Haley was fired. Crennel took over, went 2-1 and subsequently got the head coaching job.
Off to a 2-12 start, it's very difficult to imagine Crennel coaching the Chiefs in 2013.
The Chiefs have lost ugly this season with a minus-172 point differential.
The writing is on the wall: Look for the Chiefs to be looking for a new coach this offseason.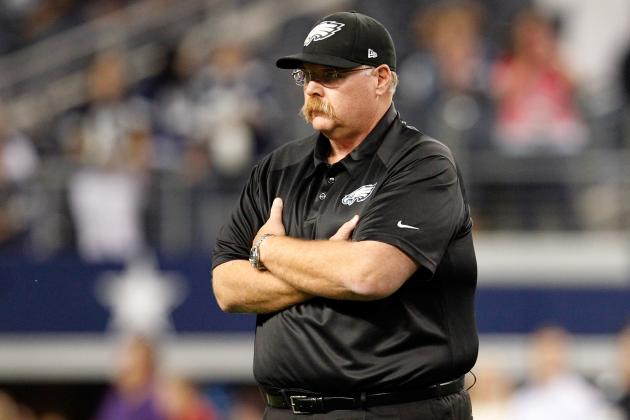 Tom Pennington/Getty Images

The longest-tenured NFL head coach is about to be unemployed.
At 4-10, the Eagles may be the most disappointing team in the NFL.
After getting out to a 3-1 start, the Eagles' season has spiraled into oblivion, dragging Andy Reid along with it.
All indicators point to Reid being sacked, as the Eagles have already began firing his staff—Juan Castillo and Jim Washburn—and have benched Michael Vick in favor for rookie quarterback Nick Foles.
Reid has had an incredible run in the Philadelphia and will likely be sought after by other NFL franchises in the future.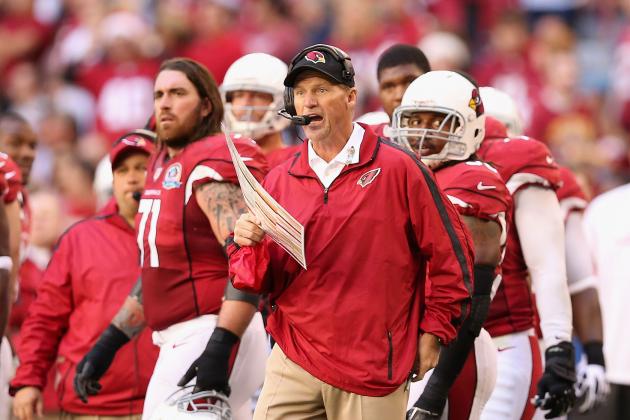 Christian Petersen/Getty Images

It feels like it's been an eternity since Ken Whisenhunt was coaching Kurt Warner in the Super Bowl.
It's dicey how much of the blame for Arizona's 5-9 season can be filed under Whisenhunt's responsibility. The Cardinals started off 4-0 but have since been an atrocity. Their offensive ineptitude has sent the quarterback position back into the era of the leather helmet.
Can Whisenhunt be blamed for how poorly the quarterbacks have played? After all, he wasn't the guy that compiled this roster.
Regardless, his seat is ablaze and far from comfortable.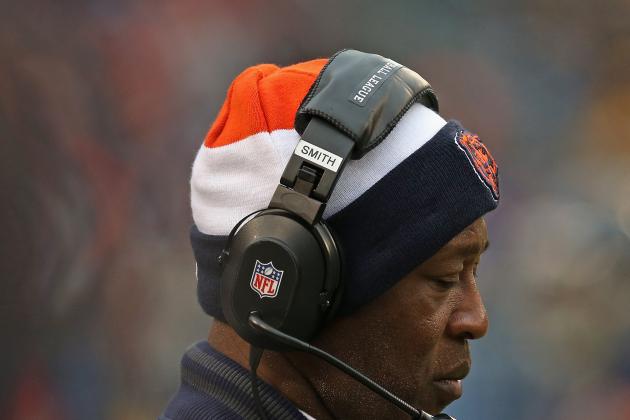 Jonathan Daniel/Getty Images

After starting 7-1, Lovie Smith was garnering Coach of the Year consideration. Now, after losing five of six, his seat is on fire.
Smith is adored by the Bears locker room. Countless players have publicly voiced their support for their coach, but missing the playoffs five of the last six seasons speaks volumes.
Lovie's ability to coach is not why he may be removed from Halas Hall. If he is fired, it will be the result of who he has compiled on his staff. Ron Turner, Mike Martz and Mike Tice, all Lovie Smith appointments, have all failed to bring the Bears offense into competence.
With a 79-63 overall record, Lovie Smith's coaching acumen won't be his undoing. With two games left on the 2012 slate, Smith's job could be salvaged with a playoff appearance, but rest assured changes will come to the Bears coaching staff in 2013.
What remains to be seen is how many.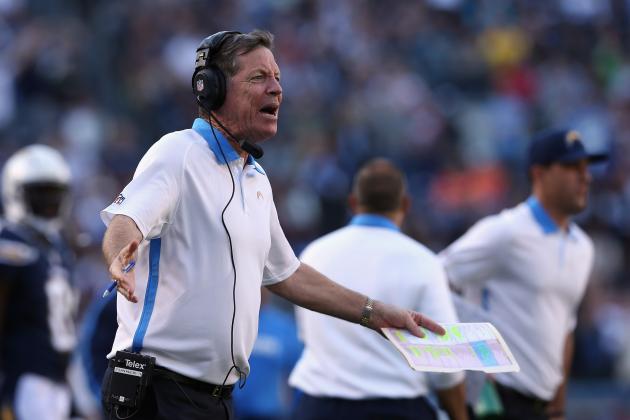 Jeff Gross/Getty Images

Well, it's that time of the year again where we all assume Norv Turner is cooked.
After failing to qualify for the playoffs for the third consecutive season, this year Turner is sure to go, isn't he?
What is most alarming about the deterioration of the San Diego Chargers over the past few seasons has been the digression of quarterback Phillip Rivers and the offense. Regarded by many as an offensive guru, Turner's Chargers rank 22nd in passing offense and 27th in rushing offense.
It's impossible to project the future of San Diego Chargers, as they're a franchise that defers logic at every turn, but this season should be the year that Turner is finally sacked.