Vikings vs. Texans: 10 Keys to the Game for Minnesota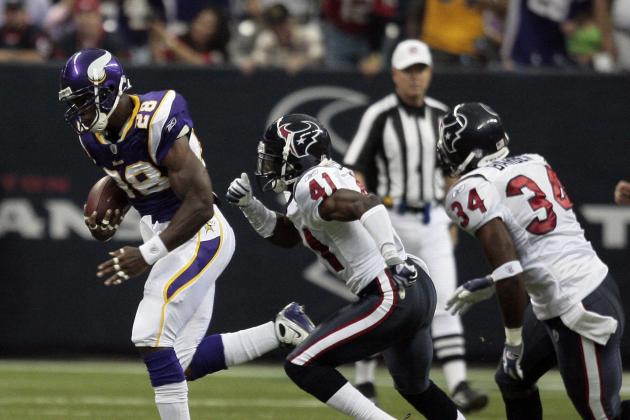 Bob Levey/Getty Images

While it's easy to call nearly any late-season games "must-wins," the Minnesota Vikings are truly in a place where they need to rack up wins, and have to continue that against the Houston Texans. In order to do that, they'll need to minimize mistakes and hit on specific key responsibilities as the game progresses.
After a shocking 2012 campaign, the Minnesota Vikings are at the cusp of a playoff berth merely one season after competing for the top draft pick in the NFL. Their playoff chances, however, nearly rely on them winning the rest of their games, including a tough game against Houston.
There are a number of scenarios where the Vikings can make the playoffs with only one win, but the odds are unlikely; a tumultuous NFC East as well as a falling Chicago Bears team can both spoil the Vikings' chances at grabbing the sixth wild-card seed. With Seattle all but securing the fifth seed, playoff slots are scarce.
Going up against a team that some consider "matchup-proof," their two losses have come to two of the best quarterbacks playing the game today. The Vikings hardly have that talent under center and might have to rely on a suboptimal approach to take care of the game.
Nevertheless, the Vikings will have a good chance of winning the game if they can execute in every responsibility. Their margin for error will be lower, and they'll have to hit these keys.
Begin Slideshow

»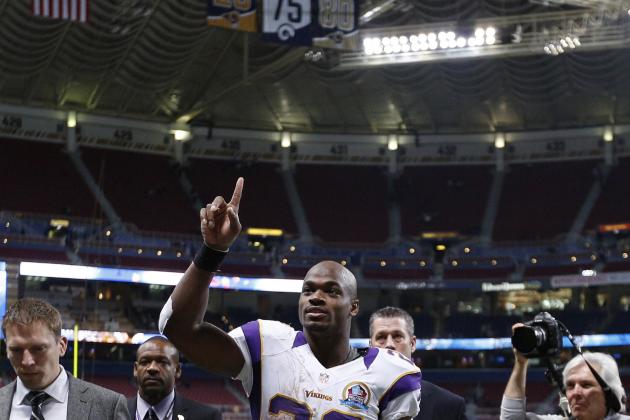 Joe Robbins/Getty Images

There is no question that the Vikings offensive production relies on the power, skill and grace of Adrian Peterson.
Over the course of this season, Adrian Peterson's average gain per rushing attempts is around 6.3 yards. Christian Ponder's is just below 6.0 in yards per passing attempt.
In one of the few instances where running is more efficient than passing, Peterson provides more spark to the offense than Christian Ponder. In fact, Ponder has only had six completions on passing plays in 2012 targeted to go beyond 20 yards. Peterson, on the other hand, has several runs longer than that.
It's not just that chasing the record is a smart move for the Vikings or that the team is more motivated to do well because Peterson is on the cusp of an historic season—the team will simply do better with Peterson getting fed the rock.
Ponder is throwing interceptions on 2.8 percent of his throws, and Peterson is fumbling the ball on about 1.4 percent of his carries—and only losing half of those fumbles. He scores a touchdown on 3.8 percent of his running attempts while Ponder only does so on 3.3 percent of his passing attempts.
More than that, the Houston Texans' man coverage looks generally crowd the box, even against balanced teams, when in a heavy-run formation (like the Vikings' favored "22" set, with players closed in between the numbers). Usually a good strategy to force teams into their hot pass route or limit gains on a run, the eight or nine-man box is a poor decision against Adrian Peterson, who has rattled off most of his big gains against defenses stacked to prevent any gains at all.
Peterson has forced more missed tackles in the league and leads the league by a hefty margin in yards per attempt after contact, at 4.0 according to the folks at Pro Football Focus. Big gains should allow the Vikings to stay in the game, even if they eventually have to settle for a long field goal.
Given that minimizing possessions is the best way to create upsets over favored teams, winding down time by running the ball seems like a perfect strategy.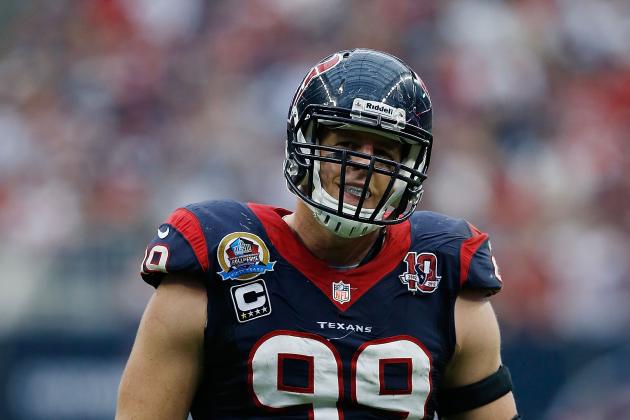 Scott Halleran/Getty Images

J.J. Watt is simply the most dominant defender in the game today.
Despite playing as a 3-4 defensive end, he's in the hunt for the sack title, tied in first place with only 3.5 sacks to go in order to attain the record. He's competing with 4-3 defensive ends and 3-4 outside linebackers, who usually rack up the best sack statistics.
He's already broken the record for 3-4 defensive ends, and looks to shatter it this year. Watt's season is unheard of, and should go down as the best season in 3-4 defensive end history.
Not only is he disrupting the passing game with prodigious sack numbers, he also leads the league in batted passes at 15, more than most cornerbacks have in their pass deflection numbers. Watt's intuition, intelligence and ability to read the play are nearly unparalleled, and his timing has allowed him to be a factor on a significant number of plays where he's been blocked out of disrupting the passer.
In addition to his sacks and batted passes, Watt also has the most hits (22) and hurries (25) of any 3-4 defensive linemen, and exceeds the pass-rushing prowess of most 4-3 defensive ends this year in pass rusher productivity—a measure of how often one pressures the quarterback per pass-rushing snap.
Running at Watt is a poor proposition as well, as he leads the league in defensive run-stop percentage—a metric developed by the folks at Pro Football Focus that measures how often a player in a running play records a defensive "stop" (defined as a failed play when running the ball). That is, he is not just better than other 3-4 ends, but every single player in every single defensive position, and it's not very close.
The best 4-3 defensive ends will stop the run on just under 10 percent of their run snaps, while inside linebackers will generally stop at a rate of 14 percent at their best. Defensive tackles who do real damage stop opponent runs around 12 percent of the time, while strong safeties are big saviors in the run game, stopping plays at 14 to 15 percent, if they are elite.
J.J. Watt will stop the run on 18.7 percent of running downs, and the second-place Justin Smith—an elite end by all accounts—will record a stop on 11.7 percent of running downs.
Watt has a number of historical advantages for those playing in his system that make him extremely hard to contain. The first is that he'll play either two-gap defense or one-gap defense, but will usually attack a single gap, like a defensive tackle in nearly every 4-3 system. He will line up directly over an offensive lineman on many occasions and give a look that implies that he's willing not to penetrate, but merely handle the blocker in front of him, then will pick a gap immediately after the snap to attack it.
It makes him extremely unpredictable and hard to defend, especially because Watt has a preternatural ability to attack the gap that would best disrupt the play.
His second advantage is that Watt can play anywhere on the line. He usually lines up over the right guard (a 5-technique) but will find himself lining up over or outside either tackle or even occasionally right over center (called 0-technique). This allows him to hide tendencies in-game from other linemen while also focusing on weak links.
For the Vikings this means identifying where Watt is on every single down and having a plan for him. He can laterally attack gaps better than nearly anyone, making him difficult to trap, but he still generally relies on two moves—his prime pass-rushing move and a counter-move, both of which rely on his excellent use of hands and leverage.
Scheming around Watt isn't a bad idea, and the Vikings should be able to disguise their intentions in the run game with counters and pitches while protecting Ponder on passing downs by crashing down on Watt.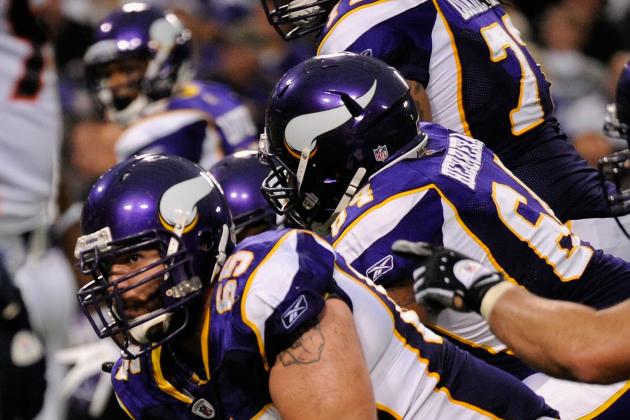 Hannah Foslien/Getty Images

While J.J. Watt is the primary concern for the Vikings offense, they obviously need to take care of every pass-rusher or run defender whenever possible. The Houston Texans are experts at leveraging the advantages they have from having a dominant defensive lineman to create space for other defenders.
Outside linebackers Connor Barwin and Brooks Reed have a combined 5.5 sacks. Rookie pass-rusher Whitney Mercilus has 6.0 sacks of his own in relief. Fellow defensive end Antonio Smith has five sacks and two half-sacks to add to the total.
Beyond that, the line has generated 34 batted passes, almost twice the amount of the team in second place, which just happens to be Minnesota, with 18.
Because Wade Phillips' 3-4 allows defensive linemen to choose a single gap after showing a two-gap look, they're difficult to anticipate and contain. The Vikings generally maintain a philosophy of area blocking when in pass protection, like many NFL teams this year, and could be exposed because of this. Area-blocking linemen are taught to react to defenders entering their zone, instead of linemen taught to take care of specific defenders.
Generally this allows linemen to take care of surprise blitzers, but in this case puts offensive linemen at somewhat of a disadvantage. Already a step behind (because they have to react instead of take care of a specific player), the fact that the opposing player doesn't have to commit to a decision right away can create havoc in blocking schemes.
At first glance, the Phillips defense doesn't seem too creative. They'll rush the same linebacker (usually the weak-side outside linebacker, in this case Connor Barwin), and will usually commit to four pass-rushers and attack single gaps. On passing downs, they'll just line up four down linemen in their nickel set, and not bother with using creativity or guile to beat opponents, generally odd for 3-4 defenses.
But the adjustments at the defensive line by the individual players creates enough of a problem that they don't need additional creativity—they'll simply commit more players to defending the pass and maintaining gap integrity. Only strong communication by the league's best center, John Sullivan, can prevent the Houston defense from blowing up plays.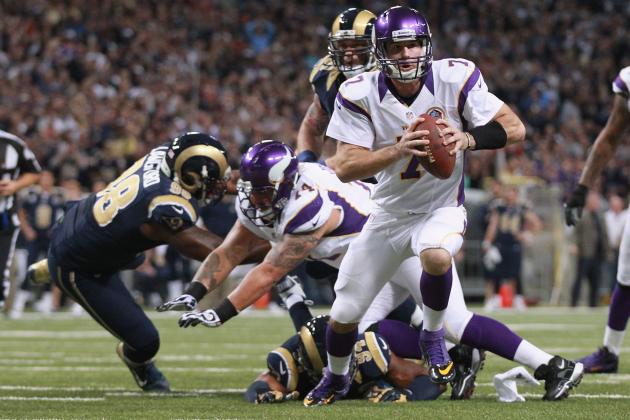 Dilip Vishwanat/Getty Images

Christian Ponder's offensive line has improved, and he still finds it too easy to scramble out of the pocket to escape phantom pressure. Naturally, this is a problem in most games. But while the Texans are not different in that Ponder has to step up into the pocket, he'll have to be willing to move around.
That's not to say he should flee the pocket at the first sign of losing pass protection integrity, but he needs to be aware that the Texans are willing to create sacks from nearly every direction and angle, from circling edge rushers, to penetrating inside defenders.
He doesn't need to escape, but he will need to step around and find passing lanes to avoid the hands of defenders willing to bat passes instead of make sacks when need be.
His surprising athleticism is an asset the Vikings can use on occasion to extend plays or run into the end zone, and he needs to be prepared to do that. Pressure will come from nearly anywhere, and if Ponder can find the mechanics that made him such a deadly thrower on the run a year ago (instead of the abysmal footwork he shows when scrambling as of late), then he'll enable the passing game, as limited as it will be.
The bootleg play-action passes have been the most successful play for Ponder, and allowing time for the play to develop is good. Because defenders in the Texans defense will play in man coverage, giving more time for a poor receiving corps to generate separation will help the Vikings offense, and the only way to extend that play is nimble movement in the pocket or controlled movement outside of it.
More than that, the inside leverage that the Texans play with should enable out routes and fades, both of which are difficult throws for Ponder. Changing the release point by moving around should help him find the best spots to attack the aggressive Texans defense and avoid the interception. With the problems he's shown of late in fitting the ball in tight windows, every small advantage will help.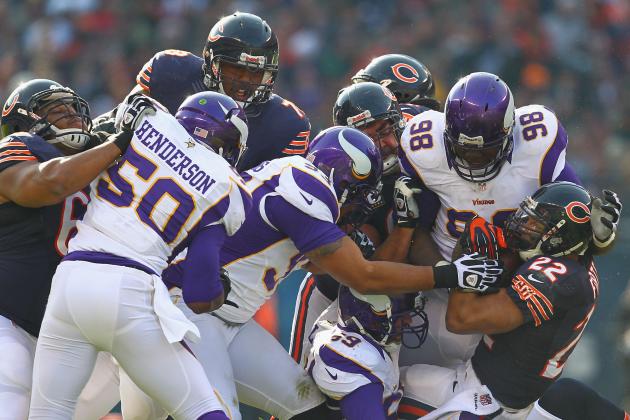 Dilip Vishwanat/Getty Images

Against a strong passing game and a patient running back like Arian Foster, the tendency to shoot the gaps to disrupt plays in the backfield is strong.
But the Vikings need to be careful not to overcommit when attacking gaps or holes in the line. While run blitzes for Erin Henderson and Chad Greenway have generally been effective, the one-cut style of zone running will allow the Texans to gash defenses that either bite on pursuit or leave lanes open.
Entering Week 10, the Texans had committed over 60 percent of their runs outside the tackles and averaged 0.7 yards more on those runs. Entering Week 16, only 40 percent of their runs have been outside the tackles, and those runs only average 0.2 yards, per Pro Football Focus. The fact that they have maintained a consistent run game despite changing their point of attack speaks to the effectiveness of zone running and how planning for specific gaps will fail against the Texans.
Getting Arian Foster to run into defenders instead of wide open lanes will be particularly effective, because he ranks among the lowest in the league in yards after contact, at 2.1 yards per attempt after contact. He ranks as one of the least elusive running backs in the NFL, and his high missed tackle count is more a relic of his high carry totals than any good ability to avoid going down after contact.
That doesn't mean he's not a dangerous runner, it merely means that patience at the line and filling all the running lanes with bodies is much more effective against the Houston run offense than against other teams or using other strategies. Nearly all of Foster's big runs have come when running lanes have been gashed open.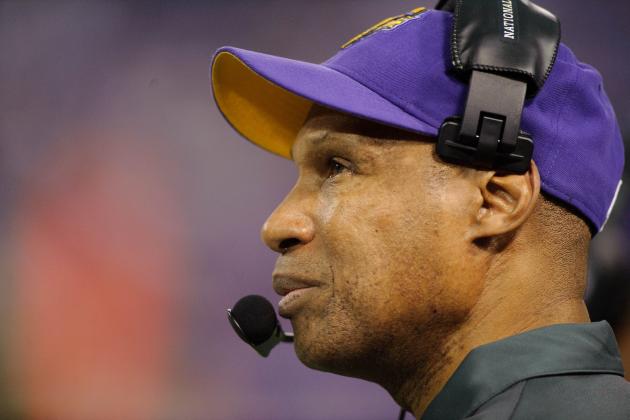 Hannah Foslien/Getty Images

Keep it Simple, Stupid.
The Vikings really pulled away from the St. Louis Rams when Everson Griffen rotated into zone coverage as the Vikings rushed Jasper Brinkley and Antoine Winfield. Griffen grabbed the interception and ran into the end zone to extend the lead.
That worked well against Sam Bradford, who has some trouble reading coverage and working under pressure—he ranks 18th in the NFL in completion percentage when his pocket is muddy—but it won't work nearly as well against Matt Schaub, who is a league leader in passing under pressure and has a 62.2 percent completion rate when blitzed.
Giving Owen Daniels and Andre Johnson more space to make plays will be much deadlier than it was against the Rams, and the Vikings can force pressure with their front four. Creative blitzes won't just give the Texans good exposure to run against, it will enable the passing game.
Alan Williams, the defensive coordinator, excels at making sure the Minnesota defense can stifle an offense despite playing simple schemes, and he should continue that trend. The more exposed A.J. Jefferson and Josh Robinson are, the worse.
With news that Chris Cook might come back, but with limited participation based on conditioning, the Vikings shouldn't gamble too much and let the schemes take care of themselves. Andre Johnson and Owen Daniels pose matchup problems, and leaving them out to dry will surely have the Vikings playing catch-up.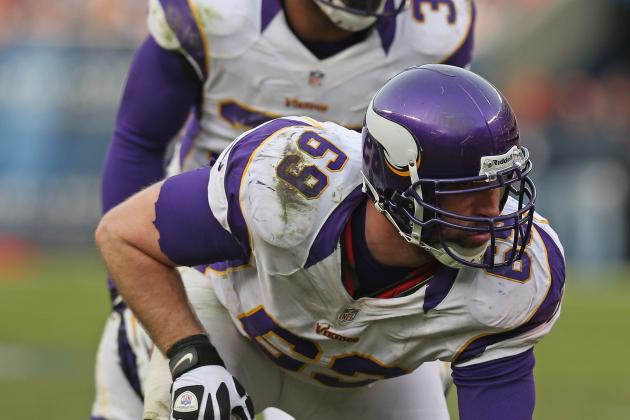 Jonathan Daniel/Getty Images

Jared Allen is in a unique spot in this upcoming matchup, in that he'll be able to line up one-on-one with one of the best left tackles in the league, Duane Brown.
In nearly every game before the match in Houston, Allen has had to deal with double-teams and chipping blockers again and again, limiting his production to an understated nine sacks on the year. While he's been able to get pressure—third most in the league in quarterback hurries—he rarely has the time to finish the play and get a sack.
Against Brown, he'll have a better shot. The Texans rarely feel the need to give their left tackle help, and deservedly so—he's only allowed three sacks all year. But when given a one-on-one matchup, Jared Allen excels both as a pass-rusher and run defender, the latter of which has been a struggle for him as of late.
On the other side of the ball, tight ends Kyle Rudolph and John Carlson will have the ability to test Bradie James and Tim Dobbins in coverage, something they won't like. James has allowed a 117.9 passer rating when thrown to, and Dobbins has allowed 77 percent of the balls thrown his way to be completed. They each only have one pass deflection.
Brooks Reed might occasionally do better when dropping into the flats, but he also spends much of his time covering pass-catching linebackers.
Regardless, John Carlson is three inches taller than any of them, and Rudolph has another inch still.
It is unlikely that either of these matchups will define the game, but unless the Vikings take advantage of the few clear positional battles on the field, they'll be hard-pressed to win.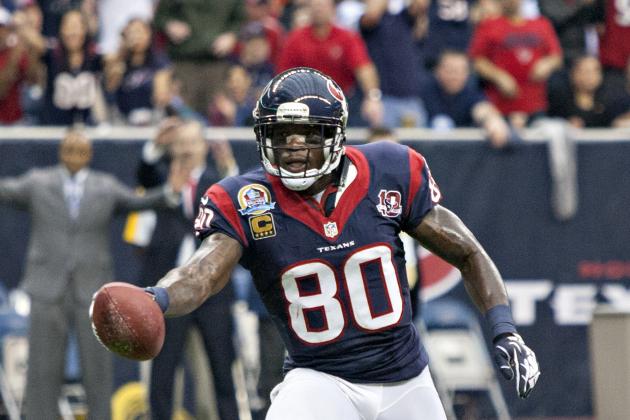 Bob Levey/Getty Images

Andre Johnson is one of the more dominating receivers in the league, and he leads the NFL in yards per route run, another one of Pro Football Focus' signature stats that tell fans how well a player performs on a rate basis.
That is, Johnson has produced more in his time on the field than any other receiver.
Given the poor state of the rest of the Texans receiving corps, the Vikings shouldn't hesitate to rotate coverage on Johnson. Against teams with marquee receivers, the Vikings have done well, either shutting them out of a game entirely, or allowing them good performances in a team loss.
Against Calvin Johnson and Brandon Marshall, the Vikings did well against those receivers' historical averages their first time through. Calvin Johnson was held to 54 yards and Brandon Marshall was kept out of the end zone in the first game, while used as bait for an interception.
In the second game, both of those receivers went off, with Johnson grabbing 207 yards (much of it in the fourth quarter) and Marshall advancing the ball 160 yards, but neither could secure the win.
Larry Fitzgerald was held to 29 yards, nearly half his per game average in what is clearly a down year for him.
Much of this has been accomplished with the use of matchup zones, mixed man/zone coverage or simple doubling up on a receiver. The Vikings may not be able to rely on Chris Cook to box out Johnson for the entire game, so providing Jefferson, Winfield and Robinson help may be paramount.
Johnson doesn't live off the deep ball—Johnson has only had 16.5 percent of his targets pass the 20-yard mark. Staying on top of him so that he can be bracketed should be easier than with other receivers.
The safeties can clean up basic coverage while the cornerbacks can jump inside on the routes, hoping to grab an interception or break up the pass. Johnson has a relatively low yards after the catch—averaging 5.0 per reception—so being aggressive will help.
This doesn't need to conflict with an axiom of keeping it simple. The Vikings have shown they can play relatively simple, but effective, schemes when shutting down a receiver.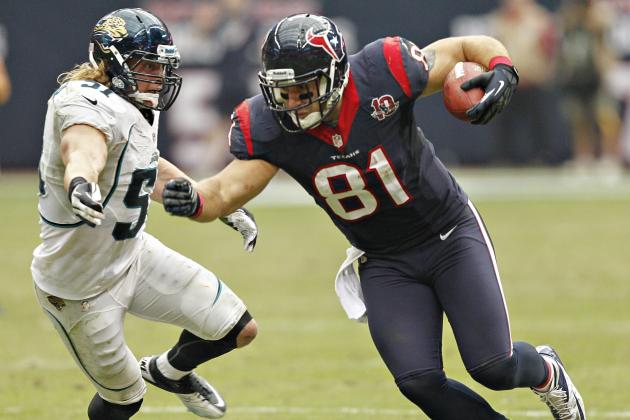 Bob Levey/Getty Images

The Vikings zone defenses rely on defenders hitting their landmarks and paying attention to their responsibilities. Drifting out of landmarks has allowed a number of receivers into seams they shouldn't have or free coverage only six yards deep. While they have gotten better in this capacity since last year, recent struggles might allow the Texans to carve up the defense.
Only 9.9 percent of all of Matt Schaub's passes go deep (third least in the league, ahead of Christian Ponder himself and Robert Griffin III), so the bulk of Schaub's 3,555 passing yards have come in intermediate and shallow routes.
Owen Daniels has had only six of his 86 targets go over 20 yards and only 16 of his targets exceed 10 yards. Garret Graham has been less explosive, with only five of his 32 targets exceeding 10 yards and none past the 20-yard mark.
Containing those passes will require particular attention to where the down markers are and good closing speed by linebackers and cornerbacks. The Texans love running curl routes off of three-step drops, and the best way to break these up is to maintain zones at the break for receivers' routes and breaking these passes up during the receivers' gather phase (before they turn back to catch the ball).
The discipline is important not just to stay in position, but also because the Texans pass out of play-action 26.5 percent of the time, and the vast majority of the few deep passes the Texans have come out of this play-fake.
This mostly happens when the Texans see single-high coverage from the safeties, so making sure that Harrison Smith, Mistral Raymond or Jamarca Sanford are in position will be critically important. Biting on play action—one of the best executed play-action games in the league, with an offensive line that doesn't give any clues—will burn the Vikings and tarnish their hopes of containing the game.
Schaub is 11th in the league in dropped passes, at 30, so there is a good chance that good closing speed will make a big difference in the game; Andre Johnson in particular has eight—enough that he should be considered vulnerable.
Without playing these zones with discipline, the Texans will find it easy to slice through the Vikings defense, as others have on occasion. Much of the passing game is modeled after a traditional West Coast offense, where timing, precision and chemistry are key. Knowing that, jumping routes from landmarks should be a priority, but keeping the small passes in check will be key.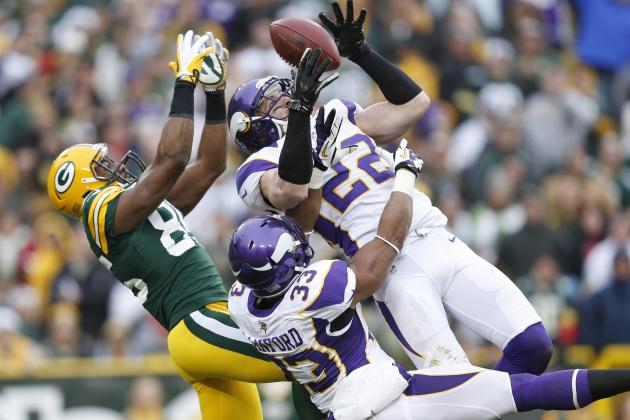 Joe Robbins/Getty Images

Every week, we're told that the keys to the game include winning the turnover battle and eliminating mistakes.
Those aren't wrong.
As pithy as it sounds, minimizing mistakes with the ball seems to be more critical for the Vikings than for any other team. With an inability to flip field position with deep passes or play catch-up against high-powered offenses, turnovers are critical on offense and defense.
Offensive turnovers will give the Texans the ball in positions where they should easily score, with Ponder's less-than-perfect passing game becoming critical to coming back, and defensive turnovers should directly create points with touchdown returns or eliminate clock-draining drives.
The Vikings are 8-0 when they are at least even in the turnover battle, and 0-6 otherwise. They don't have a lot of margin for error, and their turnover wins should come not necessarily from forcing turnovers (although Jamarca Sanford has been excellent at forcing fumbles) but from containing mistakes. Peterson well knows the value lost due to a fumble, and Ponder has to make better decisions.
We all know that, but it's true. While it's clearly easier said than done, taking steps to reduce these problems is paramount, from continuing to call high-percentage passes to running out of sets that make it harder for tacklers to get to Peterson—usually a zone run out of a "22" personnel package, where ankle tackles have been far more common for him.
Because the Vikings will play the role of the underdogs, individual players may want to be more risk-seeking when behind (jumping snap counts on defense or playing nastier in coverage) but should be willing to dial it back when ahead.
Historically, underdogs do better when playing with riskier strategies, and that makes sense: If everyone plays to their level, the Texans will come out ahead. But playing for a big payoff needs to be tempered with common sense—the Vikings should let players play loose when they're behind, but the schemes should be ultimately conservative, so that any mistakes don't expose the Vikings too much.
Individual risk-taking may help the Vikings in the short run, but strategies to minimize mistakes in the long run need to come prior.
So, as the Vikings may counsel their players to jump snap counts or ball-hawk, they should design the overall coverages and schemes to reduce the cost of mistakes—if Jared Allen overpursues, the zone players in the flats should be at their landmarks. If cornerbacks miss the ball when going for an interception, safeties need to be there to clean up plays.
If the Vikings only make mistakes when they can cover for them, and wisely choose their risks, they'll be in a good spot.
So long as they win the turnover battle.