20 Athletes That Probably Regret Their Tattoos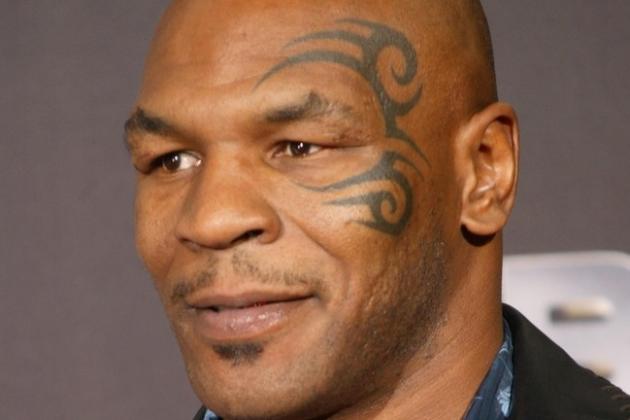 Image via materialworldblog.com
When I got my first tat a couple years ago, I remember showing-up at a fundraiser the next morning and having my parents ask what in the hell I was thinking?
Sure, they have warmed up to it since, but at first glance they were a little skeptical—and it is just a little thing on my wrist.
With so many athletes inked from head to toe these days, we wonder what some of their parents say anytime they see them in person?
Regardless of their reaction, these are the player tattoos that leave us sports fans scratching our heads wondering what went through their minds?
Begin Slideshow

»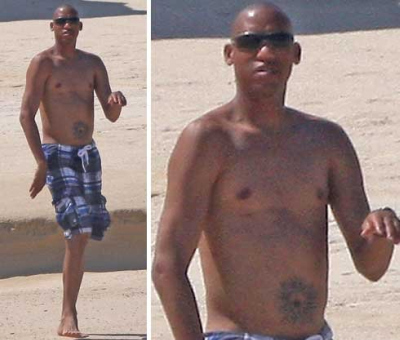 Image via buzzfeed.com
Tat: A sun around his belly button.
Miller was the all-time three-point shooter in NBA history when he retired—since broken by Ray Allen—so you'd think if he could not miss from anywhere on the court, that he would not miss on a bad tat on his body.
But this piece of art is just hideous.
Maybe Reggie had a few too many "Miller Time's" before getting this tattoo?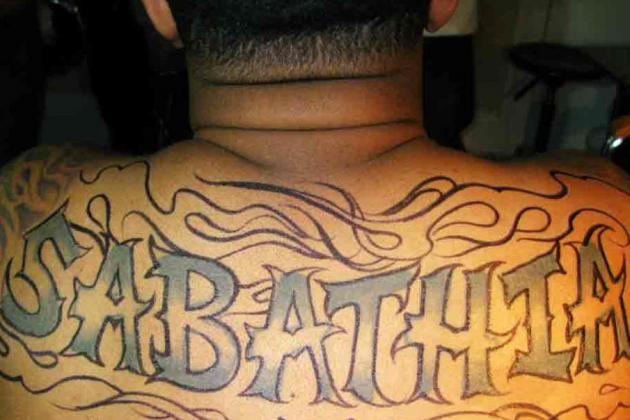 Image via inkedcelebrity.com
Tat: His last name across the top of his back.
C.C. might be one of the best pitchers in the game, but if you want him to pick you out something creative to have on your body forever, we would suggest someone else.
Really? Going with his last name where it would sit on a uniform?
At least we know he'll get recognized with or without his shirt on!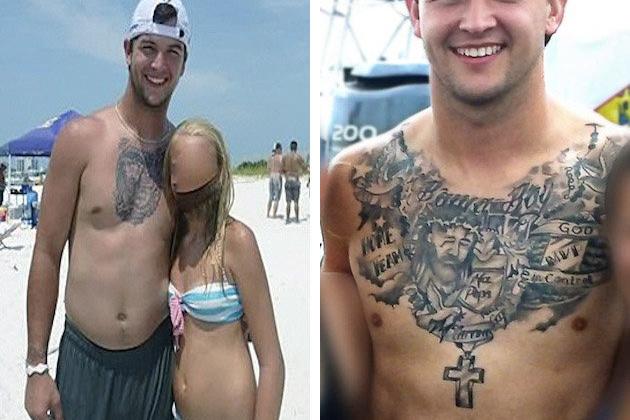 Image via sports.yahoo.com/
Tat: A ton of religious stuff on his chest.
What started out as a picture of Jesus and some bible readings has gotten a full makeover in the past 18 months.
It is cool to be religious, but the Bama QB looks like he's got a Ed Hardy shirt on his bare chest now.
We're sure he loves GTL too.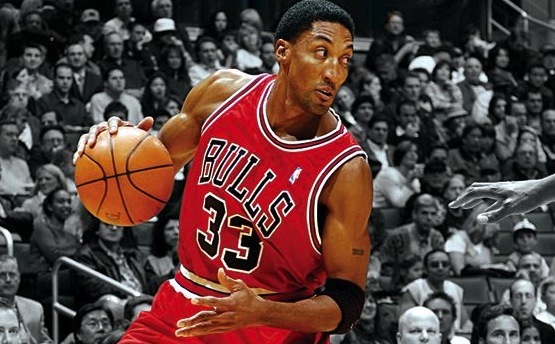 Image via inflexwetrust.com
Tat: His nickname, "Pip" on his left bicep.
We don't fault Pippen for wanting to get his nickname tatted on his body. But we do fault him for getting it the size of a quarter.
If you are getting something for life, go all-in or don't go in at all.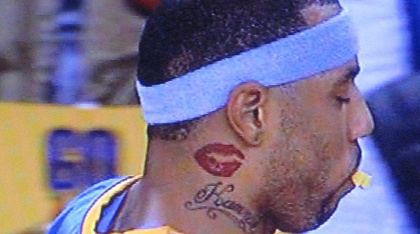 Image via legionreport.com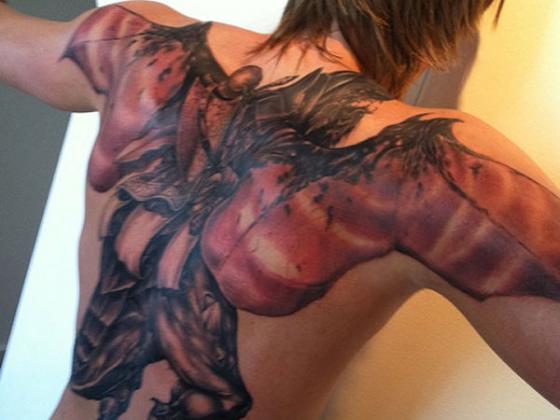 Image via sports.yahoo.com
Tat: Some demon-looking thing on his entire back.
How on earth is this appealing or sentimental to Kirilenko?
It honestly looks like he lost a game of dungeons and dragons, and the result was a bad bet to get one of the monsters on his back.
We personally feel like this is the most hideous tat on this list.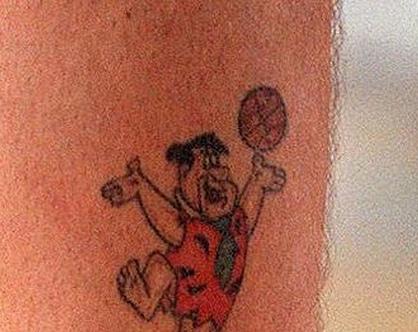 Image via basketbawful.blogspot.com
Tat: Fred Flintstone with a basketball on his left calf.
My roommate grew up in Kansas City, so he loves Ostertag because he went to Kansas.
But we have a hunch that love would diminish a little bit if he knew about this Fred Flintstone tat the former Center has.
This was one that his buddy's should have said, "Yabba-dabba-don't get that!"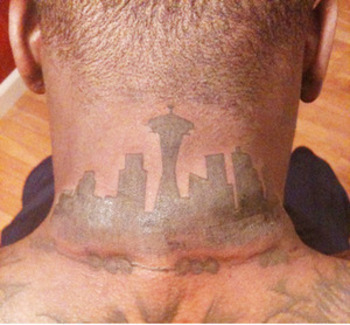 Image via pubsub.com
Tat: Skyline of his hometown Seattle on the back of his neck.
We understand the loyalty of never forgetting the people and places you've come from, but whatever happened to the generic area code on someone instead?
We know Nate can soar for being a 5'9" guy, but he must have been sky high to get permanent ink like this.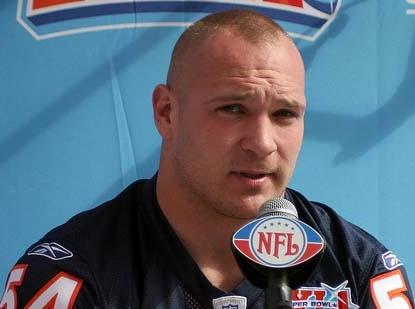 Image via all-about-biz.blogspot.com
Tat: Hideous barbed wire around the bicep.
You just had to go with the barbed wire, huh?
Makes you feel tough and strong does it?
Well we think it's the dumbest thing any guy could ever get. Of course, we will not tell that to your face because you could hurt us by just looking our way, but you have to know this isn't cool.
Guys like Tom Gugliotta and Urlacher have this "design," but we are sure many other athletes do too. Hopefully, they are just hiding it.
Image via mlb.com
Tat: Flame of fire coming up left arm.
Hamilton's a five-tool guy, with power, speed and ability in the field. But we're almost positive having a flame come halfway up one's arm isn't one of the things a scout looks for when seeing a guy play.
If nothing else, it just looks stupid.
But we guess it could be worse? He could have gone all Matt Roth and done practically the entire arm!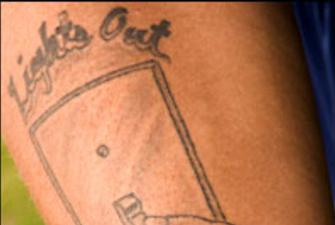 Image via thescore.thejournal.ie
Tat: His nickname "Lights Out" on his arm.
It's sad how far Merriman's fallen off due to injuries, because back in his early days, he was one of the premier pass-rushers in the NFL—and (still) has a pretty sick sack dance.
Having this tatted on his arm though? Not so cool.
With the hand literally turning off a switch, it makes it look like he took the template from a children's book, and just asked the artist to sketch that.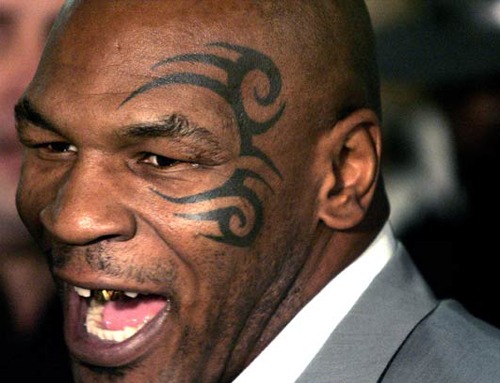 Image via materialworldblog.com
Tat: Random tribal design around his left eye.
Normally a face tat would take the cake for the most regrettable piece of ink because not only is it completely random, but it can absolutely never be hidden.
But at this point in Tyson's life, nothing should surprise us anymore.
He's not higher because at weird as it is, it's actually become somewhat of a cult-phenomenon.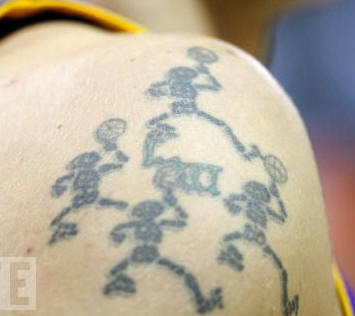 Image via inkedcelebrity.com
Tat: Grateful Dead tribute playing basketball.
Luke's Dad, Bill Walton, was one of the quirkiest ballers to ever play the game—and was a known Deadhead.
So we shouldn't be all that surprised that the apple fell close to the tree.
But just because he shares his Dad's love for the Dead, doesn't mean he should have gotten this simple (yet terrible) tat!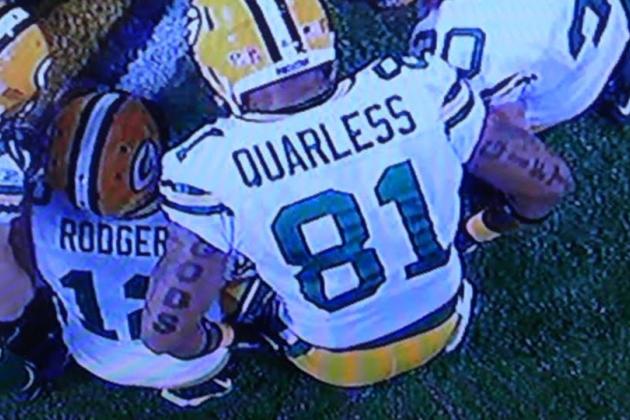 Image via thebostonjam.com
Tat: "God's Gift" spelled out over each of his triceps.
We're guessing Quarless either got hugged too little or way too much to display the kind of love he has for himself with these tats.
On one hand, he may feel motivated each time he looks down and sees his tats. It reminds him to stay motivated and not waste his opportunity.
On the other hand, maybe he is just into himself and thinks he is amazing?
Who knows? Could he really be God's Gift? It is doubtful.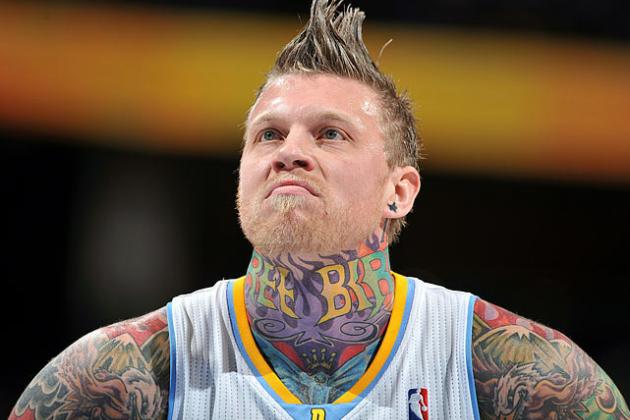 Image via thegreatmambino.blogspot.com
Tat: "Freebird" across his neck
We don't want to jump to any conclusions because we're sure Andersen's a good guy—though he's been busted a few times by the coppers—but what if your sister brought a dude looking like this home to your parents?
You would probably freak the hell out and do anything you can to have her avoid him, right?
Unfortunately, the Birdman will most likely always have to overcome that feeling thanks to some of these ridiculous tats.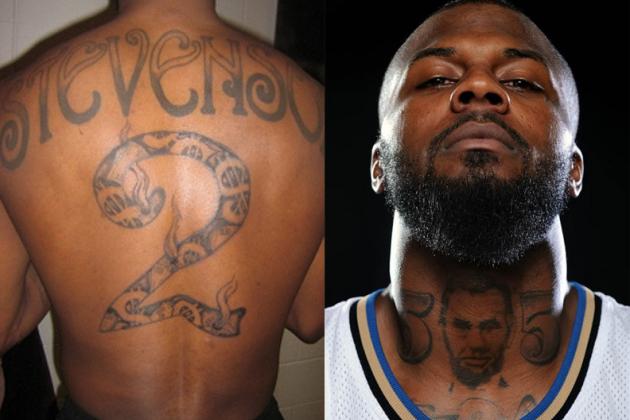 Image via closetogreatness.wordpress.com
Tat: Two different money images on his neck and back.
We have no idea what Stevenson was thinking when he got the full-size back tat, but at least when he got Abe Lincoln in the middle of the number "55" he helped explain better.
See, he was just trying to help everyone understand history a little bit better!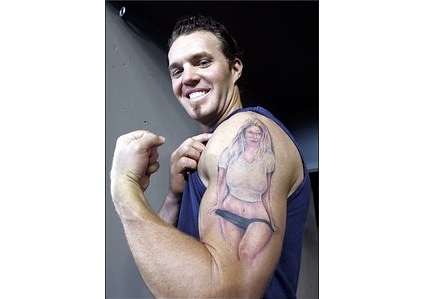 Image via Buzzfeed.com
Tat: A picture of his girlfriend, Jenn.
What's with dudes getting tats associated with their wives or girlfriends?
Spiezio found that getting inked with his (hugely breasted) girlfriend was a better way to show he loved her than actually just saying the three little words.
He mentioned that the tat doesn't do her justice, which has us asking if she's actually curvier in person? If so, we want to meet her.
Image via clubseatsports.com
Tat: His nickname, "Starbury" tatted on his dome.
Marbury brought a whole new meaning to brand promotion when he permanently got his signature nickname on his head.
Hey, like Michael Jordan once said about politicians buying sneakers, so too do tattoo artists!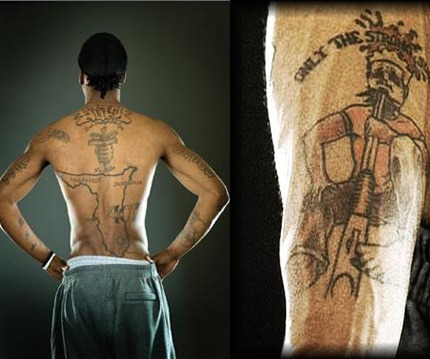 Image via i8theball.com
Tat: "Only the strong survive" on his forearm, and the entire state of Florida on his back.
With everything going on in the world, you'd think someone would have a little sensitivity, but not Daniels, who actually got a suicide inked on his arm.
We understand if someone wants to remind themselves of how tough things can get, but we're seriously at a complete loss for words on this one.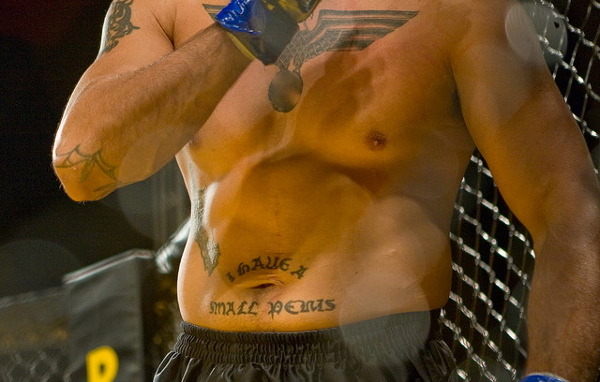 Image via withleather.uproxx.com
Tat: "I have a small penis" on his stomach, and a swastika on his chest (edited out for obvious reasons).
For the life of us, we have no idea why anyone would ever want to get either one of these on their body for life, let alone both?
But then again, we're also not one to play a sport where the main objective is to beat the opponent to a complete pulp.