Ranking Best Young Teams in the NBA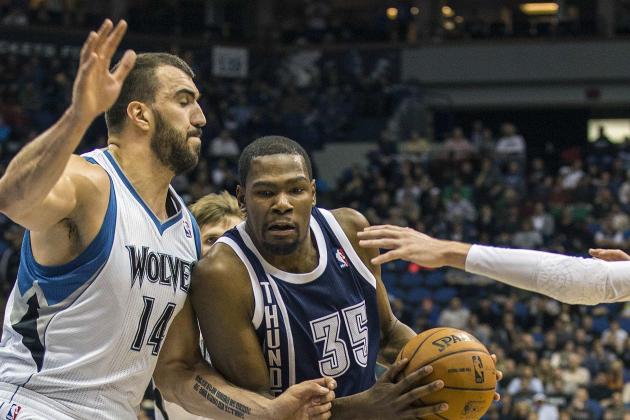 USA TODAY Sports

Basketball pundits have encouraged a hysteria with their obsession over the growing talent gap in the NBA.
It isn't an erroneous observation. But this isn't a new phenomenon either.
Half of the 66 NBA championships awarded to date have been won by two franchises: the Celtics (17) and the Lakers (16). Add the Bulls (six) and the Spurs (four) to the discussion and these four franchises have accounted for over 65 percent of the titles won in league history.
But that also fails to mention just how quickly a team can transform into a contender.
With only five players on the floor at once, it doesn't take too many good draft picks to pluck a team from the league's cellar and place them among the elite.
The Minnesota Timberwolves, who employ two of the premier young stars in today's game, snapped the Oklahoma City Thunder's 12-game winning streak with a 99-93 victory over the reigning Western Conference champions on December 21.
But Minnesota is just one of a handful of teams with tantalizing, youthful talent ready to challenge the traditional powers of the NBA.
*Teams had to meet two criteria for this list: 1) have a winning record; 2) have an average age of their starting lineup under 26 years old.
**All statistics used in this article accurate as of 12/20/2012.
Begin Slideshow

»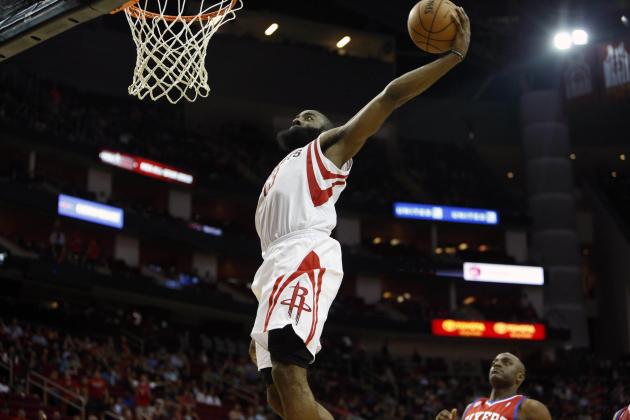 Thomas Campbell-USA TODAY Sports

Record: 13-12
Leaders: James Harden (24), Chandler Parsons (24), Jeremy Lin (25)
Resume: wins over the Hawks, Bulls, Lakers, Celtics and Knicks (twice)
Making the argument
The Rockets rolled some expensive dice on Lin and Omer Asik on the free-agent market, then plucked Harden from the Oklahoma City Thunder on the eve of the season.
Houston has already amassed some impressive wins, and this roster is still discovering how to play together.
This was supposed to be a rebuilding season for the young Rockets. But the explosion of Harden (25.4 points per game) and the emergence of Parsons (15 PPG) has talk of playoffs littering the streets of Houston.
They have both the time to grow and the talent to make that leap.
And don't forget that they hold the NBA's premier wild card in versatile rookie Royce White, who hasn't yet suited up for the team while still searching for the balancing act between his anxiety disorder (which includes a major fear of flying) and the rigorous travel demands of life in the NBA.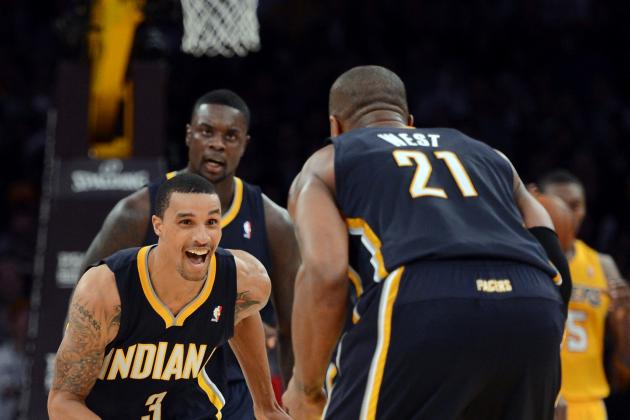 Harry How/Getty Images

Record: 14-12
Leaders: Paul George (22), George Hill (26), Roy Hibbert (26)
Resume: wins over the Lakers, Bulls, Jazz
Making the argument
Their record is a bit deceiving considering they've played the second easiest schedule in the league.
But there are still reasons for optimism.
For starters, this team has gotten zero minutes out of former All-Star Danny Granger (knee).
His eventual return will allow coach Frank Vogel to slide the 6'8" George back to the shooting guard spot. So what's already the stingiest defense in the NBA (they're holding opponents to just 40.9 percent field-goal shooting) will only get better.
And the increase in opportunities from Granger's absence given to George has only accelerated his development. With his size, quickness and shooting ability, the former Fresno State star has one of the most intriguing upsides in the league.
If Hibbert starts playing close to his potential (his 39.3 field-goal percentage is a full eight points below his career average), the Pacers could walk away with the Central Division crown.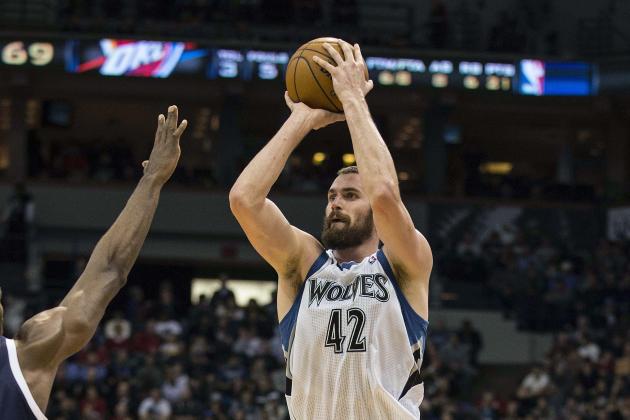 USA TODAY Sports

Record: 13-11
Leaders: Kevin Love (24), Ricky Rubio (22), Nikola Pekovic (27)
Resume: wins over the Nets, Pacers, Bucks, Nuggets, Thunder
Making the argument
After bursting onto the scene as an NBA League Pass favorite in 2011-12, Minnesota has just started picking up where they left off.
With the return of Love and Rubio to their lineup, the Timberwolves have one of the top young tandems in the NBA.
But it's their developing supporting cast that could make their playoff hopes a reality in 2012-13. Pekovic and rookie Alexey Shved continue to improve their game, while veterans Andrei Kirilenko and J.J. Barea have rounded off the front end of their rotation.
Oh, and the Timberwolves hold two wild cards of their own: perennial All-Star Brandon Roy (who could be nearing his return after undergoing arthroscopic knee surgery, according to Ray Richardson of the St. Paul Pioneer Press) and former number two overall pick Derrick Williams (who has yet to live up to his draft status).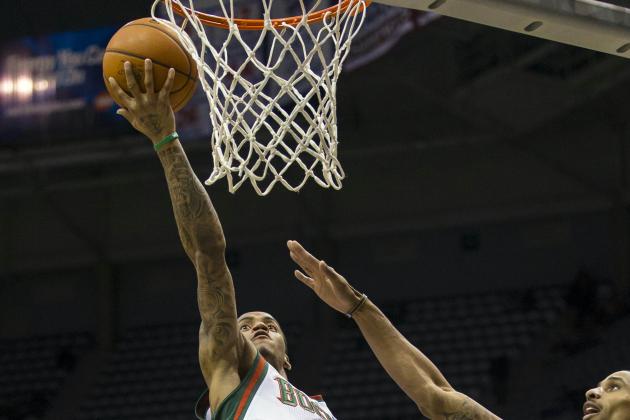 Jeff Hanisch-USA TODAY Sports

Record: 13-11
Leaders: Monta Ellis (27), Brandon Jennings (23), Larry Sanders (24)
Resume: wins over the Bulls, Nets, Celtics (twice) and Pacers (twice)
Making the argument
The Bucks are a rarity on this list, in that they're full of young talent, yet their window for success could be closing.
Both Ellis and Jennings could become free agents after this season. Jennings will become a restricted free agent after failing to secure an extension to his rookie contract, while Ellis can opt out of the final year of his deal.
It's unlikely that the team will keep both and could move one of them by the trade deadline, should the Bucks fall out of the playoff picture.
But with both players averaging better than 18 points and five assists and Sanders emerging as the defensive insurance behind the diminutive duo, it's hard to see that happening.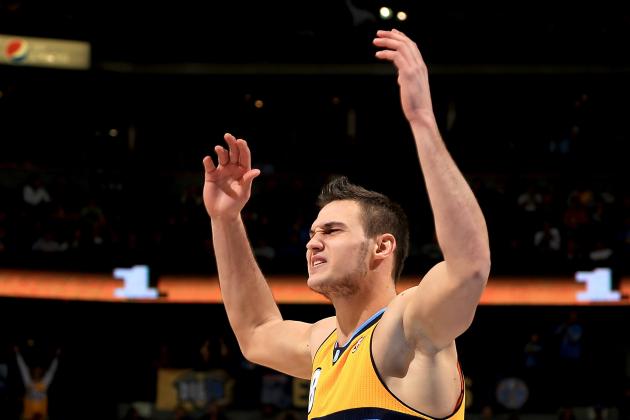 Doug Pensinger/Getty Images

Record: 14-13
Leaders: Danilo Gallinari (24), Ty Lawson (25), Kenneth Faried (23)
Resume: wins over the Rockets, Pacers, Spurs, Warriors (twice) and Grizzlies (twice)
Making the argument
Offensively, coach George Karl's team is once again among the NBA's best.
This team may not have a future superstar on the roster, but they've got a number of present stars. And newcomer Andre Iguodala (the elder statesman of the starting lineup at 29) has maximized the effectiveness of his new teammates.
With Iguodala and Lawson, the Nuggets put continuous pressure on opposing defenses with their unrelenting attacks to the basket.
And defenses can't cheat off of the wings, because Denver is a good three-point shooting team. They haven't converted too many of those looks yet (32.5 percent collectively), but with Gallinari and Lawson well under their career averages, that's a statistic that will only improve.
Defensively, this group has size, quickness, strength and athleticism. Iguodala is still as good of a perimeter defender as there is in the league, while JaVale McGee is in the upper echelon of NBA shot-blockers.
Their record isn't great, but they've faced the third toughest schedule in the league (via ESPN.com).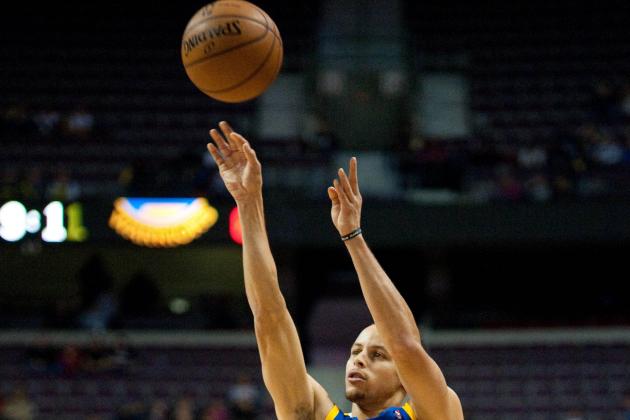 Tim Fuller-USA TODAY Sports

Record: 17-9
Leaders: Stephen Curry (24), Klay Thompson (22)
Resume: wins over the Clippers, Heat, Nets (twice) and Hawks (twice)
Making the argument
The Warriors are no strangers to young talent.
But they haven't enjoyed this kind of success for the better part of the past two decades.
Golden State has the veteran presences (David Lee, Jarrett Jack and Carl Landry) to support their burgeoning stars.
Not to mention they bolstered their youthful talent base with three rookies (Harrison Barnes, Festus Ezeli and Draymond Green) who all factor in the team's rotation.
They may not play the same exciting run-and-gun offense as recent Warrior teams (100.7 points per game), but their success-starved fanbase surely welcomes this season's substance over style.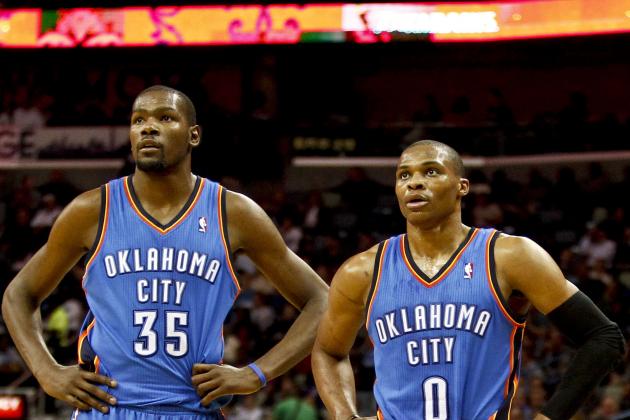 Derick E. Hingle-USA TODAY Sports

Record: 21-5
Leaders: Kevin Durant (24), Russell Westbrook (24), Serge Ibaka (23)
Resume: the aforementioned 12-game streak, which included wins over the Nets, Pacers, Spurs and Hawks
Making the argument
With consecutive lengthy postseason trips, it's easy to forget just how young this team really is.
Perhaps that's because their play looks anything but inexperienced.
They have the requisite highlight reels to reflect their ages but approach the game with a level of poise that extends well beyond their years.
Durant was a superstar before the season started, and he's done nothing to change that status (27.7 points and 8.5 rebounds per game). But Westbrook has joined Durant on that exclusive stage (21.1 points, with a career-high 8.8 assists and a career-low 3.2 turnovers).
With Ibaka following the superstar paths of those talented wings (14.2 points, 8.2 rebounds and 3.0 blocks), this could be the third consecutive season in which the Thunder improve on their postseason performance.
And that would mean an NBA championship, which would be a franchise first.