Pittsburgh Steelers Need to Commit to Jonathan Dwyer Against Cincinnati Bengals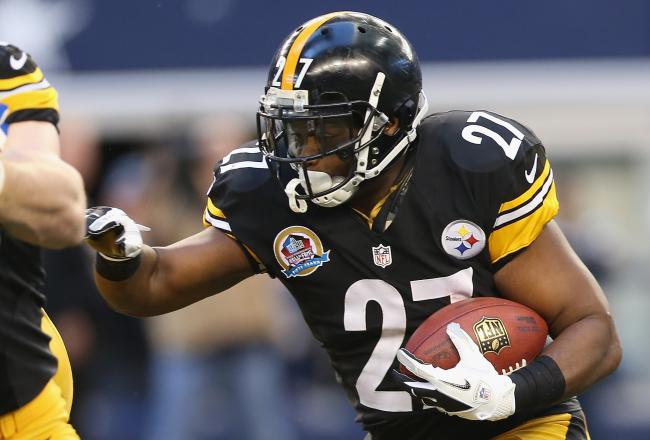 Jonathan Dwyer expects to start for a third straight week against the Cincinnati Bengals.
Ronald Martinez/Getty Images
This was supposed to be the year that the Pittsburgh Steelers committed to the running game. Instead, the ground game has been a virtual afterthought in the past couple of weeks.
Steelers' running backs have only carried the ball 34 times over the past two weeks and have only run for 100 yards as a team once in the past six weeks.
A major reason that the ground game has struggled is because the Steelers have not settled on a go-to running back.
It has been a back-by-committee approach for the Steelers. Rashard Mendenhall, Isaac Redman and Jonathan Dwyer have all started games this year. But throughout the course of the season, there have been few opportunities for any backs to get into a rhythm and that must change this week.
The season is on the line for the Steelers, and they are going to need a strong performance from their offense if they are going to get past the Cincinnati Bengals. While the offense's strength is passing the ball, they are going to need a strong performance from the running attack to win.
Regardless of who gets the start, Todd Haley needs to give his back an opportunity to get a bulk of the carries. Only once this year has a running back got more than 20 carries in a single game.
In Week 9 against the New York Giants, Redman carried the ball 26 times for 147 yards in one of only three 100-yard performances by a Steelers running back this season.
Dwyer had the other two, with back-to-back 100-yard performances against the Cincinnati Bengals in Week 7 and the Washington Redskins in Week 8.
Even though he gained a combined 229 yards over those two games, Dwyer only had 17 carries in each game.
Pittsburgh's recent struggles could be attributed in part due to their problems establishing the run.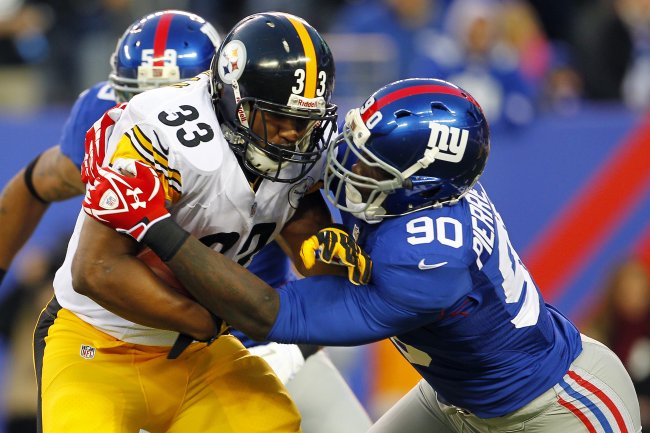 Rich Schultz/Getty Images
Since Redman's 100-yard performance against the Giants, no Steelers' running back has carried the ball more than 19 times and no running back has gained more than 56 yards.
How are the Steelers supposed to establish the running game if they are constantly switching backs in and out of the game? The running back by committee approach is not working and they need to settle on one back.
That back should be Dwyer.
Dwyer has been the best running back this season and leads the team in carries (131), yards (532), average yards per carry (4.1), long carry (34 yards), runs of over 20 yards (three, tied with Redman), and touchdowns (two, tied with Redman and Chris Rainey).
Despite leading the team in every major rushing category, Dwyer has had fewer than 10 carries in three of the past four weeks.
Which running back should start against the Bengals?
Dwyer is a versatile back who can make his own yards, and he has a knack for breaking off runs for sizable chunks of yardage every so often. But with such a limited number of carries per game, he can never get the ball rolling and is essentially being slowed down by the current scheme.
After a few unsuccessful carries, Haley goes away from the run and leans on the passing game. This is not exactly the way to establish the run.
There is no need to for Haley to give up on the running game so soon, especially in close games.
Dwyer is the type of back who gets better as the game goes on.
While he does not wear out a defense the way Jerome Bettis did years ago, he does have quick feet and can squeeze through small holes to pick up the tough yards.
Beyond making his own yards, Dwyer runs with decent power and has decent speed for a back his size. He may not have the stamina to be a workhorse back, but he does have enough to carry the ball 20 times per game.
The only way to get him on a roll and get the running game back in gear is to run the ball more often and to run it with a primary back. That is how the Steelers beat good football teams. Just ask Redman.
Redman told the Pittsburgh Post-Gazette that he believes the team needs to return to the running attack that they established in the middle of the season:
"Some games, it feels like we just go away from it," said Redman. "We didn't run the ball bad [vs. Dallas], we weren't getting smashed the last game, we just didn't run it that much. We had 16 or 17 runs. When we were winning games, we were up in the 30 mark and we pretty much win when we do that. Hopefully we can get back to that."
It was no coincidence that the Steelers were one of the hottest teams in the league during this time. They went off and won four straight games against the Bengals, Redskins, Giants and Kansas City Chiefs.
One of the main reasons that the Steelers were so successful is because their running attack was excellent during this streak.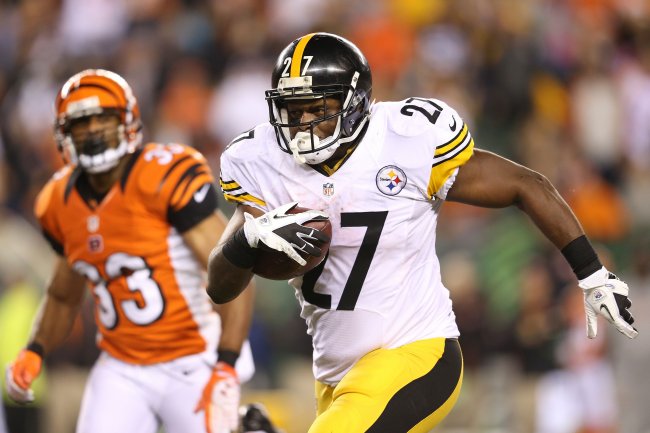 Andy Lyons/Getty Images
Dwyer's back-to-back 100-yard rushing games occurred during this streak, as did Redman's team-high 147-yard rushing game.
As a team, the Steelers averaged 30 carries and 140 yards per game over these four games. It was a ball control offense at its finest.
And why were they so good at running during those weeks? Well, besides a healthy offensive line, the Steelers committed to a single back to lead the team during those weeks.
Now that the Steelers are in a must-win situation, it is time to return to what made them one of the best teams in the league. According to Redman, it appears that Haley wants to do just that (via Pittsburgh Post-Gazette).
"Coach Haley said we need to run it more. Last week wasn't enough runs. So, hopefully, we emphasize trying to get the ball to the running backs' hands a little more," Redman said.
It sounds like a good game plan except for one thing—Redman should have said "we should emphasize trying to get the ball into Dwyer's hands a little more."
A commitment to Dwyer running the ball will not only put the Steelers in position to beat the Bengals, but also in position to re-establish themselves as a legitimate contender in the AFC.
This article is
What is the duplicate article?
Why is this article offensive?
Where is this article plagiarized from?
Why is this article poorly edited?

Pittsburgh Steelers: Like this team?