Dodgers: Why L.A. Has Done Enough to Overtake the Giants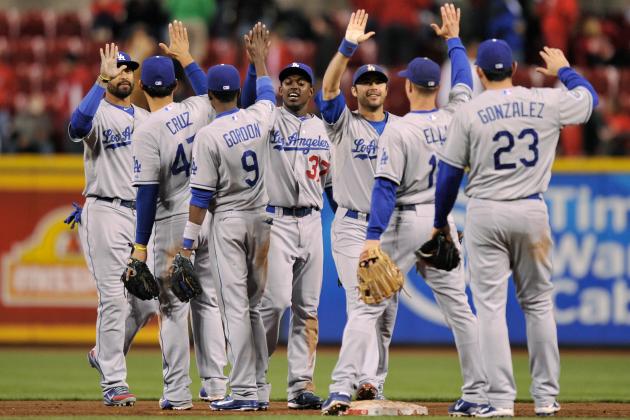 Jamie Sabau/Getty Images

There are no guarantees in sports, or life for that matter. Just ask Matt Hasselbeck. And we can talk about how teams "look" or "sound" all we want, but the only legitimate proof is on the actual field.
That being said, the Los Angeles Dodgers look pretty damn good on paper.
After adding Hanley Ramirez, Adrian Gonzalez and Carl Crawford to the lineup last season, they bolstered the starting rotation this winter.
L.A. added Zack Greinke and Hyun-Jin Ryu to a pitching staff that already boasted a resurgent Josh Beckett and arguably the best pitcher in baseball, Clayton Kershaw.
So that paper that the Dodgers look so good on might actually hold water when you add Matt Kemp, Andre Ethier and a solid bullpen into the mix.
But is it enough to overtake their rival San Francisco Giants in the NL West?
Fans of the defending champs might think I'm crazy, but here are five reasons the Dodgers are ready to reclaim the division title in 2013.
Begin Slideshow

»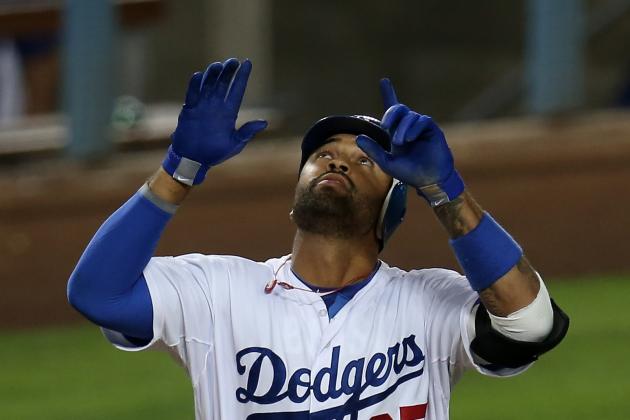 Stephen Dunn/Getty Images

Let's start with the most important aspect of any team sport: how good the players are.
Don't get me wrong, the Giants are loaded. They wouldn't be World Champions if not.
With Buster Posey, Pablo Sandoval, Angel Pagan, Hunter Pence and Marco Scutaro leading the way, you have to be excited about that lineup if you're a Giants fan.
But the actual quality and consistency of Kemp, Ethier, Gonzalez and Ramirez far trumps that of the Giants' lineup. When healthy, Kemp is a 40/40 threat, Ethier can pop 25-30 homers, Gonzalez is a perennial .295 hitter with great power and Ramirez has won a batting title and stolen 50 bases twice.
Posey is absolutely one of the best players in baseball, and his 2012 MVP award proves that. Sandoval is a great player who struggles with his health or his production on a yearly basis. Pence should be better in San Francisco this season, but he's still not the player he used to be.
And then you have Pagan and Scutaro. I hate to burst everyone's bubbles, but those two will not produce at the same level as in the second half of 2012. Giants fans can expect good seasons from both, but .275 averages are much more likely.
Looking at career numbers, the Dodgers' lineup is much more likely to be the one getting carried by clutch hits and random power sprees next season.
Bottom line: the Dodgers lineup will progress, the Giants should regress.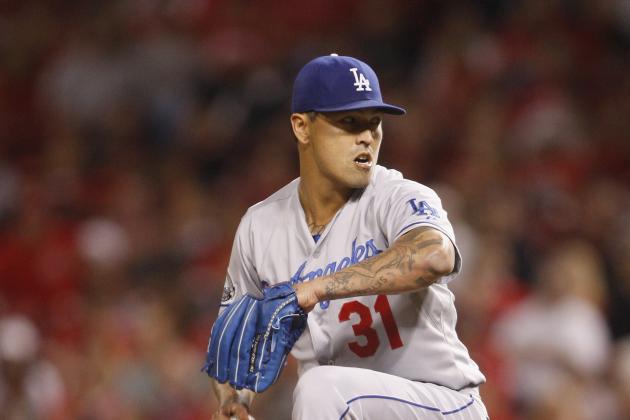 John Grieshop/Getty Images

The Giants bullpen is absolutely dominant. Sergio Romo is nearly unhittable as a closer, and their 7th and 8th innings are locked down.
But overall, the Dodgers have an edge in the 'pen.
I'd gladly trade Brandon League away for another closer, but he was filthy as a Dodger after coming over in a trade last season. When he keeps his sinker down in the zone, he is one of the best relievers in baseball.
The combination of Ronald Belisario, Kenley Jansen and Scott Elbert is very underrated. The Dodgers have four good right-handed closer options with League, Belisario, Jansen and Javy Guerra. And the emergence of lefty specialist Paco Rodriguez and long-relief man Shawn Tolleson will prove invaluable next season.
Though the Giants boast a good bullpen, the likes of Dan Otero, George Kontos and Santiago Casilla can't stack up depth-wise.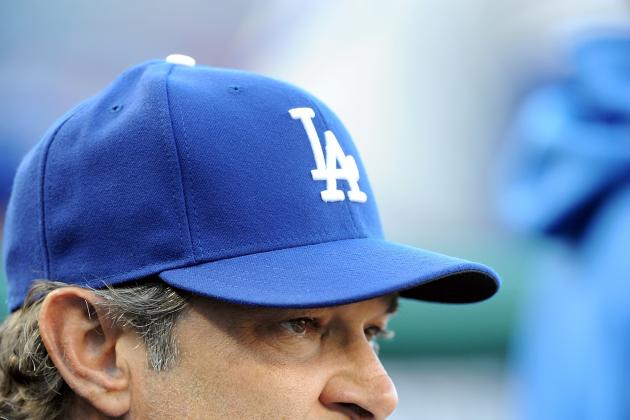 Greg Fiume/Getty Images

I refuse to argue that Don Mattingly is a better manager than Bruce Bochy. I doubt he ever will be, for that matter. Bochy may be just a few winning seasons away from clinching his spot as a Hall of Fame manager.
But considering the coaching staff as a whole, things tilt in the Dodgers' favor. A big part of that is the hiring of Mark McGwire as the hitting coach. We all saw what Big Mac was able to do in St. Louis with a similarly talented lineup.
And whatever Rick Honeycutt did last year with a very mediocre starting pitching staff, vaulting the rotation's ERA into the top three in the National League, was nothing short of a miracle. Throw in the fact that one of the scrappiest ballplayers of his time, Davey Lopes, is instructing base running and coaching first base.
The Giants don't have anyone spectacular outside of Bochy and pitching coach Dave Righetti.
Though I still will not claim that Mattingly can out-manage Bochy, you have to give the guy some props. He managed the team to a respectable 2011 season, given that it was basically Kemp, Kershaw and a bunch of bums. And people don't respect the job he did in 2012 with a lineup full of Triple-A and veteran backup players.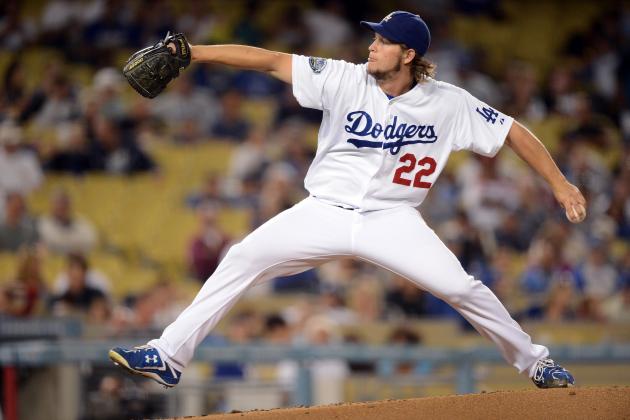 Harry How/Getty Images

Statistically, the Dodgers' starting rotation was better than San Francisco's in 2012. I'm not saying it definitely will happen again, but don't be surprised if it does.
Tim Lincecum seemed to regain his form as a spot-starting long reliever down the stretch and in the postseason. But until he figures out how to command his new low velocity and pitch with a more deceptive style, I doubt he'll be back to his Cy Young form.
Matt Cain and Madison Bumgarner are both very good pitchers, but both struggled at certain points last season. And if you think Barry Zito is going to continue the hot streak he carried into the playoffs in 2012, think again.
I wouldn't be one bit surprised to see Ryan Vogelsong turn in the best overall season of the Giants' starters in 2013.
None of the Giants' starters can stand up to Kershaw (most teams don't have an ace who can), and adding Greinke was huge. At Dodger Stadium, in a pitcher-friendly division, Greinke is going to thrive.
And even though I have no idea what to think of Hyun-Jin Ryu, the overall dominance brought on by Kershaw, Greinke and Beckett will trump the Giants' rotation next year.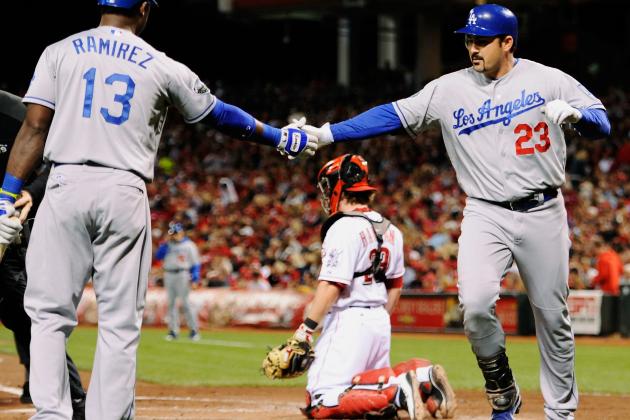 Jamie Sabau/Getty Images

Believe it or not, team chemistry does matter. Both clubhouses are very relaxed and get along well (that's right, you can throw the "clashing egos" theory out the Dodger clubhouse window now), under professional, quiet leaders in Bochy and Mattingly.
And both clubs went out and made huge transactions in the middle of 2012. The moves for the Giants paid immediate dividends. The Dodgers? Not so much.
Unfortunately for fans in San Francisco, the magic will end here. Like I mentioned in the opening slide, you can expect a natural regression from Pagan, and one for multiple reasons from Scutaro (not just his career stats—he's getting to the point of no return for second basemen, based on age alone).
Pence will probably improve, but will he replace or exceed the production Melky Cabrera was providing last season? I'd expect Brandon Belt and Brandon Crawford to both get better, but that won't be enough.
The Dodgers' last two weeks of 2012 showed the type of offense they can be. Chances are that Crawford will be an upgrade over Shane Victorino, and a three through six in the order of Kemp, Gonzalez, Ramirez and Ethier is going to inflict a lot of damage in a full season (barring injury).
In the final two weeks of 2012, the Dodgers' offense was clicking on all cylinders and looked unstoppable. The Dodgers also have the edge in role players: Belt, Crawford and Gregor Blanco do not match up to A.J. Ellis, Mark Ellis and Luis Cruz.
I love this rivalry, this sport, and my Dodgers. I welcome any and all discussion in the comments section below. You can also tweet Jeremy @Jamblinman for sports talk and debate!