Mark Sanchez: 3 Potential Landing Spots for QB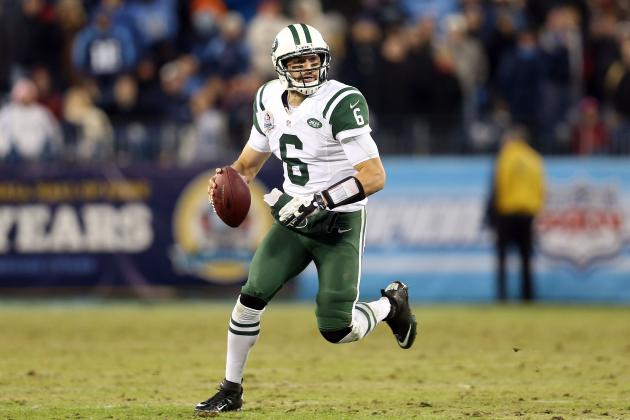 Andy Lyons/Getty Images
Mark Sanchez Looking for a Receiver
After another disappointing season—and after being benched—the New York Jets will look to trade embattled quarterback Mark Sanchez. Manish Mehta of the New York Daily News reports that the Jets will try to find a new home for Sanchez at seasons end.
Despite Sanchez's poor season, he does have talent and led his team to within one game of a Super Bowl appearance twice. Which teams will be interested?
We'll give you three potential landing spots for the QB.
Begin Slideshow

»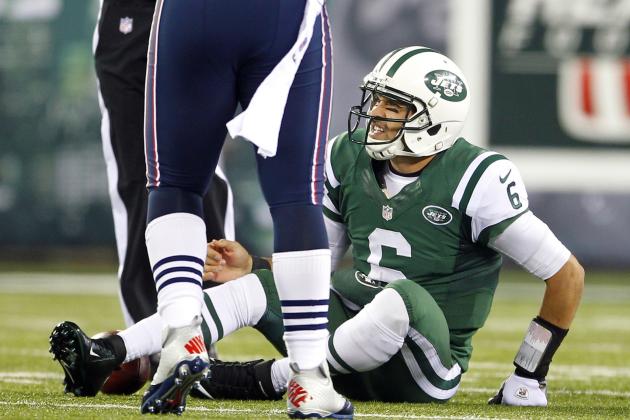 Rich Schultz/Getty Images

The Kansas City Chiefs are a terrible team with a huge need at quarterback. Neither Matt Cassel nor Brady Quinn have been able to get the job done.
If the Chiefs decide to pass on a quarterback in the first round, trading for someone like Sanchez might be wise.
Sanchez would be able to take advantage of a strong running game in Jamaal Charles, as well as weapons like Dwayne Bowe and Tony Moeaki.
Sanchez's biggest problem has been accuracy, and a trade wouldn't necessarily fix that. But Sanchez would represent a clear upgrade over Quinn and Cassel and is more proven than any of the college quarterbacks. The Chiefs, then, could focus on their defense or offensive line in the early first round, knowing that they have their quarterback.
In addition, the Jets would most likely have to eat a lot of Sanchez's contract, so the Chiefs would probably have to only give up a low draft pick.
It's a low risk, high reward move for the Chiefs, who have nowhere to go but up.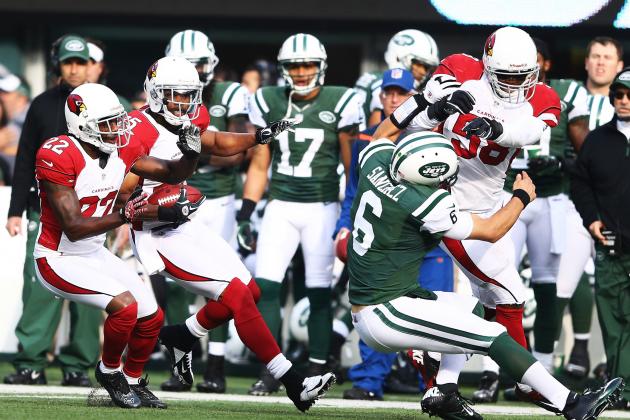 Al Bello/Getty Images

The Arizona Cardinals are another team in desperate need of a quarterback, as neither John Skelton, Kevin Kolb nor Ryan Lindley have proven to be viable options.
That's why Sanchez could be appealing. His job would be simple: Get the ball to Larry Fitzgerald.
Sanchez has struggled, in part, because he has a lack of receivers. Santonio Holmes is out for the year and Sanchez doesn't have people who can consistently get open.
On the Cardinals, he would have one of the best receivers in football to throw to. That alone would make his job easier.
Add in players like Andre Roberts and Michael Floyd and you have the makings of a top receiving core. Sanchez is not a bad quarterback. As coach Rex Ryan said,
Mark's won games in this league. It's not like he hasn't...It's hard to win playoff games in this league, and he's got four of them … all on the road. Wins against Peyton Manning on the road. Wins against Tom Brady. It's not like he doesn't have the tools to do it. That's why we did take him with the fifth overall pick.



What's needed, then, is a change of scenery. The pressure cooker of New York has not worked for Sanchez—getting him back to the West Coast would do a world of good.
Arizona, if they traded for Sanchez, could then finally improve their offensive line. Trading for Sanchez would open up a lot of good opportunities for the Cards.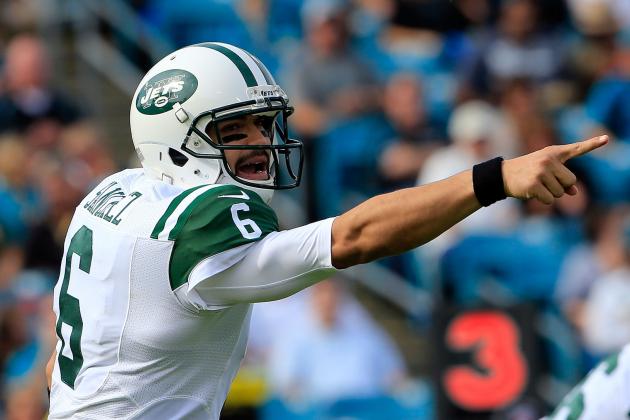 Sam Greenwood/Getty Images

Christian Ponder is one of the worst quarterbacks in football. In the last eight weeks, Ponder has thrown for less yards per attempt than Adrian Peterson has yards per carry, and Peterson has more touchdowns. Imagine, then, how much better Peterson would be if the Vikings had an even adequate quarterback? Pretty good.
The Vikings probably won't draft a quarterback in the first round, so their best option may be Sanchez. He wouldn't cost too much and would represent a significant upgrade over Ponder.
Sanchez would have a great weapon in Percy Harvin, a pretty good defense and the best running back in football. He was most successful when he had a similar formula in New York.
Sanchez could easily get the Vikings back to the playoffs, and with another receiver or two, they could be a real threat in the NFC North. Ponder is clearly not the option, so kicking the tires on Sanchez isn't the worst idea in the world.